Something wasn't quite right with Tonka. He trusts that when he tells me that he hurts, that I'll listen and respond. I do. But I don't always know exactly what he's saying. It's even more difficult to hear his message when it keeps changing.
At the end of January I could tell that Tonka wasn't going as boldly and enthusiastically as usual. When asked to take contact with the reins, he twitched his ears. This is subtle. A lot of horses head shake, but I knew that Tonka was telling me something specific. I noticed a swelling at his poll.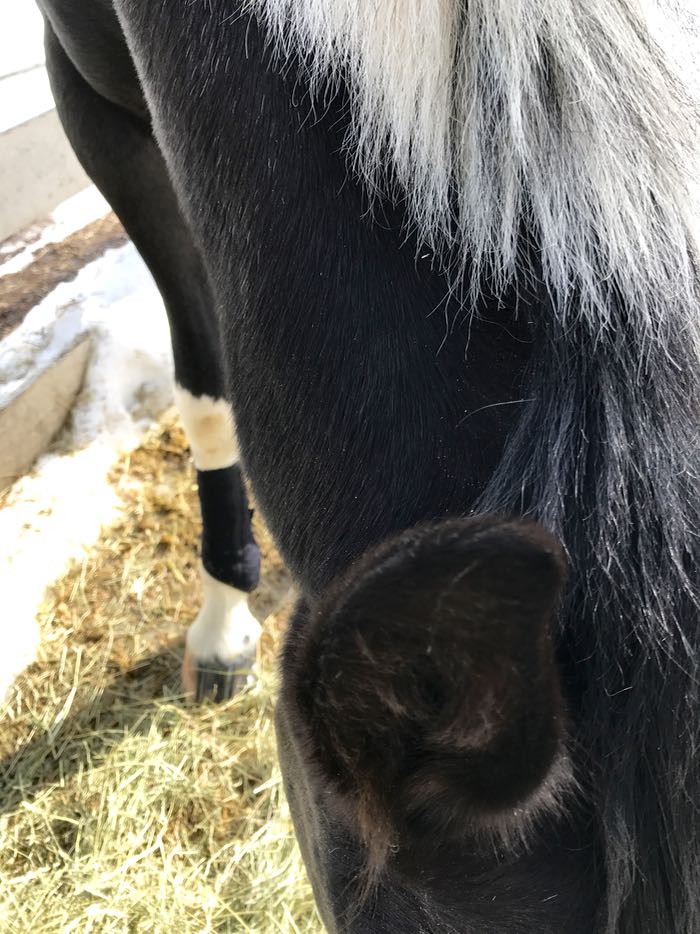 I called in my veterinarian. We hypothesized that he could have been playing and wrenched his neck, or fallen in the paddock. Eating out of his hay net like this: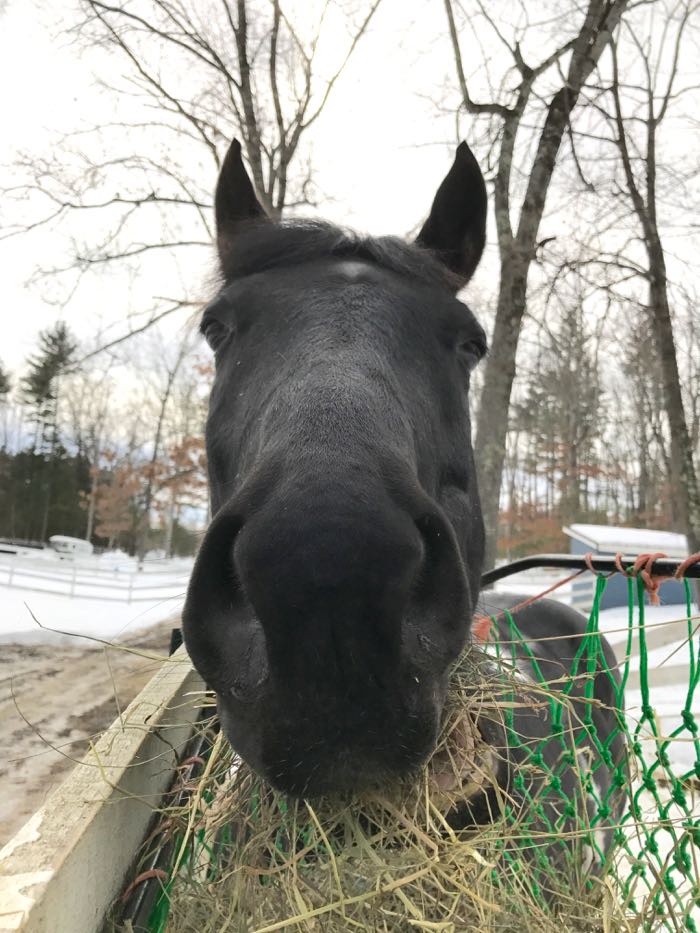 was making things worse. So, Tonka's hay was put on the ground and I had him do daily neck stretches. He regained flexibility. (I've written about this part of the story here.) But he still wasn't going quite right. Then he got his rabies shot and had a severe reaction – a swelling the size of a grapefruit at the injection site. That understandably made him sore and changed how he moved.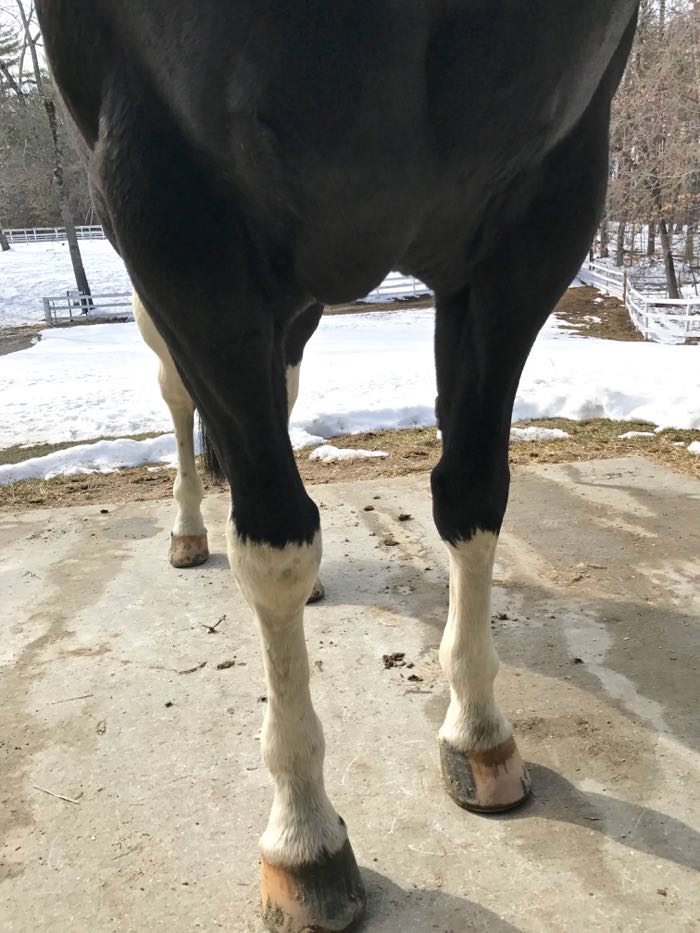 As that went away, he did start to regain his good form.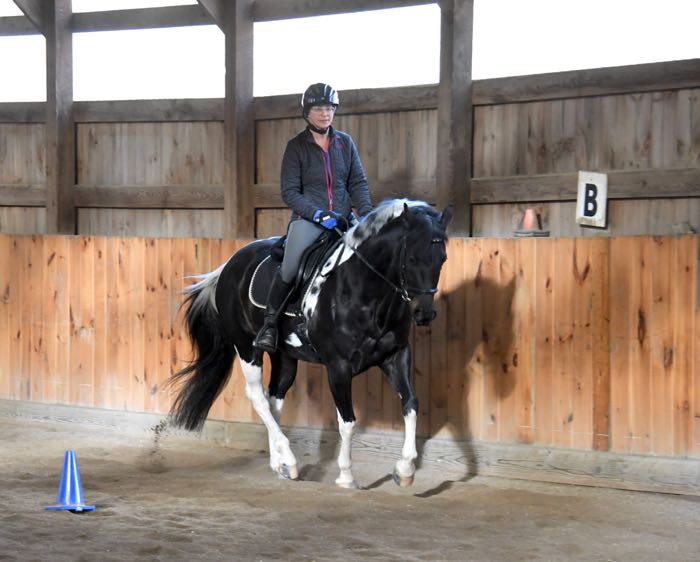 But during one ride in early April, as we were doing a trot to canter transition his back seized up. Suddenly, he couldn't go forward without throwing his nose in the air and sinking under me.
Dr. Steph took a look.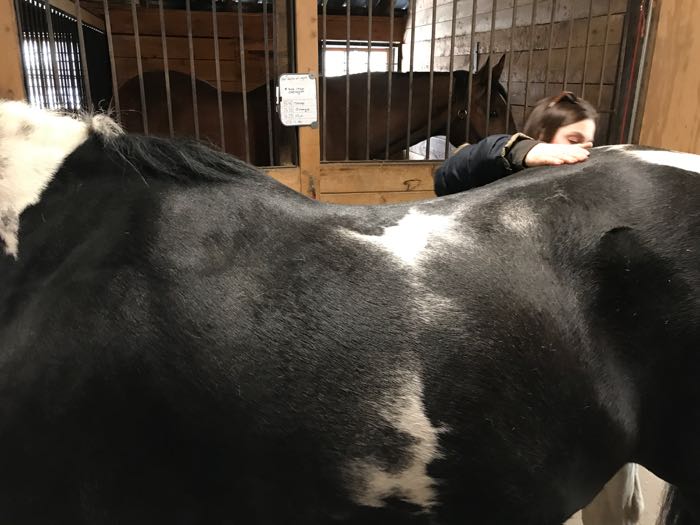 Tonka was put on muscle relaxers and I rode him out on the trails. We went up and down hills, stretching his back and getting him to use those loin muscles that had frozen up. Tonka started to feel like himself again.
But then he got this mystery swelling at the base of his neck.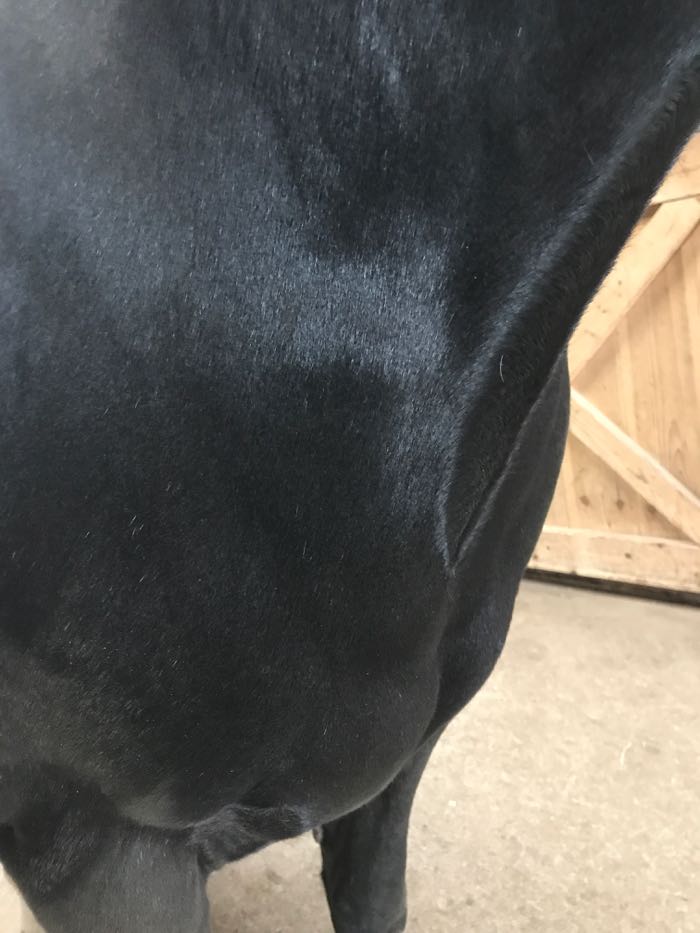 Speaking of swellings, this winter he'd developed a muscle (?) along the center of his neck. But only on the left side.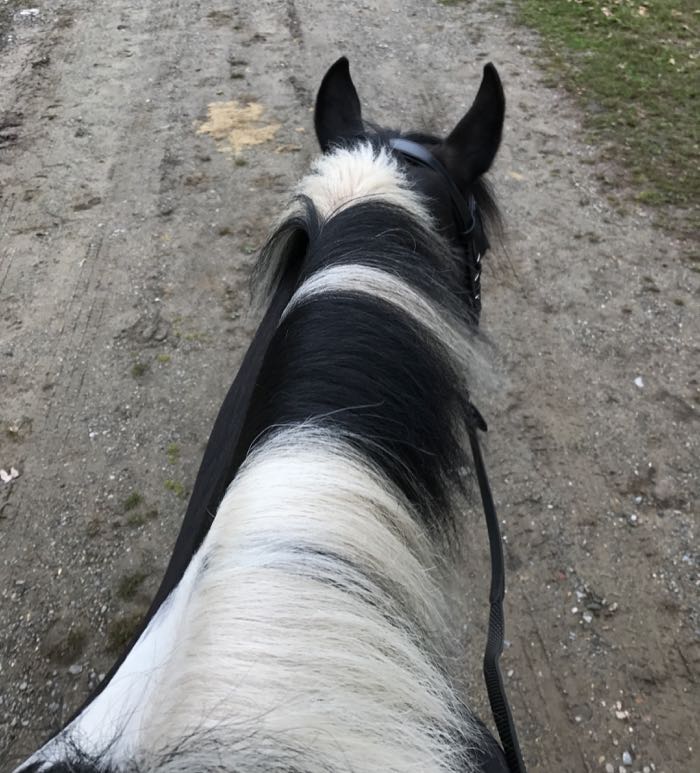 Part of Tonka's rehab entailed me using his favorite Tough 1 Rubber Jelly Massage Mitt Purple.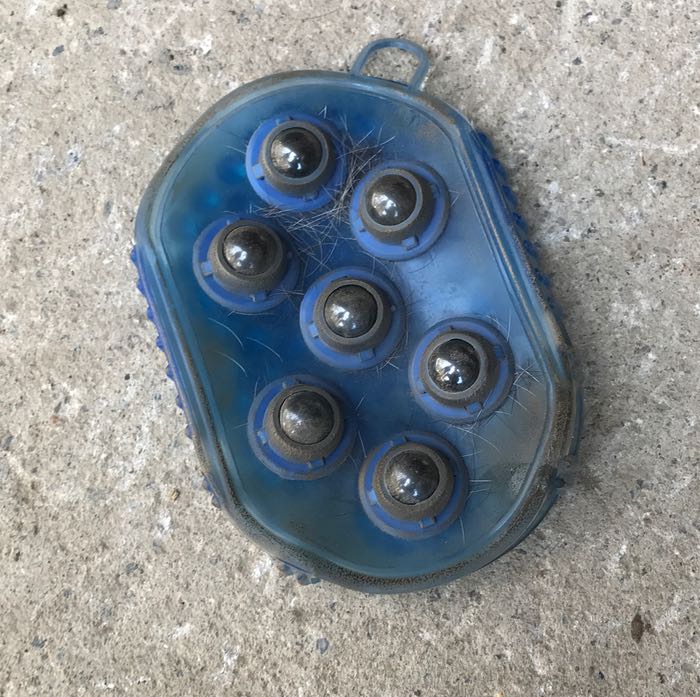 In the last few days, he's been leaning in when I rub the poll.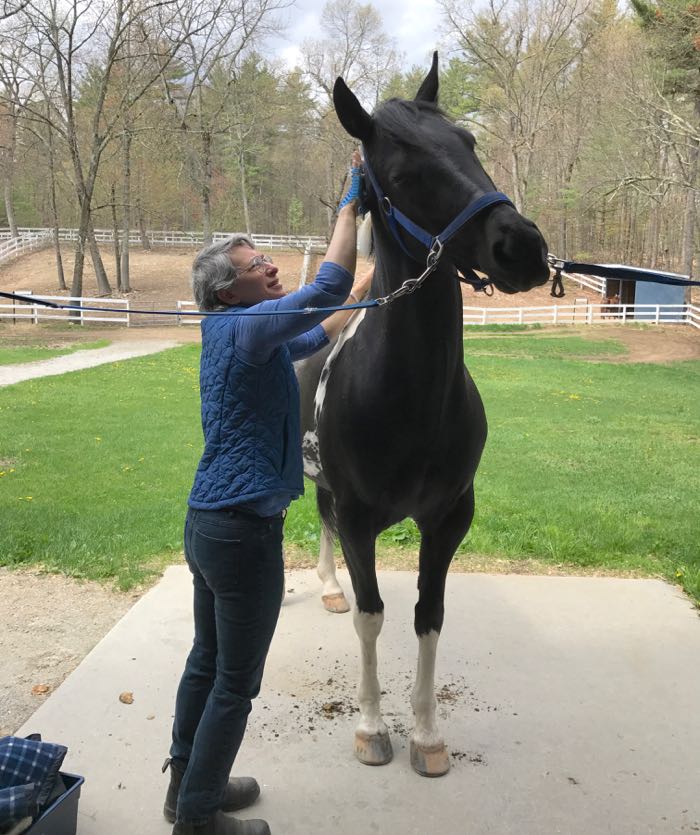 And wiggling his lip and pressing into the curry at the base of his neck.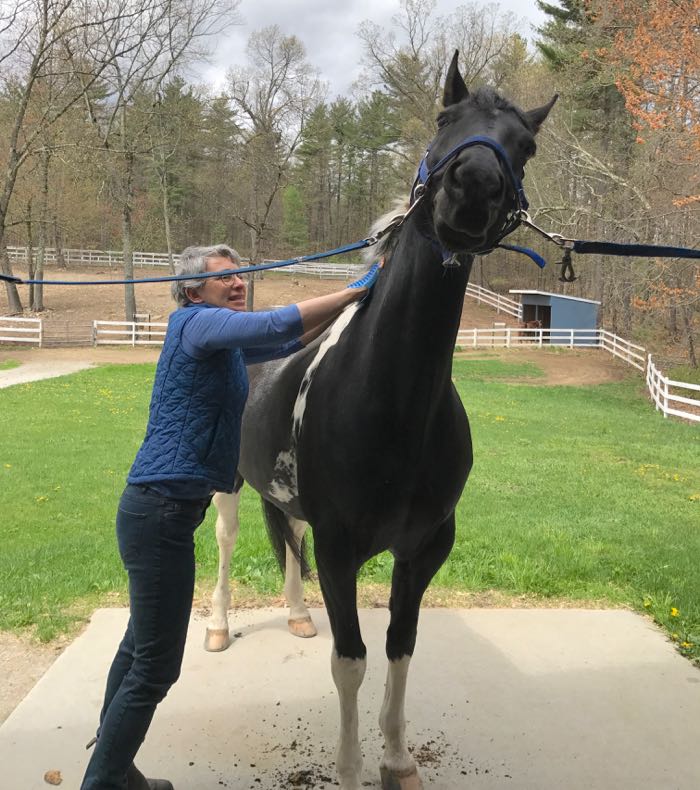 He was letting me know how much he appreciated my listening to his litany of woes. He was telling me where the aches are.
The other day, Tonka and I were out on the trail and he stumbled, almost down to his nose. In the three and a half years that we have been together, he's never once taken a misstep. Any one of these things wouldn't be a big deal, but they added up to the proverbial "straw that broke the camel's back." Do you know that tale? A camel is carrying a heavy load, which it seems to cope with, until that final light strand of straw is added to the burden, and that breaks him.
The stumble was just a "straw" but it was the last one. I called Dr. Steph.
She x-rayed his neck. Tonka is the perfect patient, there's no fuss about the strange equipment.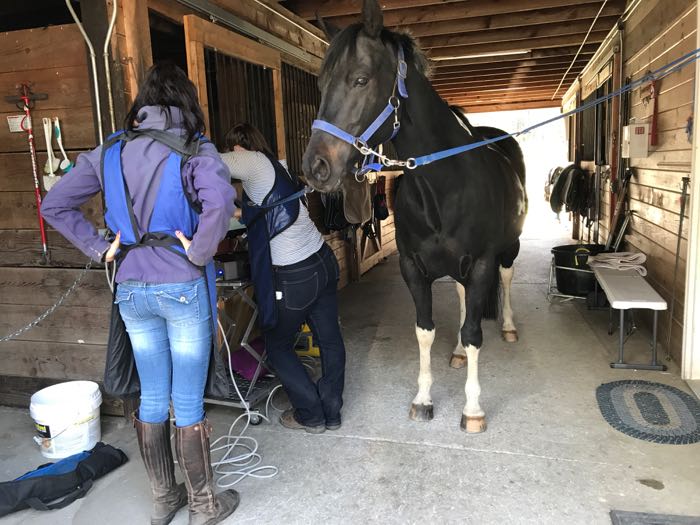 A preliminary reading of the images leads Dr. Steph to believe that Tonka has damage to his C-4 vertebrae. This vertebrae is right where that swelling is on his mid-neck, which is an interesting correlation. A specialist will read the x-rays and get back to her. Tonka might need injections or shock wave therapy. I'll know next week.
The neck wasn't the only area that Tonka hurt. In this tale there are many straws. Dr. Steph also checked Tonka's hind end. She did flexion tests and determined that his hocks had issues. We decided to do injections, which are a cocktail of medications that improve joint function.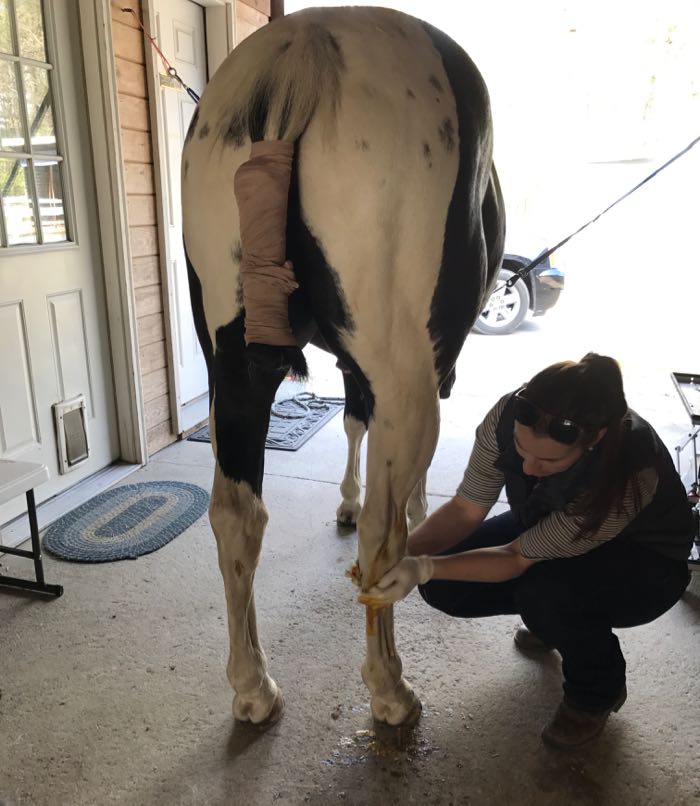 When Dr. Steph put in the needle, a viscous stream of liquid should have come out. That's the lubricant that allows the joint to move freely. Tonka's fluid was a clear as water. Not good.
So, now we knew that Tonka's hind end was as achy as his front. Between the two are his back, which had become stressed trying to alleviate the issues from both ends.
Within the next week his hocks should feel wonderful, which will improve his back. Then we'll address his neck pains, which should improve his shoulders and back.
I'm listening, Tonka. Thank you for telling me that something was wrong before it broke down irreparably.