Not quite a year ago I wrote my last blogpost for the HenCam, where I shared what I know about backyard chicken keeping. After ten years, I'd said everything that I wanted to say on that topic. But that blog wasn't just a bunch of how-to articles. My readers got to know the various animals that I share my life with, and they miss them. Let's catch-up…
Phoebe has the small barn all to herself. Unlike Candy, Phoebe never particularly liked interacting with the hens and doesn't miss them.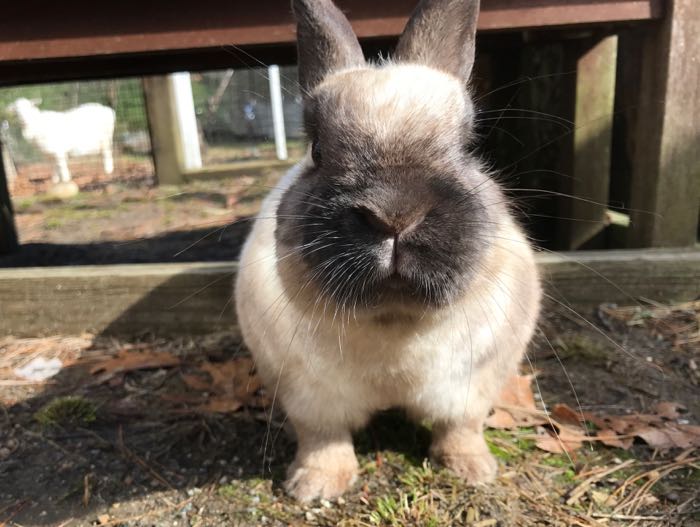 Phoebe stays busy maintaining her burrow under the compost pile, nibbling hay, having long conversations with the goats, and contemplating life. It's necessary to lock her into the barn at night to keep her safe from predators, but Phoebe would rather play outside. Dusk is her favorite time of day. So, we've come up with a compromise (or you might call it a bribe.) For coming inside she gets her ration of pellets, a piece of carrot and two banana chips. Any less won't do.
My flock now numbers twelve hens. (To read about the individuals go to the Who's Who page.)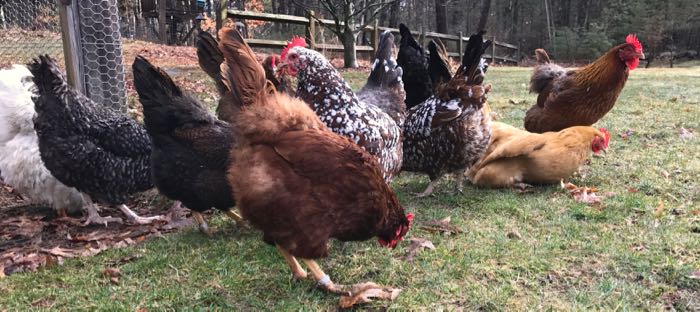 I expected more losses over the winter – they are old birds – but they sailed through the cold months. They're even laying more than expected. Some days we collect 3 eggs, some days 8. It's a peaceful group with little drama. I won't add more birds to my flock until I'm down to only 3, and it doesn't look like that will happen anytime soon.
The Goat Boys had a boring winter.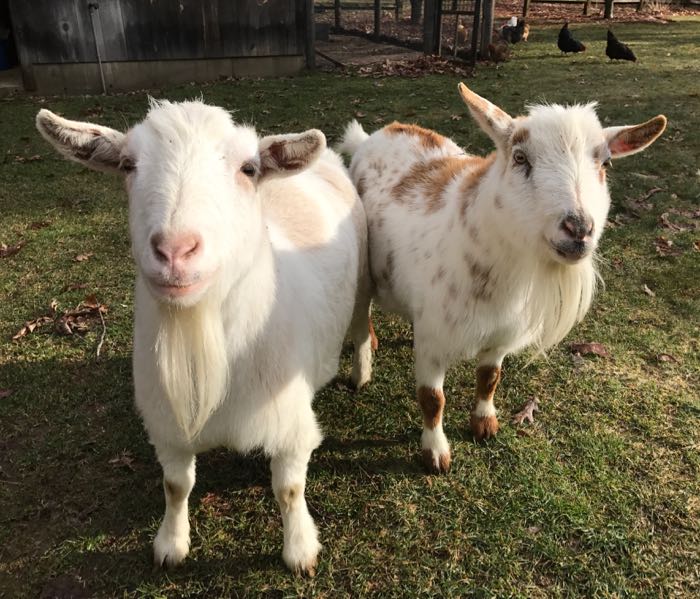 Snow hemmed them in. But they didn't mind, as they were fed extra hay to keep them busy. Caper, who got a bone chip in his right knee as a youngster, now likely has arthritis making him stiff, but his personality is as charming (and subversively clever) as always. Pip is aging as gracefully as a tubby goat can. They are a constant source of delight.
The Beast came through the winter just fine. If anything, she looks even bigger. The pond has warmed up enough for us to feed the fish their koi pellets. Everyone is voracious.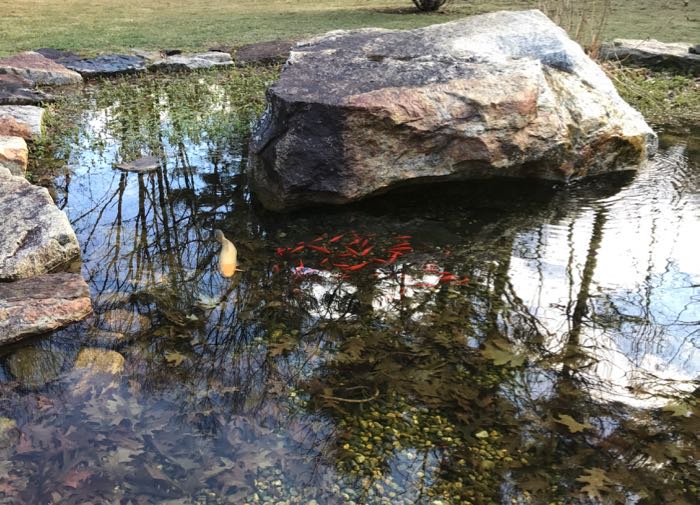 Lily is an old dog. She's 14. Mostly deaf. Slightly cloudy eyes. Bad hips.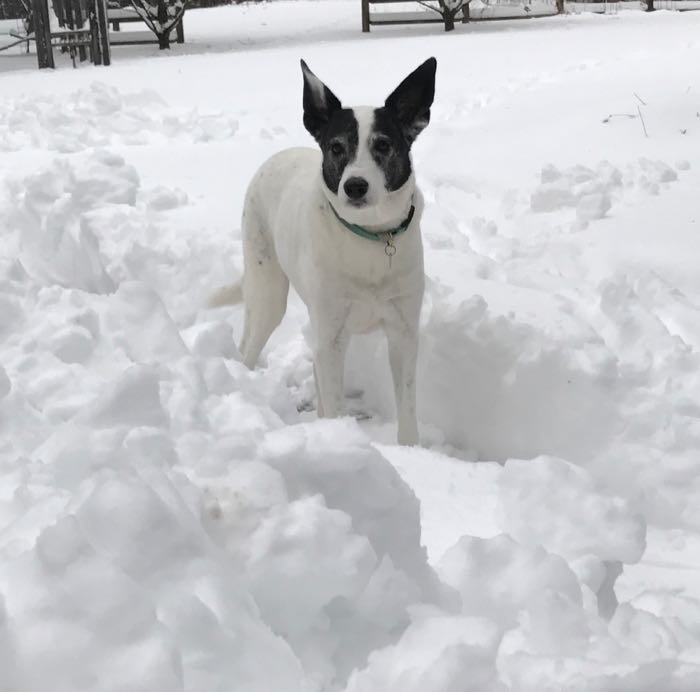 But she's still as smart as can be, still continent, and still willing to tell all comers that this is her farm and they'd better ask permission before landing or walking through. However, the resident squirrels do have her number. I've seen them wait until she's looking the other way and then stroll across the yard, something they'd never have dared to do in the past.
Scooter is Lily's loyal sidekick. I think he's ageless. It might be all of that napping that he does.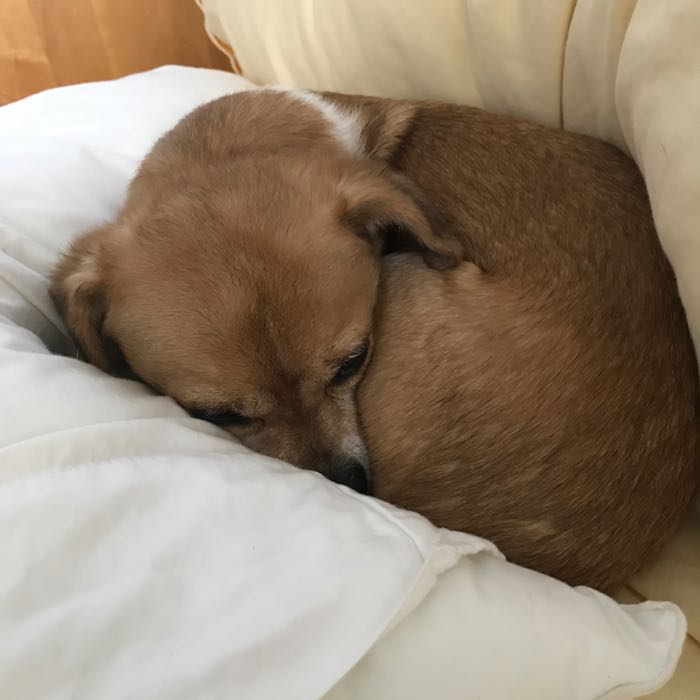 Gardening is hard on my back and so I've eased off somewhat. I'll have a smaller vegetable garden this year and I finally gave myself permission to hire someone to weed the perennials. It's still pretty, but it's not the same as when I did all of the work.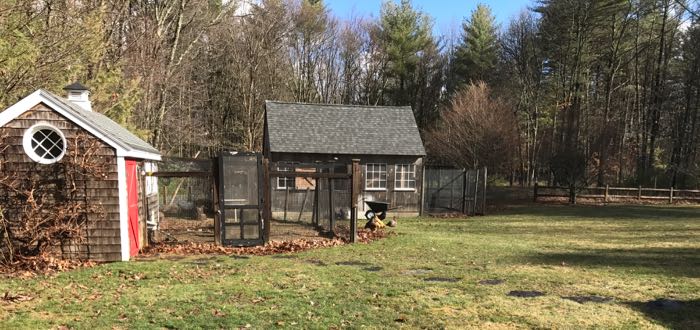 There you have it! I loved writing the HenBlog, but I have to say that it's nice to simply live my life and not have to stop to photograph a moment, or to think through which story to share and then shape it for the website. I appreciate all of you who stuck with me through my transition to this site. Those of you who found me here, through horses, you might want to read through the HenBlog archives. There are some wonderful characters to meet.