As fun as cantering down the lane is,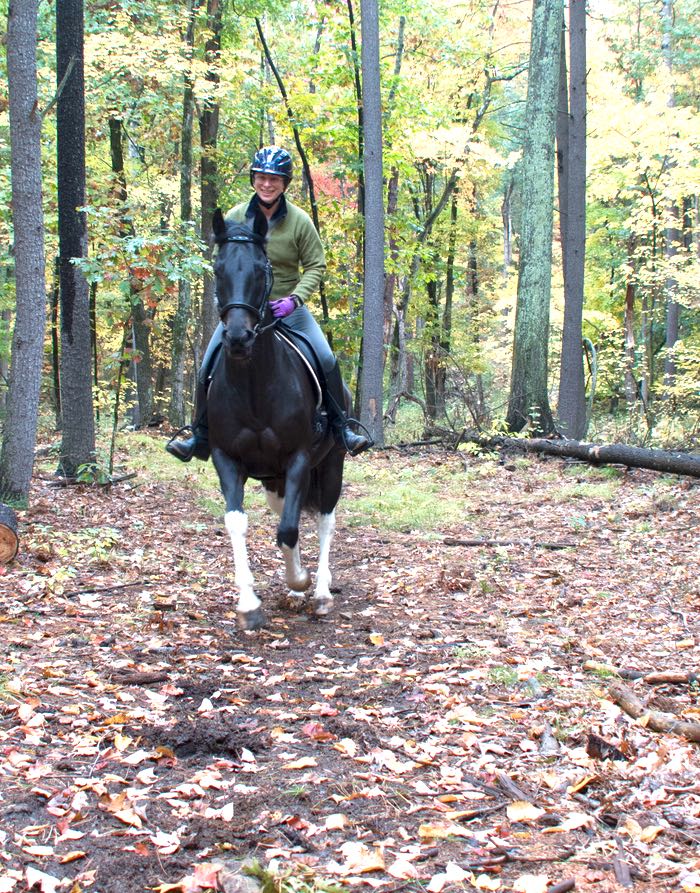 if your horse can't stop, you're in trouble. So, we all teach the whoa! I've written about how I've taught Tonka to stop. When doing dressage, I rely on communication from my legs, seat and hands, and he halts balanced and square (see the video at the end of this blogpost.) When I'm riding along on the buckle, I don't have to pick up the reins, all I have to do is say ho, and Tonka halts. (I've written about that here, video included.)
But we are so focused on the go and the whoa that we fail to teach what comes comes between them: quietly standing still. I recently realized that I was guilty of this oversight. There are few things more uncomfortable and unsettling (and sometimes scary) as a horse that is stopped, but won't stand still. The horse jigs, circles, tosses their head, and in the worst case scenario is so frustrated at not going forward that they go up into a rear. But this isn't the horse's fault – it's ours – we haven't trained the horse what to do after the halt.
All stops aren't the same. I've taught Tonka how to halt at X for a dressage test, to stand immobile while I salute, and then to continue on. That is not the same thing as stopping to pull out one's phone to take a photo, or to wait while a mountain bike passes you on a the wooded trail, or to chat with a friend while sitting in the saddle in the ring. Also, a horse might stand quietly when in the company of other horses, but dance around when by themselves. This week I realized that I hadn't trained for all of these contingencies. On Tuesday, I rode down a new trail over to a friend's house, and shouted a hello so that she came out the front door. This is already a lot to ask of a horse. I should add that it was an exceptionally windy day. Tonka was on high alert. This is what he looked like before we headed out on the trail. Note the flared nostril taking in the scents from the blustery wind.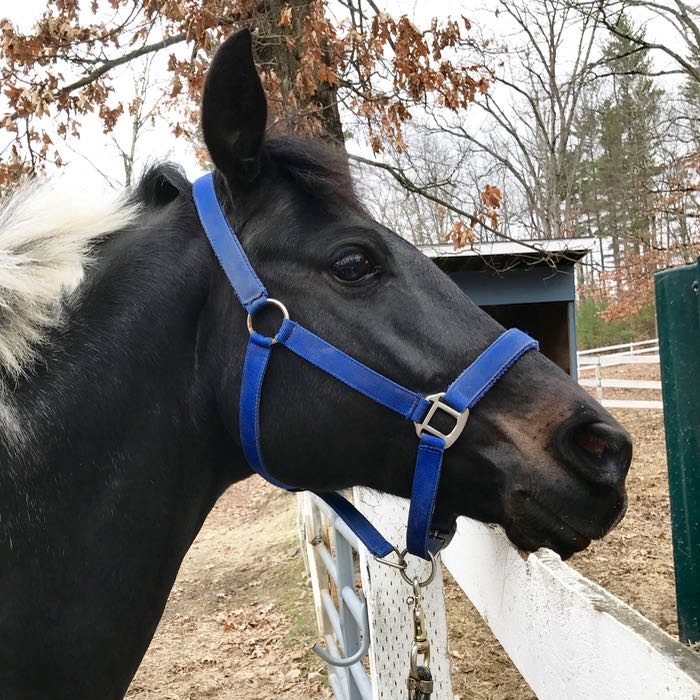 Tonka and I have a high level of trust in each other. I wan't over-facing him. But, he obviously wanted to get going. Tonka had little patience for standing around while I chatted with my friend. I realized that I didn't have a clear way to let him know what I did want – for him to relax and hang out, so I let him move a bit as we talked, and made plans to teach him a stand and wait later.
Yesterday, I began the training. When teaching something new, reduce the criteria so that you'll have success. Since I wanted a relaxed stand, I rode Tonka until he had used up some of his energy and was moving along calmly. I picked a spot that rarely holds surprises and that was near to home. I asked for the ho. He stopped.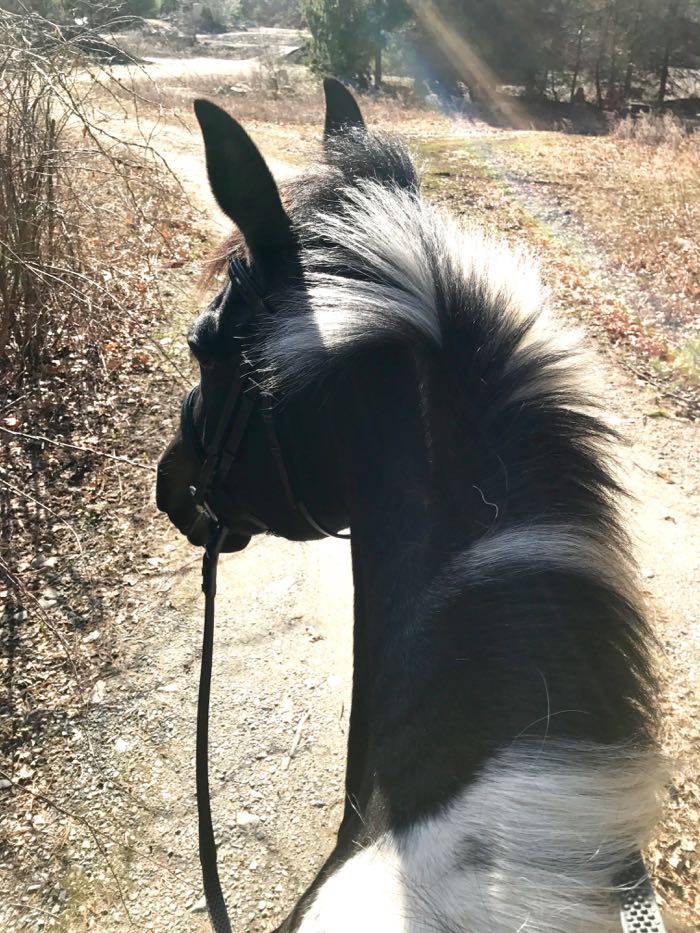 Usually at this point I would praise or reward, and move on. This time, though, I counted to see how long it would take him to get antsy at the standstill. It was only 6 seconds!. So we walked on and I asked for the ho again, counted to 5, and gave him a cookie. We moved up the trail, I asked for the ho again, and this time counted to 6. Tonka looked back at me, with a what's going on? expression, but his feet remained planted and I could feel him settle. He got a cookie.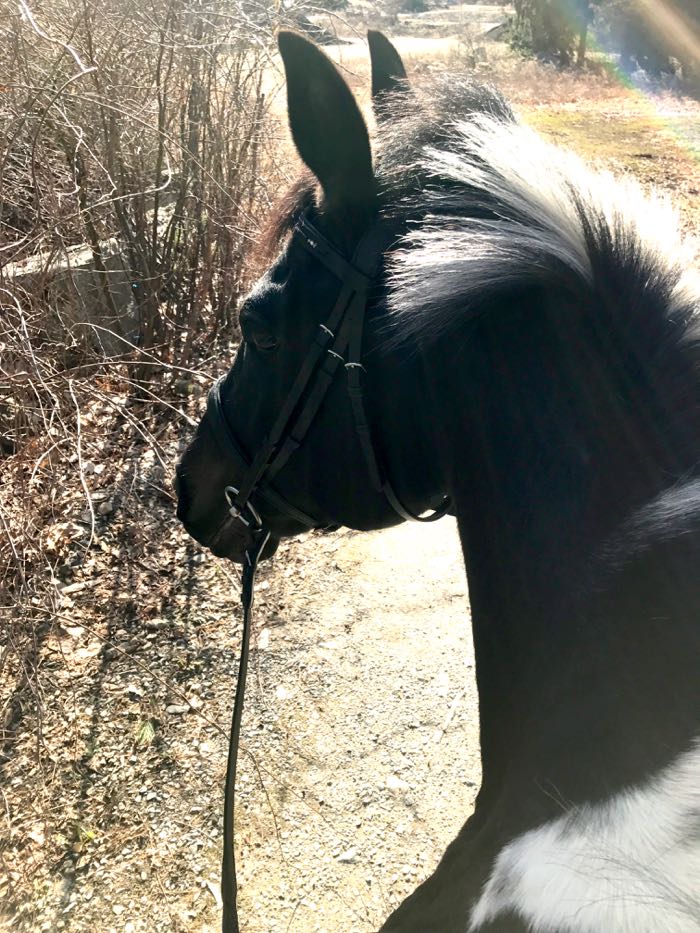 As we walked up the trail, I repeated this exercise, increasing the count to 8, and rewarding him for his patience. In this way, he's learning that a cue to halt also means to stand quietly until asked to move on. I'll be doing this in different locations and under a variety of conditions, while gradually increasing the duration. Soon enough he'll know what to do (relax and wait quietly) between the ho and the go. I think we'll both enjoy our rides more with this behavior in our repertoire.
(If you've enjoyed this blogpost, please share. It's easy to use the icons below. Thank you!)