On Sunday we trailered an hour and a half to the Beland Dressage Show. Tonk and I have moved up to USDF recognized shows where the competition is stiffer and the judges are more exacting than the schooling shows that we attended last year. About 80% of the horses at these competitions are big-moving, big-bodied warmbloods. These horses are usually in muted, elegant colors of bay, black and brown. Tonk was the only Paint. Except for a couple of Morgans, he was the smallest horse there.
Our first ride was at 8:14 am, the second horse of the day to go, which means that when we arrived, we had the warmup field to ourselves. Tonk hollered once to announce his presence and to see if anyone that he knows was there. There was no response and he settled right in. Compared to the other horses at these recognized dressage shows, Tonka doesn't have a whole lot of natural talent, but he has the perfect temperament.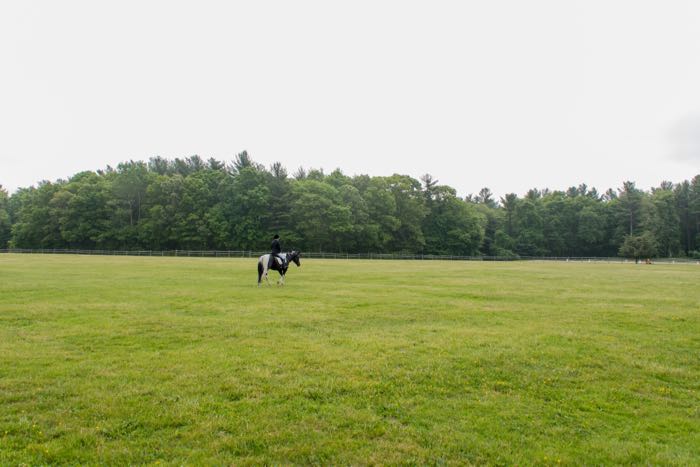 Soon others arrived. Tonk ignored them.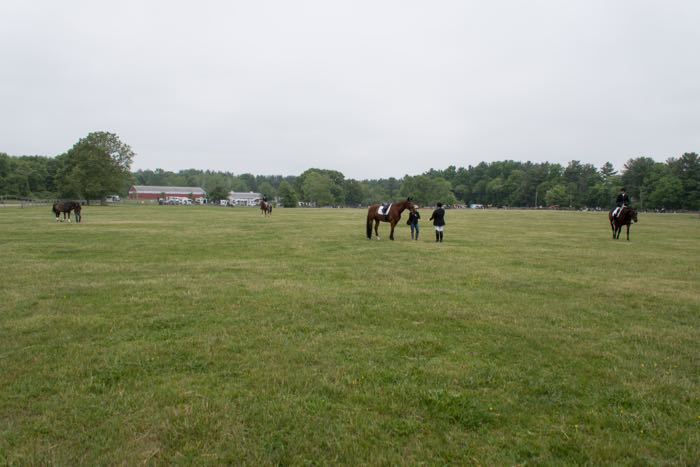 Much of his good behavior is due to the sort of training that I do. I reward him generously for paying attention and trying. Even at a show I stop the action when he's done something right and give a cookie.
This makes for a happy horse, even at a venue where there's tension and new things to be wary of.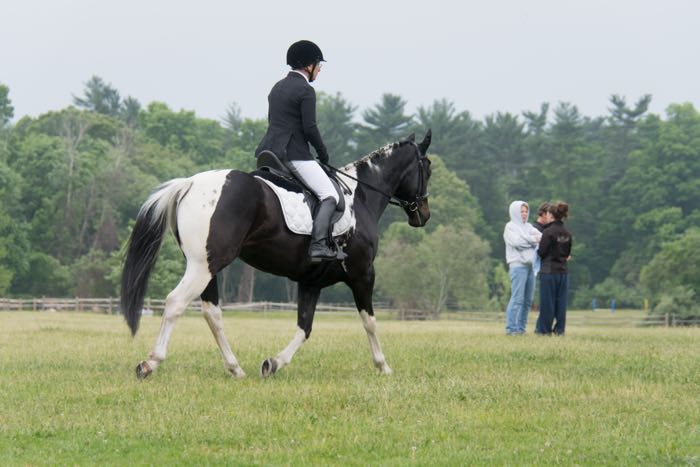 Warming up, we were the only competitor to do a relaxed canter around the field. This was not the frame that he would be in while in the ring – that would be more condensed and pushing from the rear. But it wouldn't help to drill that collected work into him. After a long trailer ride he needed to stretch and get the kinks out.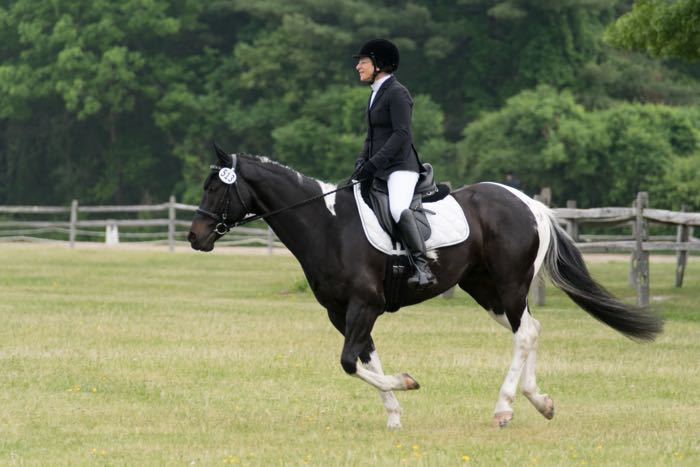 We can't compete against the fancy warmbloods on movement, but we can on flow, correctness and attitude. This square halt earned us an 8 on a scale of 0 to 10. (See this post about teaching the square halt with R+)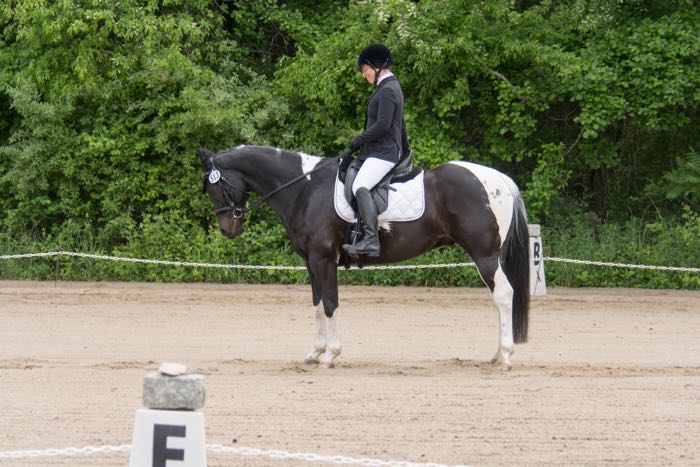 In our two classes we came in second and third. Our training level one test score was the second highest of any horse of the entire day! In this photo, taken when the test was over, doesn't it looks like Tonk is satisfied with himself?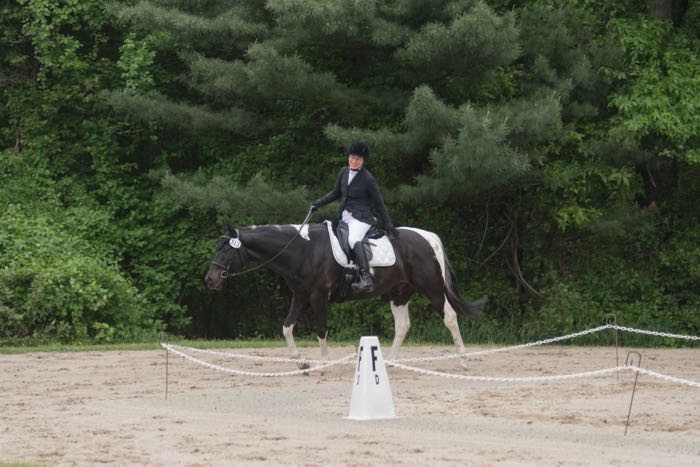 But Tonk didn't care about ribbons. He had a guy crush.
There was another colorful horse on the premises! Tonka couldn't take his eyes off of him.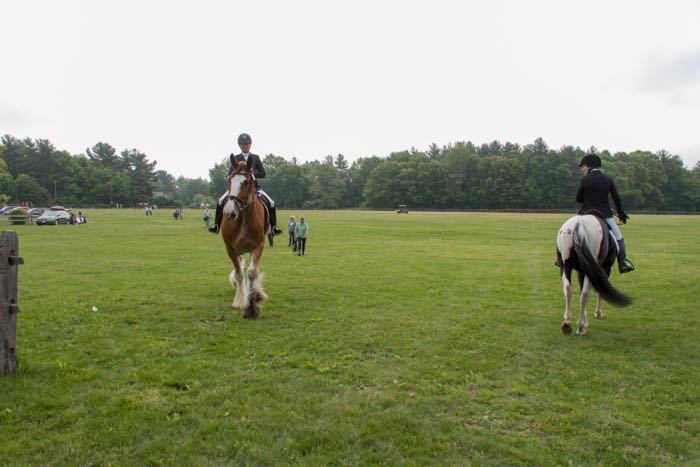 This draft horse's trailer was parked near us so we got to watch him walk by and get saddled up. I don't know if Tonk saw the coloring and it reminded him of the Paint horses that he grew up with on the ranch in Texas, or whether he simply loved this massive horse's gentle head. Whatever, while I fussed with Tonk, and while he grazed, my horse kept one eye on this big guy.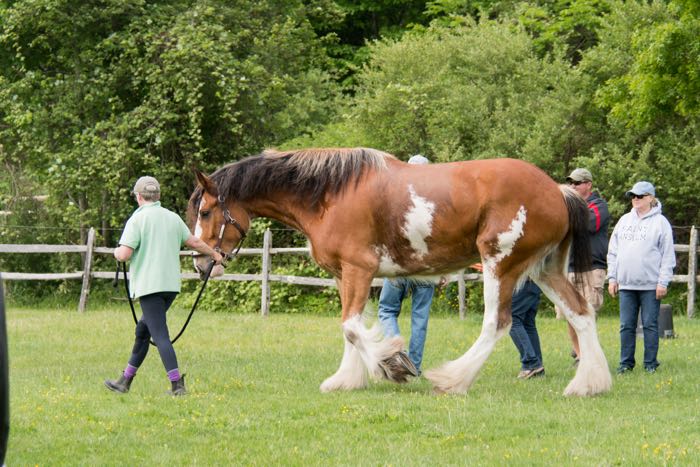 Tonk watched this horse with the sort of eager face that a toddler has when he's about to be let loose on a playground. But, being thousand pound horses at a show, these two didn't get to play. Crushes can be like that. Wistful, but wonderful just the same.