Here in southern Maine, we have both invasive and native species of thistles. Pollinators love all of them, but not farmers. They render pastures and hay fields useless. Goats are one of the few animals to eat thistles, and even for them it's a plant of last resort.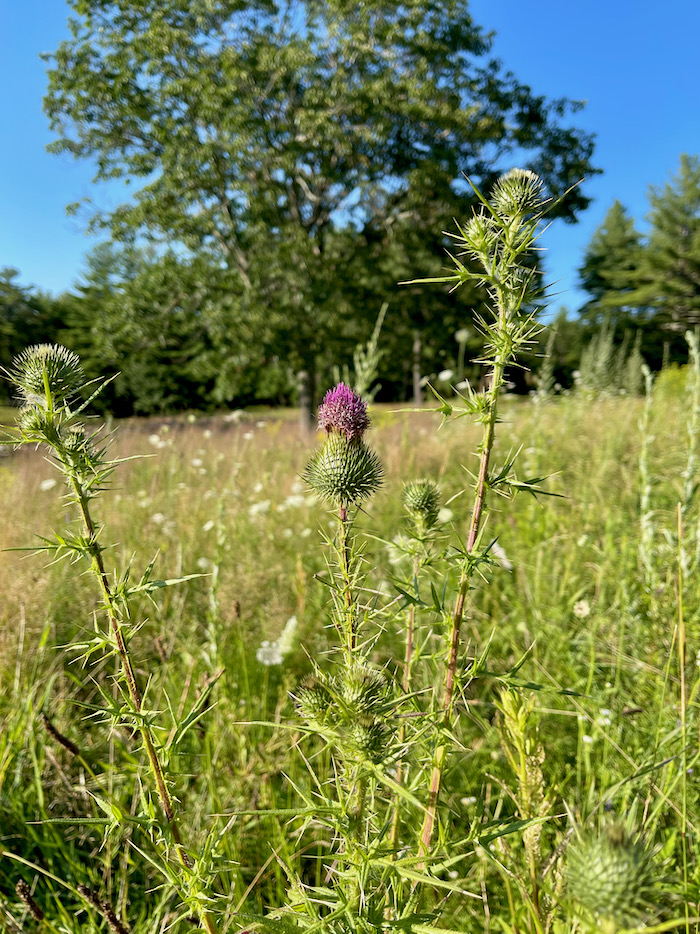 Thank you to Louise, who suggested the name Thistle for Hattie's baby. It's quite appropriate for a porcupine, a creature that is persistent in its residency, despite attempts to uproot it, and attractive despite its spikes.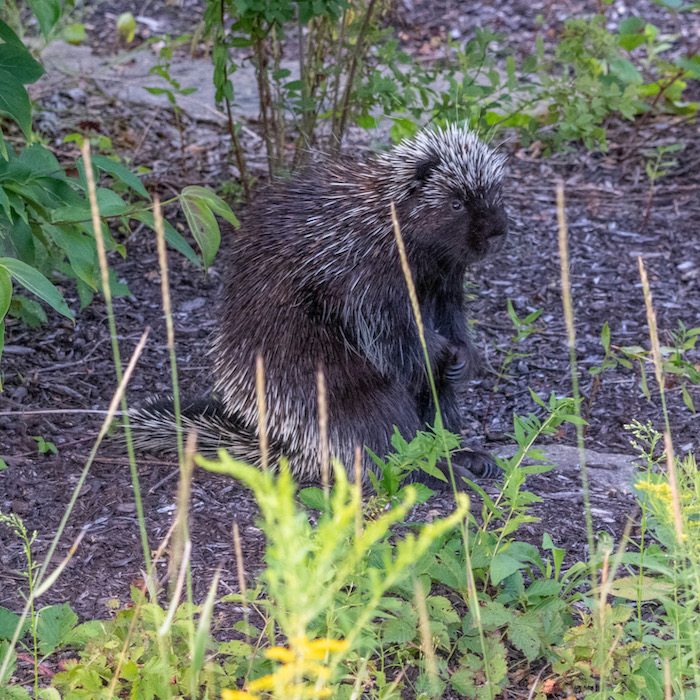 Even porcupines don't eat thistles. They do, though, love clover. Knowing this, last year I planted red clover in an area disturbed by construction. Hattie grazes here almost every night. She's not in this photo, but you can see her favored dining area.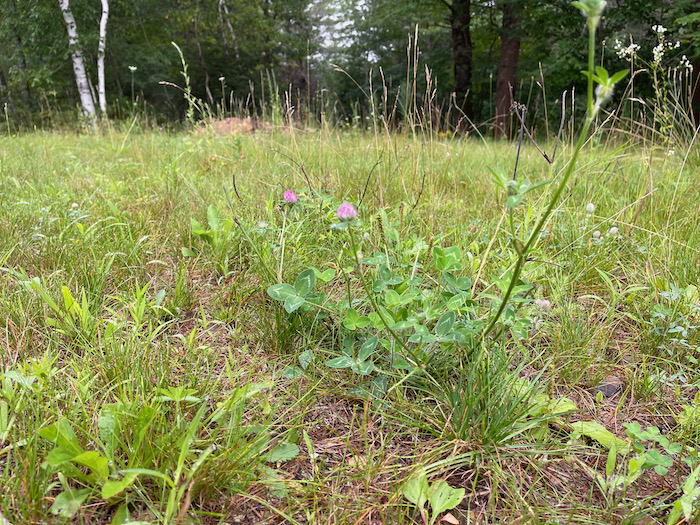 It's full-on late summer here. Maple trees are already changing color! (Which is a bit unsettling as it seems too early for that.) The goldenrod is in bloom. There's a background chorus of brrrs, chirps and whines from insects. We're also hearing the strange call of a great horned owlet insisting that it's hungry (the parents feed it long after it's fledged.)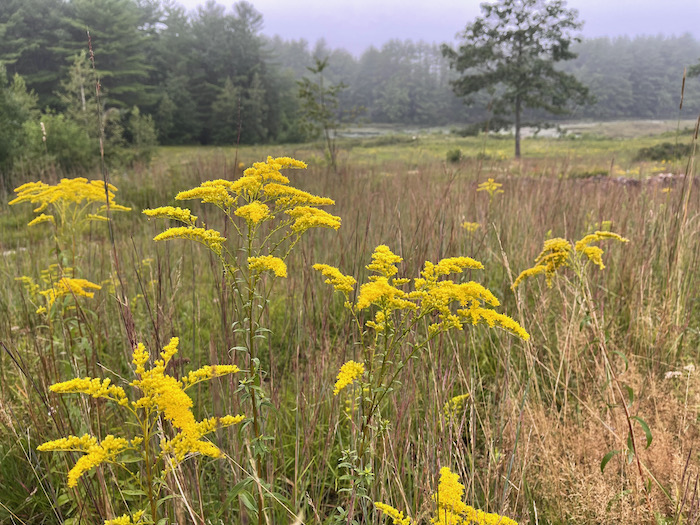 It's mushroom season. My dog is little, but still, this fungus is as big as he is!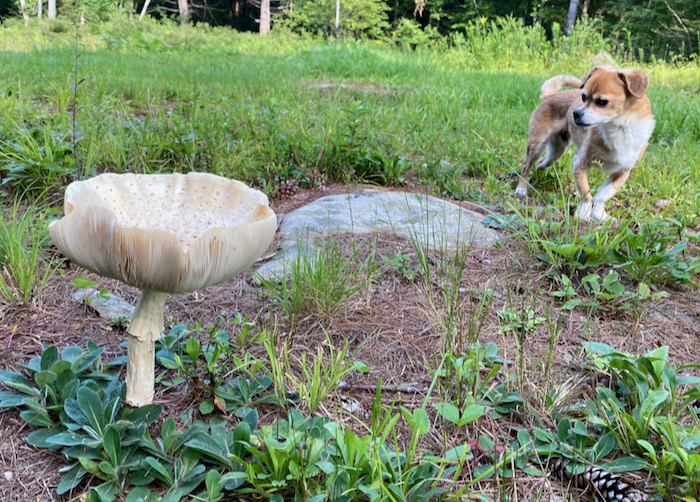 I do love the colors of this time of year and the textures in the field, but I'm not looking forward to winter. I could use another couple of months of summer.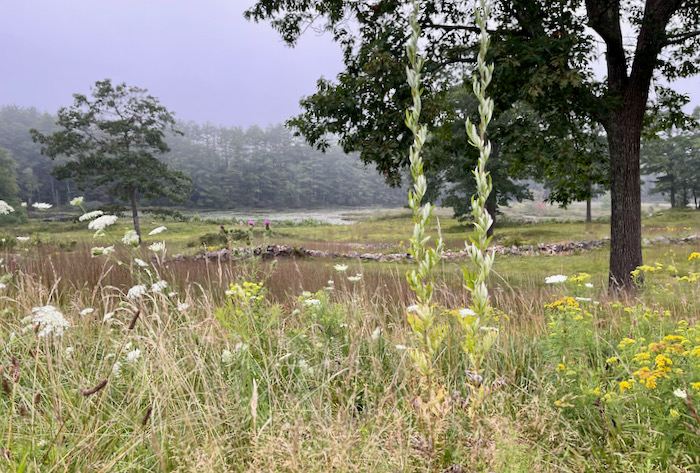 I could, however, do without the muggy, steamy days that we've been having. An occasional one in Maine is not unheard of, but a string of them just isn't right! Tonka still needs to move, and I need horse time for my mental health. The heat index for the next three days will be above 100 F. Tonka will likely spend these sweltering days in the shade of his stall, but he still needs to move, and I need horse-time for my mental health, so I'll be hand-walking. Or maybe get on bareback (we did this last week and Tonka rather liked the relaxed walk – I'm not the sort of rider who gallops around bareback!) We'll be indoors because when it's humid and hot, the deer flies and mosquitos are unbearable.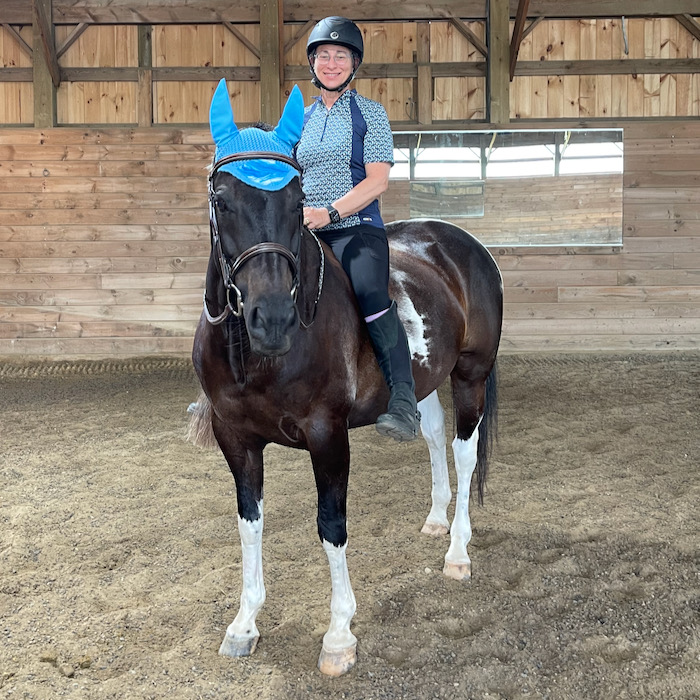 There. I've done my complaining. I look forward to summer and am sad when it goes, but really, it's not my favorite time of year. Here in Maine, though, the chill returns quickly. We've got a trail ride planned for Monday when the temperature dips down to the 70s. Soon enough it'll be sweater weather. Thistle and Hattie will be feasting on acorns. Tonka will be growing in his winter coat. Sweater weather. My favorite. Then, soon enough, I'll be complaining about ice and snow underfoot.
What's the weather like where you are? I know that for many of you out west my grumblings about humidity are piddling compared to the furnace and smokey air that you're dealing with. My thoughts are with you. Tell me how you're doing!