As I turn out of the barn's driveway at 6 am, Tonka safely ensconced in the trailer that I'm pulling with my pickup truck, I glance at Steve and say, Why do I do this? It's not a question and he's heard it before. We know that on the road back home I'll have the answer.
I could do without these shows – the early mornings, the expense, the nerves. But I do them anyway. Partly it's about having a goal to achieve that gives the daily rides more focus, and me a reason to push to excel. Partly it's about having a way to gauge how I'm doing. Partly it's because despite the anxiety of competing, there's a rush when I'm done, one that gives that frisson of excitement that one can't get at home.
Tonka seems to like applying his skills in a new place, too.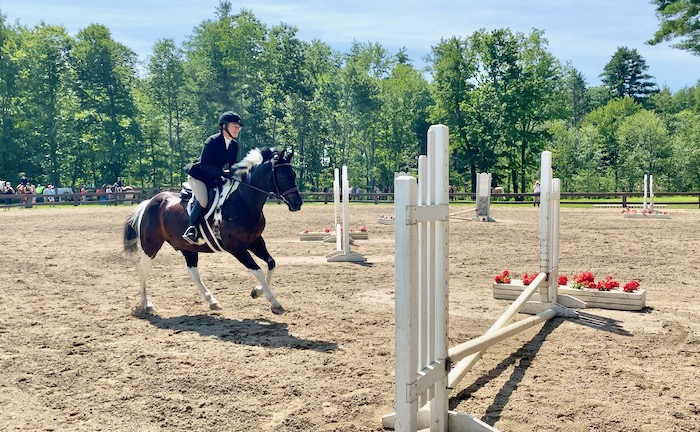 Horse shows take time. We left Greystone at 6 am (which means a 4:45 am wakeup time) and returned home at 1 pm. At the last show I competed in three classes for a total of 4 minutes. What else did we do?
I want Tonka to have time to eat his breakfast hay before I get on, so I like to arrive a good 45 minutes before I need to get in the saddle. While he's eating, I do a bit of last minute grooming. When you have a horse with white hocks that can take some time! I also organize my gear and check out the show venue.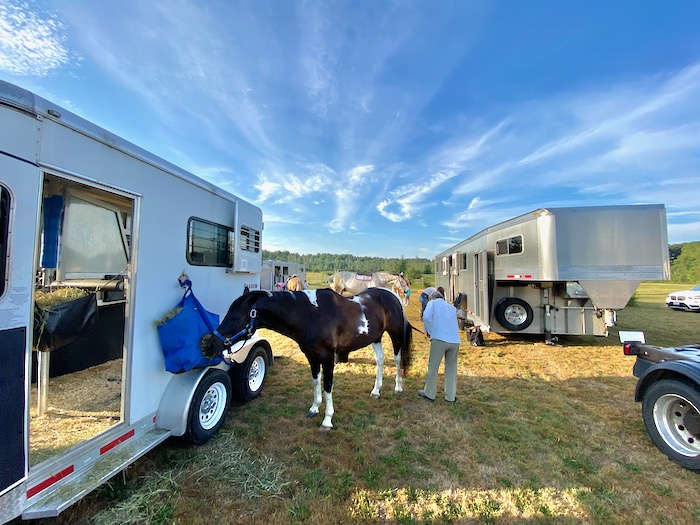 Tonka doesn't need much of a warmup. Walk for 10 minutes to get the joints lubricated, and then a bit of trot and canter.
Steph coaches me over 4 jumps.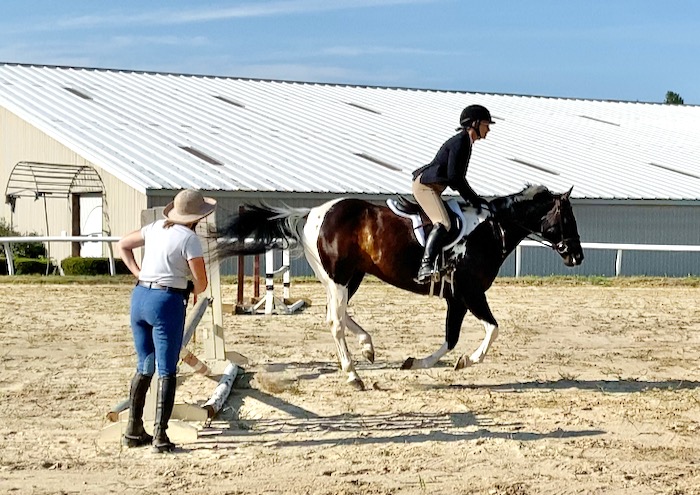 Other than that, he gets pet.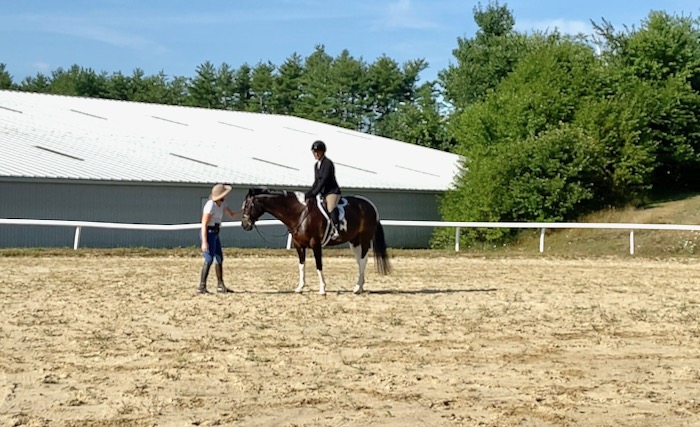 We hang out and wait for our turn, which is our least favorite part of all of this.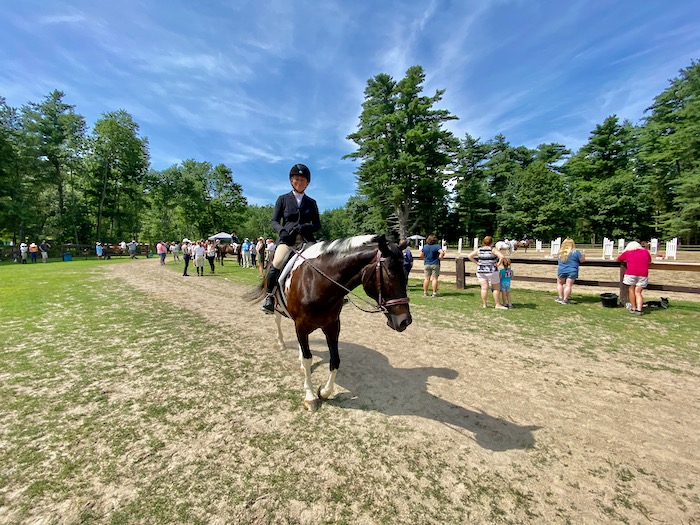 Then we get the few minutes in the ring that give us the rush and sense of accomplishment for the day.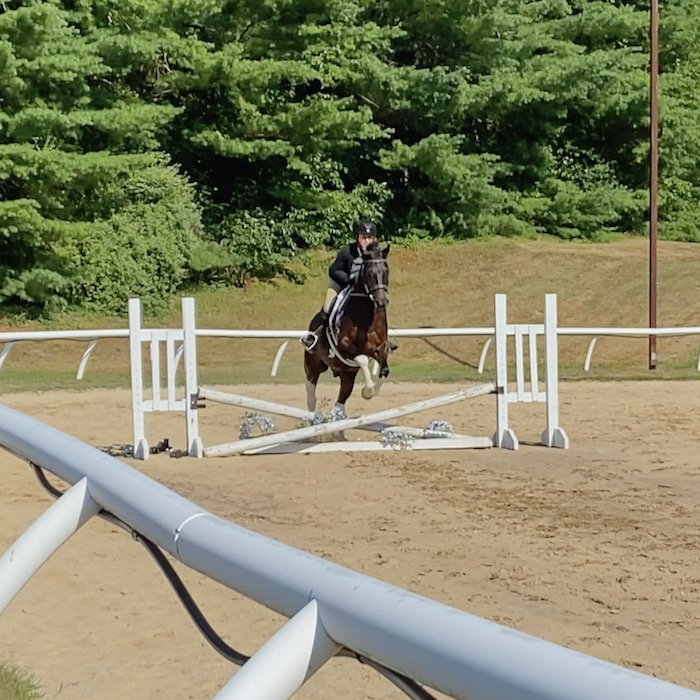 Add up all of the time in the saddle, and it still accounts for only a small percentage of time out of your horse show day.
Altogether, what with eating breakfast and having to stick around to find out class placement, Tonka spends a lot of time tied to the trailer. I used to worry that Tonka would be bored, frustrated, feel restricted. But, he has a full bag of hay. He has undemanding company. It makes him, and the people with him, quite content. There's something to be said for doing nothing. A horse show is a great place to do it.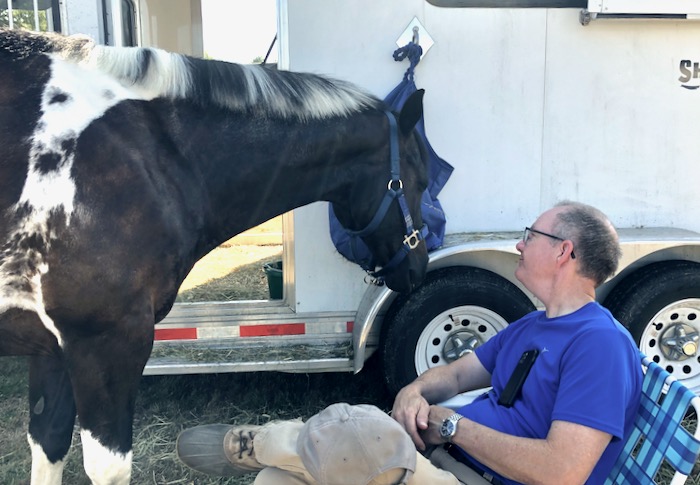 I'd be lying if I said that much of the fun didn't come from the ribbons. In our three outings this summer, I've come home with three blues. Winning is very satisfying.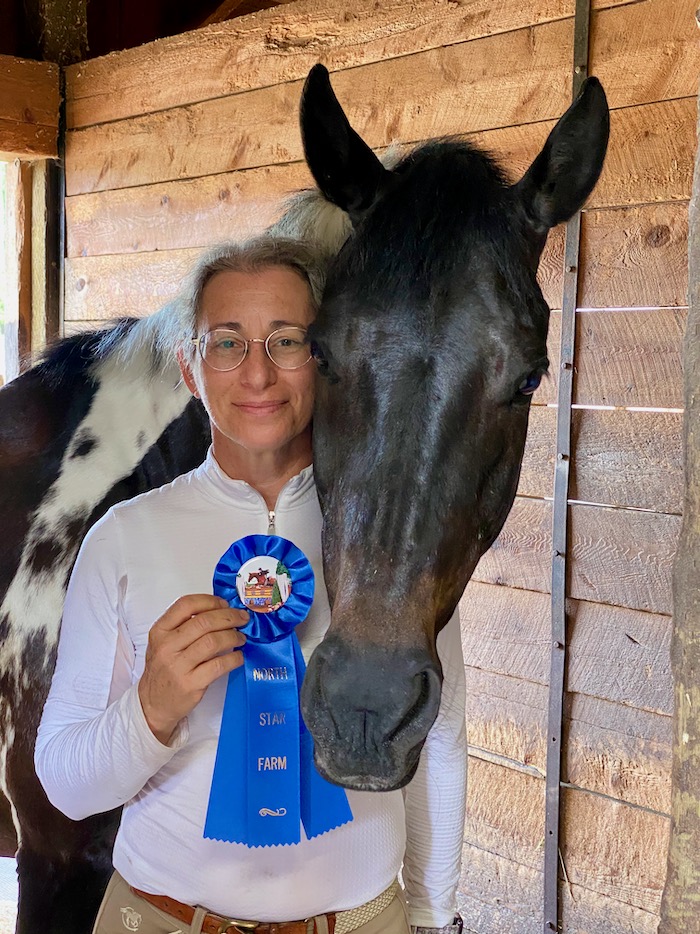 But I think it's the excuse to spend the whole day immersed in horse world, that makes showing something that I do time and again, despite the early morning grumpy questioning of my sanity.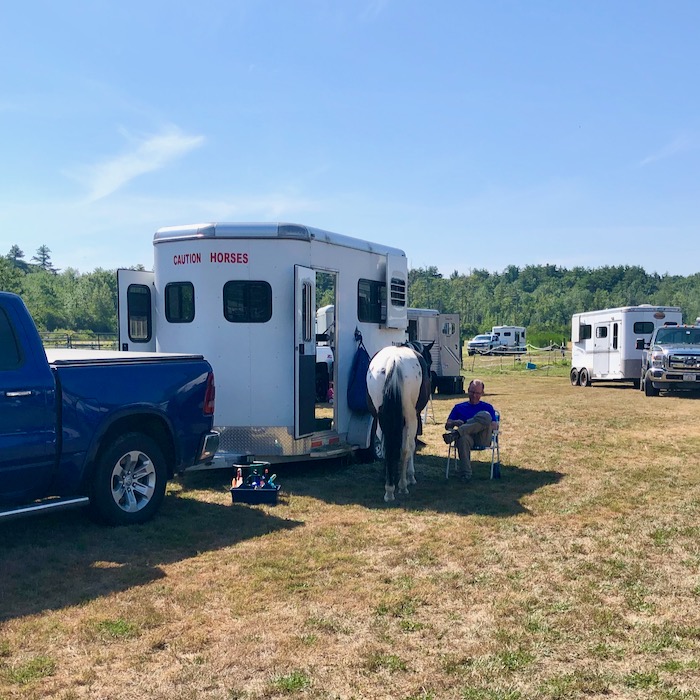 Everyone's show experience is different. Do you show? Why and what keeps you going?