Last Saturday, Tonka and I competed in our first show over fences. The Hunter/Jumper world is new to me and I left it to my trainer, Stephanie Plaisted, to decide what classes to enter us in. The class list reads to me like a foreign language. "beginner", "pre-modified", "open", "hunter", "equitation." Steph entered us in the "beginning" division that allows you to trot into the jumps. She thought that we might need that option. Then there's the difference between hunter and equitation. A hunter class is judged on how the horse goes – you want consistent smooth strides and jumps that create the picture of a lovely arc. Equitation is scored on the rider's position and effectiveness. Although there are clear criteria, it's also very subjective and up to the judge. (Which is different than the jumpers division, or what happens at 3-phase events, which are determined by whether the rails stay up.)
My biggest challenge at a jumping show is staying on course! I can't seem to ride and remember where to go. I'll get over the second jump and be totally blank about where to go next. Steph assures me that this is a skill that is learned with experience. A reason to enter the beginning division is that the courses are super easy. Even I could remember these.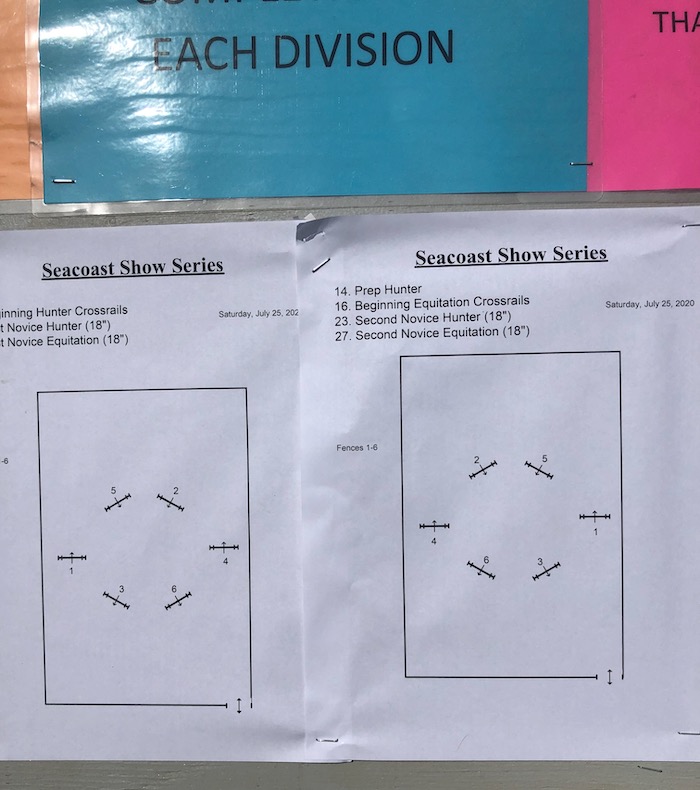 The jumps were almost too easy.  Because I trotted into the first one, Tonka wasn't sure if it was a cavaletti that he should step over, or something to actually jump. It was a bit awkward. We cantered the next line of jumps, but came in too close to each.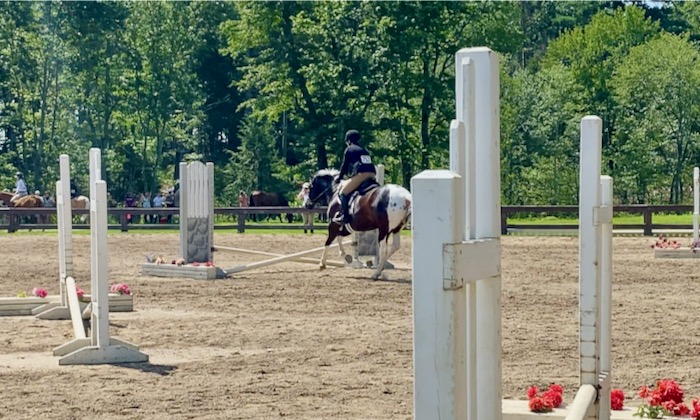 My agile horse manage to take off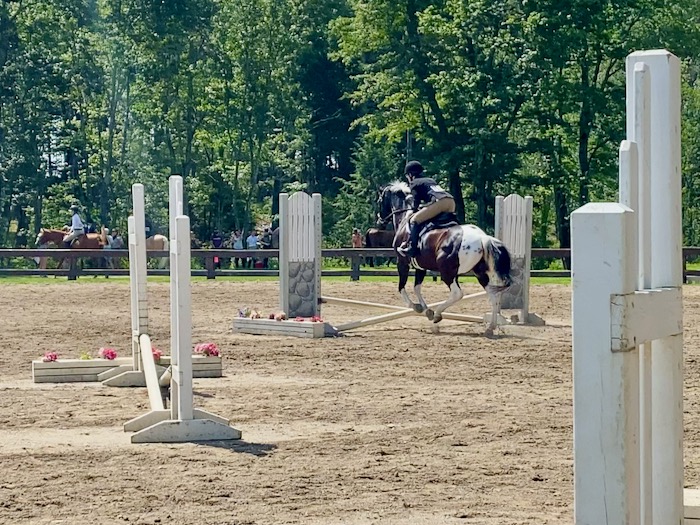 and land in fine form, but it wasn't the pretty picture that a judge is looking for in a hunter class. However, this initial rough ride didn't quench Tonka's enthusiasm for the activity. After this first course we watched two riders do their turns, and then went back in for our equitation class.
This time, we started at the canter. Tonka was delighted.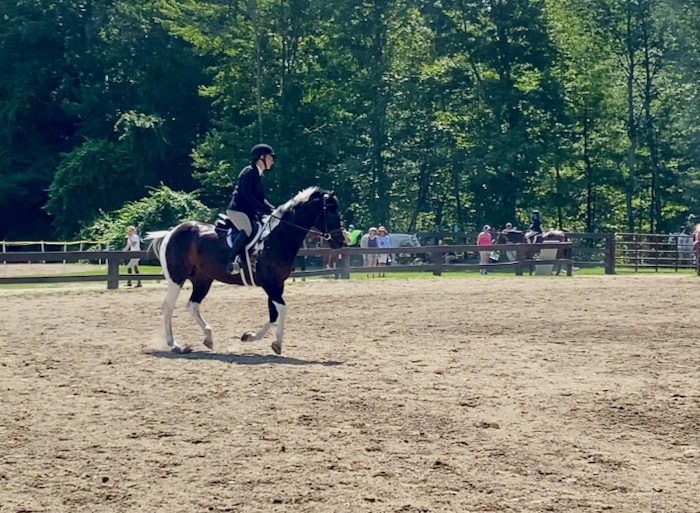 We had one too-close take-off, and even with that, Tonka tucked his knees like a pro. Otherwise the course flowed.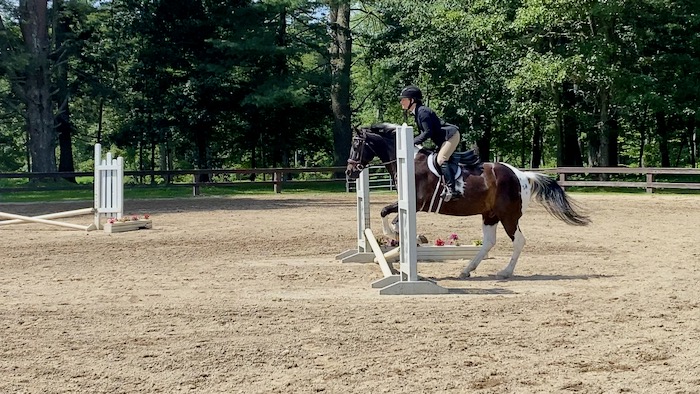 I trusted that he could go forward with his big horse stride into these little jumps and he wouldn't overdo it. We had an almost perfect line. He even did a seamless lead swap over the second jump!
It was a lot of fun, and our time in the ring was over too soon. However, the day was hot and steamy and so I packed up the trailer while I waited to hear the class placement. I wanted to be on the road before the worst of the day's heat hit. Unlike at dressage shows, results are announced soon after you ride. Not surprisingly, those chips in too close to the jumps in the hunter ring cost us, and we came in sixth out of eight. But we had ironed it all out for our second go, I had managed to remember the course AND look up, and so we were first out of eight. I won a very nice blue mug, which I am drinking coffee out of while I write this.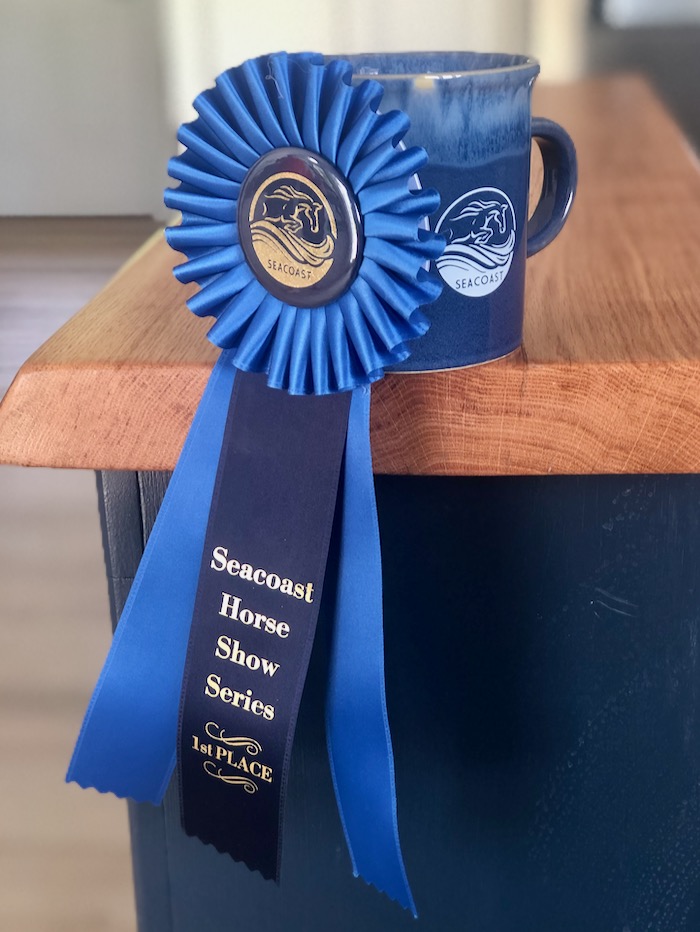 What did Tonka get? A day of new experiences, jumping, peppermints after each class, apple pieces in his water, a nice graze with Steve in a new place (while I fussed with gear and got the ribbons) and a sense of accomplishment for a skill well-done. A win in both our books.