If you have a horse, you accumulate a lot of gear. I have a cubby at the boarding barn, but that's not enough storage for the not-in-use blankets, sheets, extra fly masks, bits, boots, grooming tools, etc. etc. Those are kept tucked away in trunks and other containers in my garage. This was an okay storage set-up until I started bringing Tonka home weekly to go on trail rides off of my property. For that activity, he wears his dressage bridle and saddle. It made sense to keep these at home because I was no longer using them at the barn.
The only place to put the saddle was on my portable rack. In front of my truck. Every time that I pulled in I worried that I was going to bump into it. The garage is a tight space and my truck is big. I was also worried that the mice who sometimes appear in the garage would take a liking to chewing on the leather. And then there's dust and moisture that the saddle would be exposed to.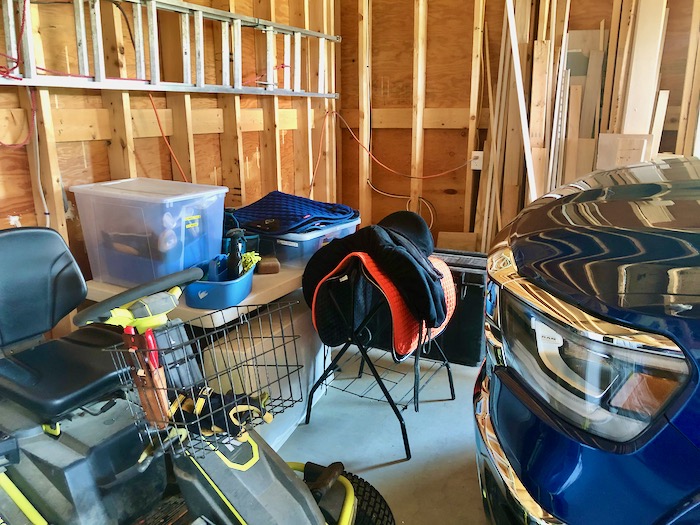 Not only is the saddle expensive, but it is the only dressage saddle that is right for my horse. I couldn't risk damaging it. I had to come up with a better storage solution. I needed a tack cubby. I looked online and found a basic pine box. That would do. But the simplest version was over $500 plus shipping.
Luckily, I have a master builder on my speed dial. Bruce Oronte has been here, on and off (mostly on) since we bought this house last year. The interior needed reconfiguring, stairs rebuilt, trim made to look plumb when the house isn't – he's done it all. What Bruce does is never done halfway. So I should have known better when I asked him if he could build a basic box to store my saddle in. Two sheets of plywood and some hardware would do it.
Bruce upgraded to furniture quality plywood. He added trim with rounded edges. Wheels that lock. A black handle. He attached Tonka's old stall plaque for a finishing touch. This is a beautiful piece of furniture, as well-crafted as the saddle and bridle it protects.
Inside, I'd specified a shelf for my pads. I bought a saddle rack and hooks at the NEER shop (a horse rescue). Those were securely screwed on. I had to keep Bruce from adding more custom shelves and storage. I like my tubs!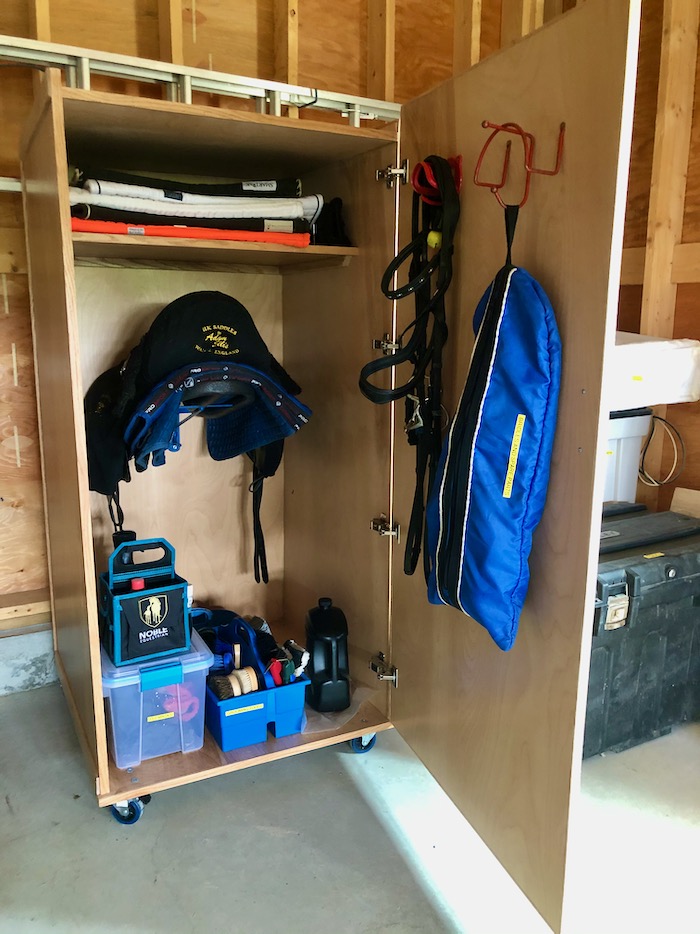 Now I don't worry when I park my truck, and everything that I need to go on a trail ride is accessible and organized in the cubby.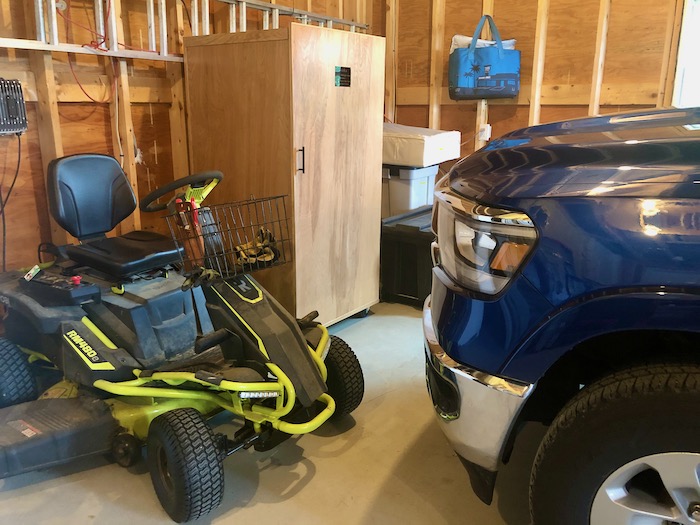 How do you store your tack? I'd love to hear how you manage all of the gear!