On Saturday I trailered Tonka to Turtle Hill. He's been here enough to get comfortable with being near a body of water. In the past, riding near ponds and rivers put Tonka on high alert. No longer. Tonka is also at ease being on his own. So, we had a nice walk, with a little trot and canter, in the field in front of my house. My goal was to have this be a conditioning ride on hills. No stress, but a workout for muscles that aren't used in the flat of a riding arena.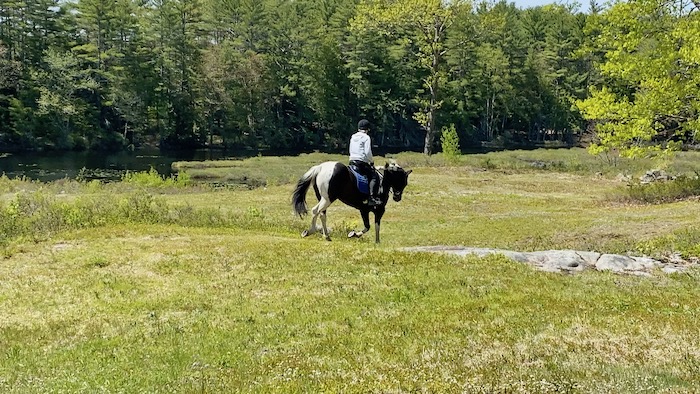 We also walked the short, less than half-mile, "bridle path" that I put in through the woods along the marsh. Here's an older photo of us on it. There's pine-covered uneven ground and trees to maneuver around, which is also good for conditioning and gives us some variability and different scenery. We rode this bridle path three times on Saturday. It's a short stretch, but beautiful and always interesting. One of the times past the marsh's north point I spied a swimming beaver!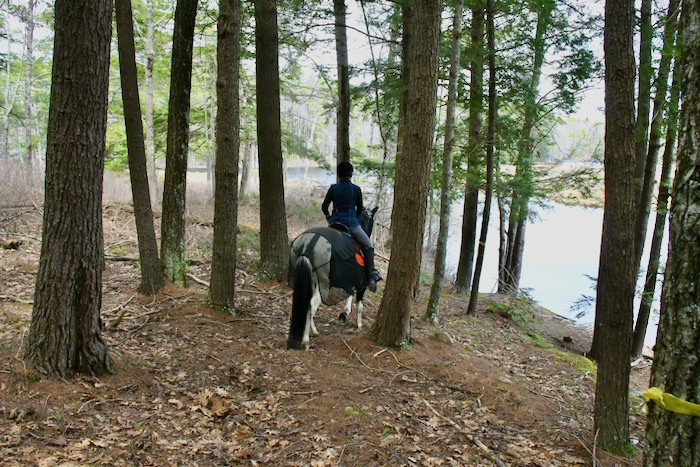 After the ride I let Tonka loose to graze. He trotted over to the tall grass near the woods.
The field isn't fenced, but it is surrounded by a couple of thousand acres of woods on three sides and a marsh to the front. There's lots of good grass to eat, and no reason for Tonka to disappear into the forest.
At least that's what I thought.
I went back to the trailer to put my gear away. Tonka headed into a small clearing that also has good grass. Tonka was familiar with it because one entrance to the bridle path is at the far end of it. It's a fine place for a horse to graze, but Tonka was out of sight, so Steve offered to go keep an eye on him.
Tonka was not in view and at first, Steve thought that Tonka had taken off!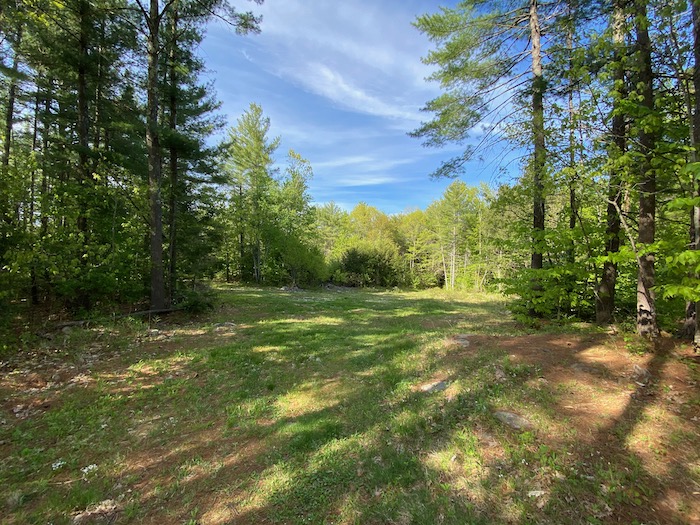 Then Steve saw Tonka, looking through the hemlock saplings into the woods.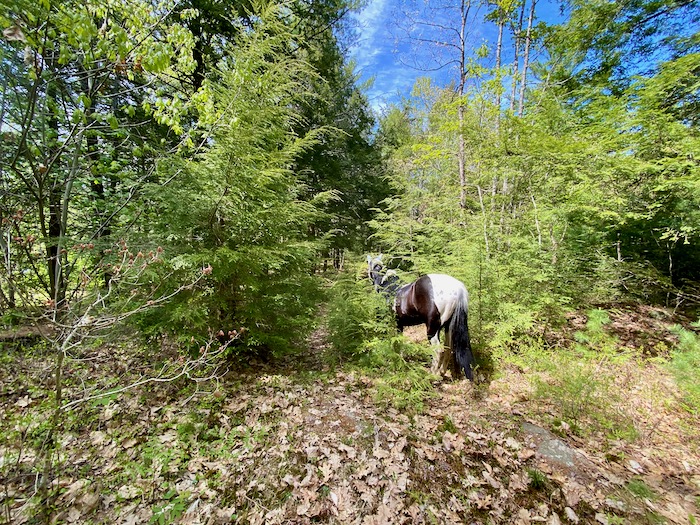 When Tonka saw Steve he waited a moment until his friend came closer, and then had a conversation.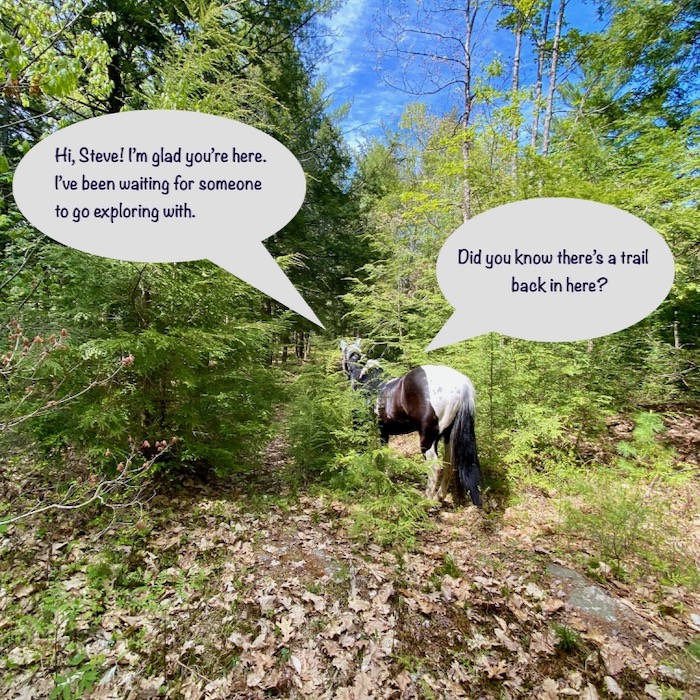 Now that Tonka had company, he headed onto the trail. When Steve lagged, Tonka waited for him and then showed the way. Tonka stopped now and then to taste a leaf and nibble at the green things at his hooves.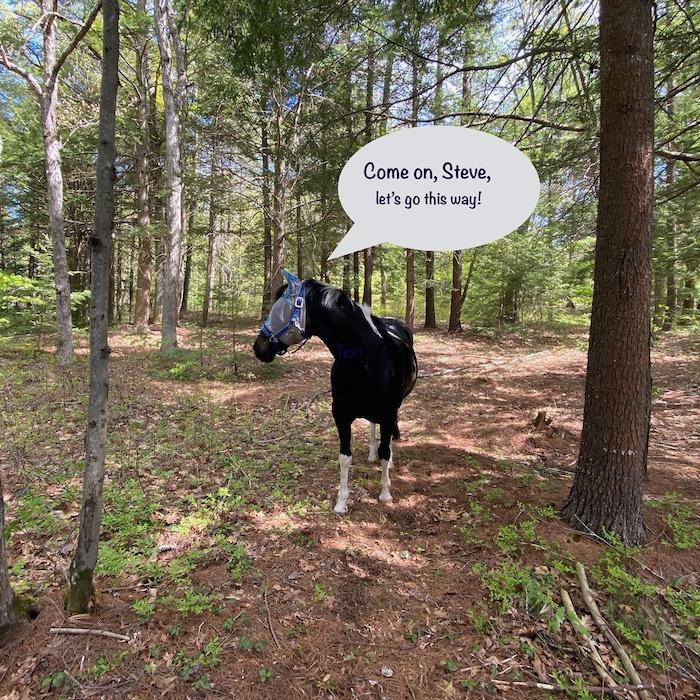 This unused and grown-over road led right to the north point.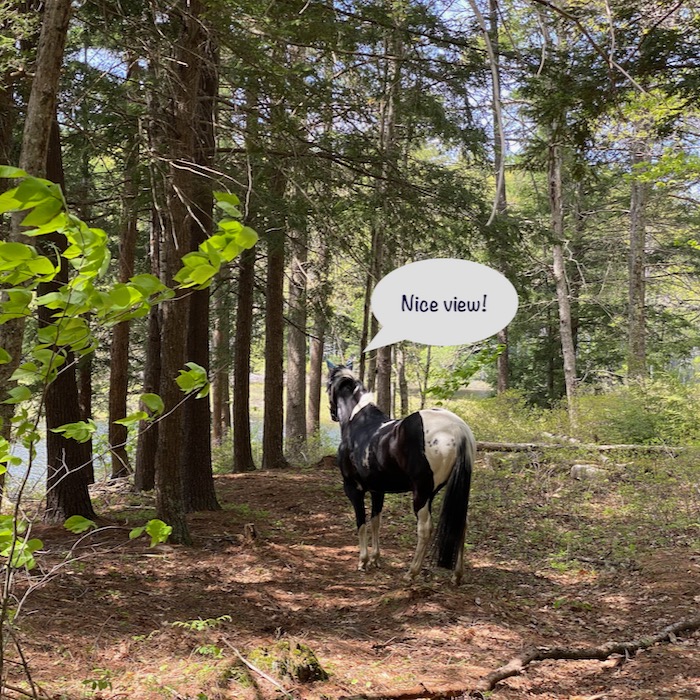 Meanwhile, it had been only five minutes since I'd gone to tidy up the trailer. I looked, but couldn't see my horse or husband in the side field, so decided to go see what they were up to. The field was empty and my heart rate instantly shot up. I texted Steve Where is Tonka??? Where are you??? The reply was At the point.
Huh? Why? I hurried down the trail. I didn't want to spook my horse as I noisily ran towards him, so I called out. I didn't know that Tonka and Steve were safe and calm, and that Steve would take this little video of my approach. I believe that the thought bubble here would read: Oh, look, my best friend has come to join us on our sightseeing outing. How nice!
I took off Tonka's fly mask so I could better read his expression. This is a happy horse.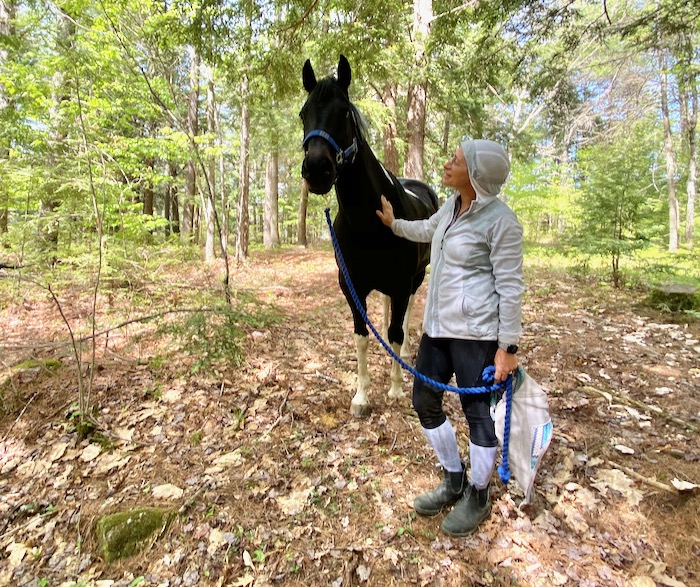 We walked back down the path to the field.
I held the lead rope while Tonka grazed.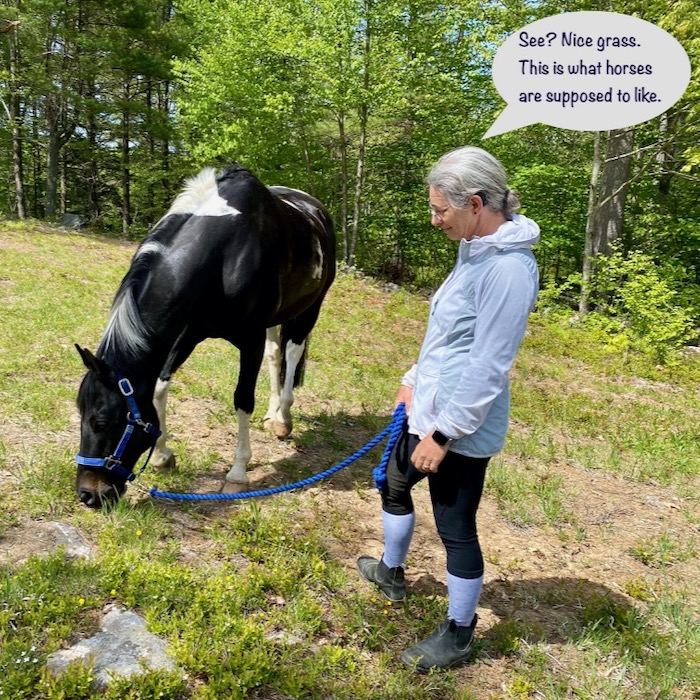 But then, Tonka led me back to the trail to the point. I hung back and it was clear exactly where he wanted to go.
Why? I have no idea. I don't think that he was looking for other horses. As far as I know, there are none within several miles of here. Besides, if that was on his mind, he would have neighed. His nose wasn't flared in an anxious attempt to get information about the environment. Honestly, it looked like he was sightseeing! Tonka is a confident and curious horse and he knows that I allow him to investigate his surroundings. I think this is what makes him such a sane and fun riding partner. However, I'd rather that he not go exploring the woods on his own. From now on, all grazing and exploring at Turtle Hill will be done with me holding onto my horse's lead rope!