I've been exercising using videos. Some cardio. Some easy yoga. I've tried at least a dozen YouTube channels and have checked out many others. The instructors are super upbeat, but there's something they all do that is insidiously counterproductive to their optimistic you can do it tone. If only these exercise instructors would make a small tweak in how they word their workouts it would make a world of a difference to their viewers. What they could do differently is glaringly obvious to me because I've been schooled in positive animal training and a bit of Tag Teach. I wish they'd turn don't into do.
I often hear don't in these phrases during the workouts:
Don't worry about getting this perfect.
That's supposed to be encouraging, however, I don't know about you, but being told not to worry has never stopped me from being anxious! What emotion am I supposed to have when being told to stand on one leg while bending over?
Don't forget to breathe.
Is it just me, or does hearing that make you gulp? Another issue with the don't do that phrasing is it isn't timely. By the time the trainer says don't forget to breathe, you've already done a full 2 jumping jacks while holding your breath! That don't forget phrase irks me. There's an admonishing tone to it. You could leave it off altogether and simply say what it is that needs doing.
Then there are the instructions that start with something they don't want you to do. Don't press your foot against your knee.
Where should I put it?
Here are better alternatives for the above directives:
It's okay to lose your balance.
Breathe with each step.
Place your foot on your calf or thigh.
It doesn't matter how positive you intend to be, if you start a sentence with don't, the learner's gut reaction will be to retreat. Here's an example from my riding. My hands are forever falling into the wrong position. I round my wrists and hold my hands so that I can see my knuckles. Here's a photo of how that looks. I'm embarrassed to show it to you, but there it is. In a blurry screenshot to cover up a bit of it!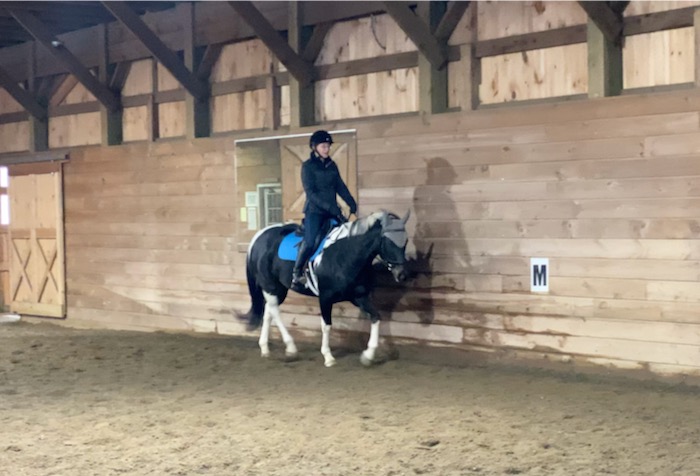 When my trainer says don't curl your wrists I bring my thumbs up, but first there is self-recrimination. I've been trying to correct this for ages and I'm still caught out with those hands in the wrong place and the reins too long. AGGHH! Worse yet, although I'll get it right for a moment, the correction doesn't stick. To get a lasting fix (which I was close to before having to take this hiatus from the barn) I had to do more than hear don't do that! Hands are complicated bits of anatomy, and what I'm asking of them, when holding the reins, is complex. I had to break down exactly what was going wrong and identify how to fix it. My reins were too long. I'd shorten the reins, and seconds later, there they'd be, too long again. Why? The weak link were my pinkies. If they were open, then the muscles in my hands weren't staying closed on the reins. Telling myself pinkie to palm fixed that. Next, I needed to get those knuckles perpendicular to the ground. I came up with this: thumbs to ear tips. If the fingernails on my thumbs are pointing at the tips of my horses ears, everything else falls into position! Coming up with these proactive phrases enabled me to change my position without that negative self-talk that comes with hearing don't.
Here's a screen shot of a moment when I felt my wrists curl. Instead of telling myself don't do that, I thought, do this. I closed my pinkies and pointed my thumbs to my horse's ears. I was super quick with the response because there was no frustration to slow it down. Tonka appreciates it when I'm not frustrated with myself. He notices every mood, even if it's a flicker of negativity. This approach of focusing on the do worked. I'm smiling, and so is Tonka.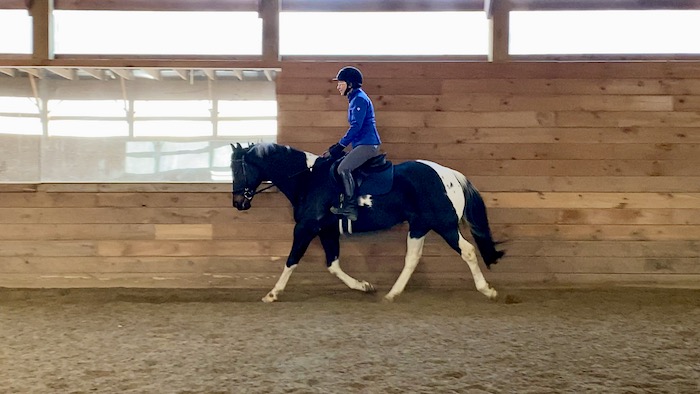 Can you think of how you can turn a don't into a do?