I last saw Tonka on March 25 when the state of Maine closed things down. We boarders were considered "non-essential." For the first few weeks we certainly were.
The owners of the barn know how crushing it is to be cut-off from my horse. I got a few photos to reassure me that Tonka was alive and well (albeit, as expected, manure-stained.)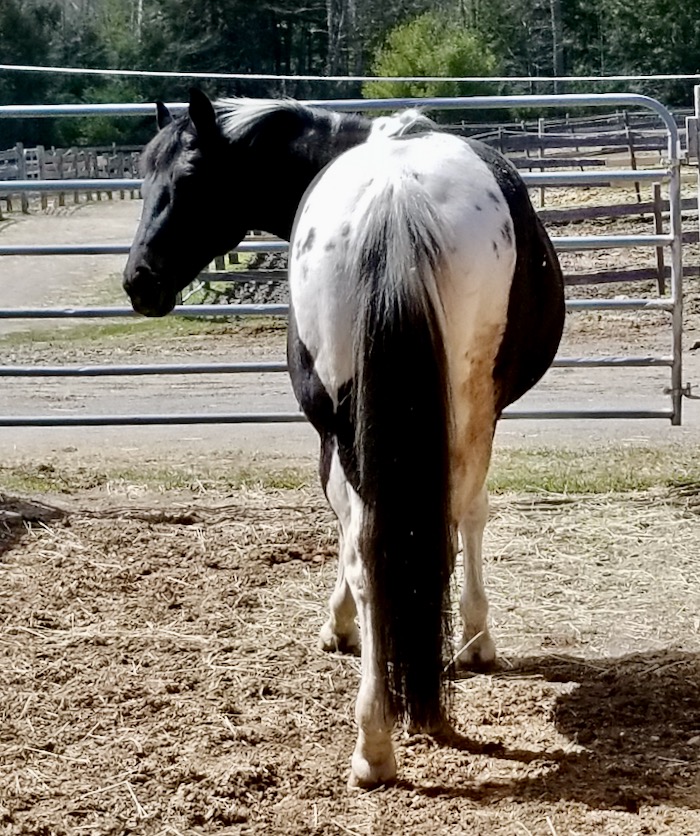 Then they went a step better and installed a cam! I've been able to peek in to see my horse live. This has been a balm to me.
Tonka looks fine. I think he looks bored, but maybe I'm projecting my own mood onto him.
As time goes on, the horses need more than to be fed and watered and attended to by the staff. We might not be "essential" but we're a big part of keeping the horses exercised, groomed and happy. The crisis here is easing up, and the barn owners have come up with a prudent plan to let the boarders return. The barn reopens to boarders on May 2.
We are using a scheduling app. Six people will be allowed on property at a time, and only four in the indoor. We're asked to take our temperatures before arriving, and if there's even a glimmer of illness to please stay away. Time in the tack room should be short, and visitors aren't allowed. Face masks are advised. I'm 61 years old, so I'm in a more at-risk category than the teenagers. I'll be keeping my gear in my truck, grooming and tacking up in the stall, and wearing a face mask and gloves. (I know the face mask protects others more than myself, but it still makes me feel like I'm doing something.)
I'm also planning on trailering out to ride – if the weather and bugs cooperate, at least twice weekly. More on that, and my fitness plan for Tonka, in the next blog!