Note: This is one article in a series about horse vision. I've compiled all of them, including more information and references, in this blogpost: Horse Vision.
---
I've been looking into horses' eyes lately. Literally and figuratively.
In November, l'll be talking at Equine Affaire about the horse's senses, how their view of the world impacts how they behave, and how we can use that knowledge to interact with them with understanding and effectiveness.
Sight is the sense we think of first. It's obvious. The horse's eye is one of the largest on the planet. People see that big eye and think that it's like ours, but that the horse can see further and with more clarity. That's not the case at all. I've been learning about the anatomy of the horse's eye and it's different than ours. Here is one important distinction: the horse has a streak of visual acuity. This is the part of the eye that gives them the ability to see detail. Outside of that streak, the world looks rather fuzzy to a horse. Think of it as if the horse is wearing bifocal glasses, but that the magnified strip is in the middle of the glasses, not the bottom. In order for the horse to see something with clarity, they have to move their head so that lines up with the streak of visual acuity.
This is why, although it feels counterintuitive to you, when your horse raises and turns their head when tense, it's best to let them look, rather than to hold on tight and restrict their movement. Once they can clearly see what worries them, they usually settle down.
Tonka and I trailered to a barn to take a lesson. A pet pig lives there.
Here, he knows that the pig, Archie, is in front of him, but the visual information is fuzzy. Tonka does get a whiff.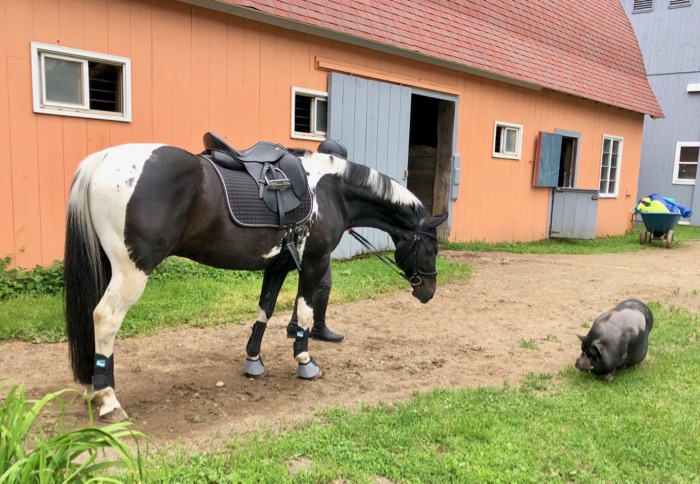 Then Tonka raises and turns his head. Now Archie appears in Tonka's streak of visual acuity. Tonka gets Archie in focus, and concludes that as weird as this creature is, he's nothing to worry about.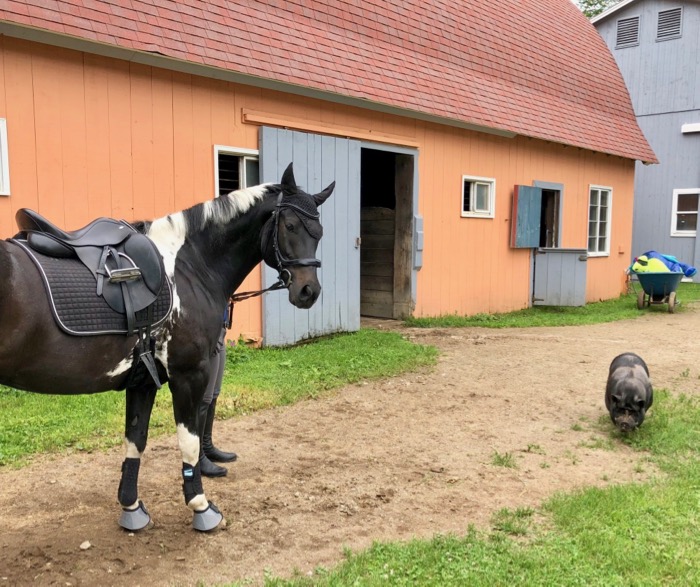 The visual streak is also highly sensitive to changes in brilliance and motion, far more than what we can register with our eyes, which is why your horse can seem so reactive to what to you seems perfectly boring.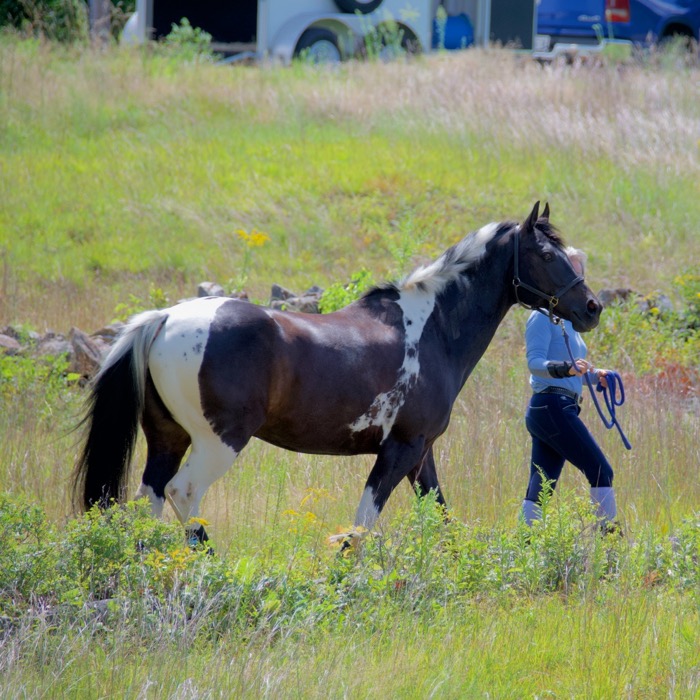 There's a lot more to know about your horse's eyesight. Color, range of vision, light sensitivity, all differ from what we humans experience. I'll be sharing more of that in my talk at Equine Affaire, and then later here on the blog.
Who's coming to Equine Affaire? Perhaps we can all meet up?