Behavior doesn't happen out of the blue. Spooks don't happen for no reason. You – the rider – might not see, hear, smell, or otherwise notice what your horse is reacting to, but it's there. Sometimes what the horse is worried about is something harmless. If you have a good relationship with your horse, you can tell them there's nothing to be alarmed about, and they'll believe you, and you'll both go on safely and without drama.
Last week Tonka and I joined Denver and Kim for a ride in the woods. We started out relaxed and eager.
Do you see the little white shed in the above photo? Just before we got to it, Kim warned me that there was a culvert to cross. At that spot, Tonka and Denver did this: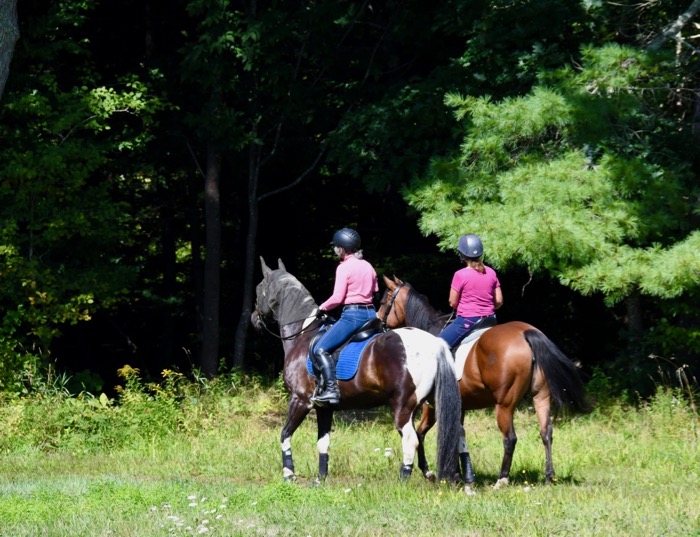 I had this conversation with Tonka.
It's no big deal. There's barely a dip in the trail. I see the shadow to the right. There's nothing in it.
Tonka said, There's something to worry about.
I said, Nah, just shadows.
Tonka said, It's more than shadows.
I didn't want to force things, so I asked Kim to take the lead with Denver.
Tonka said, Well, if you and my new friend both say this place is okay to travel through, I will. But please note my vote of no confidence.
Although Tonka kept going, I was surprised that he didn't immediately settle. In fact, a half-minute later, when we got to the white shed, he was even more on alert and tried to veer widely around it. I couldn't see anything to alarm Tonka. Maybe it was the contrast of bright white and shadows. Maybe it was that the shed blocked his view of what was up ahead. Kim said that Denver had also been wary of this stretch of the trail. Using my seat and legs, I kept Tonka on the path, and with the shed behind us, he continued on. A minute later, he was back to his relaxed self.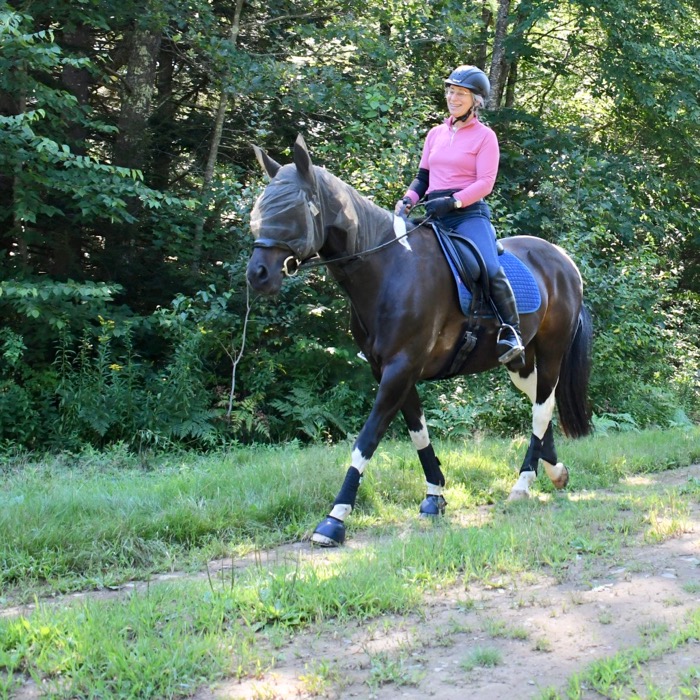 After an uneventful ride through the woods, we came back to the little outbuilding. Tonka's head went up. Once again, both he and Denver gave it a wide berth.
As we passed the shed, I saw what was worrying the horses. Wasps. Dozens of wasps were flying in and out of the eaves. Paper nests hung in the shadows.
I'm severely allergic to wasp stings. One reason I always wear a fanny pack is that I carry medicine, just in case I get stung. Riding by the shed, I was ever so grateful for my horse's fine-tuned senses and how he kept us at a prudent distance from the wasps.
Denver and Tonka had let us know that there was danger on the trail. They did it while still staying sane and keeping us safe. Because Kim and I didn't punish them when they hesitated, they'll continue to communicate to us when they know something that we don't. At the same time, they'll accept our guidance, because we haven't steered them into trouble yet.
I've written several variations on this theme in this blog, (click on the "spooking" category to the right to find more) but I don't think it's repetitive, at least it doesn't feel that way to me. Each time there's a dialog like this with my horse, it feels like I've gone through a portal to a special place where I really can talk with the animals.
My friend, Karen Pryor, has told me that although she has trained many species to do many behaviors, that that was never the point. Training, for her, has always been about communication that goes both ways. It's a conversation that leads to understanding each other. Intelligence, personality, and thought processes are revealed and shared through training. So, yes, when Tonka stops or spooks, I use training to get Tonka to go in the direction and at the speed that I want him to. A lot of my time in the saddle is spent training Tonka to do such things with finesse. But that's not the point. The point is that we listen to what each other is saying. It's a conversation that is always interesting and that I never tire of.