Here in the States it's almost Thanksgiving, which means here in my home, it's time to bake pie. A lot of pie.
This makes my goats very happy. They don't get pie, but they do get to indulge. I always make a few apple pies. Here's my basic recipe, but after years of making apple pies, I do it by heart, and do different riffs on it. This year I'm baking a classic apple pie made with Northern Spy apples (which will give it an old-fashioned tartness) and I've added cheddar to a butter crust. In another pie I combined Baldwin apples with dried cranberries, crystalized ginger and ground almonds. I like my apple pies full and tall, and so after making these pies I had a bowl of peels and cores. I also made lemon pie (my recipe was written up in Woman's Day Magazine.) Into the bowl of apple peels went the squeezed out lemons, and I took it all out to the barn, where the Goat Boys were eager to "help" with the cleanup!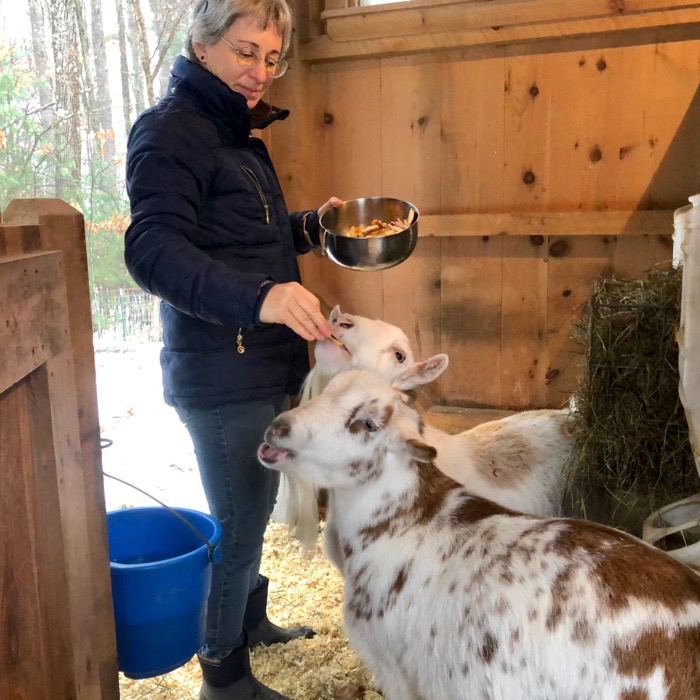 Most people don't realize that goats are fussy eaters. Watch this video. I don't know what it was about that one piece of apple – maybe it was bruised? – but neither goat wanted it.
But they do love their lemon pieces and apple spaghetti!
I wish all of you as much gusto and joy this week as my goats are having. Happy Thanksgiving!