Earlier this summer, Tonka and I went to two schooling shows. Such competitions aren't under the auspices of the United States Dressage Federation (USDF). The judges are very good, but they don't yet have their full accreditation. The atmosphere is more laid back than at recognized shows, and your scores don't count towards USDF standings. I entered the schooling shows for practice and to make sure that Tonka felt sound and strong. He did. I enjoy the more relaxed venues, but I'm competitive, and honestly, I have something to prove. It was time to move up to USDF shows.
At the recognized events, the competition can be tougher. You do see all breeds, but mostly you find fancier horses, the big warmbloods. Tonka is small, and Paint horses don't have the natural loft to their gaits that usually win ribbons. Sometimes the difference between my horse and the others is rather obvious!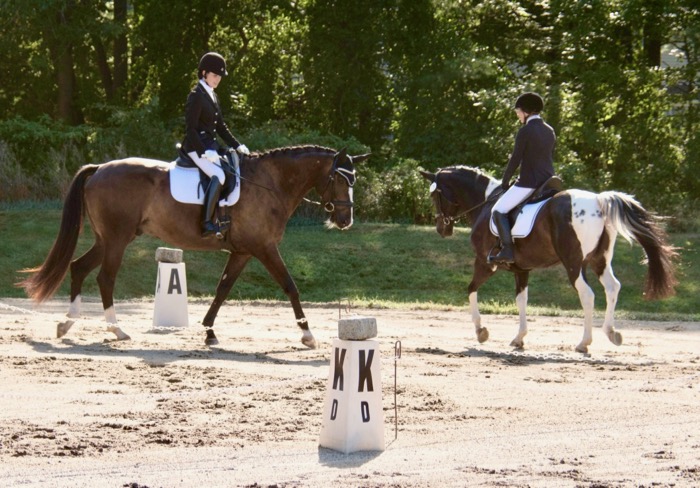 Four years ago, this is what I started with.
Not exactly a dressage prospect. Which was fine. Tonka was (and is) meant to be a trail horse. But I enjoy the structure of dressage, and that in order to do well, you have to have fine-tuned communication with your horse. I decided to see what Tonka and I could accomplish in the dressage ring. I've carefully brought him along so that he's muscled up in all the right places and can carry himself with the athleticism necessary for this sport.
Even with the improved physique and the schooling in the dressage ring that we've done, all things being equal, when Tonka goes up against a twinkly-toed, uphill-built, motoring-from-behind, statuesque horse, he can't possibly win. In dressage, like in figure skating, not only are you marked on the precision of each piece of the test, but scores are, frankly, subjective, and the prettiest mover gets the blue ribbon.
But all things aren't equal. Tonka and I have something that keeps us competitive. It's what I keep in mind when I train, and what I hope will carry us through in competition. It's our relationship.
This week we competed in First Level Test 1. There were ten in the class. One of the horses is well-known. She'd been selected by Carl Hester (British Olympian) to ride in his clinic in Maine last fall (a huge event with 900+ in the audience.) On Wednesday, Tonka tied her for second place.
We scored 66.852%. Quite respectable. It was less than a point from the winning team. One of the good things about competing is that you get your test back, with scores for each movement and a section of collective marks. You know exactly what the judge saw and how it was graded. On this test, in the "further remarks" section, the judge wrote harmonious pair. She also wrote I appreciate the smooth transitions. This was so validating! I was thrilled that the judge acknowledged, and approved of, my primary goal, which is to have a horse who is a happy partner.
Here's some advice for how to have a harmonious relationship with your horse:
What you do on the ground is as important as what you do in the saddle. Start by listening to your horse and going out of your way to do what they like. Does he lean into a certain grooming tool? Use it and don't rush! Conversely, if your horse makes faces at a brush, put it away and try another. Your horse will trust that you are listening to him and that you have his best interests at heart. This will carry over to the dressage ring.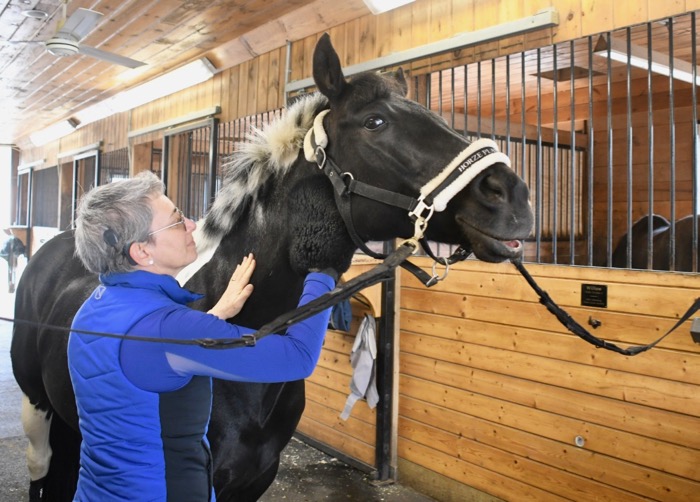 Be in the moment with your horse. Even if you're heading out early in the morning, don't rush. There's always time for a carrot and a kind word.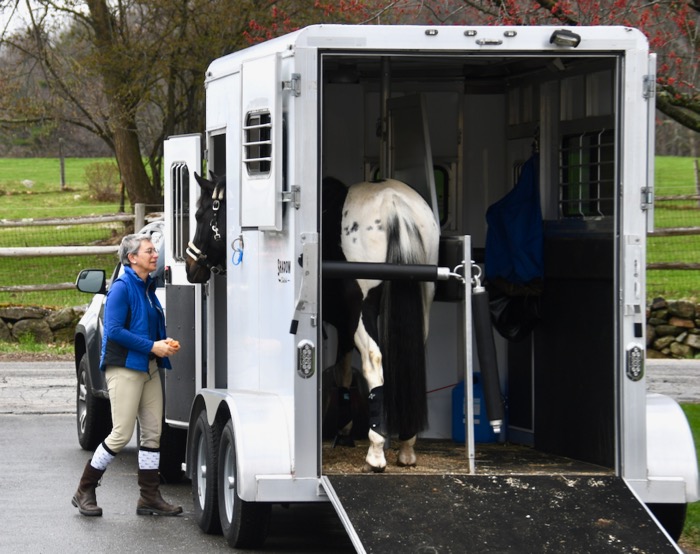 Find the right trainer. I avoid what I call the "unrelenting" dressage instructors. Find someone who has a deep knowledge of the sport, but is also willing to take breaks and reward both you and your horse. You'll know if they're the right fit. Your horse will tell you.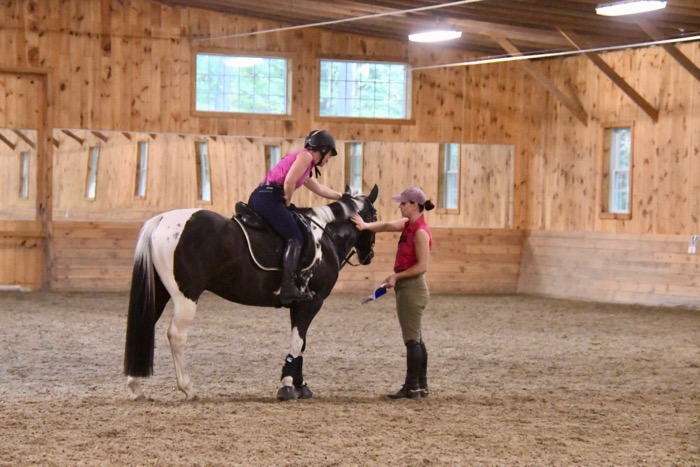 Have a clear vision of what you want to achieve each and every stride. Be nimble enough to notice the moment that you get it right. Be soft. Breathe a thank you.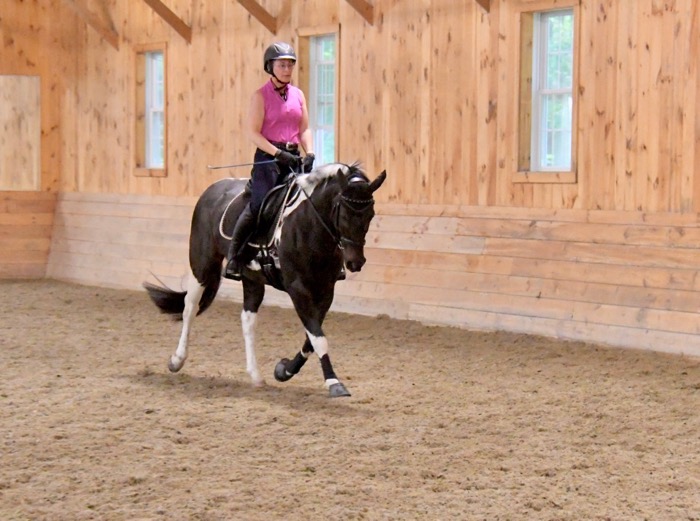 When it's going well, don't keep drilling the horse! Instead, stop and tangibly reward. You'll be able to pick up right where you left off, and your mount will carry on enthusiastically.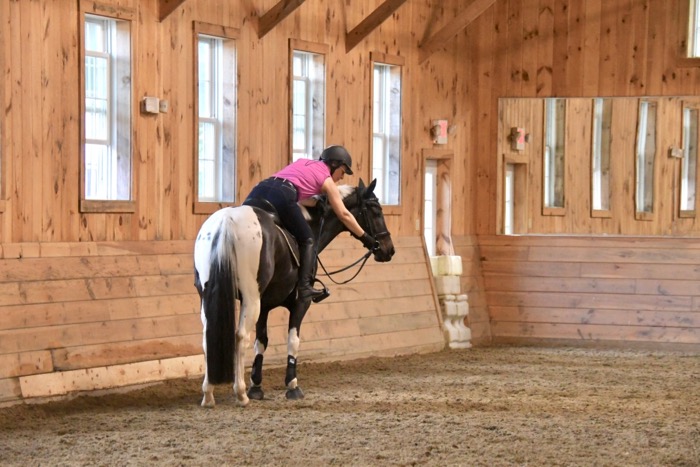 Conversely, there will be ugly strides.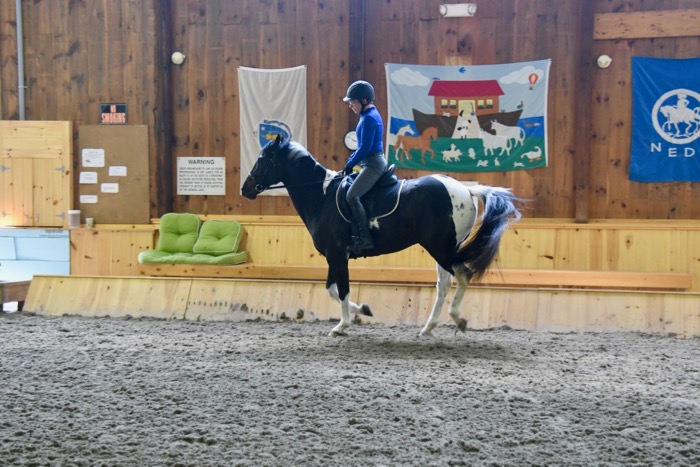 Ignore them. If they pile up, stop. Take a breath. Think through how you can communicate more clearly and tactfully so that your horse can do it right. Try again and celebrate the smallest success.
Take breaks from the ring.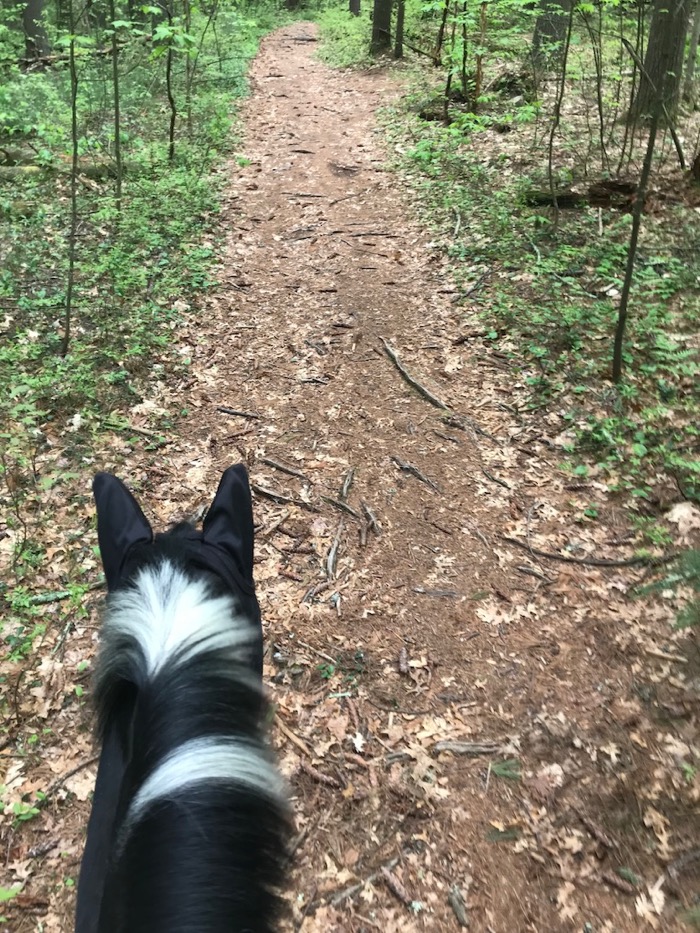 Even at the show, pay attention to your relationship. Both of you are likely nervous. You're not going to teach your horse anything new at the show. Do what you have to to warm up, but also relax. Let him look around. You, too.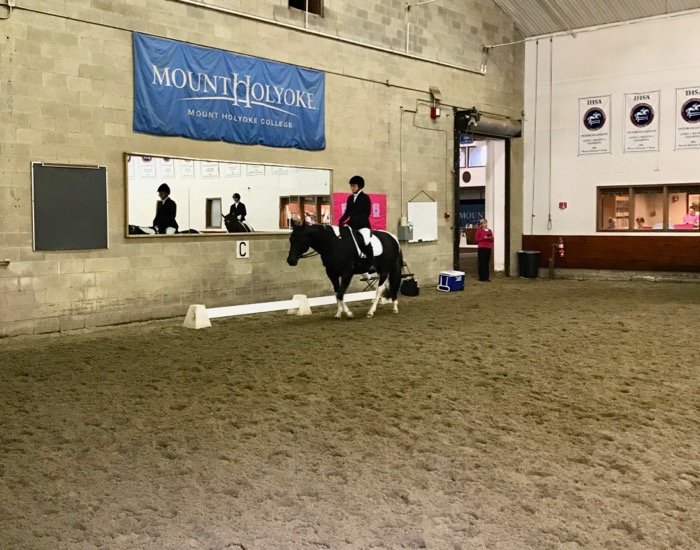 When you ride your test in front of the judge, breathe and smile, and be grateful to your partner who is willing to do this silly thing with you.
After riding the test, make the show experience fun. Explore. Let your horse graze. Give him special treats. And try to keep the posing for photos session short!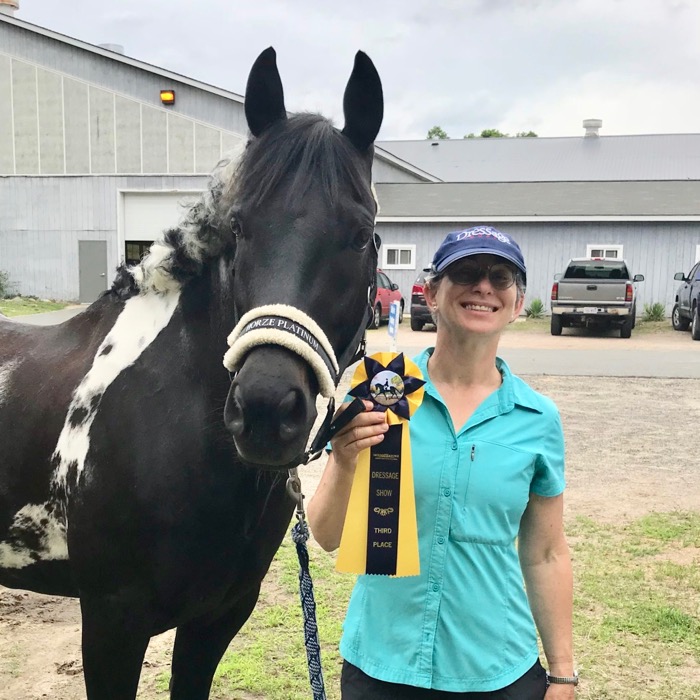 (PS We tied for second, but placed third in the tie breaker based on the collective marks.)