I have a fondness for horse whiskers. They certainly make selfies ridiculously fun.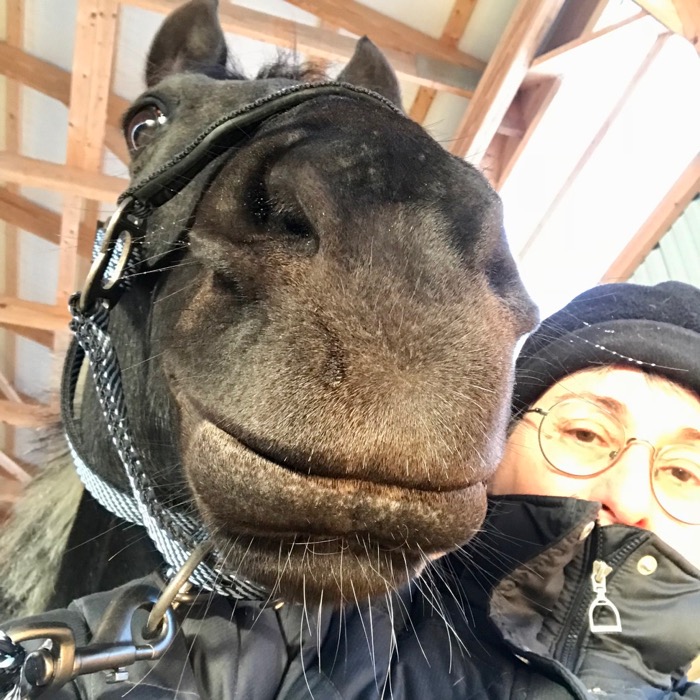 But they're also an essential piece of anatomy that the horse relies on. Each whisker has a nerve ending that conveys information to the horse – input that they can't get in other ways.
A horse can't see what's directly in front of them, nor what's down at their nose. Their eyes are set to the sides, and the nose is in their blind spot. Also, horses have excellent distance vision, but cannot see very well close-up. So how does a horse determine what's good to eat? Here Tonka is grazing amongst a wide variety of plants, and he's being selective about which ones to eat and which to avoid.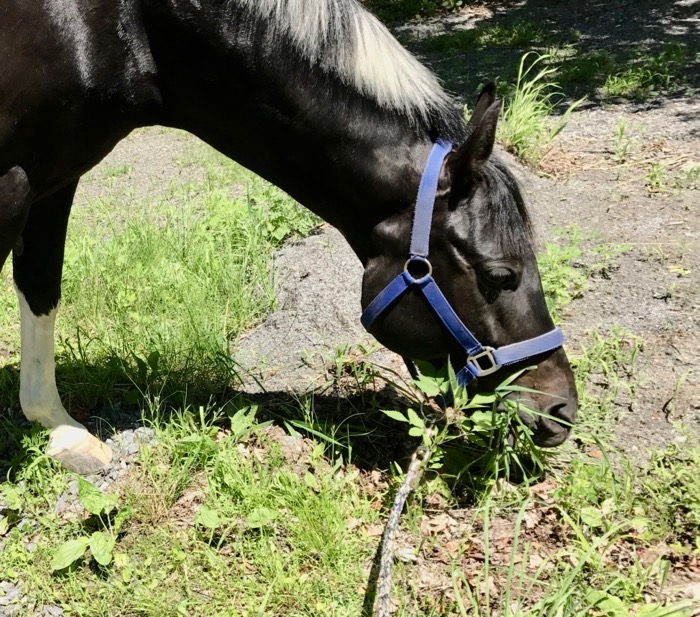 He knows what's near his mouth because his whiskers tell him. There's a reason that there's so many at the bottom of his chin, which is near the ground (and food!) when he grazes.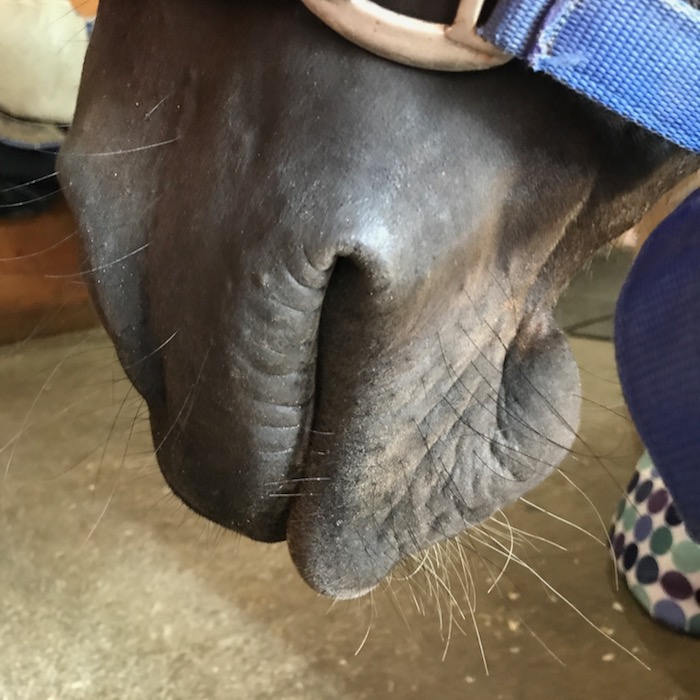 Once Tonka identifies the plant that he wants, using his rubbery lips, he can move that towards his teeth, and the not-so-tasty leaves out of the way.
Horses aren't indiscriminate eaters. They're gourmands. I've seen Tonka reject an older dandelion leaf for one that is greener. This isn't just a matter of taste, it's also for his health. This looks like nice, lush grass, doesn't it?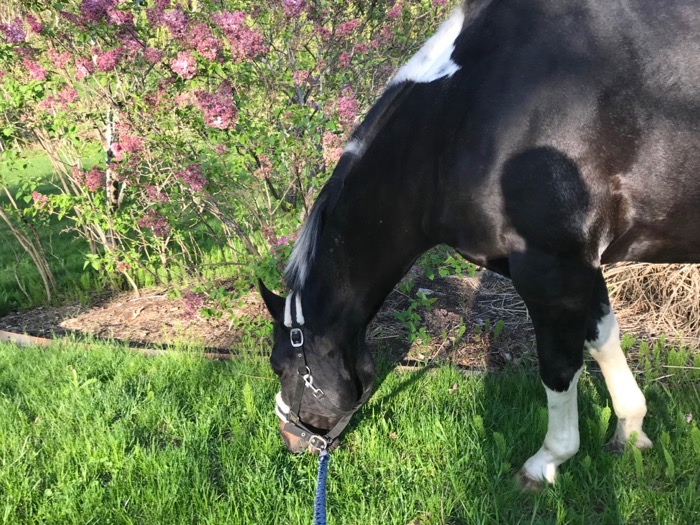 Unfortunately, mixed in with the lawn is an invasive plant which is spreading rapidly here in New England – I think it's hairy bittercress, but let me know if you know.
Watch Tonka avoid it. It's quite amazing how his whiskers give him the information to do so.
Whiskers also tell horses where the water is in their buckets. Important information so that they don't dunk their noses.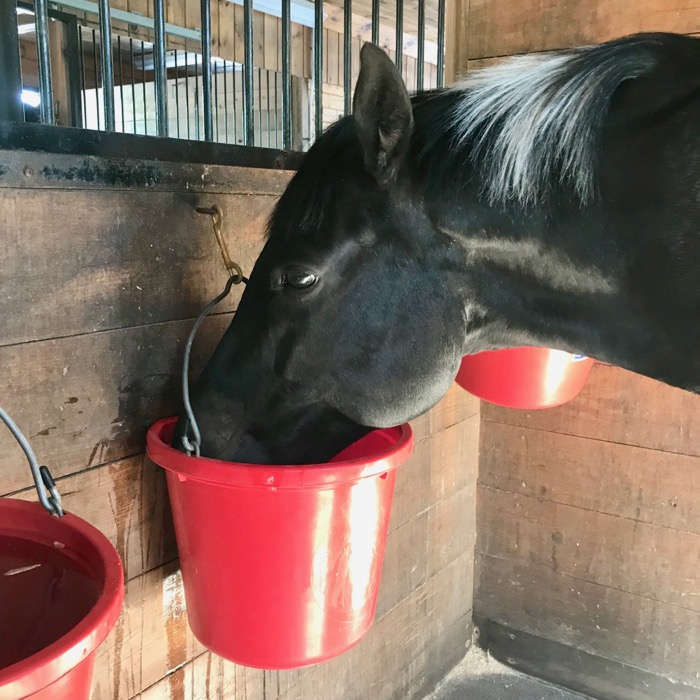 Some horses use their whiskers to test electric fences. They can tell if the fence is on without getting a shock. Clever! There's some anecdotal evidence that horses without whiskers are more susceptible to head trauma. (No research yet, but it makes sense.)
People shave their horses' muzzles for appearances. Here in the USA, for some equine competitions, shaving has become a necessity. Thankfully, shaving isn't de rigueur in my sport of dressage (although it is, unfortunately, common.) I'd like to see the fashion change. It is in some countries. In Germany, it's illegal to shave your horse's whiskers. In any case, you can't see whiskers from a distance. Certainly, Tonka's whiskers aren't obvious to the judge.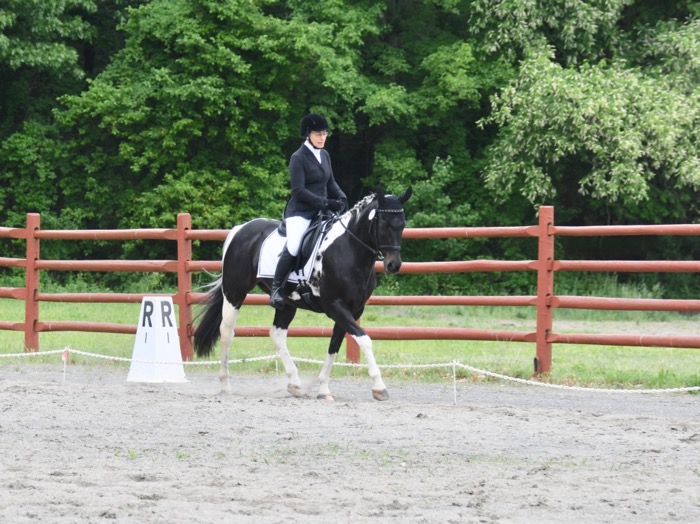 But to Tonka, those whiskers are an integral part of his sensory system.
So, please don't shave your horse. Instead, celebrate those whiskers!