Friends at the barn invited me to go trail riding with them at a nearby Town Forest. I wasn't able to join them, but it sounded like ideal hacking, so last week I found time to trailer Tonka over. As promised, the parking lot was large, flat, and easy to get to. That's rare around here! Once there, I tacked Tonka up, put the bug net on his head, sprayed him with insect repellent, (it's mosquito season) and off we went.
Before heading out, I found the trail map on-line and printed it out. There's a main loop trail. Even though it seemed easy, I folded up the map and put it in my pocket.
I have the worst sense of direction.
I knew that I'd veered off the main trail when the path devolved into a thick black mud hole. We turned around, and made our way back to this nice wide trail.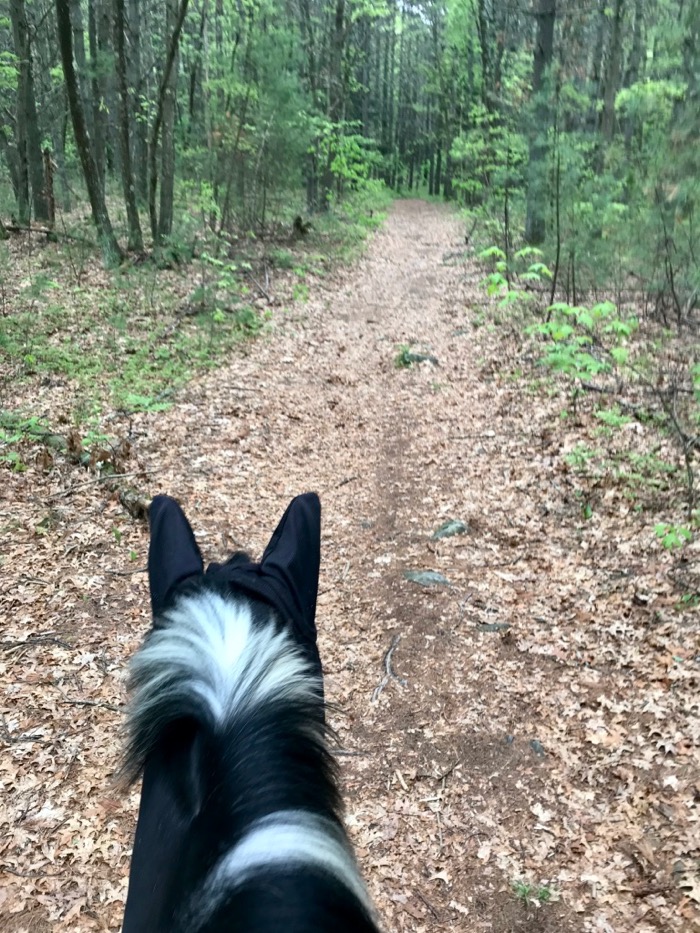 But that narrowed and became rocky. I pulled out my phone. I use an app that tracks my rides. I looked at the squiggly blue line. Sure enough, instead of doing a loop, I had headed straight west.
I turned Tonka around. He's rather tolerant of these about-faces.
We found our way to this intersection. This time, I pulled the print map out of my pocket.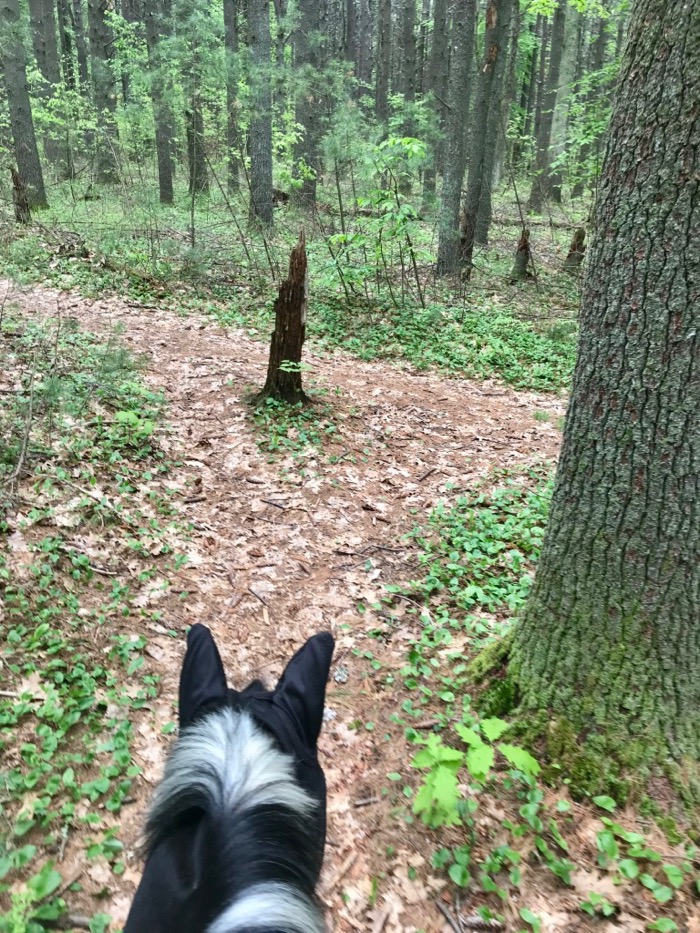 I turned right. After five minutes, I had second thoughts, so I checked my phone. Yep, once again, we were heading away from the parking lot, so I turned around. Then I saw what I thought was a shortcut back to the trailer. I checked the printed map, and there it was, showing a direct line to our destination. It was a narrow trail in the woods, but obviously well-used. Which led us to an extremely steep incline. Tonka gave me a look. We backtracked to the main trail.
We came across a map!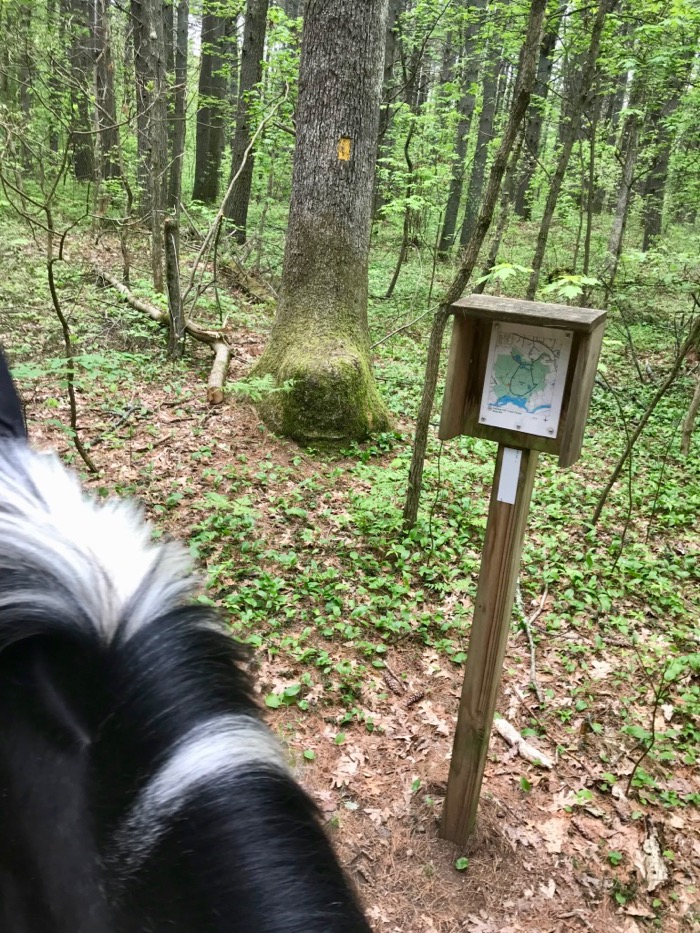 However, this was the same one that I had in my pocket. It was hard to read from the saddle, especially because if we stood still, the mosquitos descended on us. From what I could tell, there was not a "you are here" X, so it wasn't helpful anyway. I checked my phone again. It's not easy to ride while holding a phone on a horse full of the energy of being somewhere new, and swatting mosquitos, so I put it away.
However, I did find the main trail, where I checked the phone once more, and managed to stay on the right path all the way back to the parking lot. Although I did get us lost, it wasn't a big deal. This is suburban conservation land, not wilderness. It did, however, feel like an adventure. We had wandered around for an hour and covered 3.5 miles.
Just enough. Tonka got back to the trailer looking pleased with the outing.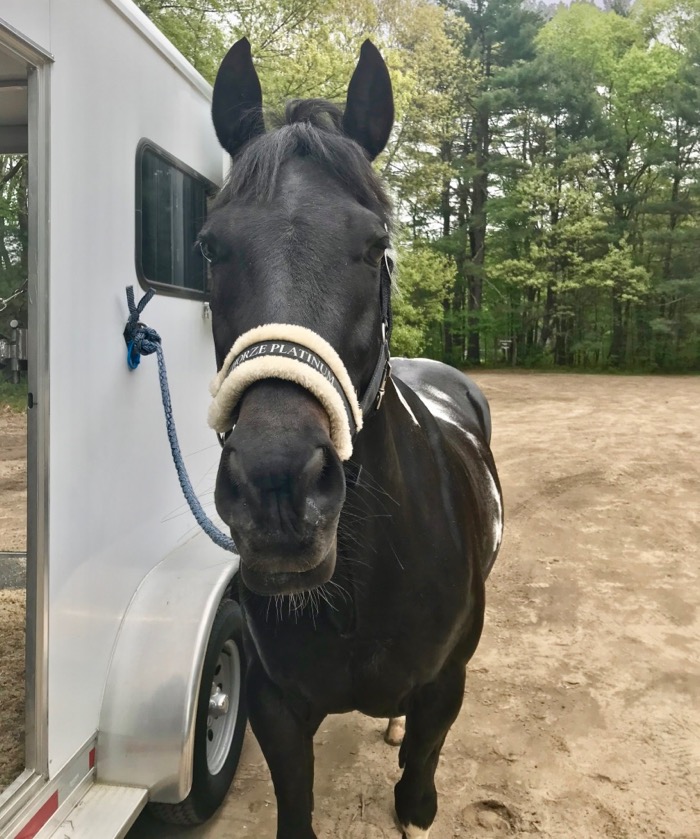 When I got home, I figured out exactly where we'd been. The dark blue line is what I wanted to do. I used a marker to show you where we actually went. I really have a terrible sense of direction!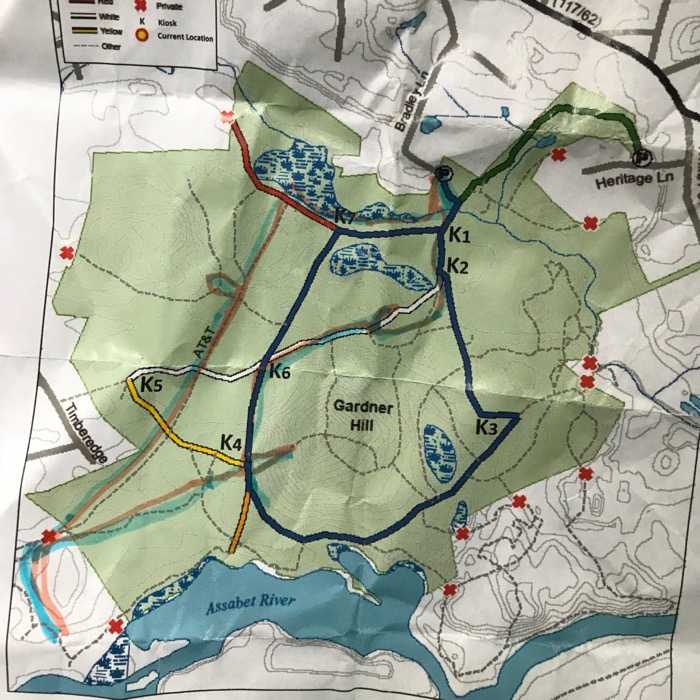 I've been thinking about teaching Tonka a "let's go home" cue. Or rather, a "can you find where we parked the trailer?" Surely Tonka has a better sense of direction than I do. In the past, on other trails, he's let me know the best path home. The problem is that he's so in tune to where I look, and so willing to go exploring, that I can't just drop the reins. I'll have to train this with a specific cue. Has your horse saved the day and found your way home? Tell me about it in the comments.