If there's one thing that I've learned working with horses, it's that there's always something more to learn. My continuing education takes place both far afield and close to home, from trainers that I rely on, and also from serendipitous meeting with others.
At the end of February I was in Florida for the Progressive Equine Forum. I was one of forty attendees. For the first two days, each one of us talked on a topic, and then there was an optional field trip to a Spanish horse breeding farm.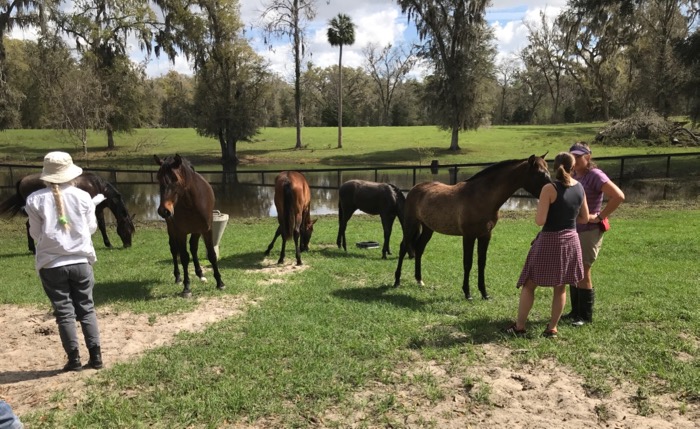 I got to meet people that I've only known through their writing, like Justine Harrison and Lauren Fraser, and I met people new to me, like Debbie Busby. What a lot of inspiration packed into three days!
In the middle of March I attended a clinic taught by a European dressage master. I watched him teach a range of riders, from those just starting on collection to others ready for piaffe. His techniques were on the other end of the spectrum from the positive reinforcement trainers at the Progressive Equine Forum, but he had a razor-sharp eye for the tiniest of movement, clearly defined the tactile cues all riders need for dressage, and had exercises that anyone could do to improve their horse's gymnastic strength.
After that, it was on to Equine Affaire in Ohio, where I gave three presentations. I managed to find time to go to a lecture about mules, watch a jumping lesson given by a top-level eventer, and get tips from a grooming pro on how to desensitize a horse to clippers.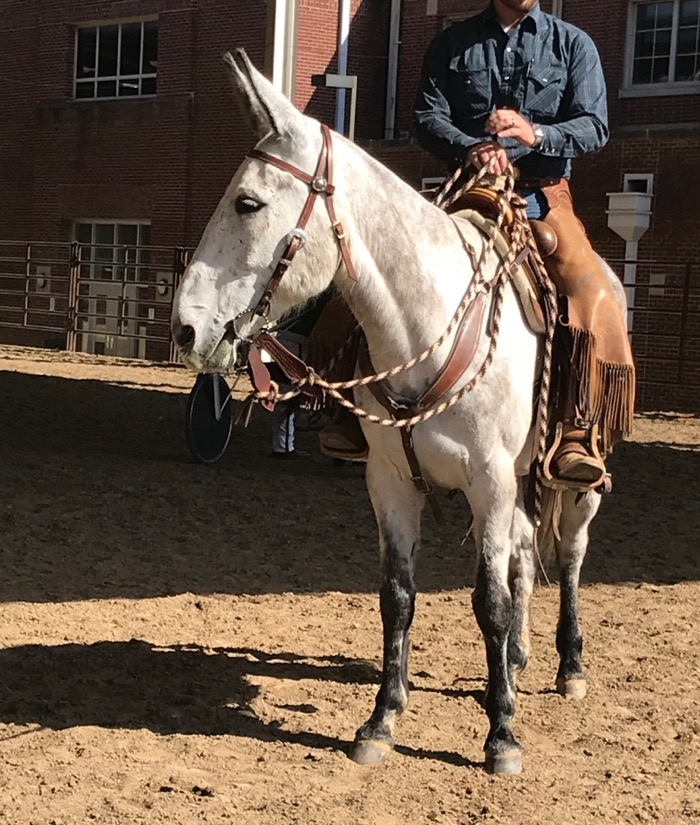 Next up was the IAABC conference. Luckily, that was just twenty minutes from home! I learn a lot from hearing case histories of other species, and several of the speakers shared their clients' stories with us. Dr. Chris Pachel had insights and practical advice about how to analyze behavior, and how to get client buy-in and compliance.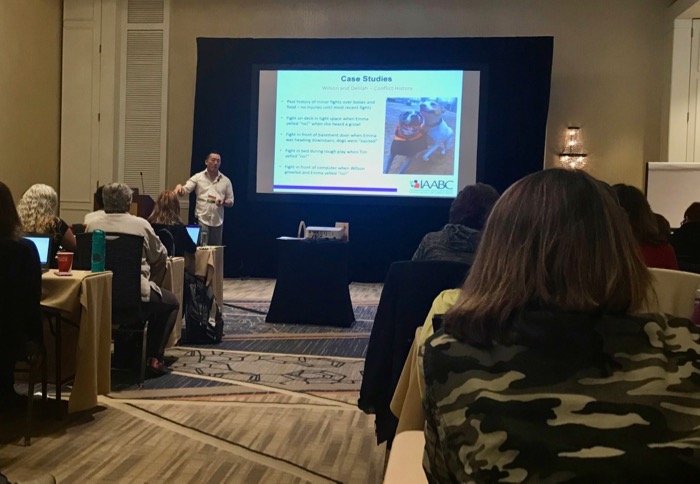 Dr. Lore Haug, one of the few board-certified veterinary behaviorists, gave a fascinating talk about how the microbiome affects behavior. True for species as diverse as humans, horses, and cats.
She's also a horse owner and trains in dressage. After the conference, I drove her out to meet Tonka, and we had several intense hours of conversation about horse behavior and training. Priceless!
I met a lovely woman from Chile who loves dairy cows, she talked to me about how intelligent and sensitive they are. This is a perspective rarely heard and I was swayed by her experiences! Also, I have a new friend from Calgary, Canada, who works with troubled parrots.
Meanwhile, I try to learn from everyone that I encounter. Tonka needed another saddle fitting. Josh Siegel came out, and I don't know whether he usually likes to work quietly, but I engaged him in conversation the whole time. There's a lot to learn about saddle trees, fit and how horses go. (This photo shows the tool that he uses to add wool padding to the saddle.)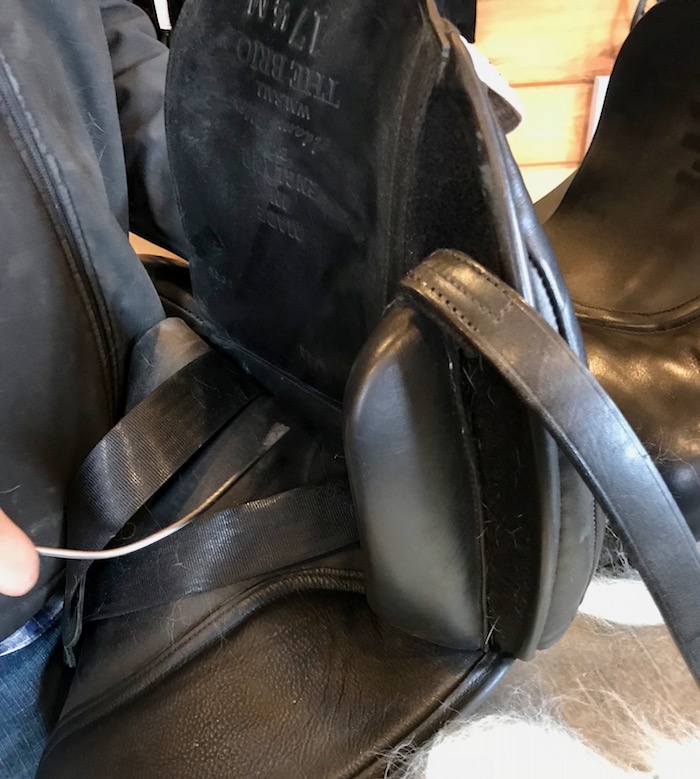 Tonka is getting fit, and although I wouldn't say that he's 100% flowing, he's going well, and we're ready for lessons. On Sunday, we'll haul down to my trainer's barn. Hopefully, we'll do this several times monthly.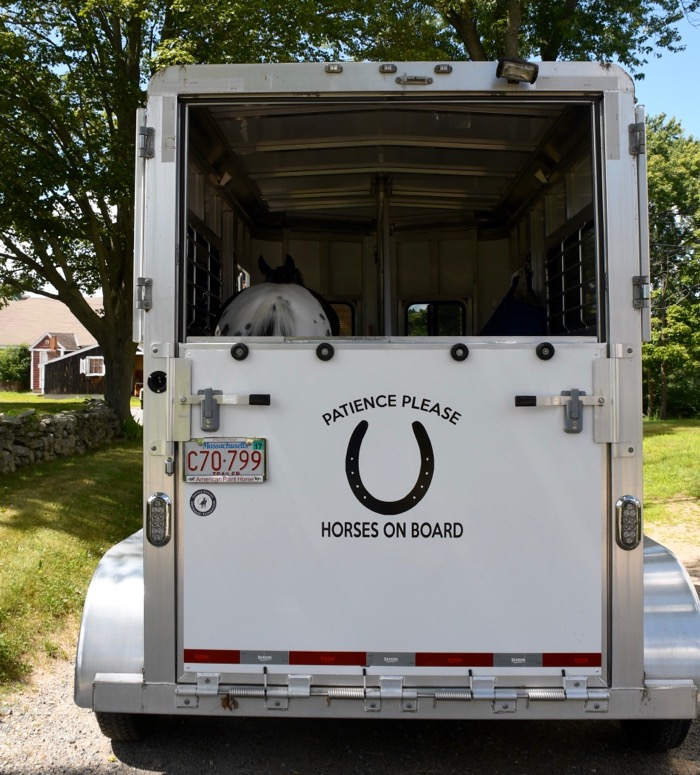 What do you do for continuing education?
I hope that this blog is part of it. Following me on FaceBook is not a reliable way to catch all of my blogs. Note that you can subscribe using the button on the right side of this page. I'm also available for on-site consults and clinics.