I choose to live in New England. I like a true change of seasons. I embrace winter. The sky in February is like none other. Bare trees show off their intricate geometry. I like cold weather better than hot. But by March, I'm done with bundling up against the bitter temperatures, the biting wind, and dealing with the dangerous footing. I'm ready for spring.
There's a saying that March comes in like a lion and goes out like a lamb. This year it's gone in reverse. It started out mild, I even went on a trail ride. But in the last two weeks, three nor'easters have blown in, each worse than the one before. They were so strong that the windows rattled. Quite the roar.
This week's storm dropped twenty inches of snow in just under a day. It's beautiful, but it's also a lot of work.

I went out and shoveled five times to try and keep ahead of it.
Scooter left me to it. This is his way of coping with bad weather. He waits it out, curled up and eyes squeezed shut. He only gets up after the storm has passed and I've tidied a path for him.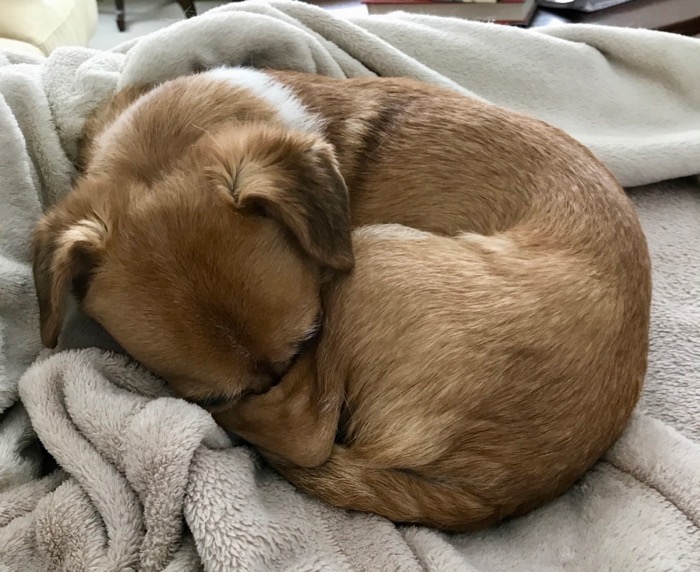 The hens complain that they're stuck indoors. Sorry, girls. Steve was out-of-town this week at a client's, so I was left to shovel. Your run is the least necessary to do. You've got everything you need in your spacious barn.

The Goat Boys hate to get wet, and really don't like snow on their hooves, so they stayed in during the storm. The Goat Maid (as they call me) shoveled out an area for them. Caper thought that I should do more.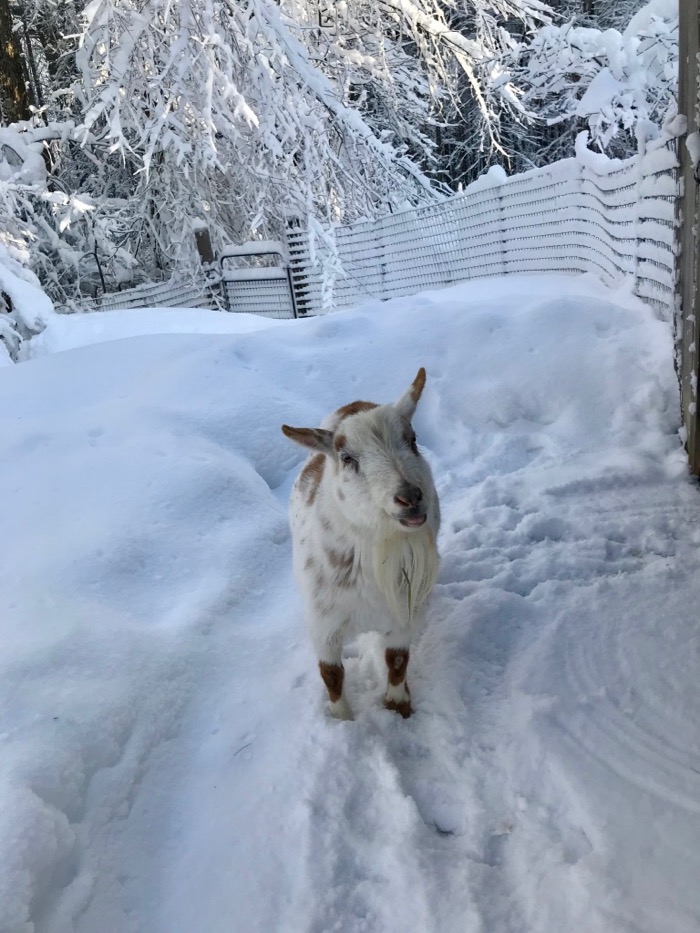 The storm obliged and winds knocked down some branches. Good for head scratching and nibbling.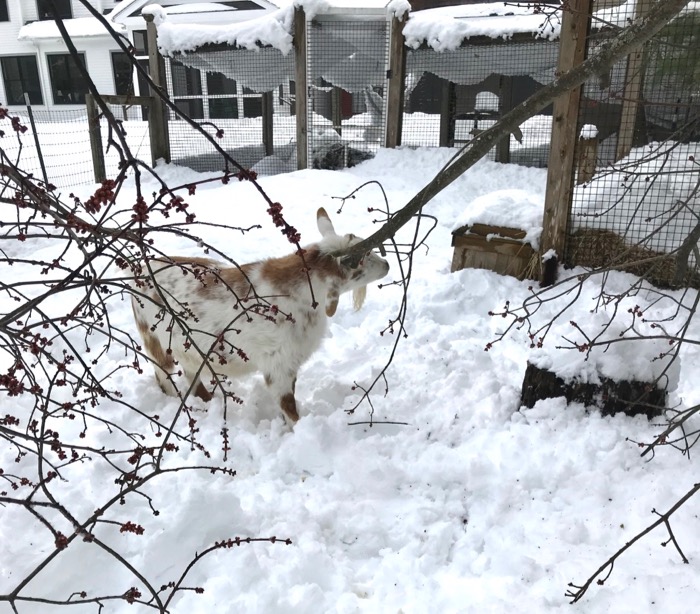 Tonka spent the day of the latest nor'easter indoors. He was able to get out the following day, thanks to the hard work of the stable's owner and his talent at driving the tractor and plow.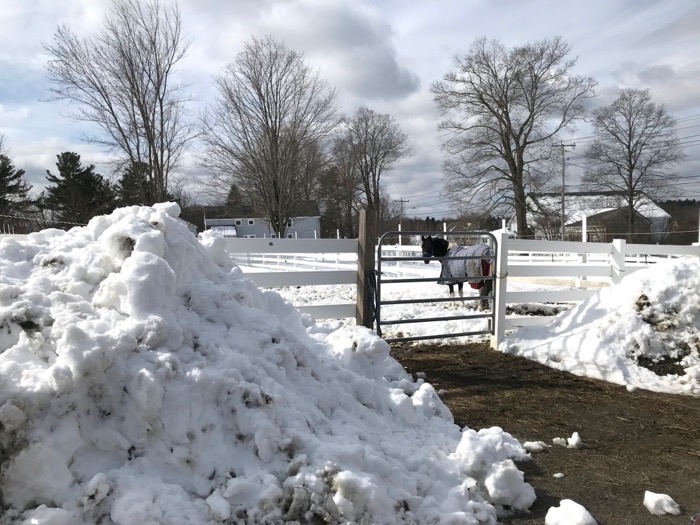 The snow tells a story of what Tonka did today.
He rolled.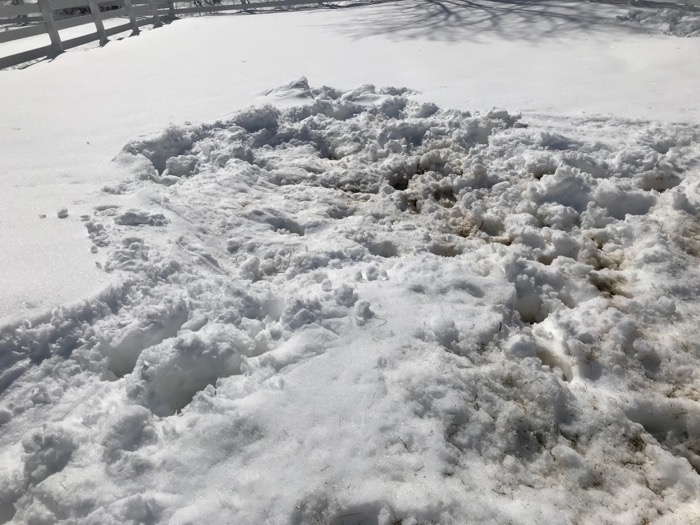 He and his next-door neighbor, Patrick, trotted along the fence line and stopped to chat.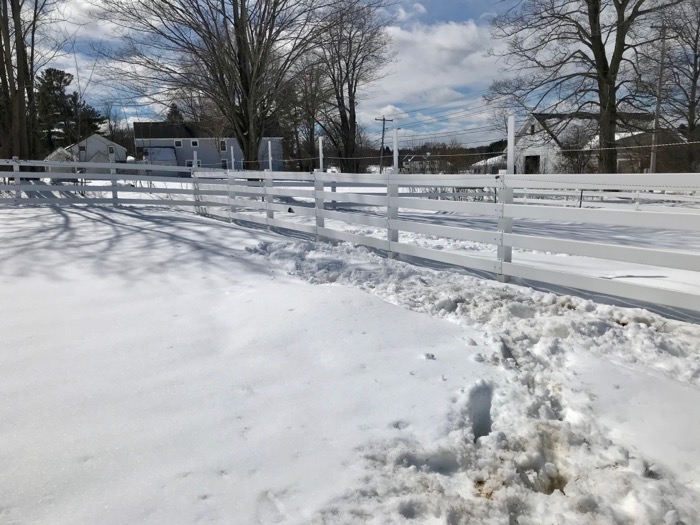 The snow is deep and heavy. Underneath there is slick, frozen mud. Tonka doesn't think it's worth slogging through it.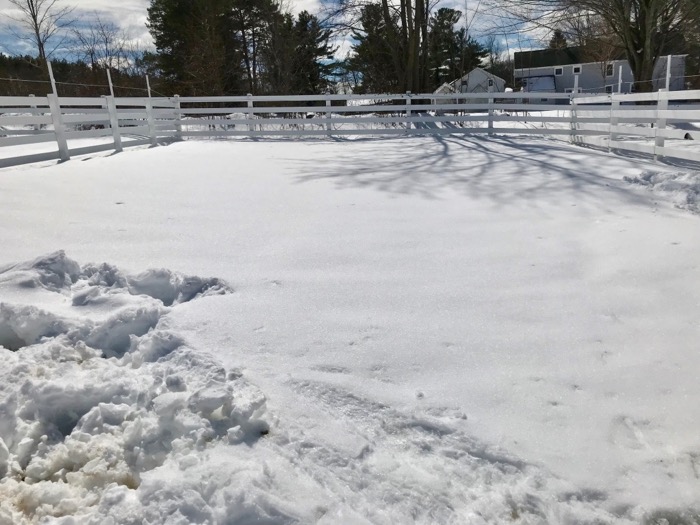 He prefers to doze in the sun, and eat hay at his feet.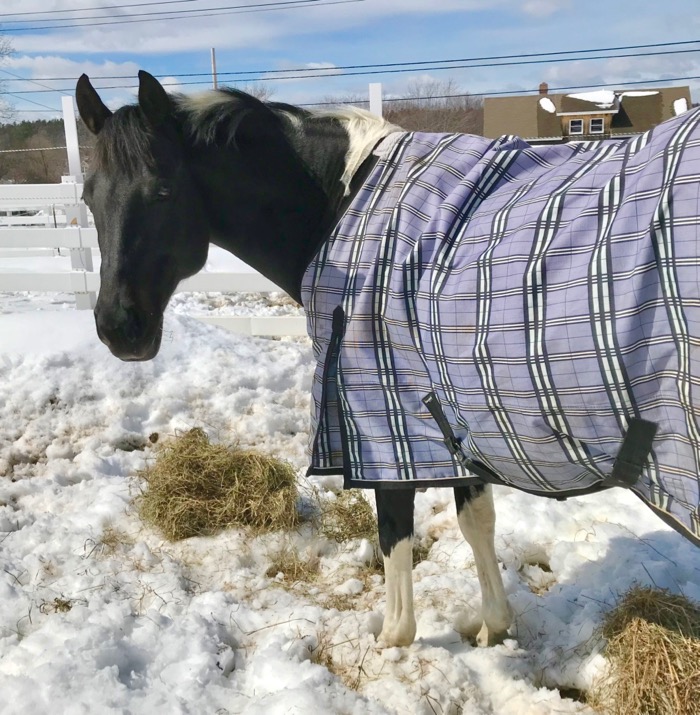 Which is exactly why, despite my sore back from shoveling snow, I rode today. We got in 2 ½ miles before my muscles cramped. I should really be hand-walking another couple of miles, too. Horses stay healthiest when they move. They're designed to walk more than a dozen miles a day. If I lived closer, I'd be back this evening.
There's one animal in my care who isn't complaining at all.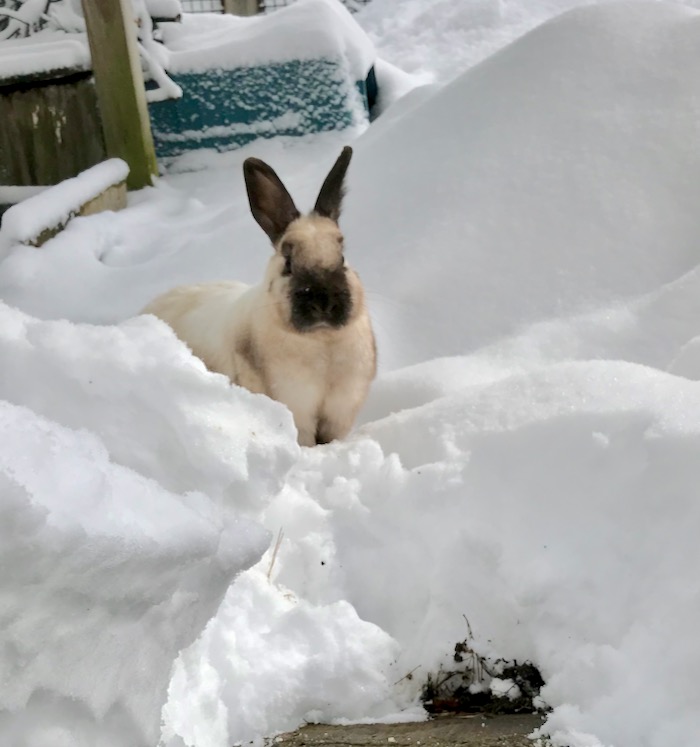 Another storm is due to blow in next Tuesday. Phoebe is delighted by that weather prediction! The rest of us are hoping that the lamb of March will finally be here, and it'll be rain.
(If you want to know more about these characters in my backyard, there's a bio page at HenCam.)
Please note: FaceBook does not consistently put my posts in your feed. If you don't want to miss a blog, subscribe using the easy button on your right. Oh, and please share my blog. There are easy icons for that below. Thanks!