We all have things that we're afraid of. Some of those things we should be afraid of, and fear lets us take quick evasive action. But other things get in the way of life. (For example, if I let my fear of snakes control me, I'd never go into my backyard.) Horses are animals that survive by dashing off first, and then stopping at a distance to assess the situation. That dashing off can be a problem for us humans attached to our horses, either in the saddle or with a lead line! That dashing off can cause injury to both horse and owner. In our attempts to stop it, we often get into conflict with our animals, which can escalate to drama that causes both emotional and physical pain.
One way to train horses to be compliant is to teach them that nothing that they do has an effect. Behavioral scientists call this flooding. Tying a horse up and letting them fight it out against the rope, chasing a horse around and around a pen until they stop from exhaustion, throwing a saddle on a horse and letting them buck until they give up – these are all ways to get a horse to believe that moving away from danger doesn't work. The problem is that there are many downsides to this sort of handling. The horse doesn't act out of trust, but rather out of resignation. The training itself is scary and often painful, and the handler is associated with that. The horse becomes shut down. Dull. Many of the horses that I work with have gone through this. They seem obedient, but they have a snapping point, and I get called in because something has made them so fearful or angry that they explode.
There's an alternative. One that teaches trust and bravery. And it all starts with a simple hand touch.
I teach the horse to gently touch my flat palm (held perpendicular to the ground) with their nose.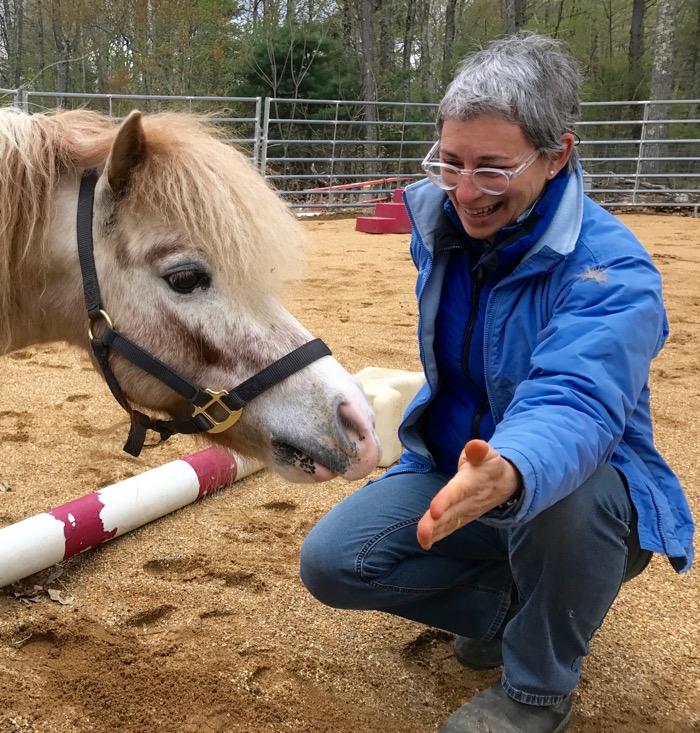 When the horse does that, I mark the moment of that soft touch with a word, or a quick "Dee!" That lets the horse know the exact behavior that I'm about to reward – and reward I do! Every touch gets a cookie. I soon add the word "touch" right before the nose reaches my hand. Soon the horse understands that the word "touch" is a cue to touch my hand, and that doing so results in something yummy. This behavior becomes so highly reinforcing to the horse that I can use it in a scary situation to overcome their fear.
This appaloosa mini (*take a second to appreciate the sheer adorableness of this horse and then keep reading!!!*) was afraid to step over poles. But the "touch" made him feel safe and capable. Even eager!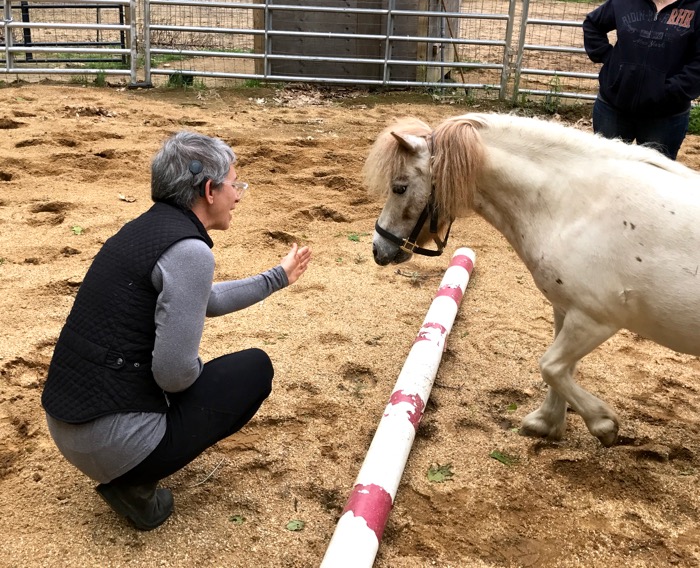 "Touch" was one of the first things that I taught Tonka when I got him four years ago.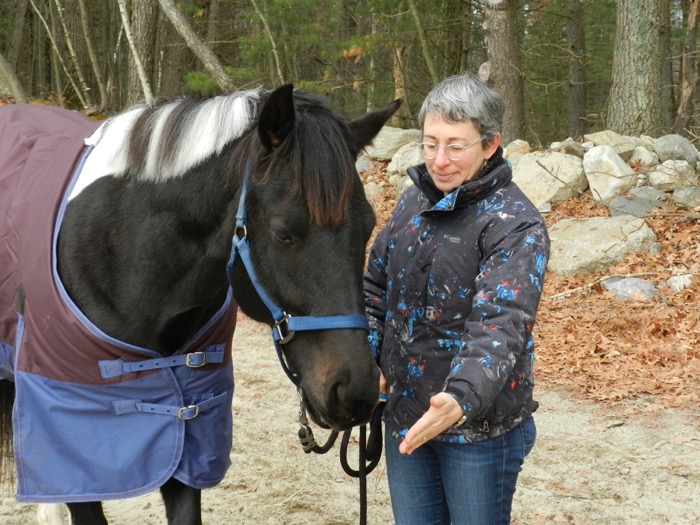 Here we are at the beginning of the training. Tonka was shut down when I got him. Compliant but not connected.
See that light go on in his eyes?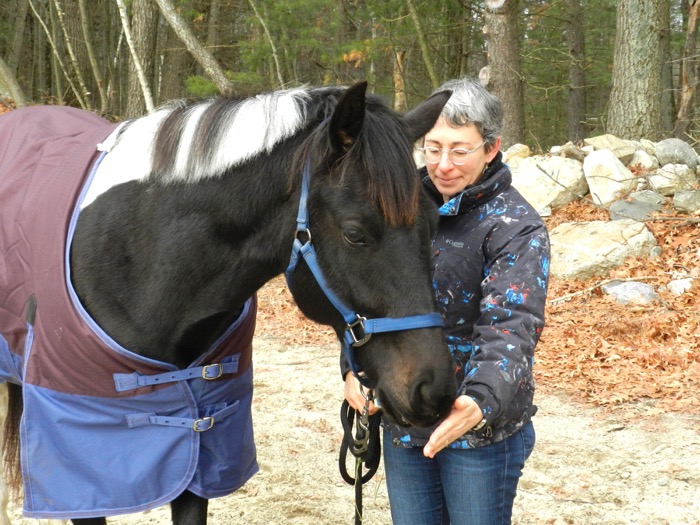 I can then use the touch to get him to bravely walk over obstacles. Here we are at our first versatility competition. We hadn't done any work at home to prepare. This was the first time he'd seen such things. Easy!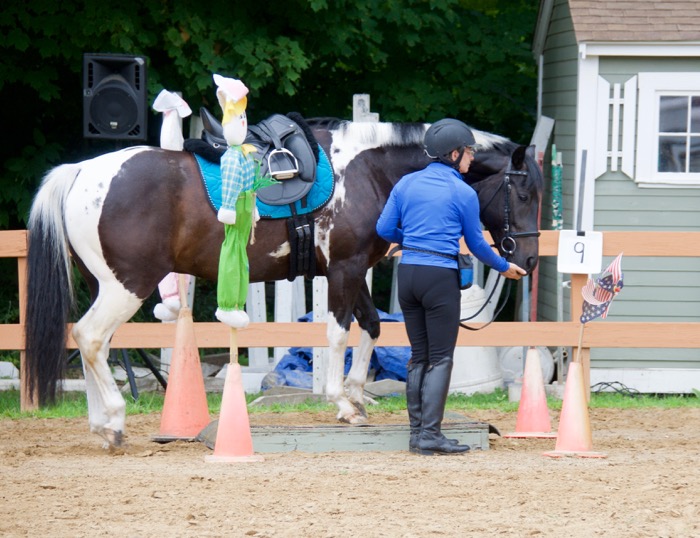 There's a serious side to this training. There are times when we have to have a horse do something. There's no time to train. I don't want to revert to force, or a chain on the nose. I don't want to have to make a withdrawal from my horse's trust account with me. Last month I took Tonka to an animal hospital. After leading him into a building with noises, smells and sights that would make anyone nervous, I was directed to lead him onto the scale.
Not only did Tonka walk on, but I was able to put to use the "over" training that I've recently been working on. Looks easy, doesn't it?
Watch the video again. Do you see that moment when Tonka hesitated slightly? That's when I showed him my hand and asked for the "touch." That's why he's so trusting.
By the way, my little horse weighed 1,133 pounds!