It's the small courtesies that make life pleasant. Someone holds a door for you as you enter a shop. A driver at an intersection stops to let you safely cross the road. In a crowded supermarket, you move your cart over to let another pass. These little things add up.
At a stable there are plenty of opportunities for small courtesies, too, between you and your horse. The horse stands quietly while the halter is put on, and you do it in a way that is gentle and includes a scratch in a favored place. (The impolite version of this is a horse that lifts his head out of reach.) You let the horse know that you're walking around him in the stall and he moves over.  (Much nicer than getting squished between a horse butt and the wall.) You take your horse out of the paddock and you let him graze a moment, and then he willingly leaves the grass when asked to walk with you to the barn. (We've all been dragged around by horses who go where they want to, irregardless of how much one tugs on the lead rope.) All of these polite behaviors must  be taught. And yet, so many people expect that the horse should just do these things, and when the horses don't, they get annoyed. People pull, push, hit, and yank, when a little bit of training would create pleasant interactions.
Here's an example. Tonka presses eagerly at the fence when he sees me.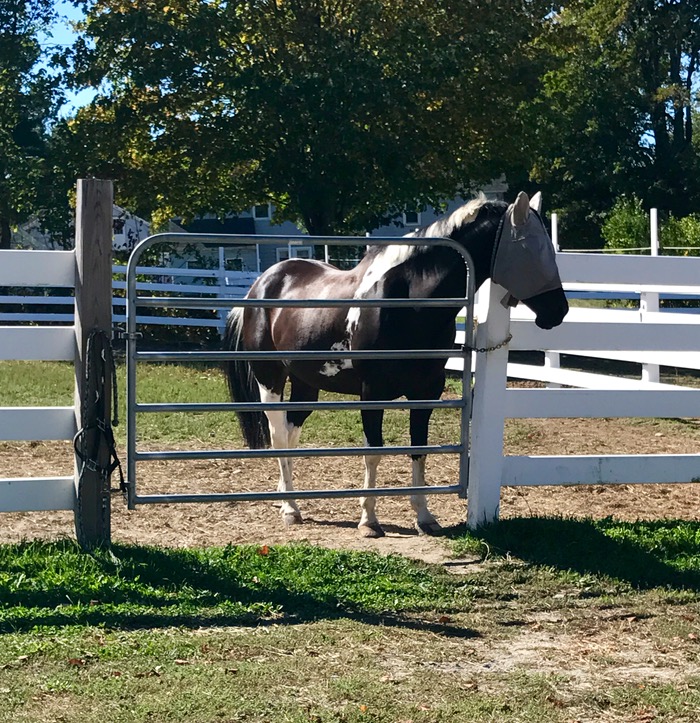 I can't just open it up to say hello. I have to undo the chain, which is difficult to do with a 1,000 pound horse leaning into the gate. Also, there's a chance he'll barge past me to the grass, or worse, spook and take off before I have a lead on him. So, I've taught Tonka to back up on a verbal cue. That gives me space to enter and handle him safely.
A little courtesy makes the world so much more pleasant.
What polite behaviors have you taught your horse?