Two years ago, Steve started planning our trip to see the total eclipse. He looked at charts and weather reports and concluded that Casper, Wyoming had the best chance of clear skies. He booked a room at a Best Western on the outskirts of town. If the weather didn't cooperate, we could head down the highway to where it did. He rented a camera that he could program to take time-lapse photos during the entire eclipse. He would leave that in some isolated spot while using his own camera to take more photos (different lens, different images.)
We flew into Denver and headed up the highway. The drive, without stopping, should have been under five hours. Those wide-open spaces make Wyoming prime wind farm country. It also makes for easy driving. Set the cruise control, and go.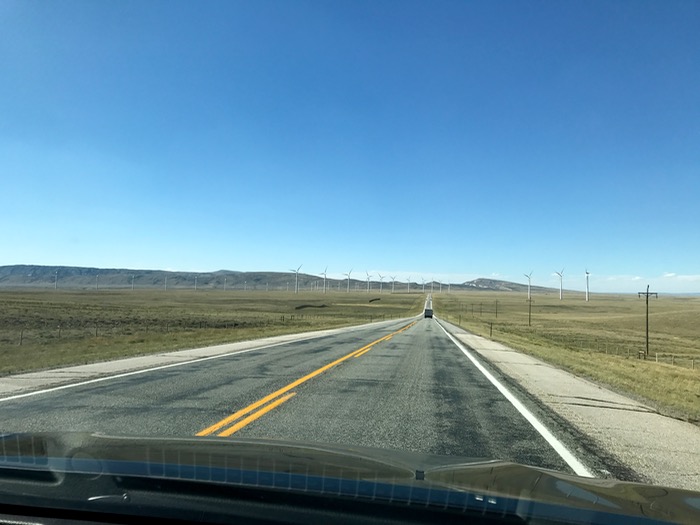 But, what's the fun of that? We took the side highway, and while Steve drove, I googled "tack shop" and "saddlery." We found three to stop at. There was a lot of gorgeous gear that I don't use with Tonka, but which I greatly enjoyed perusing. I bought little things, like a folding hoof pick that I can put in my pocket for trail rides, useful if Tonka gets a stone in his shoe.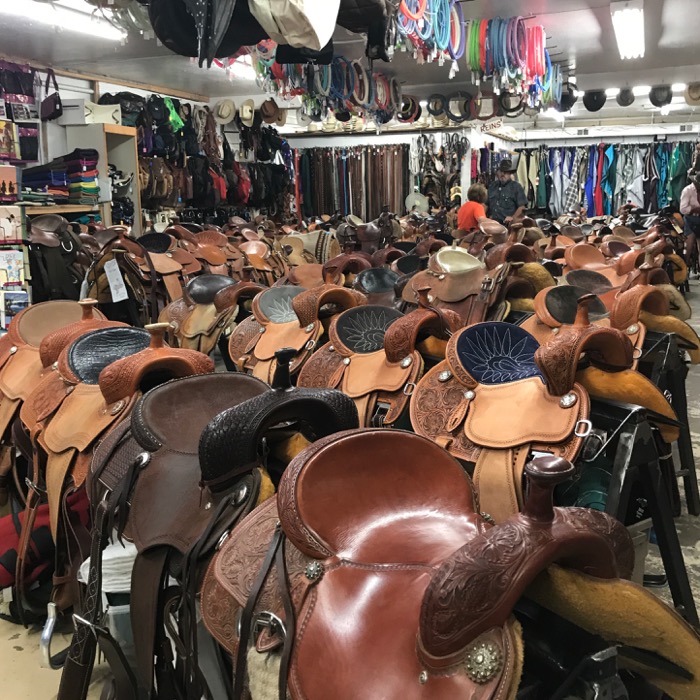 We arrived in Casper a day early so that Steve could set up his camera. He didn't need my help with that, so I found a saddle shop out of town. AV Tack. It was on a ranch.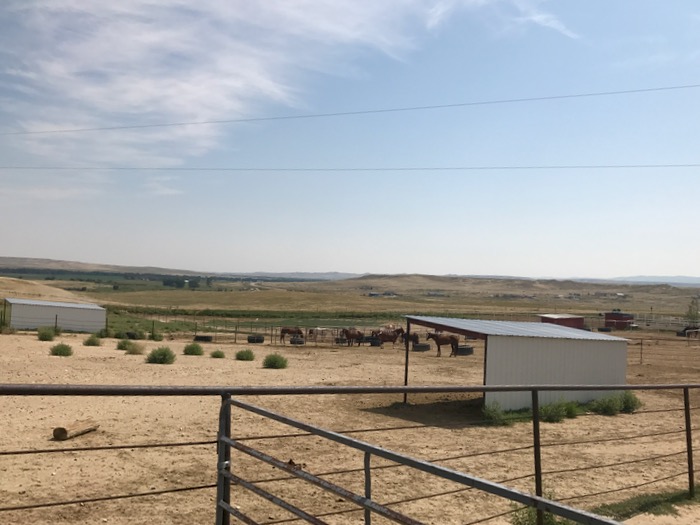 I chatted with the owners, Stephanie and Gary, and met some of the 40 horses that lived there. Most of the horses are theirs, some are boarders. Stephanie teaches both English and Western lessons – unusual for that part of the world! Don't the horses look good with the wind blowing through their manes?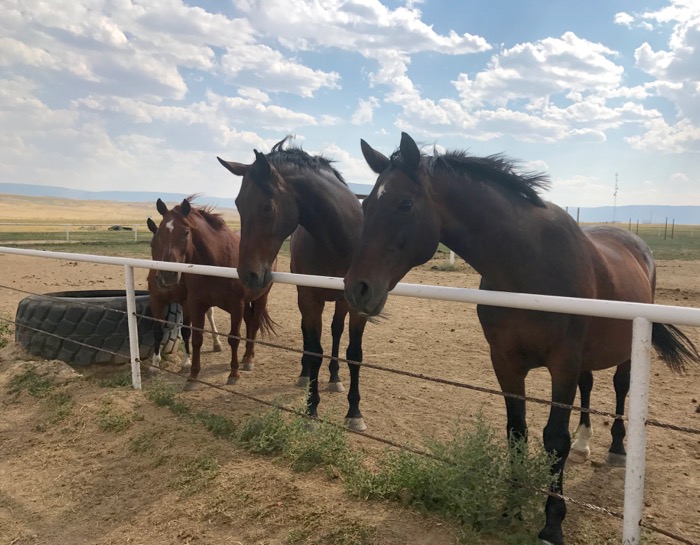 Meanwhile, the place that Steve had hoped to set up his camera didn't pan out. He told me that we were going to watch the eclipse from the parking lot of the hotel.  Many of the eclipse chasers who stayed at the hotel were going to do that. After all, they were looking up, and the dry, scrubby lot next to the highway was fine with them. But we were in stunningly beautiful Wyoming and that just seemed wrong to me. I mentioned our situation to Gary and he invited us to watch the eclipse on their ranch.
Steve set up one camera the night before, out in a field. There was no danger of someone stealing it, but we did worry about bounding antelope knocking it over. Luckily, it survived intact, and on the day of the eclipse Steve could let that work on its own, while he finessed the settings on his other camera.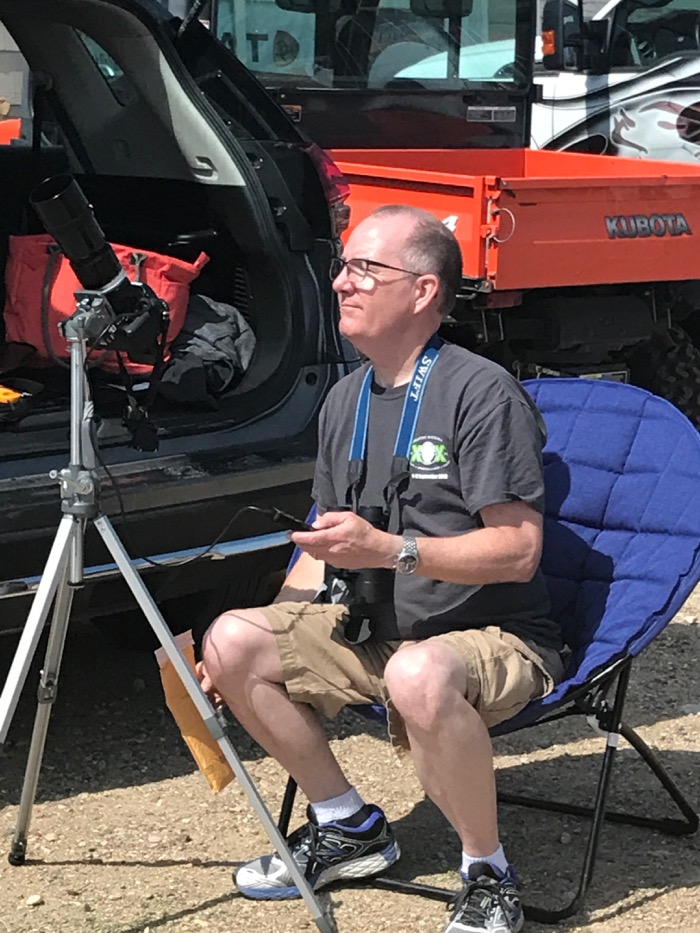 While he did that, I visited with the horses. You could tell how well these animals are cared for by how friendly, curious and gentle they all were.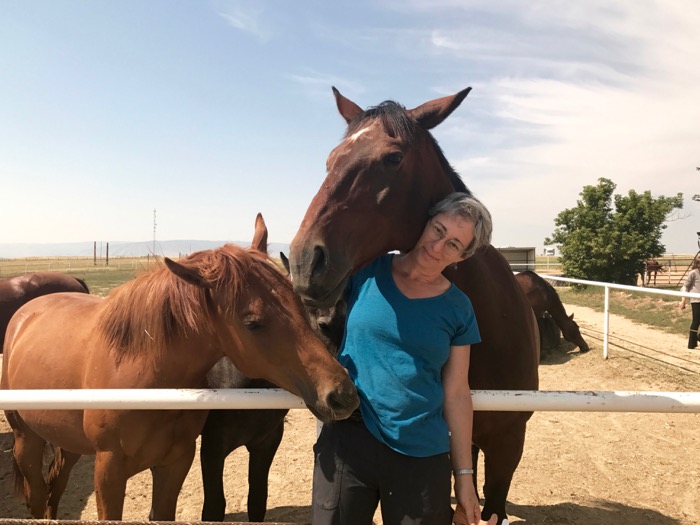 I met a paint mule that I'd take home if I could. But I don't think she'd be happy away from those wide-open spaces.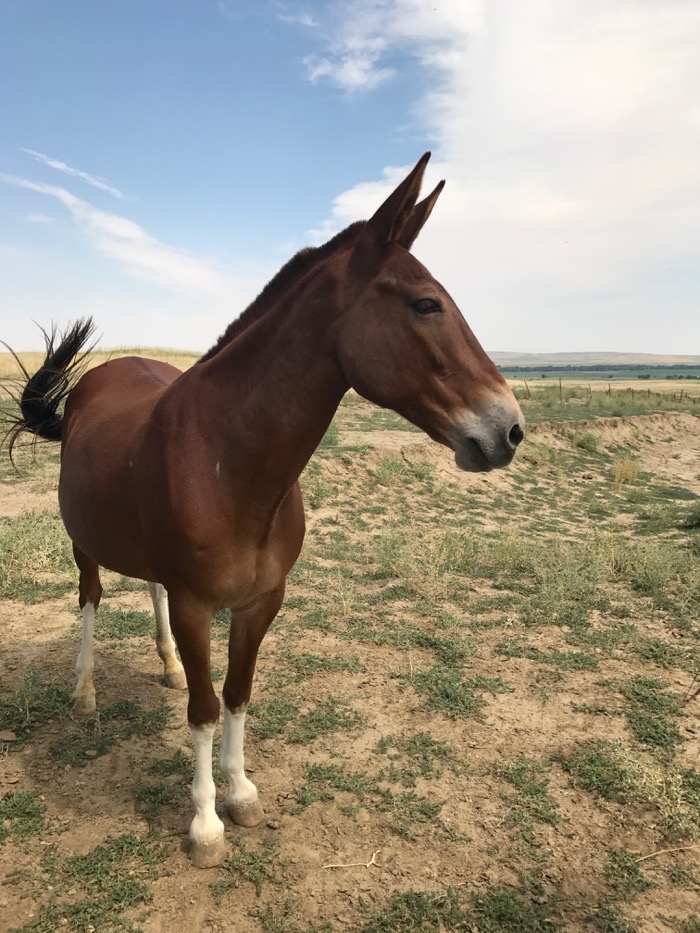 We weren't the only ones at the ranch. Gary and Stephanie had invited about a dozen friends to join them, and they'd rented out a few spots to campers. As the moon moved across the sun, we watched the drama unfold.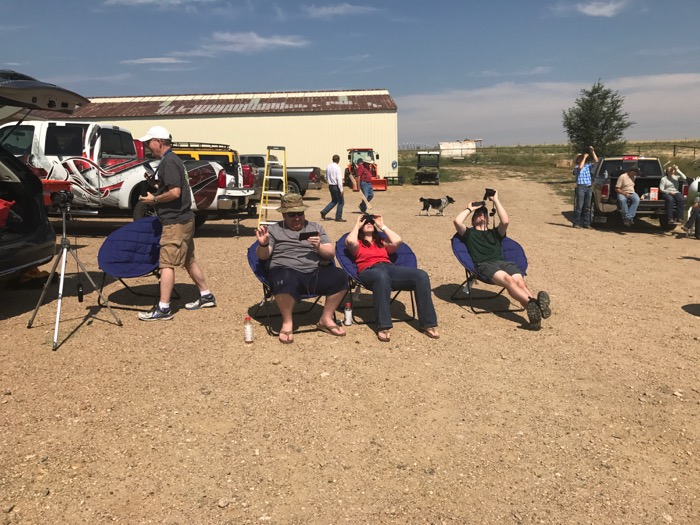 I had on my special western-styled eclipse glasses.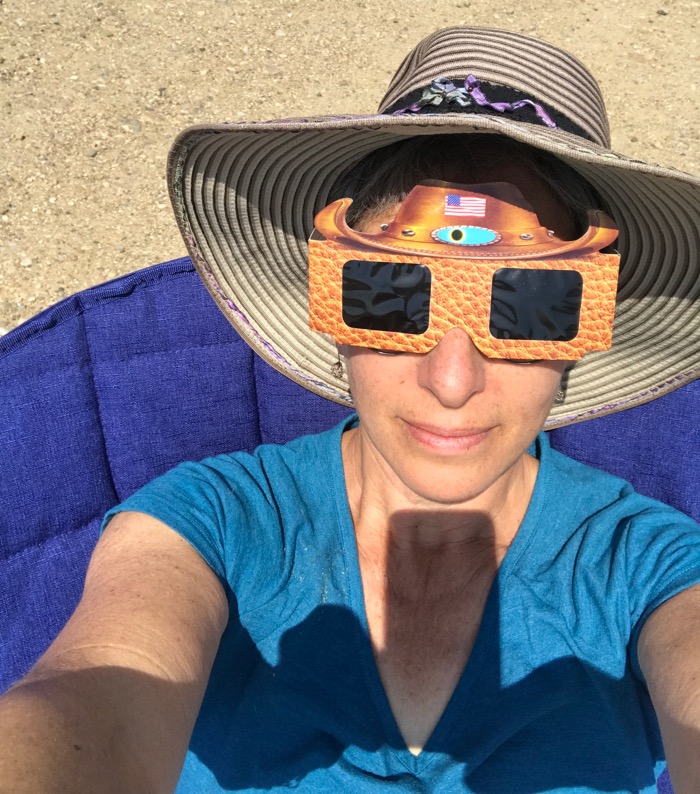 The moment that the moon blocked the sun was not over-hyped. It was like a black hole in the sky, surrounded by flames. Steve got the correctly exposed celestial photos, (those need technical expertise!) but here's one that I took showing the emotion of the moment.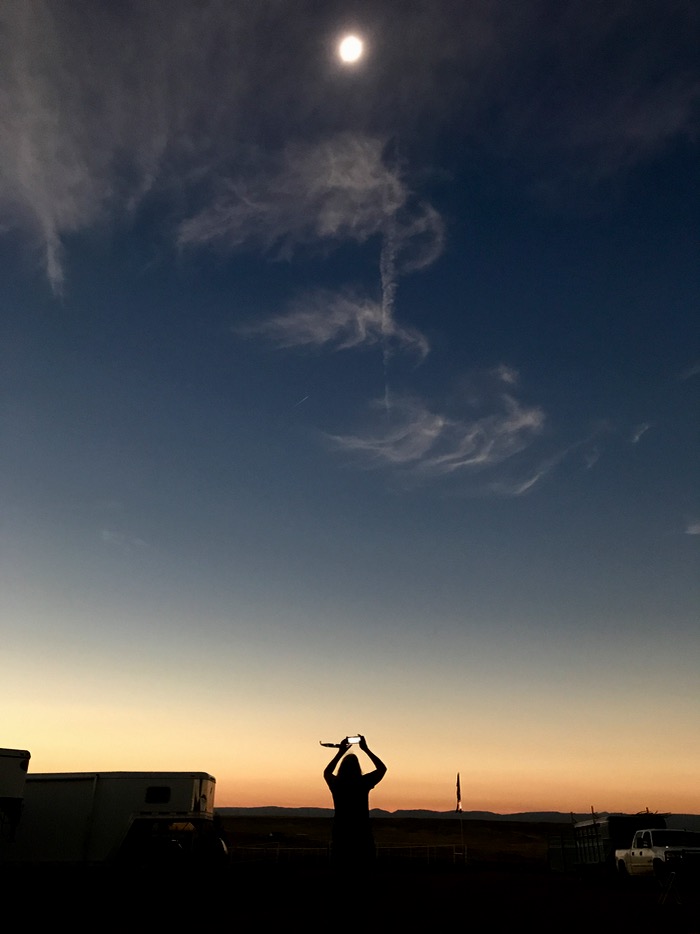 It was a perfect day at the perfect spot. It just goes to show that it always pays to shop at tack stores.