I've been working with a clicker-savvy horse and rider. The horse has a history of being balky and unwilling. The previous trainer had the owner use a whip and spurs to get him "motivated." We have a different method. When I see the horse going forward at the walk, I click and the owner rewards with a piece of carrot. Now, as soon as the rider mounts, the horse has a willing walk.
It's thrilling to the owner to have an enthusiastic horse under her.
A hunter/jumper trainer and his students watched our last lesson. Afterwards he asked some thoughtful questions.
He said, But what about respect? When the horse was ridden past the door he looked up and out. He stopped paying attention to you. It's disrespectful to the rider. How do you get respect?
I knew what he was talking about. The indoor arena has a big window on the far side, which the horse gazed out of while eating his carrot reward. But looking about has nothing to do with disrespect. In fact, the horse's owner is pleased that he's peering out the window. In the past this horse was pushed into areas that scared him, which made him spook, which caused more punishment. Now he is allowed to look and think. He feels safe while standing at the door. He calmly walks into the corners.
So, since we'd never asked this horse not to look out the window, he wasn't "disrespecting" us by doing so. In any event, the term respect is fraught with all sorts of connotations. Respect isn't a behavior, it's a label, and as with so many labels, it masks the true behavior that underlies it.
Then again, I'd say that this is about respect. The dictionary's first listing for respect is admiration, and the second is due regard for the feelings, wishes and rights of others. This horse is finally getting respect. Respect your horse's perspective and you'll have a partner who greets you like this.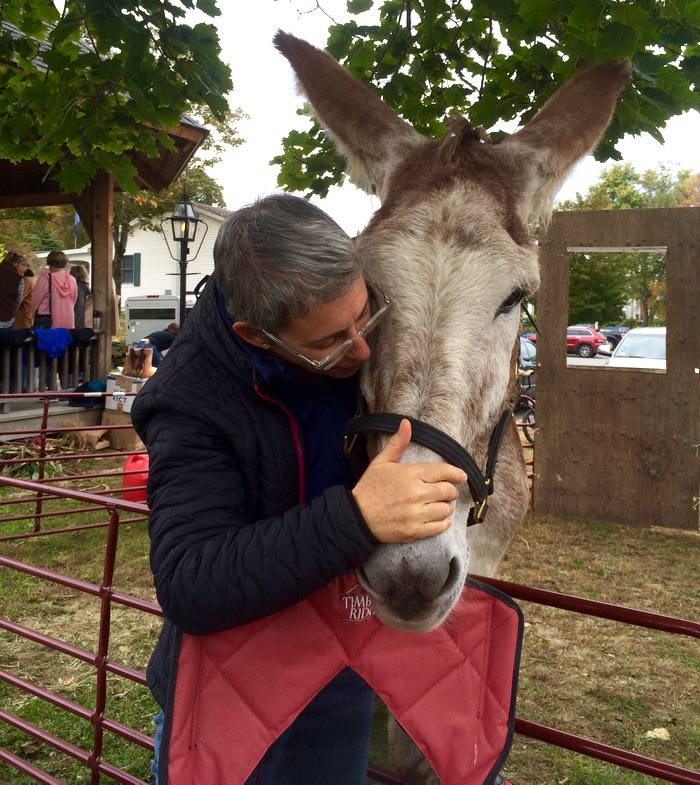 No, this isn't the horse in this story! This is Louise, a Mammoth Donkey. She is an exemplar of an equine who is treated with respect and trained with positive reinforcement. She is the beloved mascot of the Save Your Ass Long Ear Rescue, which uses all R+ with their animals. They have a 2017 calendar for sale. Please support them!