Take a poll of horse people and ask what's the favorite part of your horse? This is the answer: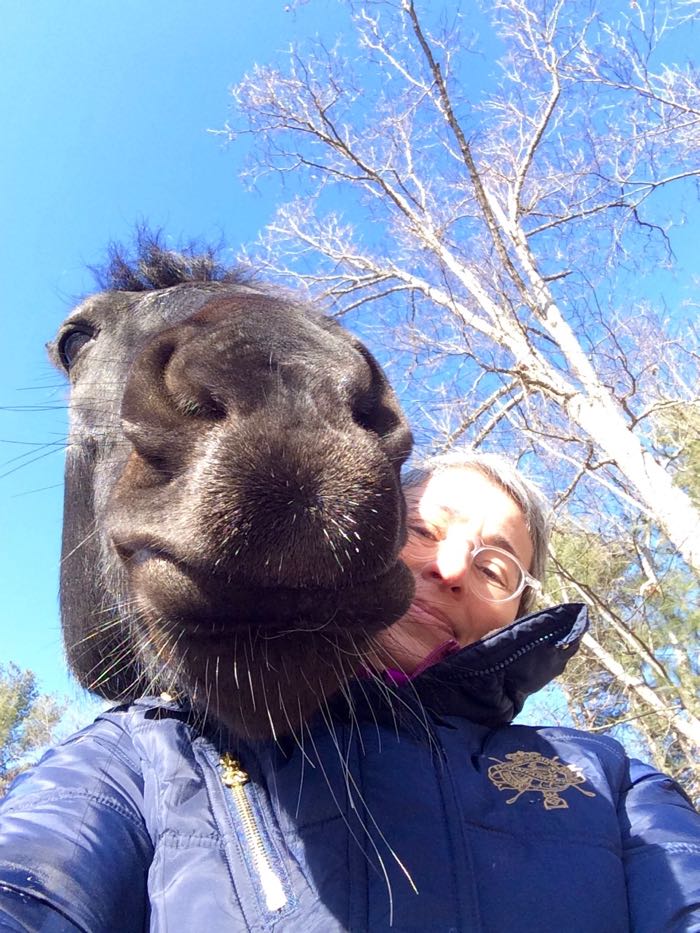 The nose and lips are rubbery, flexible, soft, and expressive. Above that, nostrils flare, snort and snuffle. Horses greet friends with breaths.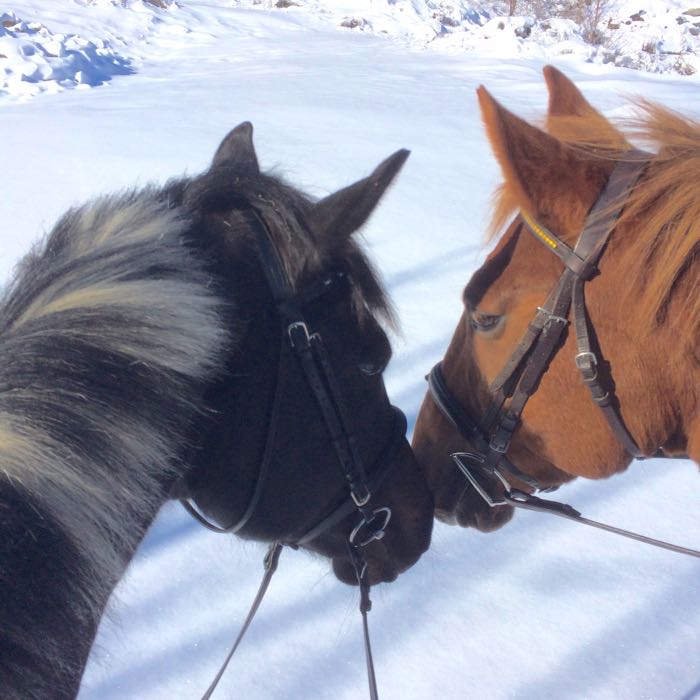 They'll say hello like that to you too, if you let them.
But horses, especially geldings, also do this:
They bite and toss their heads. See the invitation to play? The nose shoving? See the back and forth?
My client, Eileen, has a Paint horse named Nate.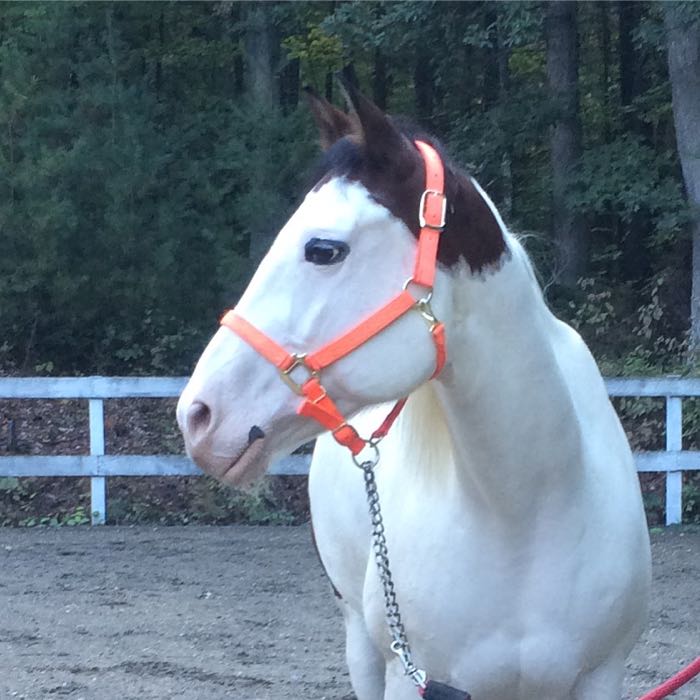 They adore each other. But Nate sometimes shoves Eileen and sometimes he bites at her. This is dangerous and unacceptable behavior. It doesn't happen all of the time. I watched them interact to see when and why. Behavior is a complex web but I was able to tease a piece of it apart.
Eileen, like me, is an expressive person who uses her hands while talking. She does it when she's happy, but she also holds them up when telling Nate to stand still.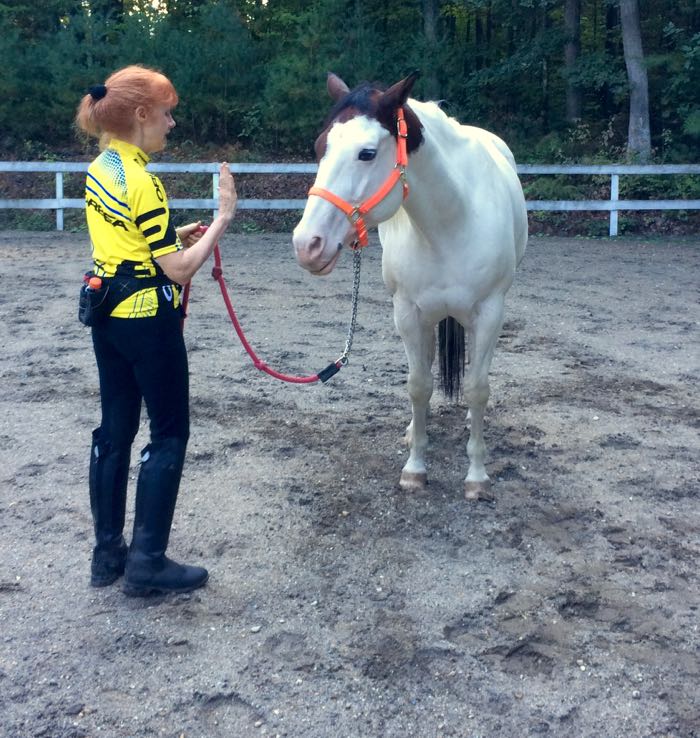 Eileen is using traffic cop language, universally understood among humans, but not horses. What Nate sees is something to go towards and touch, at which point, Eileen shoves him away – pushing on his muzzle – which to Nate is an invitation for gelding play. Nate likes to play hard, and, like that dun horse in the video, Nate will open his mouth, swing his head, and connect. In the past, this misunderstanding of what is acceptable caused people to hit Nate with whips and to yank on his lead rope chain. These punishments stopped the biting at the moment it happened, but didn't teach Nate what he should do instead.
I've counseled Eileen how to bring clarity to her body language. First off, she'll stop petting Nate on his face. Nate shows signs that he's been hit there (raise your arm in a certain way and he flinches, continue and he'll threaten back.) So, a hand approaching his head, even with the affection that Eileen brings, is something that he is wary of. Instead, she'll pat him on his neck, which doesn't trigger fear and aggression. Nate does love to be brushed, though, and so Eileen will do daily face grooming sessions with him, like what I do with Tonka.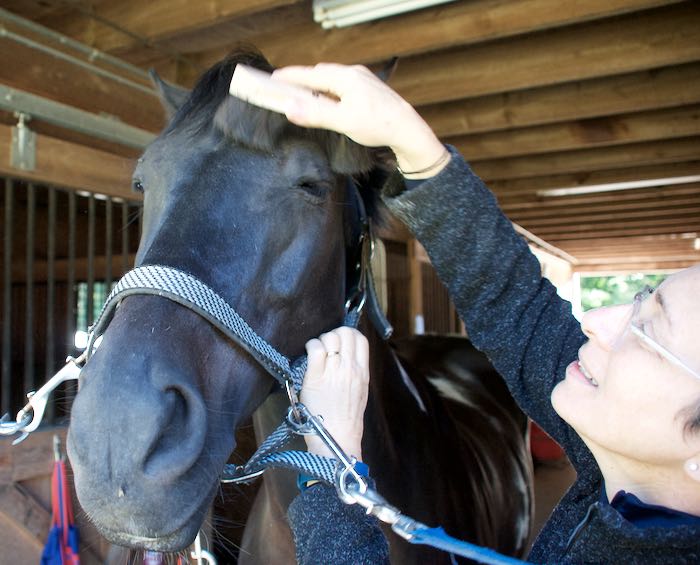 Eileen will also no longer get Nate to move out of her body space by pushing against his mouth. Instead, she'll use the halter strap that's under his face to control his head. Here is a photo of that. Nate is relaxed and has a calm, closed lips!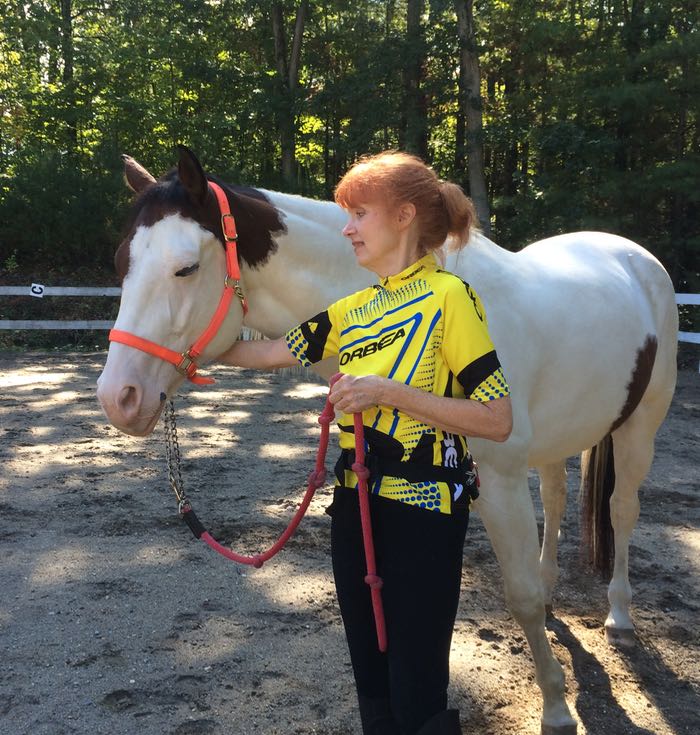 With this clear and kind communication in place, we'll be able to move on to the next part of training: teaching a stay and come at liberty!