Note: this blog is the third in a continuing series about training Bailey, and her person, Lisa. You might want to start here.
It was a month before I could return to work with Lisa and Bailey. It was a hot and humid August, not the best riding weather, but the pair did their homework as best they could. I had a couple reports of progress from Lisa – situations that in the past Bailey would have reacted to with fear, but instead now faced calmly.
When I arrived at the barn, it was immediately obvious that their relationship had improved because it spilled over to how the mare related to me. Do you remember this face? This is what Bailey thought of me when we first met.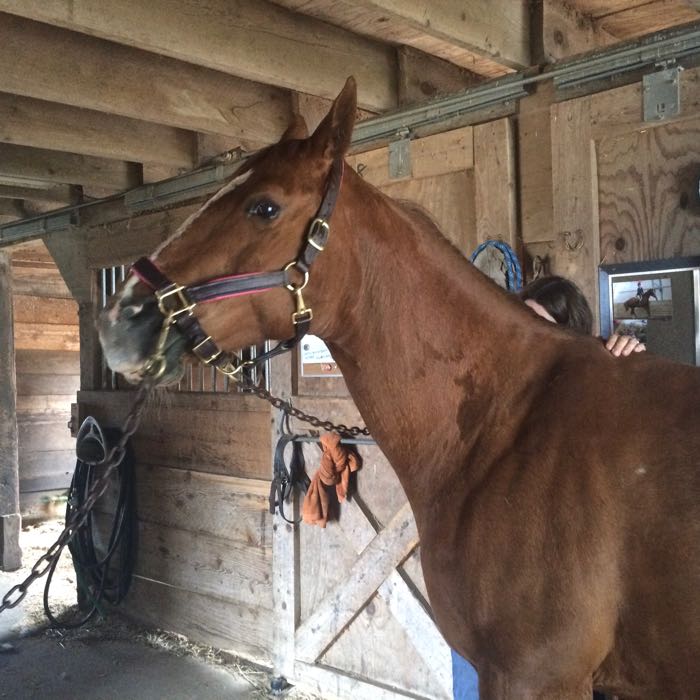 This is how she greeted me two months later: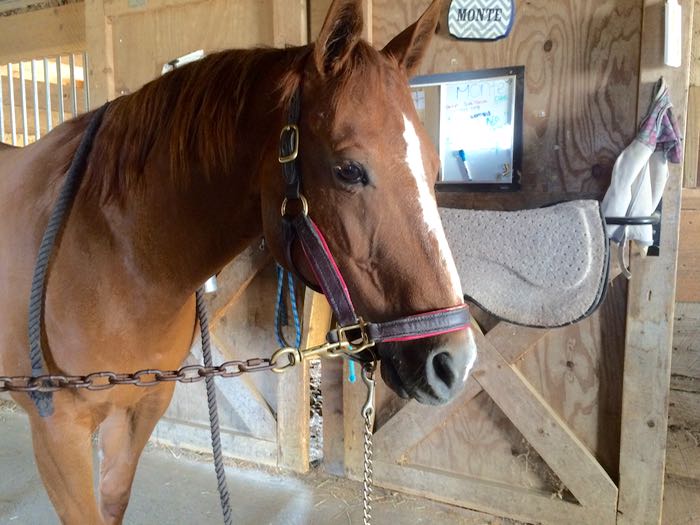 This is what happens when your horse is listened to and when their world makes sense. That soft eye is a window to what's going on in her mind.
I'd only worked with Bailey twice in person, but both times everything that I did was reinforcing to her, and this is how she rewarded me, with clear affection.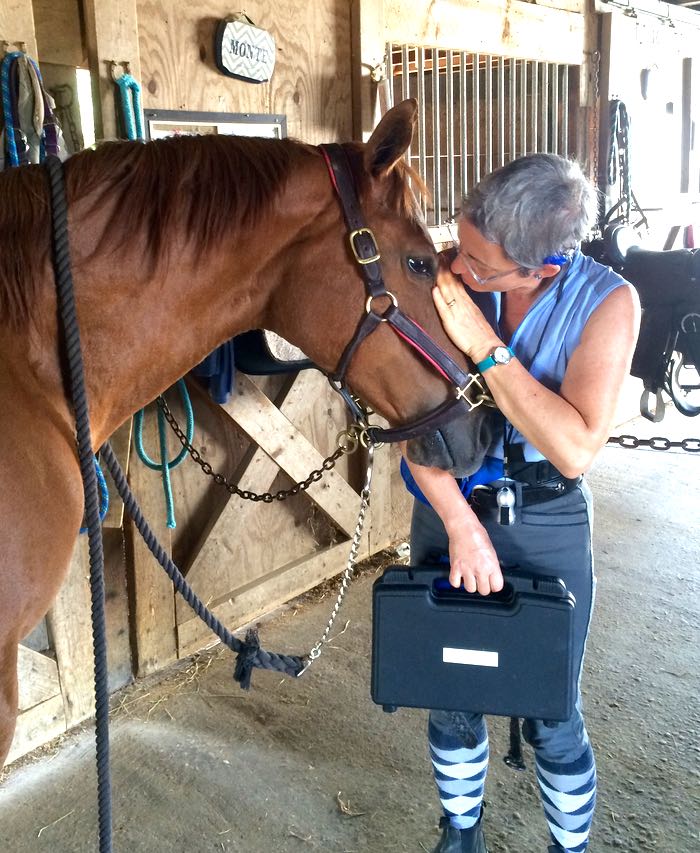 (BTW, that case is an

Auto Amazon Links: No products found.

so I can talk quietly to my students – no yelling! – and I can teach from a distance.)

When you sit on a horse, they feel everything – your breath, whether a muscle is tense or relaxed, whether you're tight in a shoulder, or have weight on one leg more than another. If you turn your head to look at something they feel the movement and they're going to look, too.

Are you sitting in a chair? Look down and to your right. What just happened to the weight in your sitting bones? That shift is enough to change what the horse does under you. Looking down blocks forward movement and puts the horse off-balance. Lisa, worried about Bailey darting out from under her, rode with her eyes cast on Bailey's shoulder. I knew that if I could change that, I'd create a domino effect to fix other issues interfering with their communication. I created an exercise that would make her look up and ride square, so that Bailey could walk ahead with confidence.

We started in the ring. I set out

Auto Amazon Links: No products found.

for Lisa to weave Bailey through. Lisa had to look from one cone to the next. Her head and shoulders lifted. She sat plumb. It turned out that Bailey loves patterns and she eagerly wove between the cones. Here was something that the mare understood and could excel at!

Next I moved the cones to the grass on the other side of the ring. Bailey, who usually in an unenclosed space, tensed and warily looked around, instead stayed focused on the cones. Lisa remained relaxed, eyes ahead. We progressed across the lawn and over to the trail. I think that I did the most work, picking up cones, and hurrying ahead to have them in place! Both Bailey and Lisa simply walked forward and would then stop and wait for me to catch up. There were rewards of pats, praise and cookies.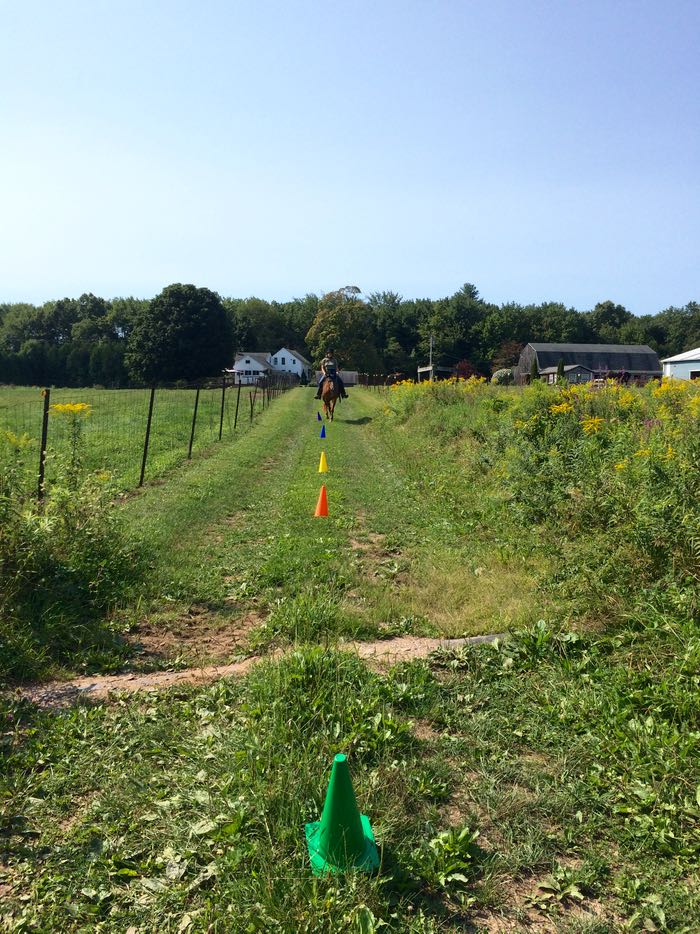 We approached the section of the trail that both had become fearful of. But this time, Lisa was deep into her saddle, looking confidently ahead to the last cone. Bailey was in her cowpony mode, working hard at the task. On they walked with nary a sideways glance at what usually worried them.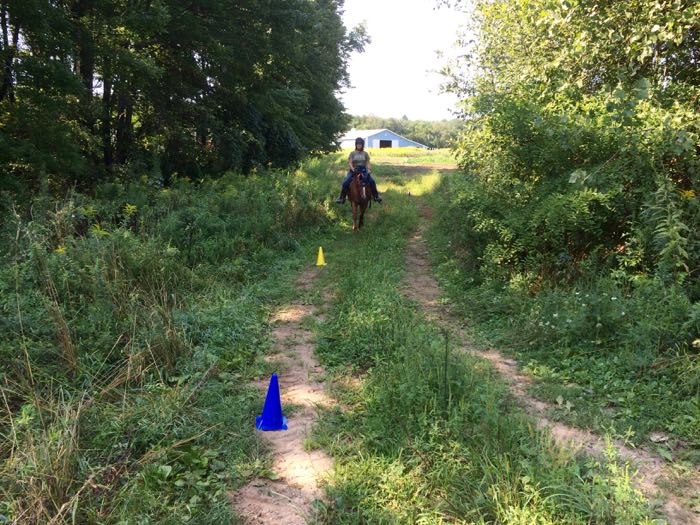 As we progressed, I did the two steps forward, one step back. Once Lisa reached me, I had her weave back through the cones towards the barn, and then back again to me. In the past the mare had rushed home; now she walked both directions with purpose. I spaced the cones further apart. Then we reached the dip in the trail, with poor sight lines, that Bailey was convinced led to a field inhabited by ogres. It was here that she had a history of wheeling around and bolting for the barn. But this time there was a cone in front of her, which Lisa looked squarely at, and Bailey walked calmly to. Much praise was showered on both of them.
Here is a video. If I hadn't told you, would you ever believe that this good little mare was labeled "hot" and got so jumpy and jiggy that her rider would have to get off and walk home?
I'm going back in a couple of days. I look forward to having another pleasant walk down the trail.