Tonka is not a horse that likes to get his feet wet.  Some horses like to roll in mud. He does not. As far as Tonka is concerned, dust is fine but muck is yucky. It's not that he's scared of water, he just doesn't like it. When on the trail, Tonka will walk through streams. I give him his head and he carefully steps across, always finding the best footing and skirting the murky spots when he can.
So, this is all to say that Tonka will put his hooves in water, but it's not something that he'd choose to do.
A couple of days ago, Michele and I trailered our horses to a favorite place. It's an old orchard that's now a wildlife refuge. Tonka and I had been there several times on our own so thought we knew it. But Michele asked if we wanted to go into the pond.
Pond?
Maggie likes water. It turns out there is a side trail to a pond which has a sandy slope where the horses can walk down and into the clear water.
Tonka couldn't believe that I thought that this was a good idea. When he doubts where I want to go, his shoulders tense and his neck bulks up and his throat latch locks in place. He did this at the edge of the pond. I sat deep and squeezed with my legs. This is a cue that tells him Go ahead. It's safe.  He hesitated, still unconvinced, but then watched as Maggie splashed in. Tonka followed. It's good to have a friend to rely on – one who doesn't mind when you're on her butt.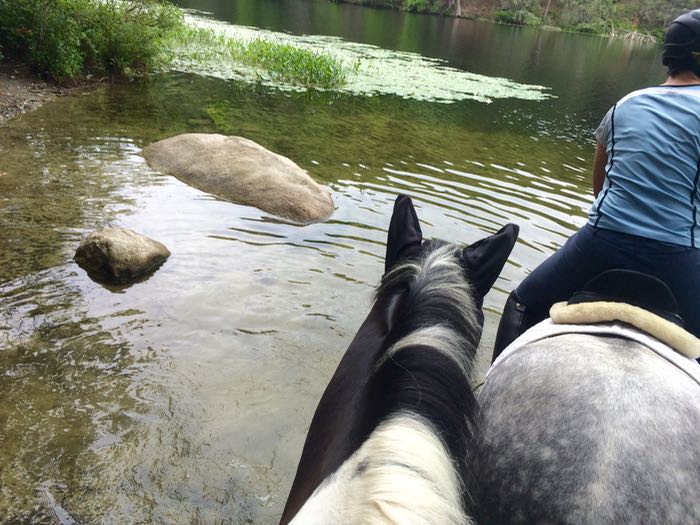 I think that Tonka liked this place. Even after Maggie got out, he stayed put. He even played in the water a bit!
We're in the midst of a severe drought and heatwave. Standing in a pond is a joy, even for a horse that has his doubts about water.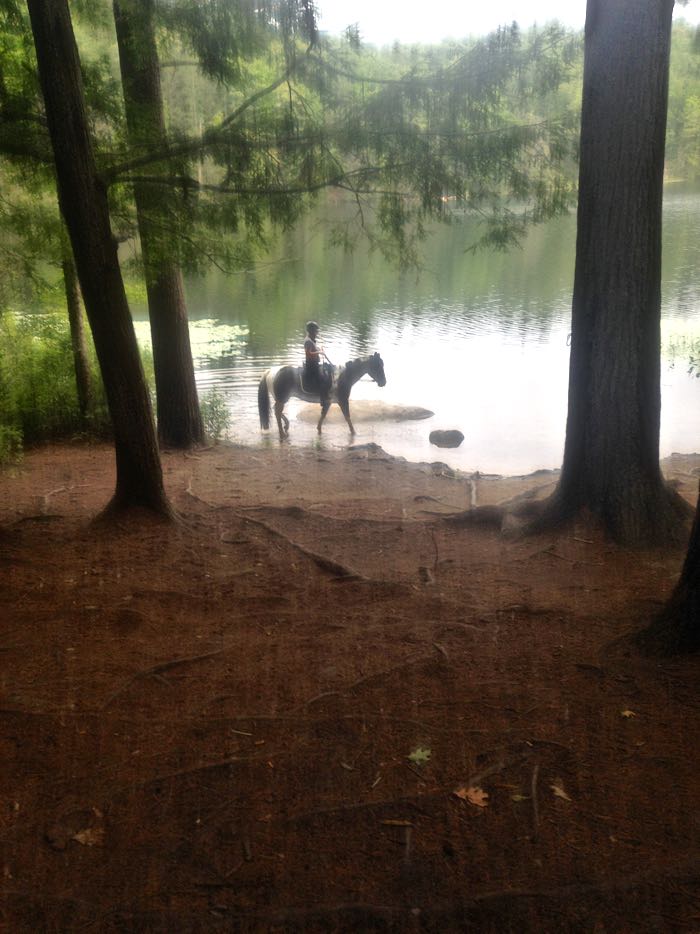 (It's hard to take photos from horseback, especially when you have to take your gloves off to do it, a scary dog is coming up the trail, and a hiker looks like a zombie because she has a blanket over her shoulders. Thank you, Michele for this pic!)
After going into the pond, we returned to the main field to begin the training that I talked about in the last post. Maggie walked one direction and Tonka the other. We did this so I could gauge how far away from Maggie Tonka could go before becoming worried. He kept an eye on her, but didn't get tense until she was out of sight behind a bush. It's good to know a baseline. So, yesterday, Michele and I rode our horses at the stoneyard (a property next to the stable) and we circled a stand of trees in opposite directions. The horses are very familiar with this place, so Tonka knows exactly where Maggie is even if he can't see her. The first time around he was tense, the next he was relaxed. Maggie never worried about where Tonka was! After fifteen minutes of riding next to, and away, from Maggie, it was clear that Tonka was learning that whenever he left his friend that he would also return. A little more of such training, and Tonka will be far more confident and calm when we travel and he is asked to leave his companions. This will be useful both at a show and on the trail. Also, you never know when a situation will arise that for your safety you have to leave now. You can't train when there's an emergency, but you can instill confidence and trust every time you get on.