I grew up with cats but the first year that I went away to college I developed an inexplicable and permanent allergy to them, which is why my children have had many animals in their lives, but never felines. My son, Daniel, always said that as soon as he could, he'd have cats. He recently moved into his first solo apartment in a pet-friendly building in a large midwestern city. It was time.
Daniel grew up with genius working dogs. I was clicker training when he was just a baby, and even the not-so-brilliant animals, like the chickens, showed off their personalities through their interactions with us.  So, it was no surprise that Daniel wanted at least one bright and talkative cat; it'd be okay if the other cat was mellow.  Last month I flew out to help him select two cats from the municipal city shelter.
The beautiful grey with the massive green eyes still had a feral look about her – she'd recently been brought in from the streets – but she immediately liked being held and we could see her potential. This would be the mellow cat.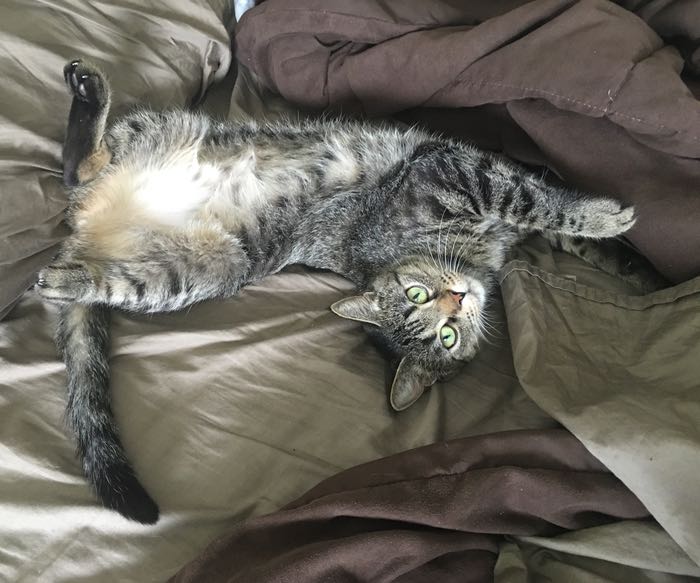 The mewing calico, reaching her paw out of the cage towards us, was an obvious choice for the interactive cat. Perhaps too obvious. This was one demanding and intense cat. I told Daniel that she'd be trouble. He said she was perfect. I get to tell him I told you so for years to come.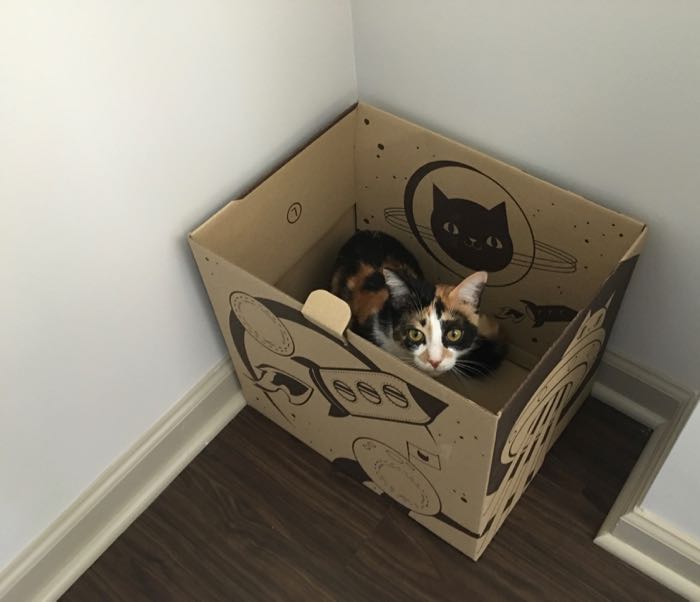 Abbi and Ilana didn't know each other at the shelter, but they quickly became friends.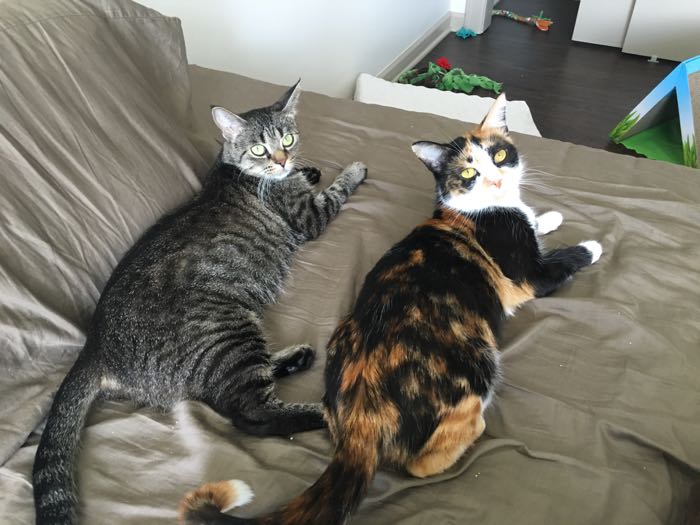 Sort of. Ilana, the calico, is in everyone's face, even Abbi's. Abbi tolerates it, to a point.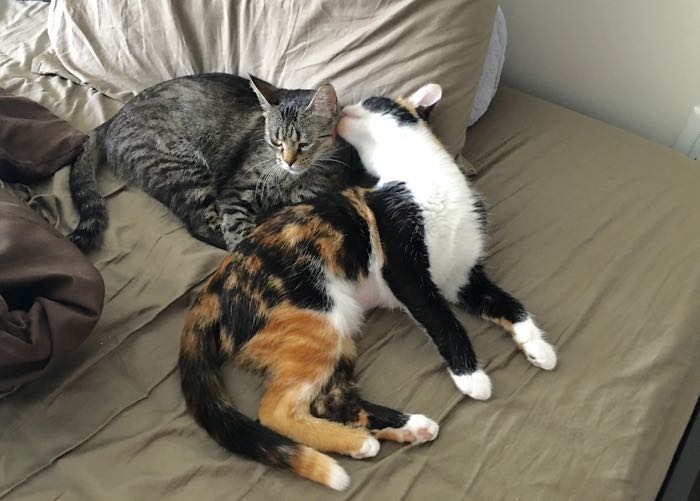 Abbi knows how to insist on having her own space.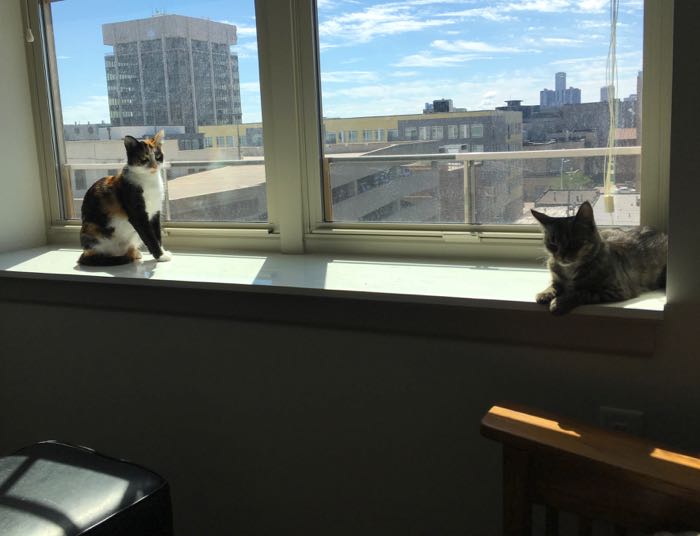 Although Daniel knows how to train animals, it's not his thing. Like many (most?) pet owners, he simply wants to enjoy their company.
Enjoyment, however, can be hampered when your pet misbehaves. Misbehave, of course, in the eyes of the owner. As far as the cats are concerned, their behavior is perfect. Every night around 4 am Ilana and Abbi zoomed around the apartment, chasing each other, tumbling, and play fighting. All fun for them, but not for Daniel. However, an issue like this don't always require formal training, nor punitive action like locking the cats up. Sometimes a simple change of schedule solves the problem. I suggested to Daniel that he give the girls a set playtime at 11 pm to tire them out. It's worked. They no longer wake Daniel up in the wee hours of the morning.
Dinner table manners required another strategy. This time I used a favorite from my training bag of tricks – the incompatible behavior. This is when a desired behavior is trained as an alternative to the undesired one. The animal can't do both at the same time, and so gives up the unwanted behavior. Daniel takes his meals at a small table near the window. Abbi left Daniel alone while he ate. Ilana did not. She strolled across the table, got in Daniel's face, stepped on his food and meowed loudly. This was unsanitary and annoying. Tossing the cat on the floor just made her think: game on! and in a flash she'd be back up on the table.
In a situation like this most people think in terms of what they don't want – I want that darn cat off of the table. That sort of thinking doesn't work because it's your will against the cat's desire of I want to be on the table. The cat always wins! Instead, think about what you do want. Daniel wanted Ilana on the floor. We could have done some formal training and taught her to go on a mat (yes, cats are quite trainable!) but it was easier to simply give her a playtime alternative to being on the table.
I had Daniel purchase a few Franklin Sports Ping Pong Balls - Official Size + Weight White 40mm Table Tennis Balls - One Star Professional Ping Pong Balls - Durable High Performance Ping Pong Balls - White - 18 Pack. These are the best cat toys. When pounced on they shoot out in unexpected directions and bounce off of walls. While Daniel eats, Ilana gets to chase the balls. Ilana can't sit on Daniel's dinner plate at the same time that she's playing on the floor. When dinner is done, the ping pong balls are put away. After a few sessions of this, Daniel's dinner became the cue that the balls would be available. Ilana now knows that the fun is on the floor, not traipsing across Daniel's dinner plate. Problem solved.
(This photo doesn't illustrate the story, but it was too gorgeous not to include.)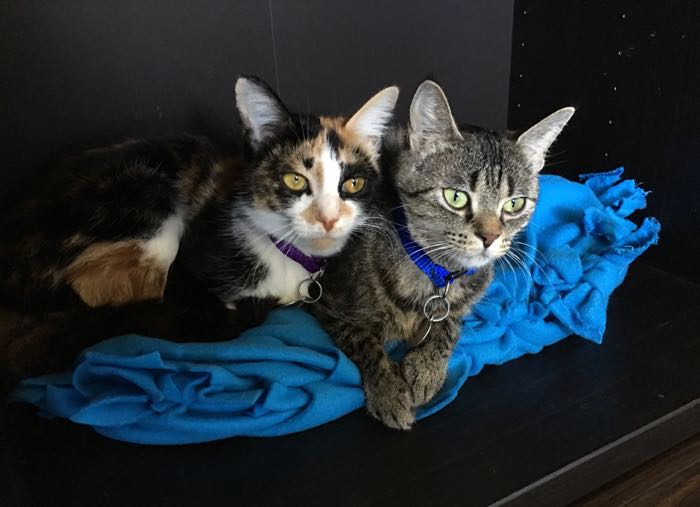 Daniel also makes sure that the cats have food when he does. If they're eating their own dinner, they can't be eating his (incompatible behavior!) When he adopted the cats, we went on a buying spree. Indoor cats can be perfectly happy, but it helps for them to have an interesting environment. This Catit Senses 2.0 Food Tree - Sturdy Tree-Shaped Slow Feeder makes meal time a challenge. It helps to keep the kitties (especially Ilana!) busy and sane.
Just as an aside – many people resort to spritzing cats with water to keep them off of furniture. It's not a good idea. Cats know that your hand is attached to that spritzer, and that you're attached to the hand. Over time your cat might become aggressive and scratch you, or to avoid not only the table, but you as well. Besides, that sort of punishment isn't particularly effective. You'll have to do it again and again. What is likely is that you'll have a ticked off, tail-swishing, angry cat. But if instead you give your cat an incompatible behavior, something in fact rewarding for them to do, then you'll have an engaged and happy cat.
Thinking about what I want rather than what I don't is my first step when training. Often what I want is an incompatible behavior to the one that's causing the problems. It doesn't matter the species of animal or the task, figuring out an incompatible behavior almost always leads to a good outcome. Most of the time we decide to do some training because there's something we want to fix, whether for example, it's an exuberant dog jumping on guests or a horse barging through a gate. If you think only in terms of "don't do that" then your answer will be a form of punishment to try to stop the behavior. (Yank on the leash or  snap a chain on a nose.) But if you think about what you'd rather see – a dog sitting at the door, or a horse waiting politely on a loose lead rope, then you can train for that, all in a positive, rewarding and effective way.
Some animals, like Abbi, are so easy to get along with that you rarely have to rely on incompatible behaviors. Others, though, keep you on your toes. I knew within five minutes of meeting Ilana that she was one of those. She's not bad. She's creative. Daniel and I wouldn't want her any other way.