I recently wrote about the zen of hand-grazing a horse. It's a centering activity for you and contributes to your relationship with your horse and their emotional well-being (as well as physical health if it's the only source of fresh grass that your horse has.)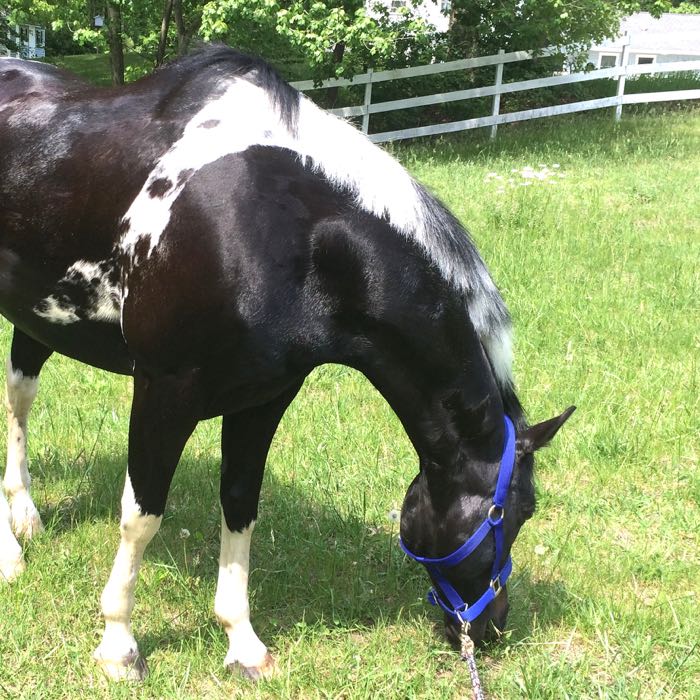 I failed to mention something.
My horse is small. He weighs about 1,000 pounds. Standing square, that's approximately 250 pounds of weight per hoof, but if he spooks at something, and wheels around to hightail it the other direction, all of his mass bears down on one metal-shod hoof.
Here is what Tonka looks like, standing calmly.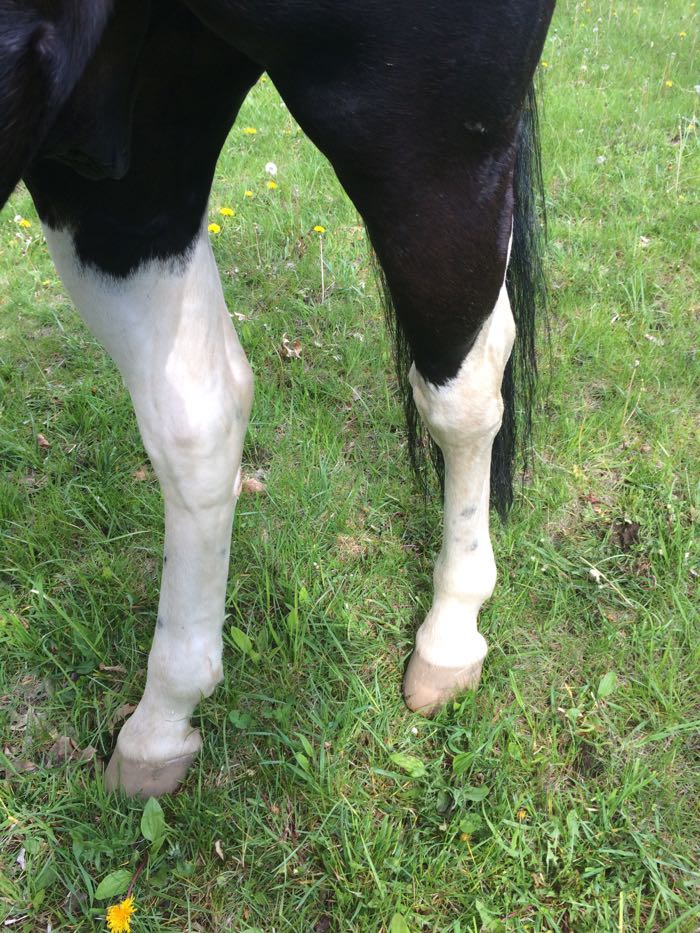 A while back, late in the afternoon, I was hand-grazing Tonka. A friend at the barn was out on the grass with her horse. It was a peaceful evening. Tonka, although he is a laid-back guy, is also always aware of what's going on in his surroundings. One second he had his head down, munching away, the next, it was up (This photo was taken at a different time, what I'm describing happened too fast to photograph!)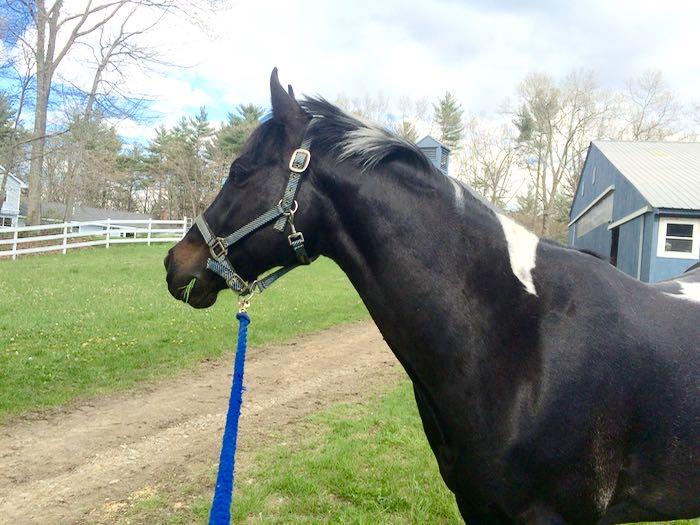 A half-second later he swung around to take a good look at what had alarmed him. (Although horses are labeled flight animals, the behavior is more complex than that. The alert horse – like a Tonka – will turn to face the new and/or scary thing to assess it. Sometimes, they even head towards it to better check it out.) So, Tonka wheeled around to see what was coming. In doing so, his right hind hoof landed squarely on my boot, and stayed there while he pivoted. And stayed there while he quivered, assessing the "monster" coming around the corner. It seemed like a very, very long time that he had me pinned to the spot.
The scary thing was actually the mom of a teenage rider. She was walking in an odd way – she was looking for something that had been lost in the grass, and she was coming from a direction that no-one comes from that time of day. Tonka was right to be alarmed. (A savvy horse person would have called out to announce her presence, but this is not a "horse-person". Like at many stables, we are constantly loudly saying "door" to let others know when we're coming into the barn, or around a bend. It prevents a lot of mishaps.)
One reason that I like being at a boarding barn is that there are often people around to help. Tonka was taken to his stall by one friend, and I was helped into the tack room by another. An ice pack was procured. We all have first aid kits for our horses. Sometimes we use the stuff on ourselves.
This is my boot. You can see the line in the dust where the hoof was.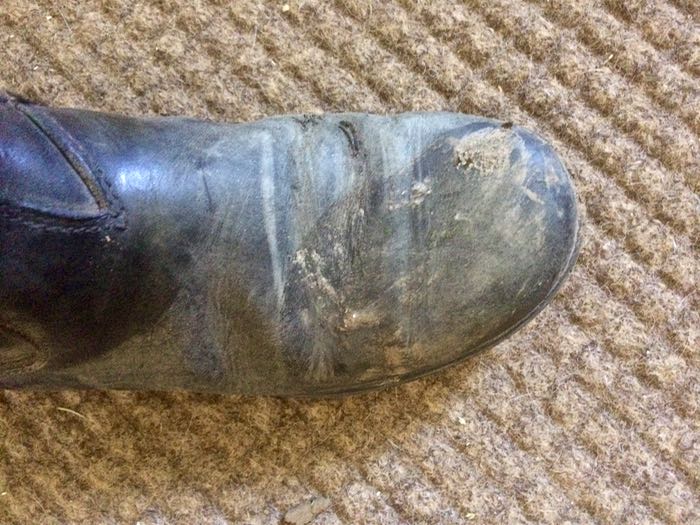 When I got home, I iced it some more. It helps to have a sympathetic nurse dog.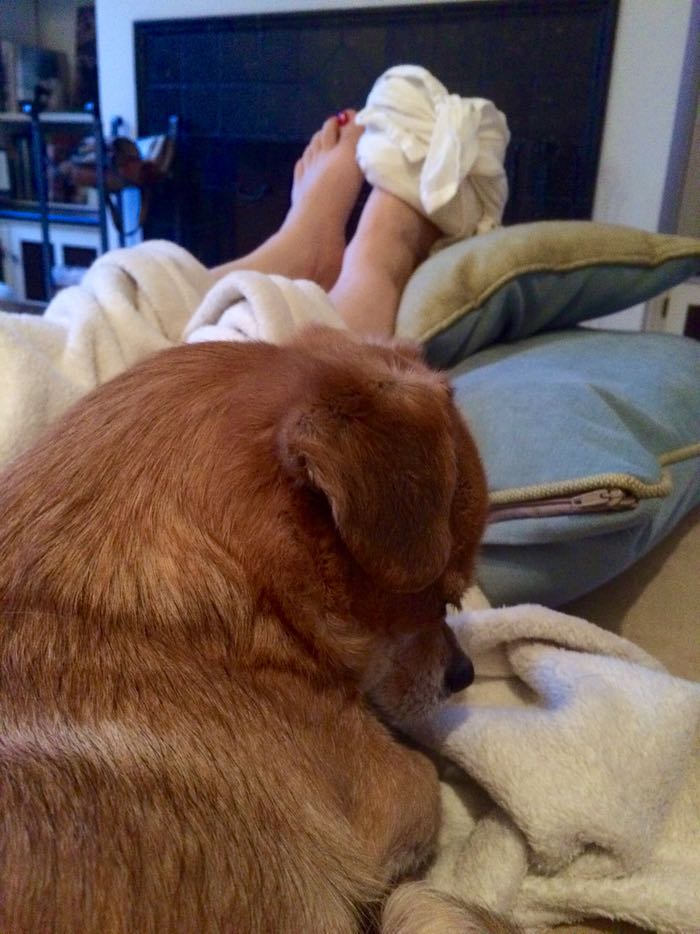 My little toe was broken, and over the next few days, my foot turned various shades of yellow to purple. (I'm fine now!)
It could have been much worse, but I was wearing my sturdy leather paddock boots. Horses, even kind, calm ones, like Tonka, are dangerous animals and so I do what I can to minimize the risk. I always ride with a helmet. I always wear sturdy boots. Even today, with the temperature a scorching, humid 93, and even though I'm not going to ride, I'm still going to wear my boots.
By the way, Tonka gets a day off because we went to a show yesterday. We entered just one class and he was super. We scored a 66.8 (dressage people will recognize that that's an excellent score.) It would have been higher but the judge said I didn't salute and so applied two penalty points. I did salute, but somehow she didn't see it. I'd been taught, years ago, to do a straight, polite, salute. Perhaps it's too subtle? Next time I will add a bit of a flourish off to the side. Anyway, once again we scored higher than many of the big fancy warmbloods, which was nice, but the most affirming moment of the day was when a competitor came up to me and said, "You had a beautiful test. It was so relaxed and flowing. That's what I want to be able to do with my horse." So we talked briefly about how to ride and have happy horses. That's why I go to the shows.