The work that I do with animals uses, what I call, the clicker perspective. It's not, however, always clicker training per se. Much of the time I don't use the

Auto Amazon Links: No products found.

– a sharp sound that marks the moment the animal has done the right thing, which is then followed by a reward. That's just a technique (albeit a very effective one); it's the theory behind that technique that matters.

One of the tenets of "positive reinforcement training" is to focus on the desired behavior. Rather than force a change in what you don't want, you train behavior that you do. Rather than thinking "don't do that" you think "do this." For example, it's so frustrating when you bring your horse in from their paddock and instead of going along with you, they drag you over to a patch of grass. You yank the horse's head up, they jerk it back down. Yanking solves the problem momentarily but doesn't train the behavior you do want. So, rather than thinking, Stop dragging me around you darn horse!, think I want you to lead quietly next to me and then train for that doable behavior. In this example rather than pulling your horse away from the grass, teach a head up and reward for polite walking. This clicker perspective entails defining and training for behavior you want (rather than being reactive to behavior you don't want.) It might seem a subtle difference. It's not.

The first step is to honestly observe what's going on. This is more complicated and difficult than you might think. Notice that I said honestly observe, because it's often hard to admit what issues you really have. Behavior problems rarely start where you think they do. Let's take the example of a horse that is head shy and doesn't want the bridle put on. I'm a skilled enough trainer to be able to use a clicker and rewards to teach the horse to stand calmly and accept the putting on and wearing of that gear. But, the horse has motivation for that head shy behavior, and if I don't address the root cause the tension will erupt elsewhere. I want to begin training from a place of safety and comfort for the horse – not try to override their fear, pain or anger. That's where the honesty comes in. How far back do you have to go to find your horse's safe place?

Last year I was asked to help with Zak, a Lusitano gelding. Like many talented and expensive horses, he'd been trained intensively and quickly, and pushed to do the hard work of upper level dressage. He wore a double bridle. His trainer wore spurs and carried a whip. Zak had a reputation for being a stand-offish horse that pinned his ears at humans. He wasn't dangerous, but he wasn't a horse that you could relax around. His owner knew that a change was necessary for his (and her) happiness. I helped her to find a barn where they could develop a new relationship. I spent time with Zak when he arrived there and I observed how he was with his owner.

During grooming Zak was either indifferent or actively showed what he thought about the world with a wrinkled nose and pinned ears. The first week in his new barn, I observed as the owner tacked him up. He was standing neutrally quiet in the aisle when he heard his owner, out of sight, in the tack room, pick up the bridle. It jingled. Zak tensed his neck and pinned his ears. We paid attention to that message from him. A new bridle and a simple, softer bit was purchased. His attitude changed and his bridling behavior no longer had to be fixed.

Over the last year I've spent a lot of time grooming and conversing with Zak. I've asked him what he likes. It turns out that what he really, really wants is to have his ears scratched. I've found his comfort zone.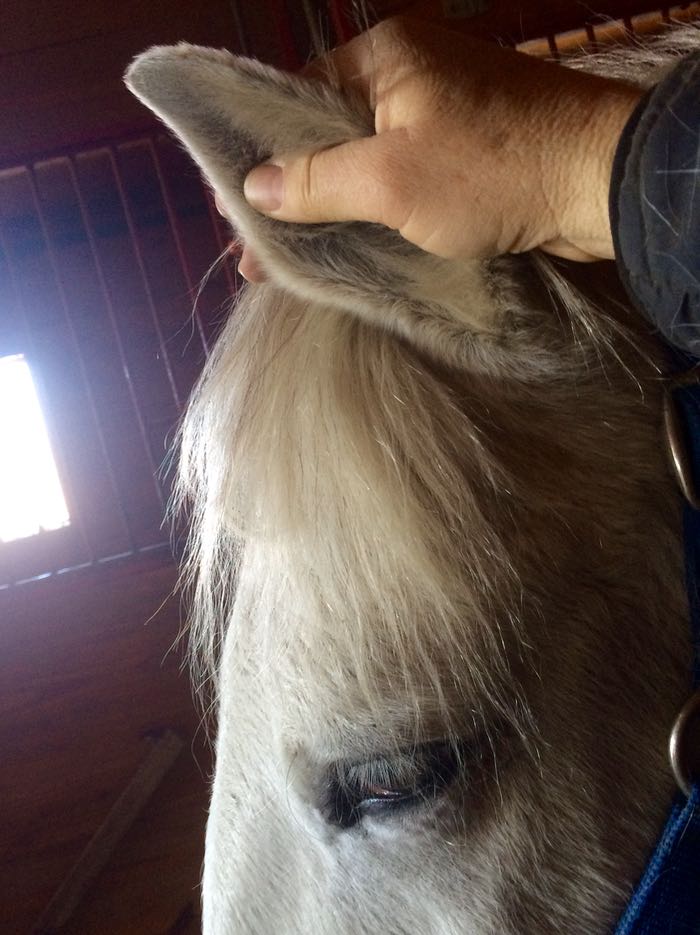 It also became apparent to me that Zak is quite particular about which brushes he wants to be groomed with. I suggested new ones, which his owner purchased and now Zak loves being touched.
In the last year, Zak's eye has softened.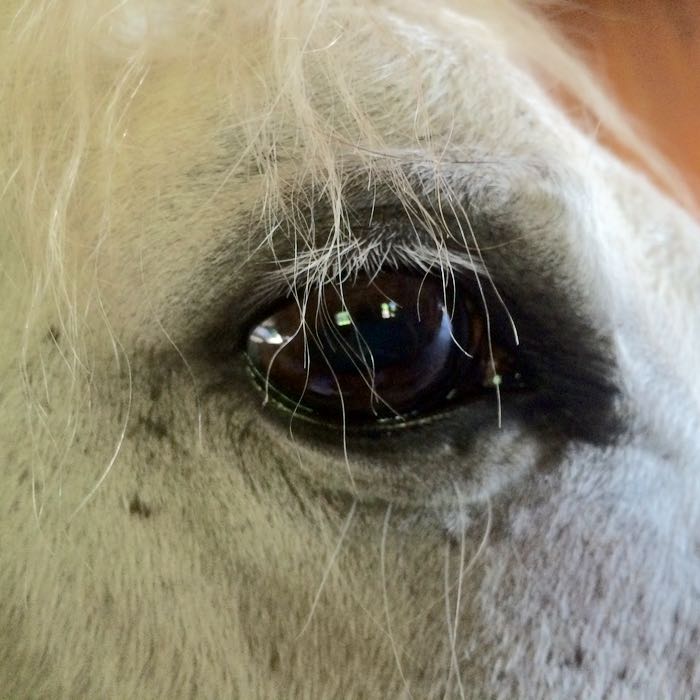 He interacts with humans in a friendly way. When I say good-bye, he asks me to stay.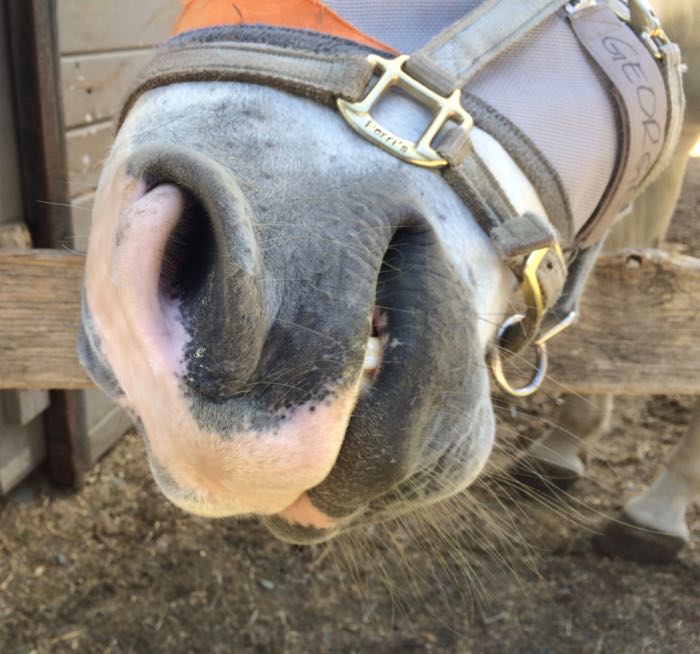 The owner is in the process of retraining him using positive reinforcement and the protocols of clicker training. This is what his owner recently wrote me about Zak:
Thanks for all the ways you're helping with his rehabilitation. You may have been the first ever 100% safe person Zak has met in his life.
That's one of the best compliments I've ever received.
Whenever I work with an animal (or human!) I ask myself if we are starting from a safe place. That sort of relationship is rewarding on it's own, and it's fruitful when pursuing a competitive endeavor. Can I brag here? My small, untraditional dressage horse continues to successfully compete at recognized shows. Last weekend we had the 6th highest score of the day, and placed 1st and 3rd in our two classes.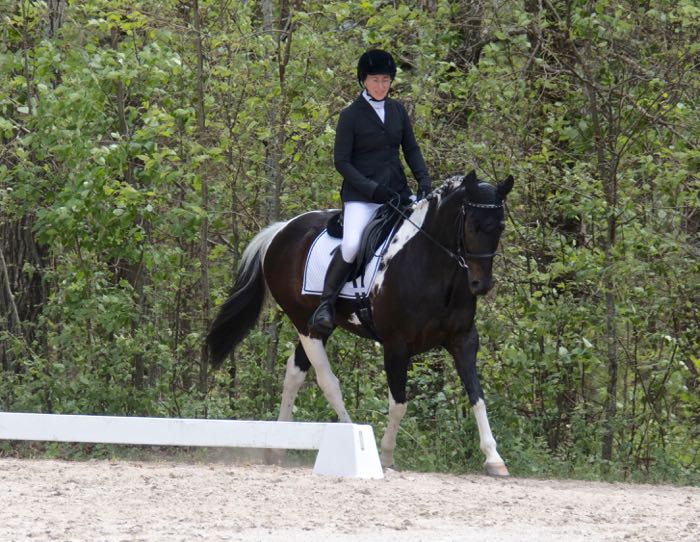 Tonka doesn't have the flash of the big horses, but we make up for it in correctness and flow. Dressage is hard work, physically and mentally. I push us both to be athletic and in sync, but never by compromising our relationship. I continue to train without spurs, a whip or severe noseband. Much time is spent in the saddle, but our success starts well before the horse is tacked up, in that safe place.