Last week I took Tonka to Tufts (Cummings Veterinary Medical Center Hospital for Large Animals) to get a clear diagnosis about what was causing his front left intermittent lameness. This is the fourth time that Dr. Bubeck has seen Tonka. In previous visits, Dr. Bubeck has diagnosed neck arthritis, bursitis in the poll, sacroiliac joint inflammation and hock arthritis. This appointment was for that pesky left front. Tonka was trotted out on a hard surface and lunged in a soft arena. He was clearly off.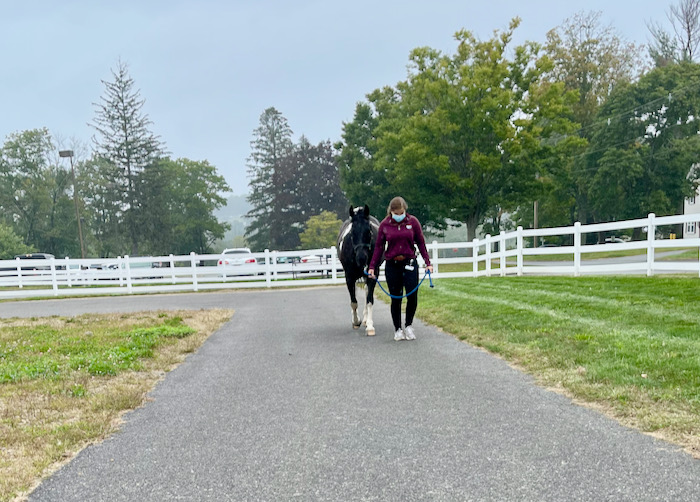 Although my veterinarian, Dr. Monika Calitri, has portable ultrasound and X-ray machines, the ones at Tufts can get deeper and clearer images. So, that's what Dr. Bubeck did next. We were hoping that would give us all of the information needed, but the results were ambiguous. Adhesions and increased joint fluid could be seen, but they were so mild that perhaps there was something else? I agreed to have Tonka stay another day to have an MRI.
MRI requires the horse to go under general anesthesia, which carries risks, and is expensive. But without the information that the MRI provides, I wouldn't have an informed way to rehab Tonka. I didn't want to guess at what might work, I wanted an effective plan.
It was hard for me to leave my horse overnight, but Tonka walked away with his entourage with no issues. All of the work and time that I've put into our relationship has paid off. Tonka is confident, curious and trusting.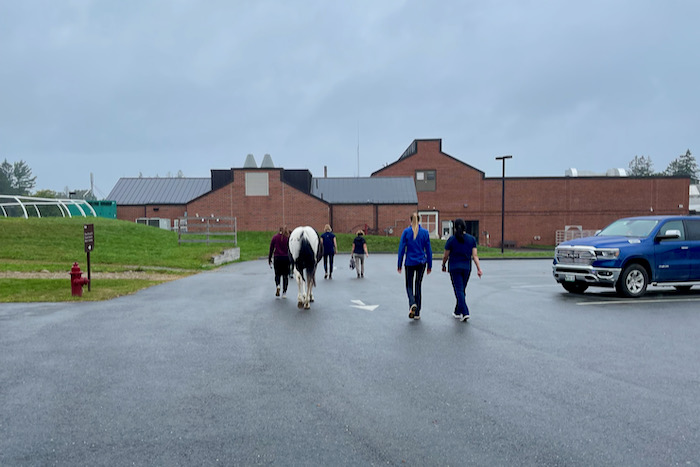 The MRI did provide more information, but it wasn't as clearcut as we would have liked. The word "moderate" was used a lot in the report. He has moderate inflammation of the coffin joint, small lesions on the deep flexor tendon and mild inflammation of the medial collateral ligament of the coffin joint. Many horses with these issues are never diagnosed. They go about their lives traveling mostly alright, possibly a tad gimpy, but not complaining, until something breaks catastrophically. But I have a horse who knows that if something is ouchy, that he can tell me. I'm glad he's not a "stoic" horse because we stopped working before he hurt himself further. Rehab will be only 6 weeks. Not months and months, or a year, like some horses that keep on going until they are broken.
The plan going forward is that Tonka will receive a course of 3 doses of IRAP. (His own blood is processed to create an effective alternative to corticosteroids.)
Tonka got new shoes to support the affected area. (Note that my very good horse ground ties while being shod.)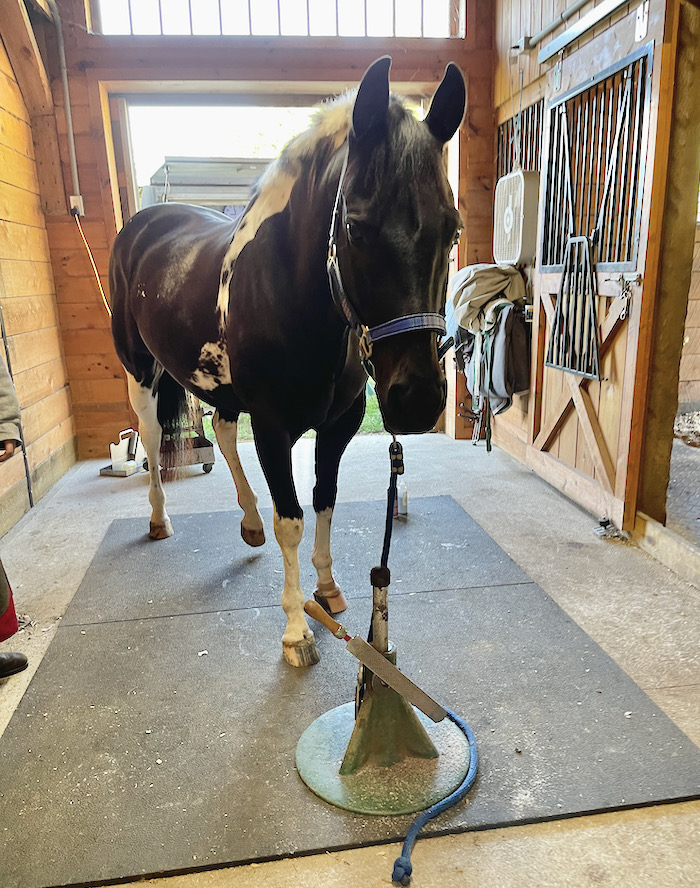 Thank goodness I have the talented farrier, Rebecca Watts. She takes a stock shoe, heats it in her forge and hammers it to fit exactly as needed. There's also cushioning and a leather pad. He has a matching shoe on his right foot to stay balanced. Meanwhile, because Tonka won't be in work, we're letting his hind feet go bare.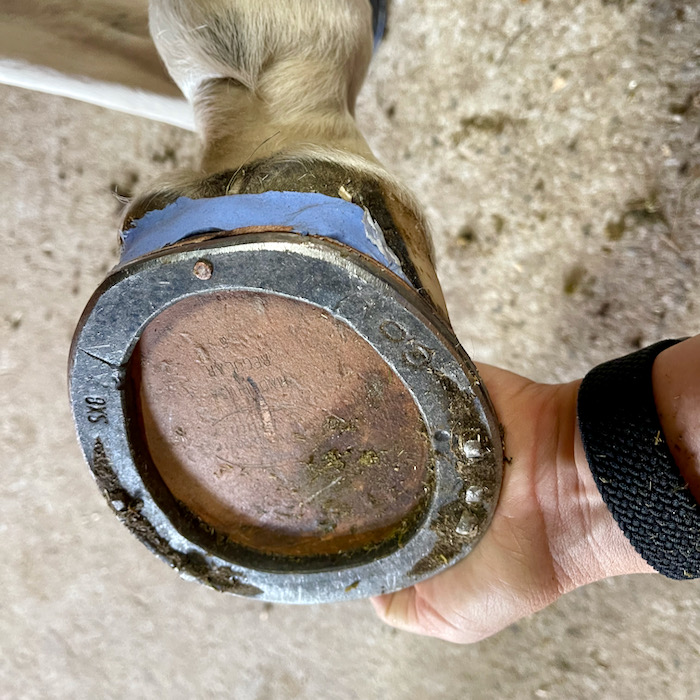 Tonka needs to rest those joints, tendons and ligaments that are deep down in his left hoof. Fortunately, his case is mild and he doesn't have to be on total stall rest. I can hand-graze him as much as I want. It's never as much as Tonka wants!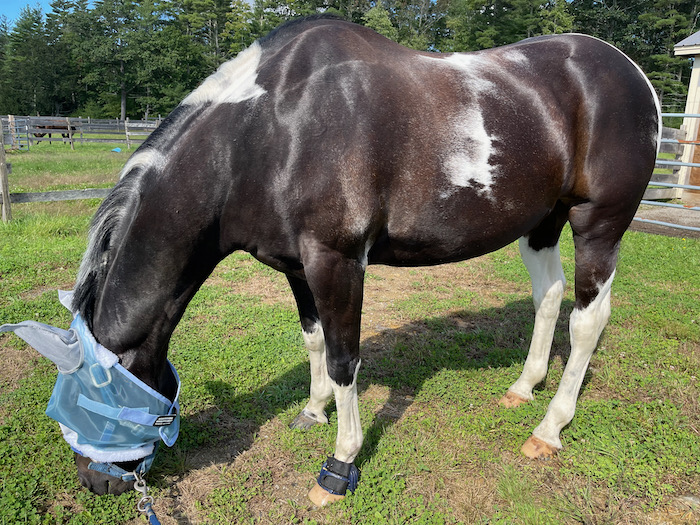 He will be hand-walked 15 minutes everyday. In a couple of weeks, I will be walking him from the saddle.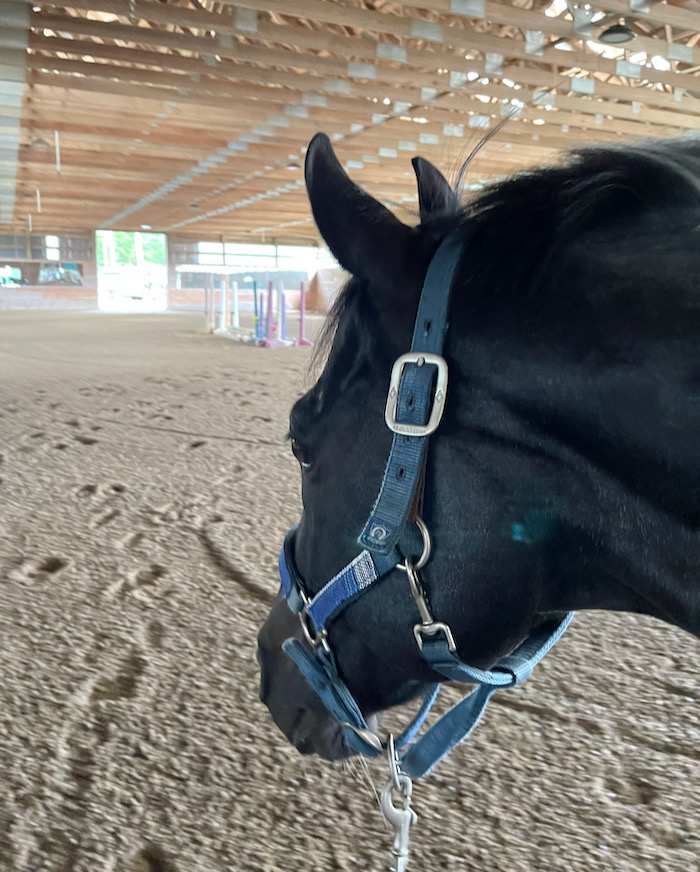 Otherwise, Tonka has to stay in his stall. Fortunately for Tonka, he has a runout, which Dr. Bubeck says he can use. It helps that Tonka is such a sane horse. He's not going to bounce around out there.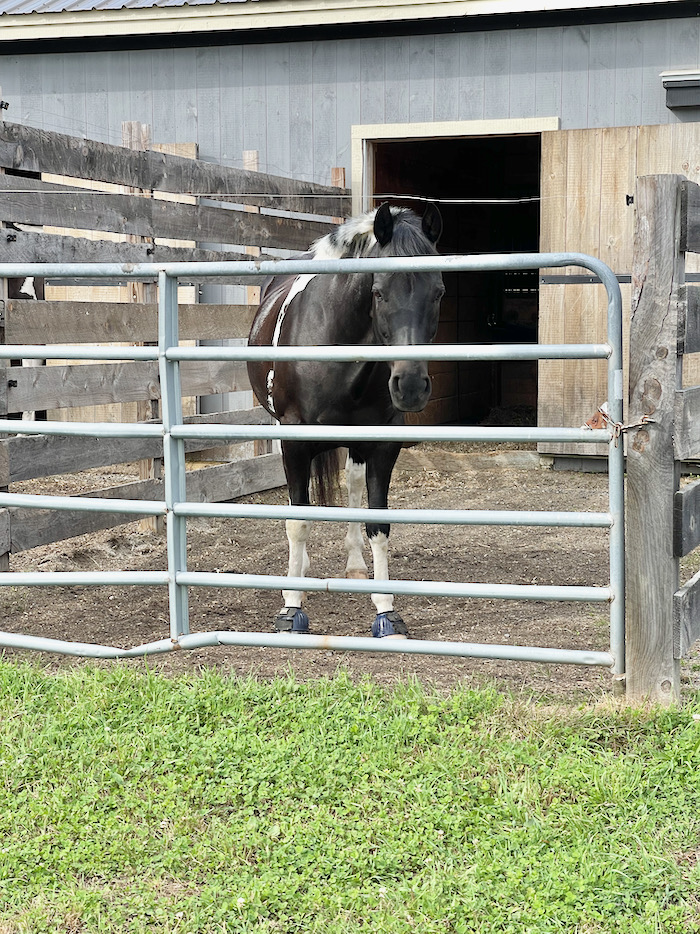 Still, it's boring! I got Tonka a Lick-it, which, after this initial interaction, he finds barely interesting, even with the sugary center.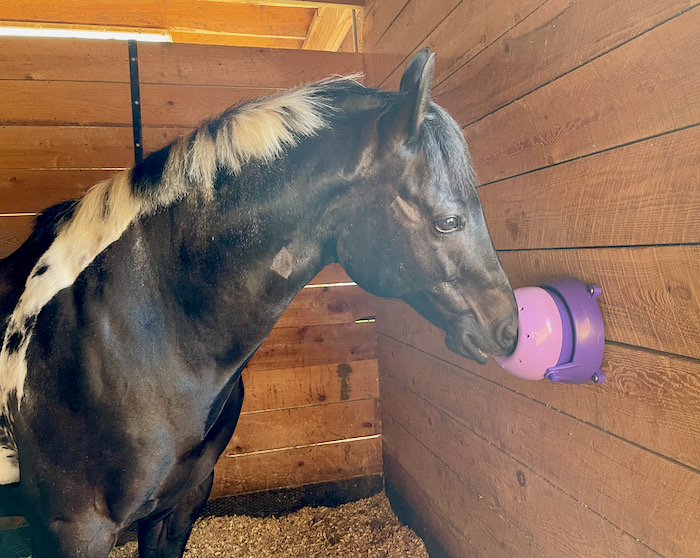 He'd much rather lick me.
Dr. Bubeck says that there's still a chance that the adhesions on the deep digital flexor tendon are more serious that the MRI shows. If Tonka doesn't trot out sound in two weeks, he will need surgery for her to fix that. Fingers crossed that's not the case!
I've posted about his lameness before, under the heading of "coffin joint injections." Over the last year, Dr. Calitri, with the information that she had, did a couple of courses of coffin joint injections. Each time, Tonka went more soundly after. Dr. Bubeck says that those treatments helped to prevent the issues from becoming severe. So, although they didn't fix things, they did help in the long run!
Has your horse had deep digital flexor tendon, collateral ligament, or coffin joint bursitis? Let me know in the comments!