This week's jumping lesson provided something of a metaphor for 2020. In January Tonka and I tried something new. Jumping. Despite the pandemic, we've been able to take lessons from Steph. We've learned a lot and progressed.  Yesterday we were given a new challenge – a bounce line. This is when the horse has to immediately takeoff again after landing. Tonka approached the line with enthusiasm.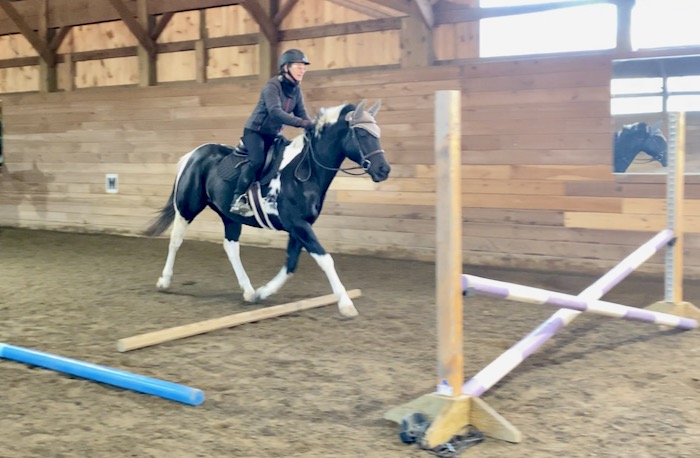 First we did this gymnastic bounce over a single cross-rail with a pole on either side. Then a pole to two cross-rails.. We came in a bit slow, but did it okay.
Then Steph put up a third cross-rail. A big one. Tonka wasn't sure how to meet this challenge. We muddled through. My good, honest, trying horse didn't knock a rail. (Volume on to hear the laughter from everyone watching.)
Once Tonka understood what he had to face, he attacked it with gusto. I grabbed mane and stayed on. If I had more experience, I wouldn't have rounded my back and fallen behind his movement. We're not always ready for what life throws at us!
Here's a still photo. What a good pony!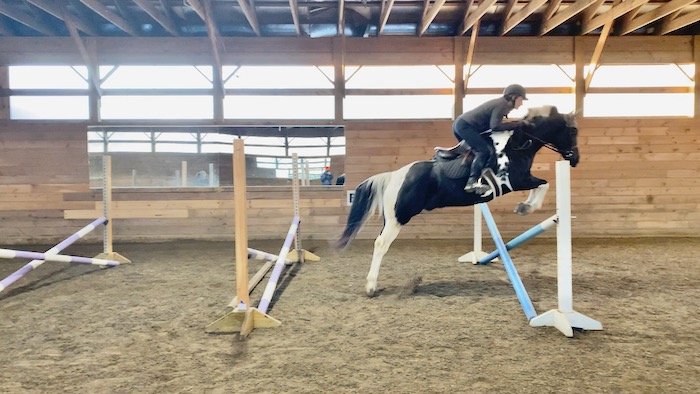 After that big effort, Tonka didn't think that he could do it again. He stopped.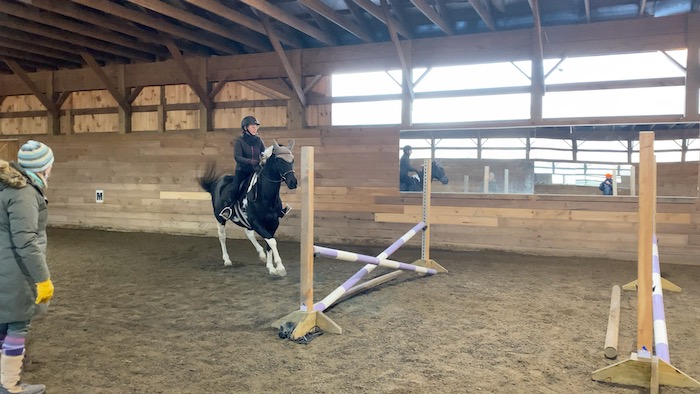 Haven't we all felt like that this year? Steph put the last jump back down on the ground. This gave Tonka a confidence boost and he sailed through.
Not to overdo this metaphor, but haven't we all had to retreat a bit from our goals so that we could achieve something this year? It's okay to back up so that you can go forward.
That last bounce line wasn't the end of the lesson. After such a big effort, it feels good to stretch out and move on. That's exactly what I let Tonka do.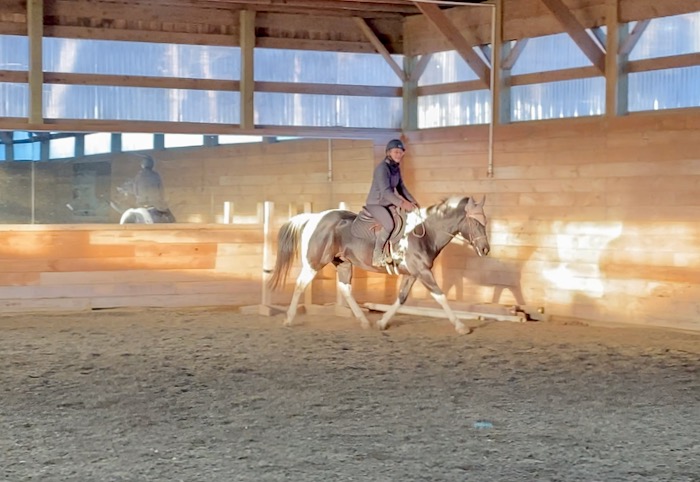 Then Steph set up one more jump. A small, single, easy jump. I pointed Tonka at it, grabbed mane, and let him know that he could decide how to take it. This was his answer. Canter in. Take off early. Go big.
Note the exuberant buck at the end. Tonka's way of saying: Challenges met, challenges looked forward to.
Here's to 2021. As Tonka says, Let's go!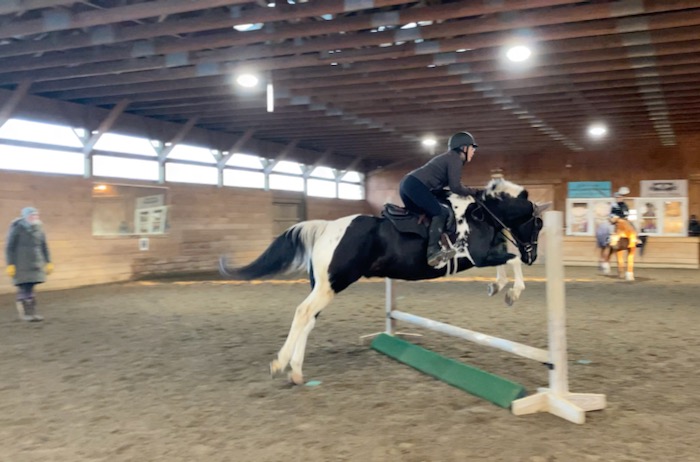 To keep up with Tonka, I'm going to have to unlock my shoulder joints, shove my hands up that neck and keep my core engaged so that I can stay with him the entire arc of the jump. I'll need to get that to be second nature so that I'll be able to do it when Tonka decides to uncork some big ones over the jumps. I'll be practicing this on the flat. Tonka will have to get used to me holding onto his mane up near his ears while we trot around the ring!
Here's to 2021 and to meeting its challenges with Tonka's attitude. We might muddle through. We might soar on over. Whatever. Let's all grab mane and go.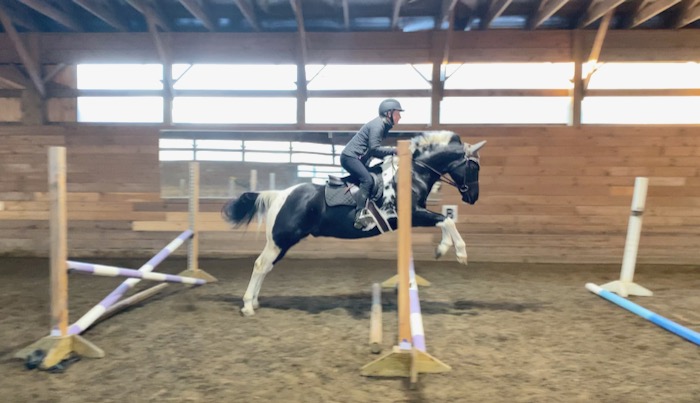 Has 2020 inspired a cheesy metaphor in your life? Tell me in the comments!