It's hot. Hot and humid. I wilt and get grumpy in this weather. How hot? Before I tell you, let me remind you that I live in Maine. We don't develop a lot of heat tolerance here. It's low 80s with 80% humidity. I know that for some of you that would be delightfully balmy, but for me that's throw in the soggy towel and ride indoors in the shade weather. If I ride in the heat outside I get headaches and collapse for the rest of the day. That, though, had to change.
I've been convinced to join the girls at a couple of horse shows this summer, which will be in the full sun. I've got to toughen up! Or at least get the right gear.
I bought a Equivisor Black Cotton Helmet Visor (9409000000) that fits over my helmet.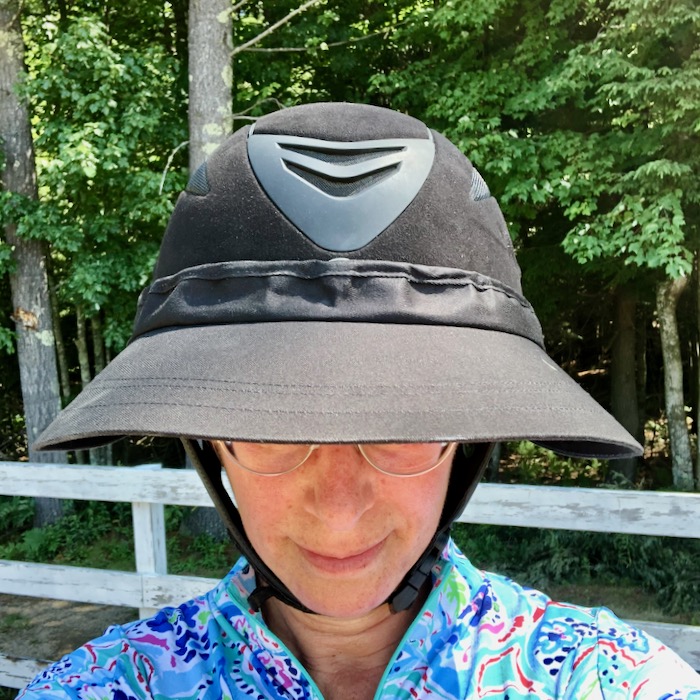 It's brilliant! It's like riding with an umbrella over my head. I feel like I'm in the shade. I'm not squinting – and grimacing – at the sun. My facial expression is more relaxed which makes my mental state more relaxed. Tonka feels that and he's able to cope with the heat better, too. Amazing how that works. Everything is connected.
I've also splurged on some sun shirts that actually do as advertised – the fabric is cooling. They're very pretty and cheerful, which also helps my I can't cope with heat mood.
It's great to feel that I don't have to be trapped in the shady indoor this summer and that I can make use of the outside sand arena. This morning I rode out there while Steph taught some lessons. Tonka and I took shade breaks.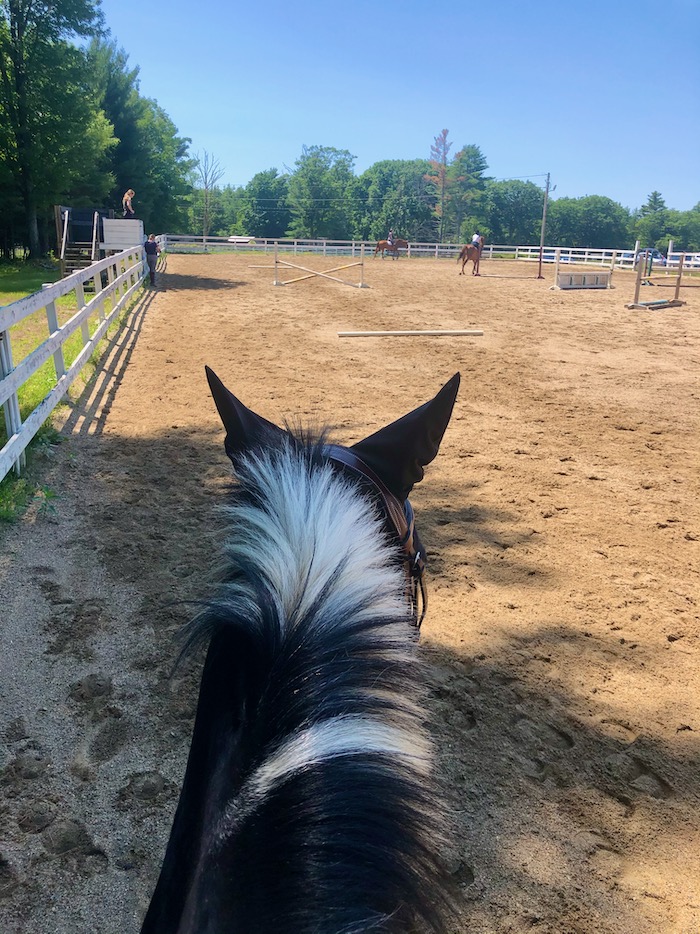 This isn't just for staying healthy in the heat, it's also part of the training plan to prepare for horse shows. Unlike dressage shows that have set ride times, at H/J shows there can be long stretches after you've warmed up that you are standing around waiting for your turn in the ring. I needed to replicate that scenario at home. Up until now, once Tonka and I stopped doing our exercises it meant that he was done for the day. Now the rules have changed and he's being told that I might pick up the reins again and he'll have to do some more work. The first couple of times that I did that, Tonka didn't think that I could possibly be serious, but he's beginning to get with the new routine. He's all for the hang out in the shade part of it, and he's acquiescing to getting back into gear when I ask. I'm able to ride with conviction because I haven't melted into a pool of humid misery. Sometimes splurging on gear is worth every penny!
Have you bought anything that had a domino effect and improved things down the line? Let me know in the comments!