Tonka is an amenable horse. To the casual observer it appears that Tonka doesn't freak out at the sort of novel things that scare other horses. Partly this calm demeanor is his innate nature. However, it's at least equally the training that I've done, and relationship that I have developed with him – all of which starts with close observation.
When faced with a potentially scary challenge, I notice Tonka's body language, especially the signs that tell me when he's going from aware to worried. My goal is to keep him in a mental state that allows him to think and listen to me. You can't train through fear, and certainly not in panic. The body language that I look for is subtle. A brace of a muscle in the neck, a head that goes 2-inches higher, a slight hesitation in the step, a shift of weight to the side. When I see these messages, I respond. Sometimes I do so with a calm hand on the shoulder, or a pause of a second, or a slight change of direction. All of these actions deflate Tonka's worry. Because I respond to his concerns in a way that is reassuring and relaxed, he doesn't feel that he has to escalate his body language to get his message across. Because I don't use unrelenting pressure to get him to "face" the scary thing, Tonka doesn't have a reason to turn his fear into conflict with me. We are in a continual dialogue, one that I hope will lead him to agree with me that what we're doing might be weird, it might be highly unusual, but it's not going to hurt us.
An example of our conversation can be seen in this is this challenge that we did the other day: I dragged plastic jugs while leading Tonka.
At the beginning of the exercise we walked over to the jugs. I let him investigate with touch, smell and sight.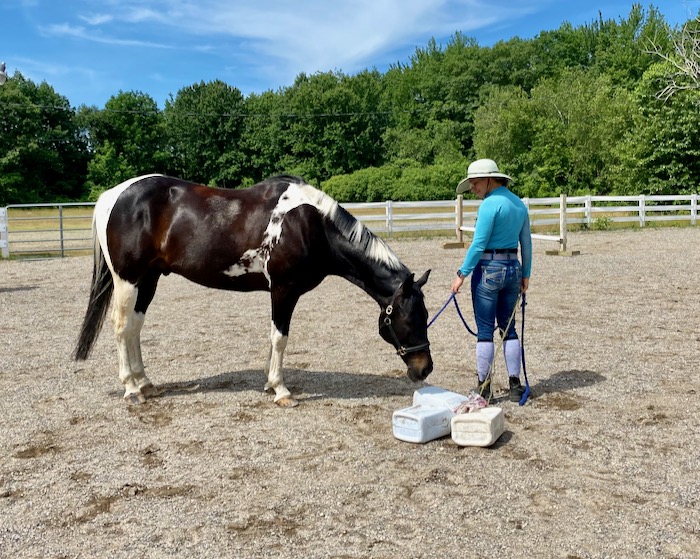 Then I picked up the strings and pulled them a couple off inches through the sand. As I expected, the noise and movement surprised him.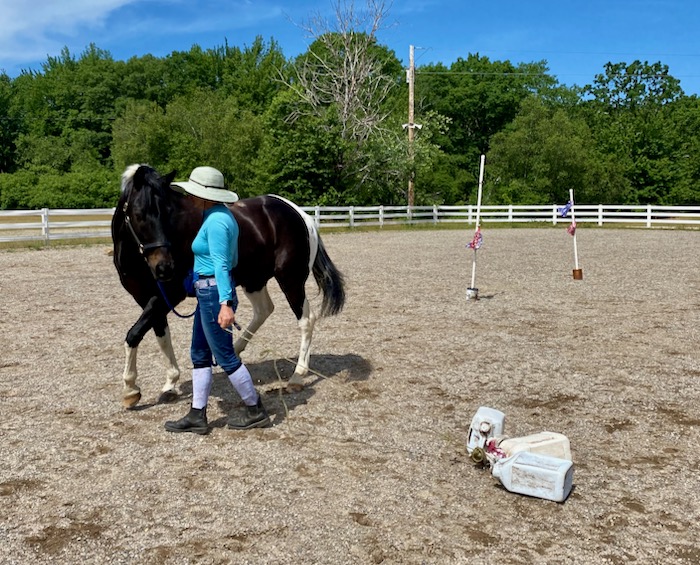 I acted uninterested while Tonka checked them out again. Now that he knew that these things might move and make noise he wanted to know more about them. A few seconds of letting Tonka investigate the jugs on his own lets Tonka rely on his own internal resources to get past his fear.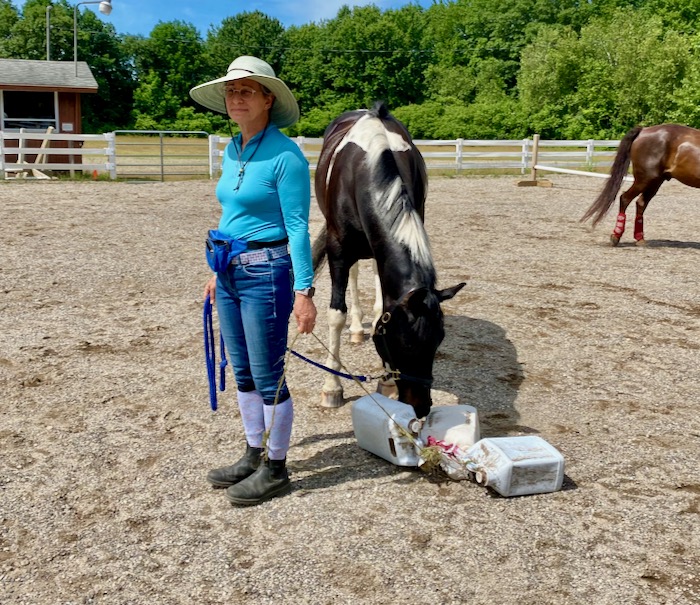 Once he was bored by the jugs, I took another step, again pulling the rattling containers. Tonka again looked concerned. But as you can see by his expression, this time he was mostly curious. Although Tonka wasn't wheeling around, I made note of how he turned into me. I don't want him to curl in front of me or circle to face the jugs because that's dangerous for me. I don't give him that option as a behavior. Instead, we stopped and I reset his body position.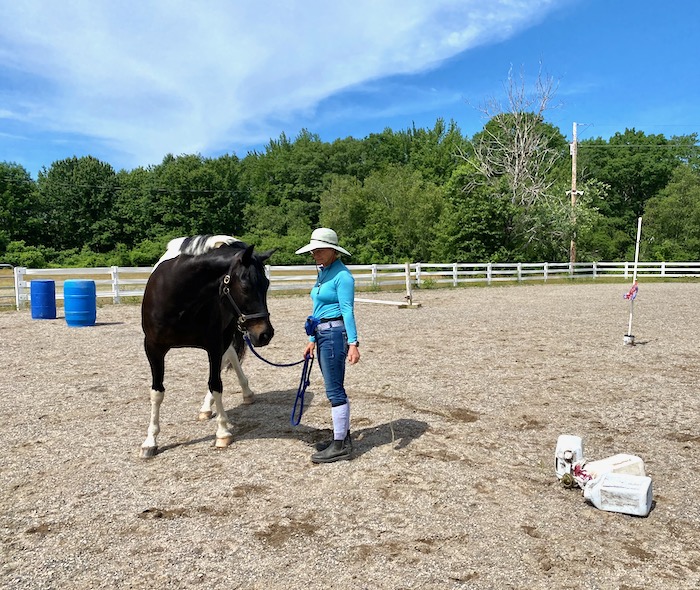 From this stance, I calmly touched him and waited for him to settle. When his focus went elsewhere, I knew that it was time to continue. Gradually I was able to pull the jugs towards us without any sign of fear from Tonka.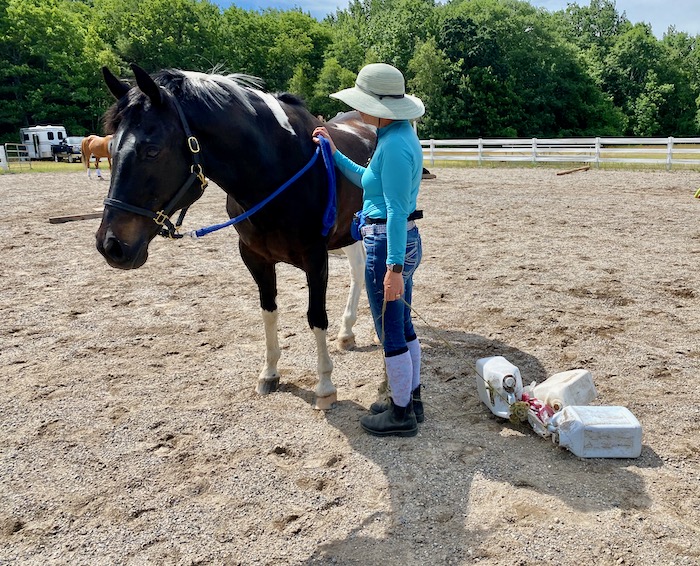 I started walking again and this time Tonka said Okay, this is weird but not dangerous. I guided him with the lead rope to let him know that he should walk with his nose straight ahead.
Whenever Tonka tensed, even the slightest bit, I slowed down or stopped, waited for relaxation, and only when I saw that body language did we start walking again. Soon we were doing this. An ear cautiously on the jugs, but also willing to walk at my side.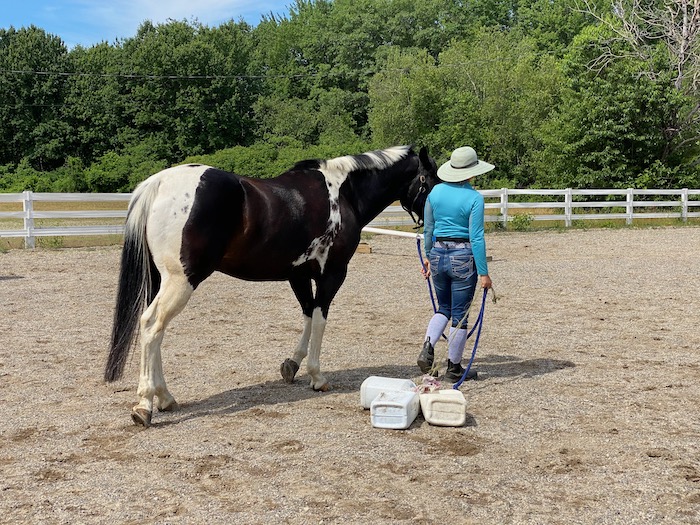 I switched things up, I led Tonka on both his left and right side, and also dragged the jugs in my left hand and then my right.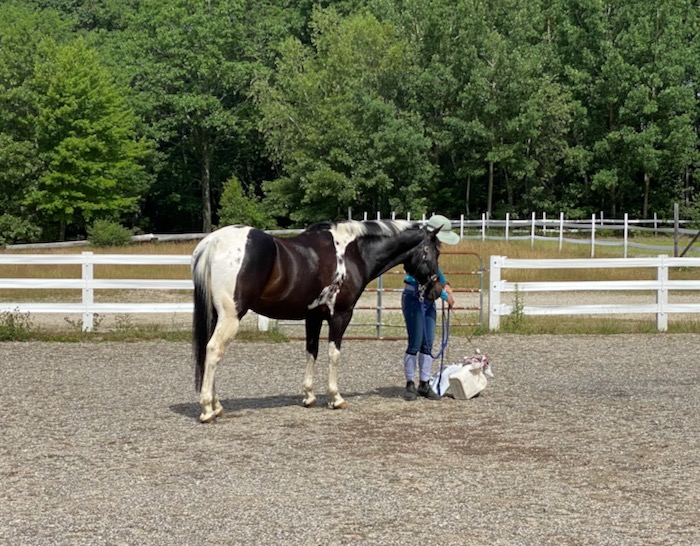 I also made a point of setting down the rope and picking it back up a few times. Horses quickly learn patterns, and then get upset when those "rules" change. If I'd done all of this training with him on my left and the jug on my right until his leading was perfect, it would have been very difficult to try to do it from the other side. I want Tonka to be flexible and so add that a to the training right from the beginning.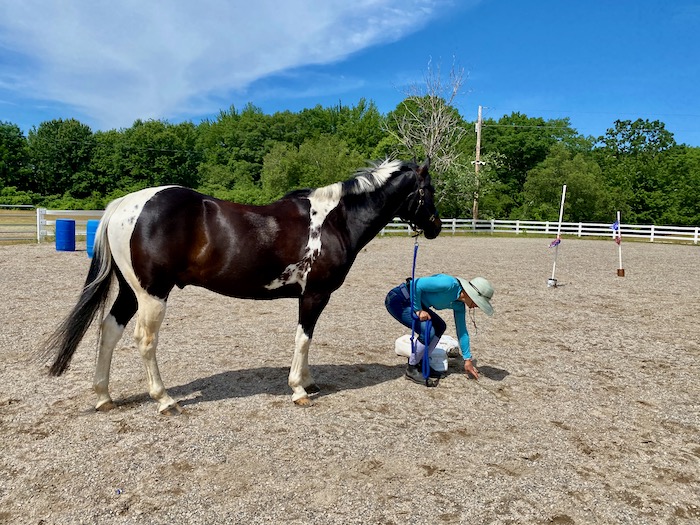 This wasn't a straight-line progression. Tonka would be walking calmly and then eyeball the jugs. Maybe they were suddenly noisier bouncing over a rock, it didn't matter, what did matter was that I responded right then, before the curiosity segued into fear. I relaxed my breathing and stance. Waited. Told him that I found those jugs fascinating, too, but that I wasn't scared. Then we continued. Did another increment. Pulled the jugs closer. Or took another step.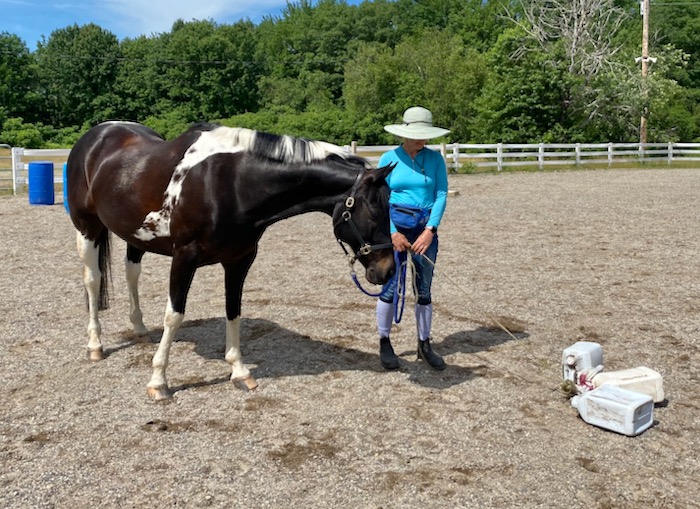 This entire training session lasted about five minutes. At the end of it, Tonka was loose lead walking while I dragged the jugs.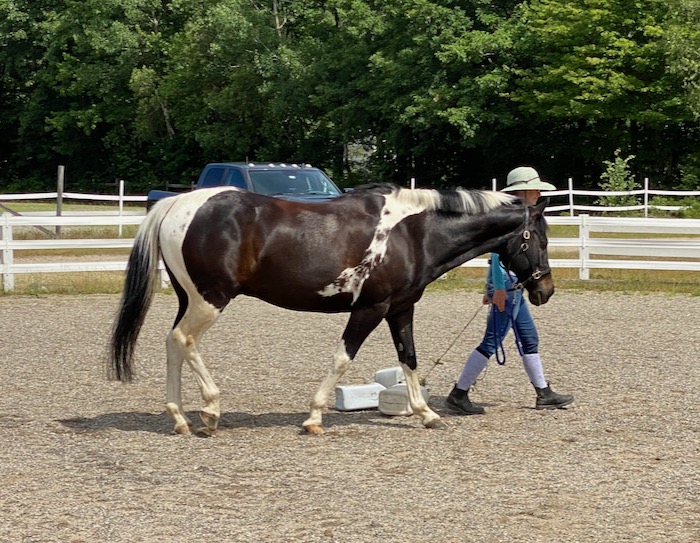 It might seem silly to train this. In real life I'm not going to pull plastic containers. But this sort of exercise sets us up for trust in other situations. Here's an example: once on a trail ride, a big dead branch got caught in my stirrup and I dragged it for a few strides before realizing what was going on. The branch scraped the ground, banged on Tonka's side, and caught on saplings. It could have been a disaster. But it wasn't. Tonka was worried, but stayed sane while I extricated it from the saddle. You can't train for that exact scenario, but you can train for trust during an unexpected commotion. Previous to that situation I had broken branches and carried them as fly whisks. I'd held long raincoats against his sides. We'd bushwhacked through dense brush. Because of those previous experiences, a big stick caught in a stirrup was not a cause to panic, but a signal to stop and wait until it was safe to go on.
I think that this sort of training – dragging jugs, or standing on wobbly platforms, or going through pool noodles – goes beyond "desensitizing." To me the point isn't to teach your horse to follow you mindlessly through scary things like rings of fire. Rather, I like that this training makes you and your horse think as a team. Not only does this dialog allow me to diffuse potentially scary situations, but many times Tonka has clued me into things on the trail or outside of the ring that I would have otherwise been oblivious to. Dragging jugs gives us an exercise to have this dialog in a safe place. It's fun to do, in and of itself. But, sometimes, the world really is dangerous, and when you get in one of those situations, it's good to know how to communicate with each other.
Have you done this sort of training? Have you used it in real-life situations?