Years ago I read a sci-fi short story about an astronaut who lands on an uncharted planet. He knows nothing about what he is seeing. In the distance there are mountains and huge trees. Or are they hillocks and small bushes? How would you be able to judge near from far if the scale of the landscape is unknown? In the sky there are clouds. Or are they? Perhaps that fluffy mass floating towards you is a lifeform.
Last week I brought Tonka home to Turtle Hill so that we could explore the trails off of my property. The field in front of my house isn't fenced, but there are woods on three sides and a marsh at the front. I thought it a safe place where Tonka would enjoy some grazing time after our ride. He ate a bit, here and there, and then headed to the best vantage point to view the marsh.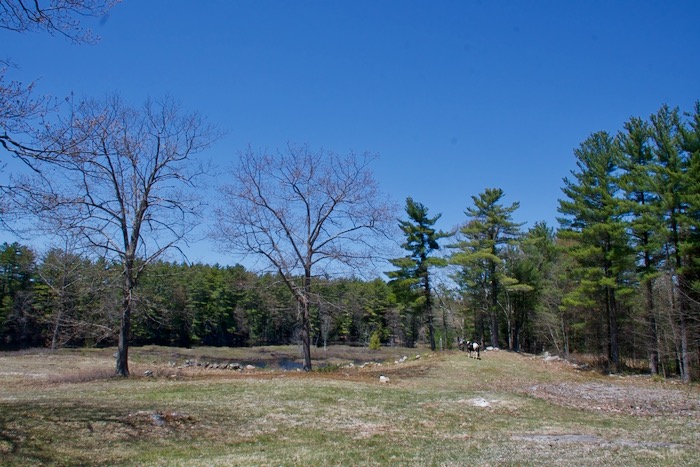 Tonka wasn't scared but he did intensely observe the landscape. I thought about that sci-fi story. Tonka has little experience with bodies of water. At first, just like that astronaut, Tonka couldn't make sense of what he saw.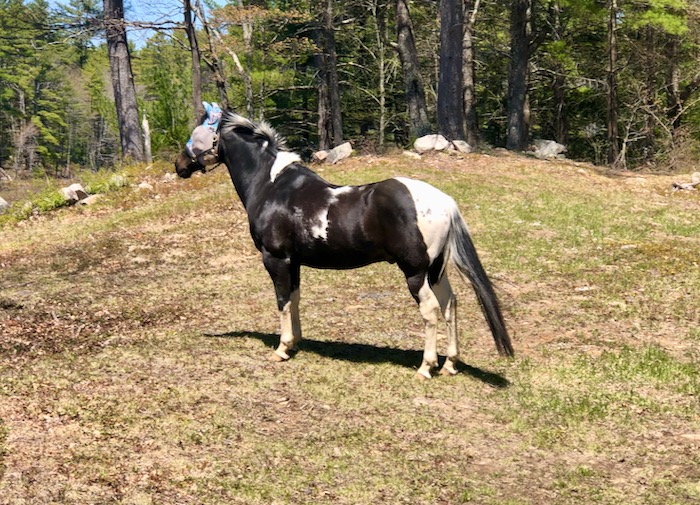 On the far side of the marsh is a dirt road. Occasionally he would glimpse flashes of color and hear tires on gravel, but Tonka wouldn't know what caused that without paying close attention. The wind pushed ripples across the pond. He couldn't know what created that shine and movement without careful observation. Huge birds flew by – eagles and osprey – were they friend or foe? What about those swimming geese? Tonka had to look and smell and think about it.
A lot is said about the fact that horses are "flight animals." But, given a chance, they'd rather observe and make clear judgments than take off in a mad panic. That's just what Tonka did. He made sense of this alien world.
In free-roaming herds most of the horses travel slowly, with their heads down, eating. They're usually pregnant and/or nursing and every available moment needs to be spend getting enough calories. The stallion does the observing. But even he has to eat at times, and then one of the mares takes on the role of sentinel. This is also true of horses when they rest. One remains observant so others can lie down and sleep (horses need REM sleep and can only go into that state when prone. Read this article.)
I joined Tonka to keep him company. Here you can see that he decides that it's my turn to be sentinel.
Moments of calm trust and companionship are deeply gratifying for both of us. It's an alien world out there and it's reassuring to know that we have each other's backs.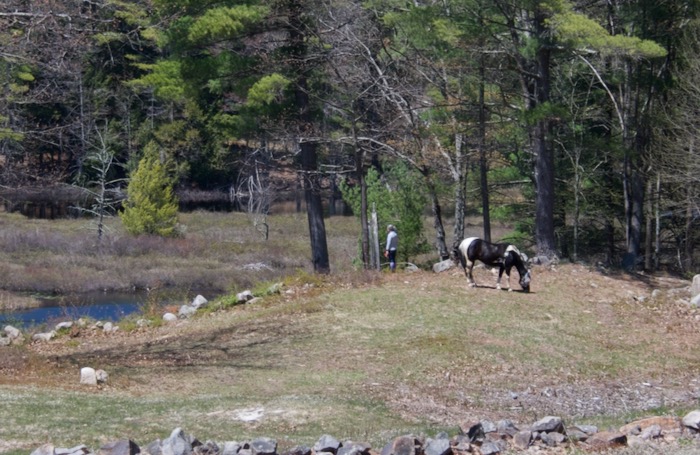 Does your horse trust you to be the sentinel? Tell me about it in the comments.
Just for fun: Scooter insisted on being with me in the field, but he wasn't sure about Tonka! (Steve has Scooter on a leash. The little dog is not observant about horse hooves.)