I follow Denny Emerson on Facebook. He's a true horseman. Not only is he a gold medal Olympian (in eventing when it was long-form), but he has also completed the Tevis cup. He's full of wisdom and opinions. I love that he writes about how he's become more patient, empathic and kinder to his horses over time. One of the things that he advocates, both for training and for fitness, is to get on your horse and walk. I agree completely and posted on his page that a walk warmup is essential for lubrication of the synovial joints, too. (Some joints are lubricated, those are the synovial ones, including the hocks and stifles. Some are not, like the sacroiliac.) This advice is something that I've heard from trainers that I respect. Someone posted a reply to my comment saying that I was wrong and that the warmup is for the muscles, ligaments and tendons. That the fluid in its sac is inert. I don't like being told that I'm wrong, but I realized that I honestly didn't know enough about synovial joints to counter the comment. I have since read up. I was right, and now I know why! I'll share what I've learned here.
The idea that the fluid in the synovial joint is static bothered me. It didn't make sense. The entire body is a living and complex organism. Synovial fluid is a viscous mix that includes hyaluronic acid, lubricant, collagenases and proteinases. The synovial membrane produces these materials on an on-going basis. Some of the fluid floats freely in the sac and some is absorbed in the cartilage, and then released during movement. As the joint is engaged, the fluid circulates, keeping the bones from grinding against each other and also acting as a shock absorber. Waste products are removed and oxygen and nutrients are replenished. If you were to remove all of the synovial fluid (this has been done in goats), it takes four days for it to return to normal. So, rather than being an inert ball of fluid, think of the synovial joint as being in constant flux. What keeps it healthy is movement.
If you were to take your horse out of a stall and go right into a trot, that synovial fluid would not have had a chance to move out of the cartilage. Waste products would not have been transported out of the sac. The joints will be at risk. That is why it is so important to do this. Walk.
Then walk some more. I keep track and go a half-mile, or 10 to 15 minutes. I can tell when Tonka's joints are warmed up – his walk starts to swing. The strides get bigger (not faster.) Then we're ready to do this. Stretching, which warms up the rest of him.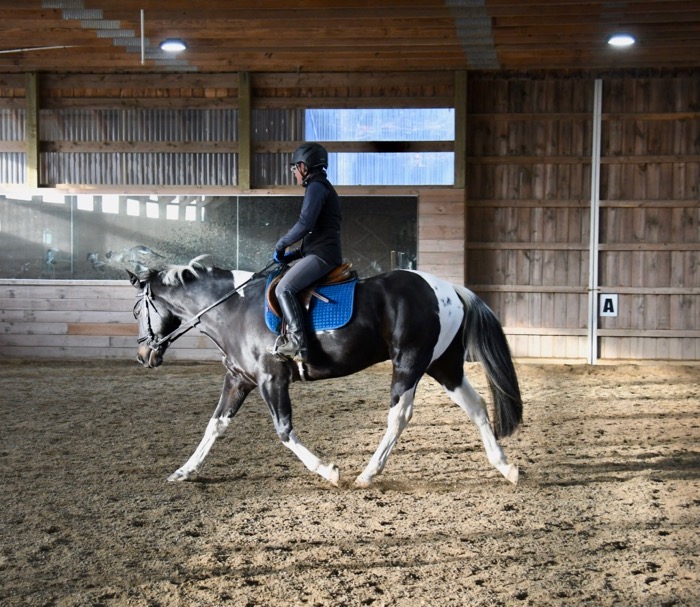 Then, and only then, do I ask more of my horse and his joints.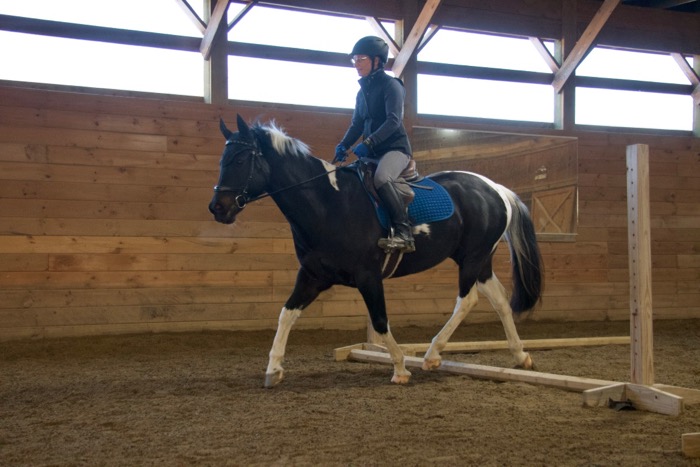 The added benefit is that my own joints have time to warm up – after all, I have synovial joints, too! When I warmup along with my horse, I'm a better rider. Here's a good article about how dancers get moving before they really get moving. (It includes current research on stretching, too – advice that I need to pay attention to!)
Do you have a warmup routine for your horse and/or you? Tell me in the comments!