There's anecdotal evidence that horses colic more in winter than in other seasons. I don't know about winter in areas where it remains balmy, but I know this is a concern here in New England. Perhaps horses colic more because of reduced water consumption – water sources are frozen over or hard to get to (Tonka once stopped drinking because the ground near the water trough was too dangerously icy to walk on.) Perhaps it's the change from grazing on fresh grass to eating all dried hay. Perhaps it's related to dramatic swings in temperature. I think that one factor is that horses move less in the winter.
Colic is a severely painful and sometimes fatal issue that occurs in the horse's digestive tract. Often it's caused by an impaction or some form of blockage so that what goes in can't come out. Horses are designed to walk miles and miles a day. Their circulation and other bodily functions are tied in with this movement. Kept in boarding barns where they are turned out for only a few hours, and limited to standing in a stall for the remainder of the day, their systems are already at risk. In winter their movement is even more limited. We recently had a stretch of three days that brought us snow and high winds, then sleet, then rain, and then a touch more snow. The horses stayed in their stalls. When they were finally turned out, they didn't move much. The snow is deep and heavy. The horses stand and eat hay. Tonka walked the fence line to say hello to his friends. That was it. Here is a photo of Tonka's field. I've marked up where he's gone. In the summer, he'd be criss-crossing the field all day, head down, nibbling. You can see how reduced his movement is in winter.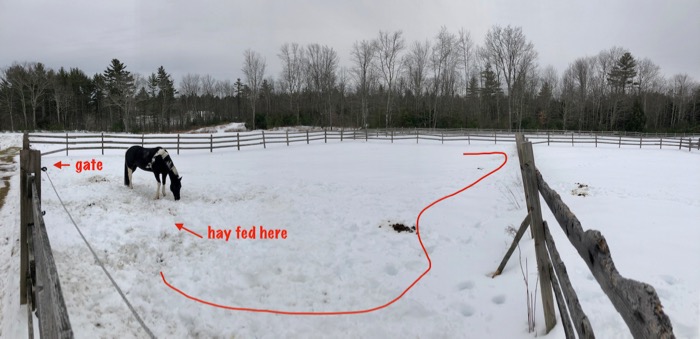 Standing outside is better than standing in. However, I theorize that with limited movement, their digestive tracts aren't functioning optimally.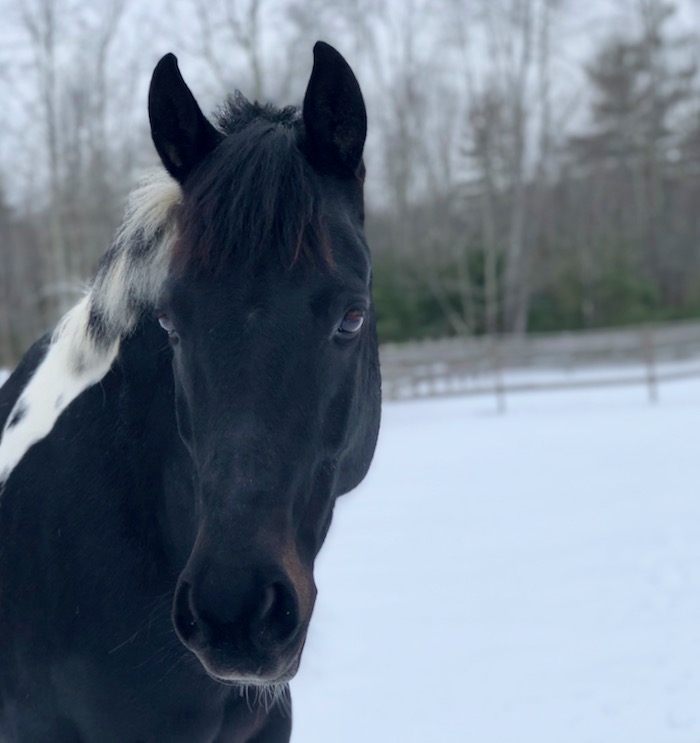 This is why, even when it's cold and nasty out, I still get to the barn and ride. Instead of a focused training session, we do a long walk warmup and several steady trot sets.
All relaxed movement. Training progress can take a back seat to staying limber. And pooping. Yesterday, in the first twenty minutes, Tonka pooped twice. Nice normal piles. What I want to see.
Horse people pay attention to poop. When I go to the barn, I always check Tonka's stall to see the quantity and quality. We don't keep these observations to ourselves, either. We talk about poop. A lot. I have friends who send photos of it to each other (look at how much better it looks now that we've switched hay!) If you have any medical concerns, your veterinarian wants to hear about it. In the winter, I'm especially pleased to see a steaming pile, or two. I'm happy to go out to the arena after my ride and clean up after my horse.
Have you noticed a correlation in the winter between confinement and the quality, quantity and the timing of your horse's poop? You're welcome to discuss such things here! 🙂