We're in the middle of a heat wave. Daytime temperatures are in the low 90s (in Celsius mid-30s) and the humidity is almost as high. Horses can overheat, so we have to be careful not to ask our partners to do too much. You'd think we'd be able to escape the heat by riding in cool of the New England woods, but we're into horse fly and deer fly season. These are vicious blood-eating insects that leave painful welts. Unfortunately, they live in the shady places.
For some horses, armor is necessary. This horse loves his outfit. He knows what it does for him.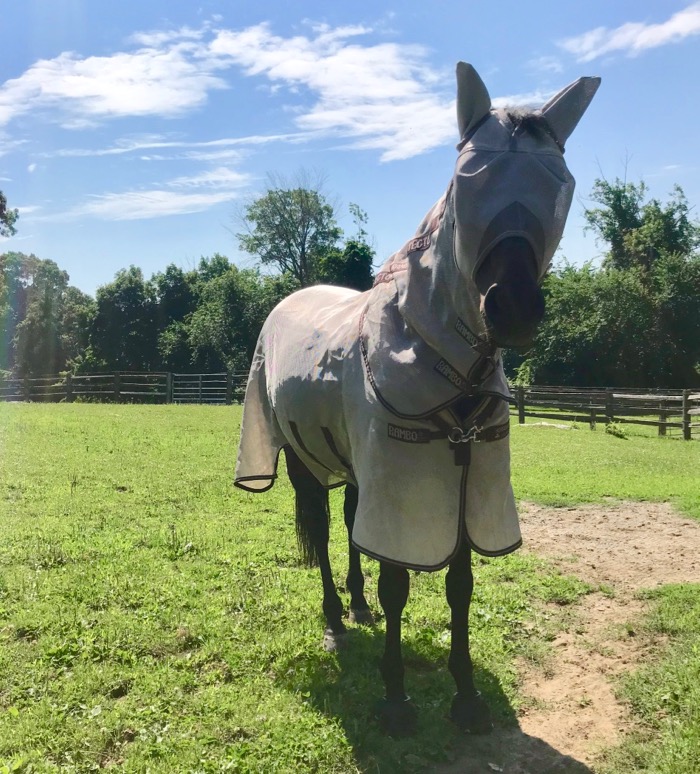 Tonka is fine with just his head protection. His tail stays busy fly-swatting.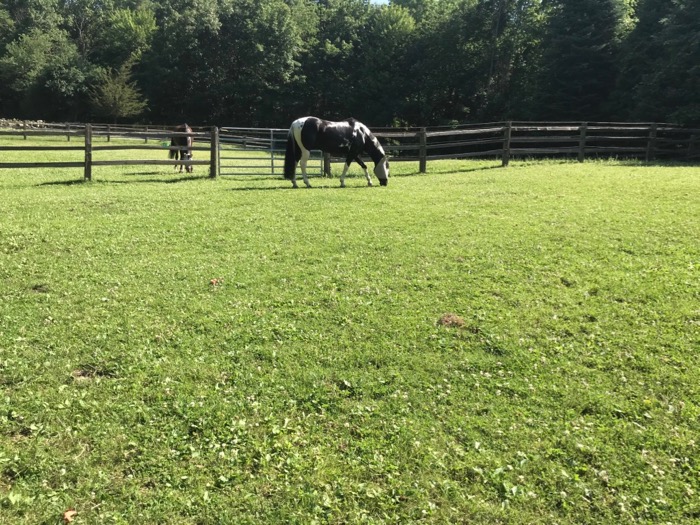 Always, fresh, clean water is essential, but especially in this weather!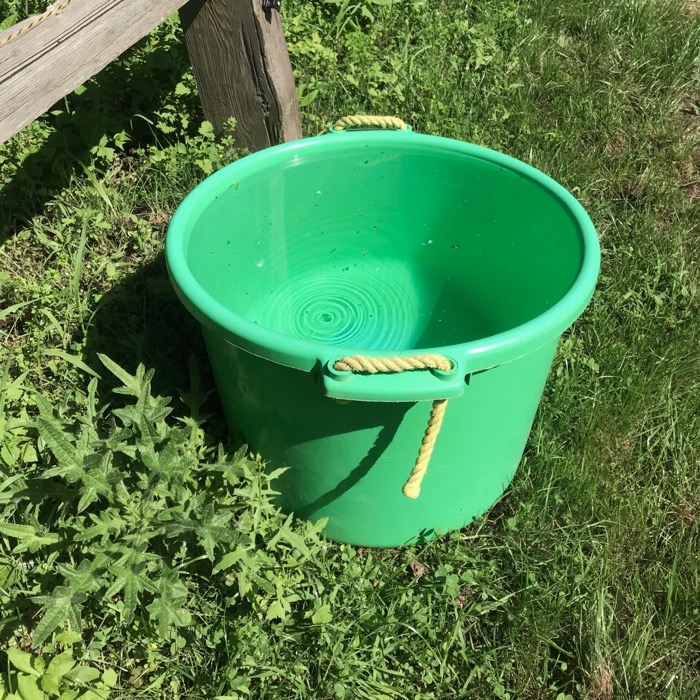 I'm still riding, but I get to the barn right after Tonka has his breakfast, when it's cooler (though still hot! 80s!) We work in the indoor arena, where it's shady and the footing is kept damp, so the evaporation helps to cool the air. Still, I'm careful not to overdo it. We do a warmup. Tonka feels happy to move, stretch out, and get some real exercise. Once we feel loose, I focus on one training goal, work towards that, and call it a day.
Then, he's hosed off to bring down his body temp and clear his skin of itchy sweat. If there are manure stains, I'll shampoo him. It is show season, and I have to stay on top of the stains. Tonka loves having his face washed off with a big, soft, wet sponge, and he drinks water from the spray nozzle. The wash stall is a happy place.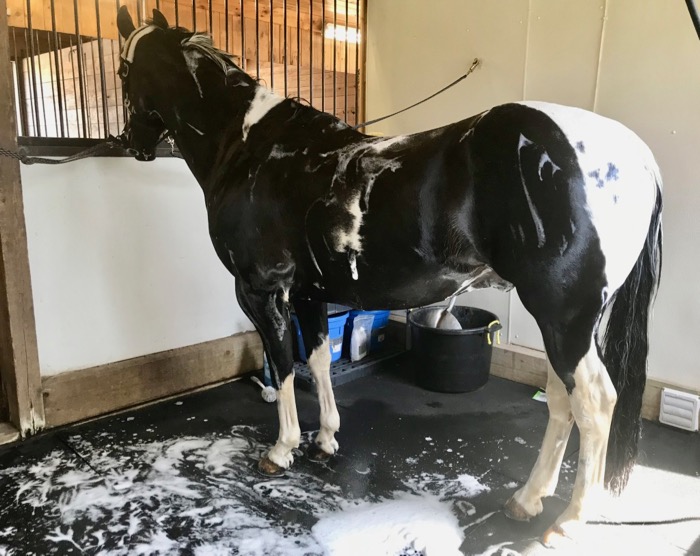 But Tonka has his own ideas about how to deal with the heat and the biting flies.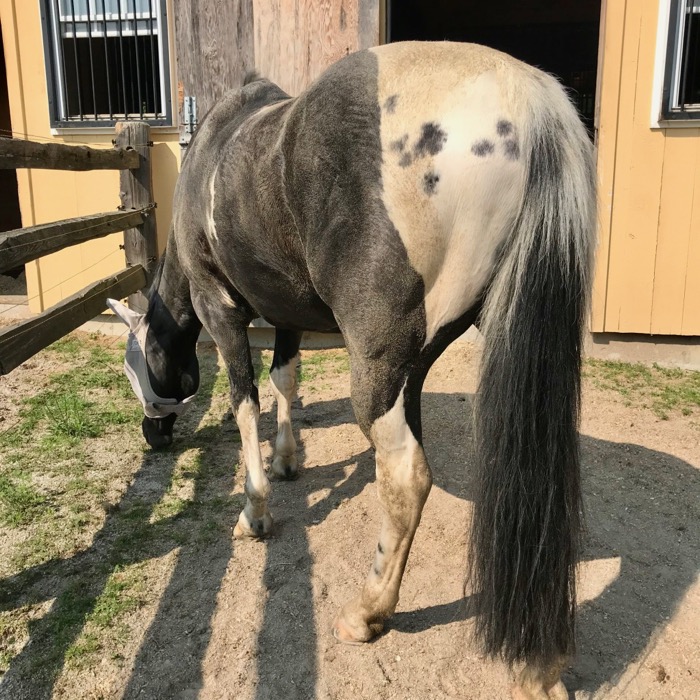 I swear that the stone dust that Tonka rolls in acts like an expensive spa treatment. The next day, he's shiny like this: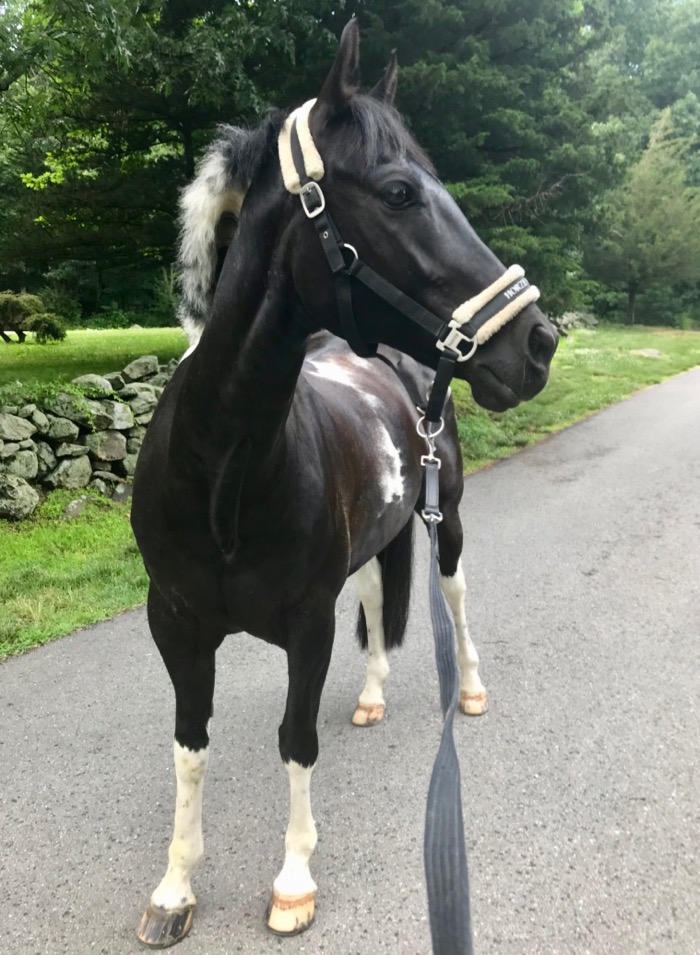 Although I think it's miserably hot, we don't get into the triple digits here. My horse can cope just fine with the weather. Tonka has an airy stall, a grass paddock with shade and water, and dirt to roll in. As long as I don't push him too hard under saddle, he'll be fine in this heat wave.
The animal that I have to worry about is this one. He loves hot weather.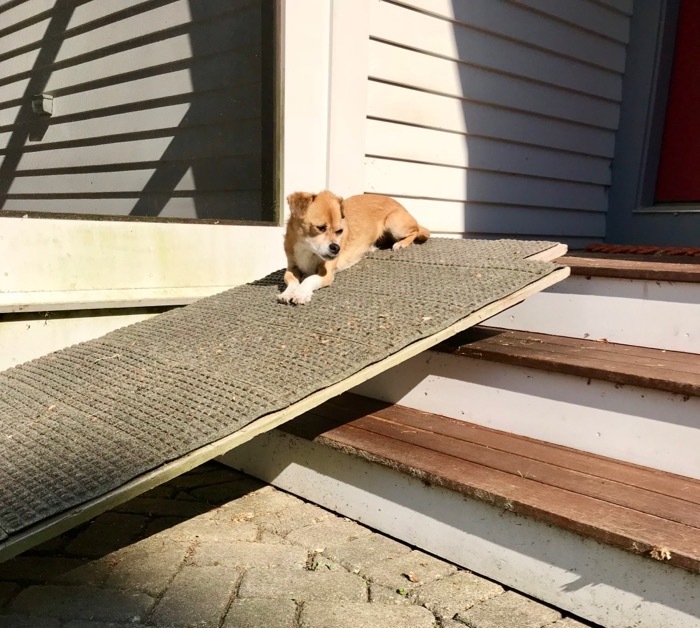 Scooter whines to go outside, then doesn't even bother to go further than the top of his ramp. He drops down to sunbathe. He gets so hot that he pants and goes limp. I've learned to intervene before he gets sunstroke. What is it about little dogs and the sun? Which of your animals loves to sunbathe?