This is what we've been waking up to.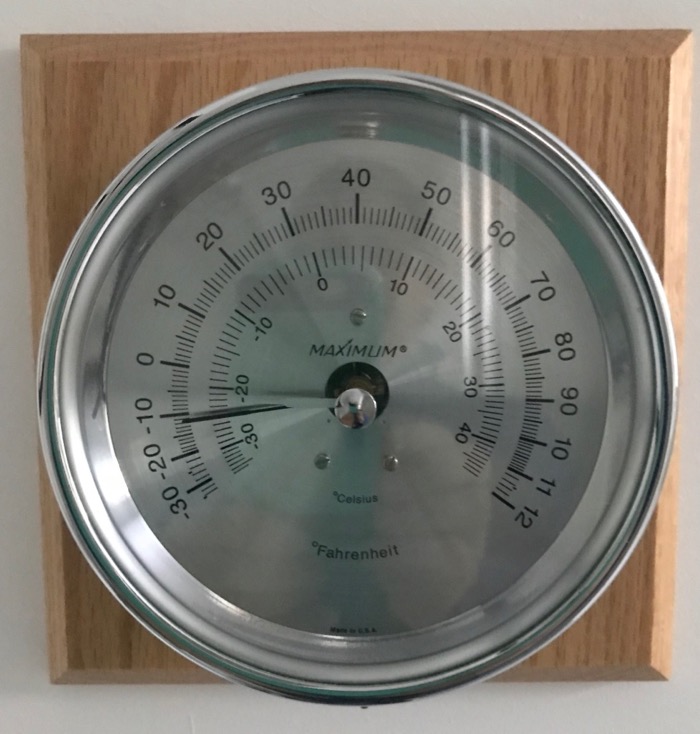 Some days it warms up to 12°F.
The animals need to have full bellies to cope with this. At Tonka's barn, they've been getting extra hay.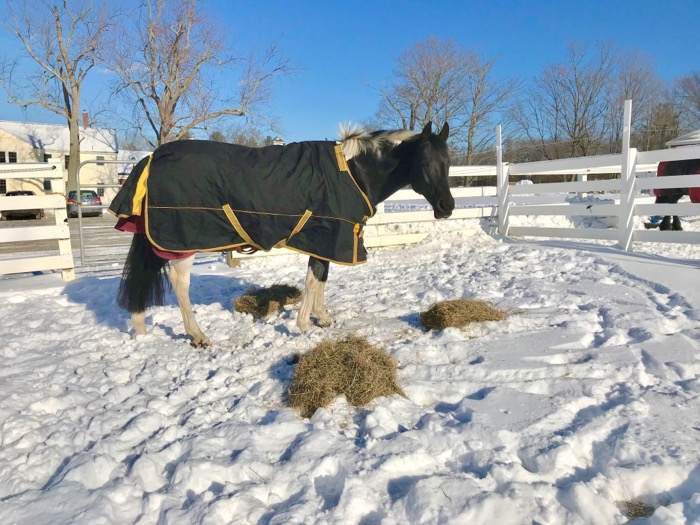 Even more important than hay is water. If horses don't drink, they get colic, which is distress in the digestive system. Sever colic can cause death. The horses have water buckets in their paddocks. But in these sub-zero temps, they freeze over quickly. The staff breaks ice and refreshes them.
Some days, it's just too dangerous for the staff to take horses, feed, and water outside. The paths are plowed and sanded, but ice remains. When it's windy, even the thickest of blankets on the horses, and insulated coats on the humans, can't keep them comfortable. They all need (and prefer) to stay inside. It's been too cold to ride (my cutoff is 15º, below which it's not fun for horse or rider.)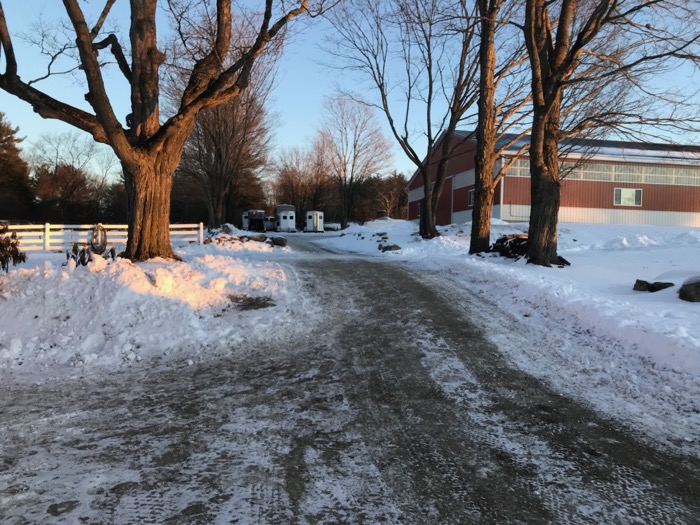 But standing still has it's own problems. Horses are designed to move 16 or more hours a day. I can't provide that for Tonka, but I can walk him around the indoor.
During this deep freeze, I have set ourselves a goal of walking at least a mile and a half daily. That's nothing like the dozen miles that Tonka should be doing, but it's something. I could stand in the center of a circle and send him around me on a long rope called a lunge line, but it's best for Tonka, coming back from his sacroiliac joint inflammation, to go forward in mostly straight lines. Besides, I need exercise, too. So, we walk.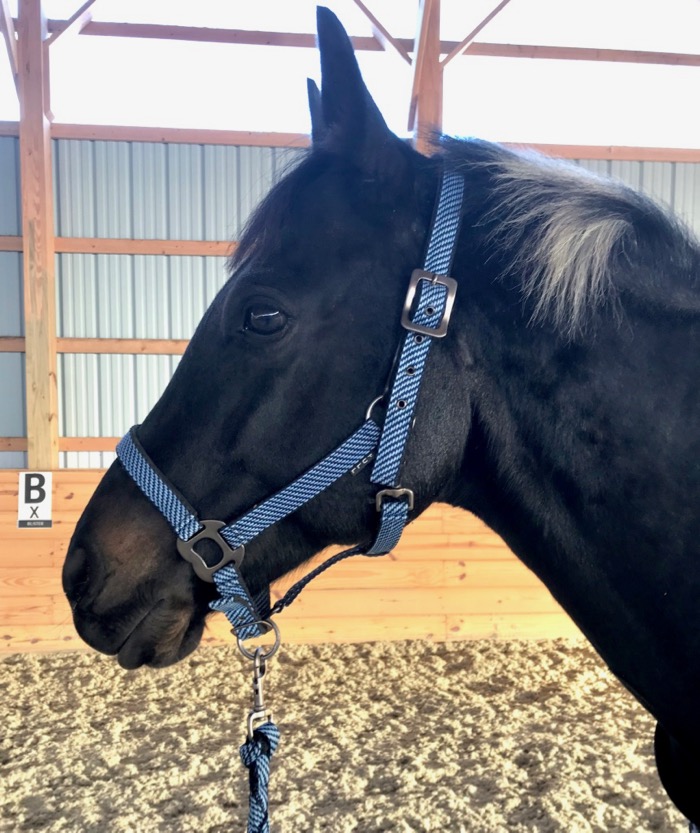 Tonka says that this is boring. He lets me know by his facial expression.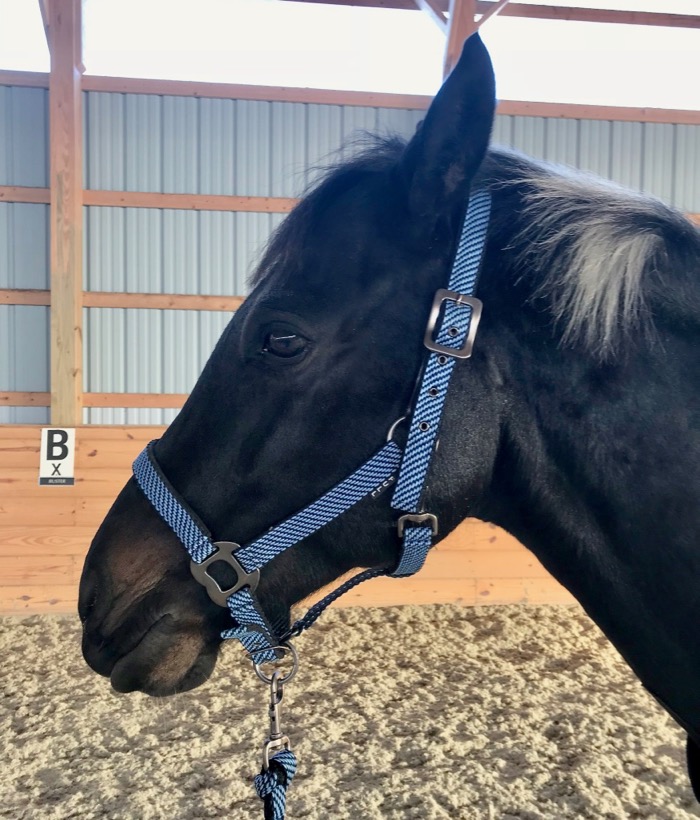 Once in awhile I stop and give him a good head scratch. In the winter he gets dust dandruff and is so itchy. Tonka loves a good ear rub.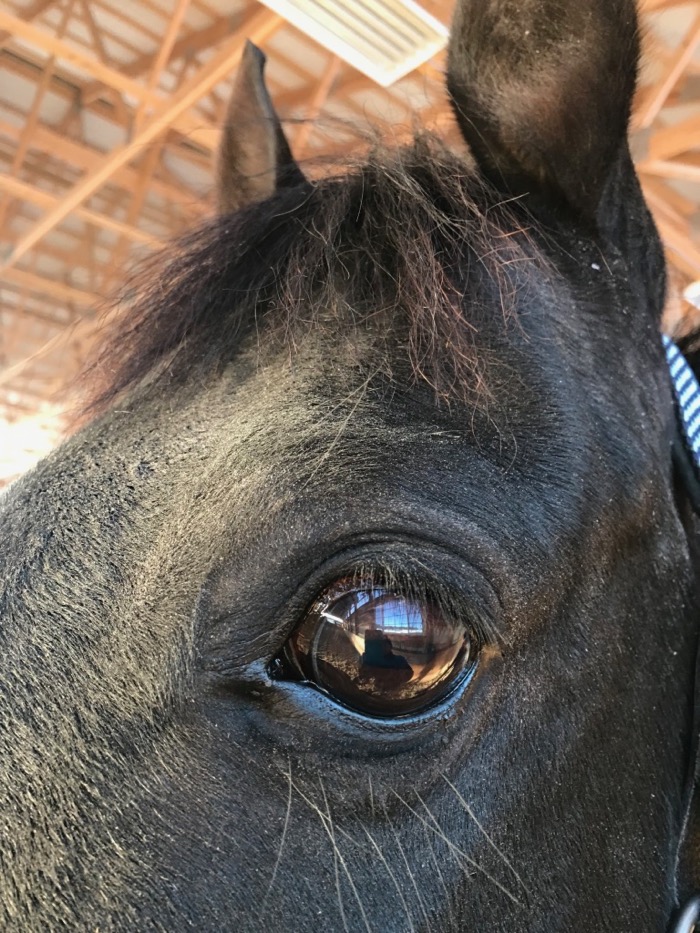 But the walking is still boring. Yesterday, Tonka tried to liven it up. He grabbed the lead line and tossed it around, like a dog does a rope. It was quite clever and funny, but I didn't engage in the game, instead, I told him to settle down, and got on with our walk.
The way that I train Tonka involves two-way communication. I welcome the conversation. I don't want a shut-down horse that dully obeys my commands. But, the reality is that Tonka is not a pet dog. It's delightful when a dog says let's play! by running up to you and dropping a ball at your feet. Watch geldings at play. They invite their friends to join in by swinging their heads and biting at each other's faces. They stomp the ground. They wheel around in circles of flying hoofs. At his barn, a half-dozen people handle Tonka. They have jobs to do and a head-tossing, rope-grabbing horse would not be delightful, rather, he'd be a nuisance and possibly a danger. If I had Tonka in my backyard, and if I was his only caretaker, I could engage with him on some of his terms. I could put behaviors on what's called stimulus control, I could ask for them on cue. But that's a long process, and during the training, control is far from 100%. I can't do this at a farm with other people. And that's okay.
Tonka and I can still have conversations. In some of those discussions, I tell him that life isn't always fun. Sometimes it's boring. He sighs and says, yeah, I know. And then we plod on.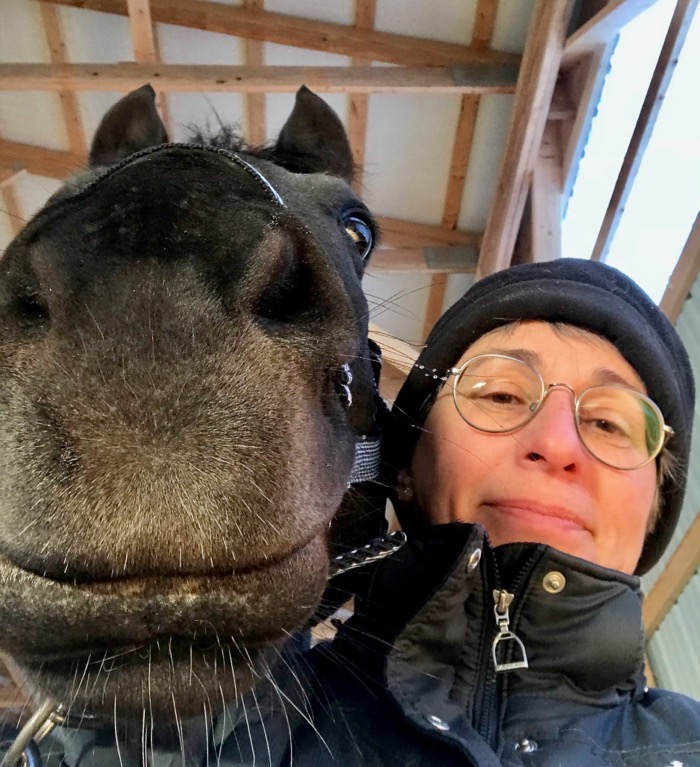 Today it's supposed to reach 15°F. I can get in the saddle! When I'm on him, we can trot and canter, and go a couple of miles around the indoor. What we do will be more varied and engaging than our slow trudging around the ring. From the saddle, our conversation is fluid and constant, body to body, Each breath, each stride, each shift of balance, is part of the discussion. There are rewards for both of us. For Tonka, the movement itself is reinforcing, and there will be cookies.
Then we can go back to boring. Tonka will go back to placidly eating his hay. He'll be led in and out of his paddock with no expectations of it being fun. It just is. I'll go home and do laundry. Life is like that. And it's okay.