In America, when a horse refuses to move, we call it balking. In Great Britain I've heard it called napping. The horse is labeled naughty and disobedient. At the least, riding a balky horse is frustrating, and at the worst, the horse can become dangerous, and rear and spin in an effort to avoid going forward. Usually, when the rider gives a light squeeze with their legs, an amenable horse walks on. Press a bit more, and the horse goes faster. But balky horses do the opposite. When you apply your leg, they brake. In response, many trainers will tell you to "get after your horse" – often with a whip. I've heard riders say that a way to cure a nappy horse is to force it to get going and then to keep it going (sometimes by riding them in fast, tight circles) and that in this way the horse will learn that balking leads to hard work (harder than what the horse was initially told to do.)
Tonka has become a balky horse, but I am not going to punish him for it.
On August 13, Tonka and I competed at show and came in High Point Open Champion of the day. Tonka was forward and willing. Later that week, during a ride, I felt him stiffen at the trot, but then he loosened up and continued on. A week after that, though, he definitively balked.
Here Tonka is walking, but when I squeeze lightly with my legs, he refuses to trot. This is so unusual for him, especially out in the field where he always happily goes forward when I ask. Here he clearly is saying NO. Notice that when I stop pressuring him, he returns to a relaxed walk. No anger, no grudge.
I called the vet. There wasn't any obvious lameness in his limbs. His back wasn't sore. But he certainly looked uncomfortable. Perhaps tummy trouble? We tried ulcer meds, but Tonka remained recalcitrant. We were in the process of scheduling further diagnostic tests when I was laid up with a broken foot. Perhaps a month of rest would cure what ailed my horse?
It didn't. After four weeks of no riding, I got on. Tonka looked delighted to be about to do something.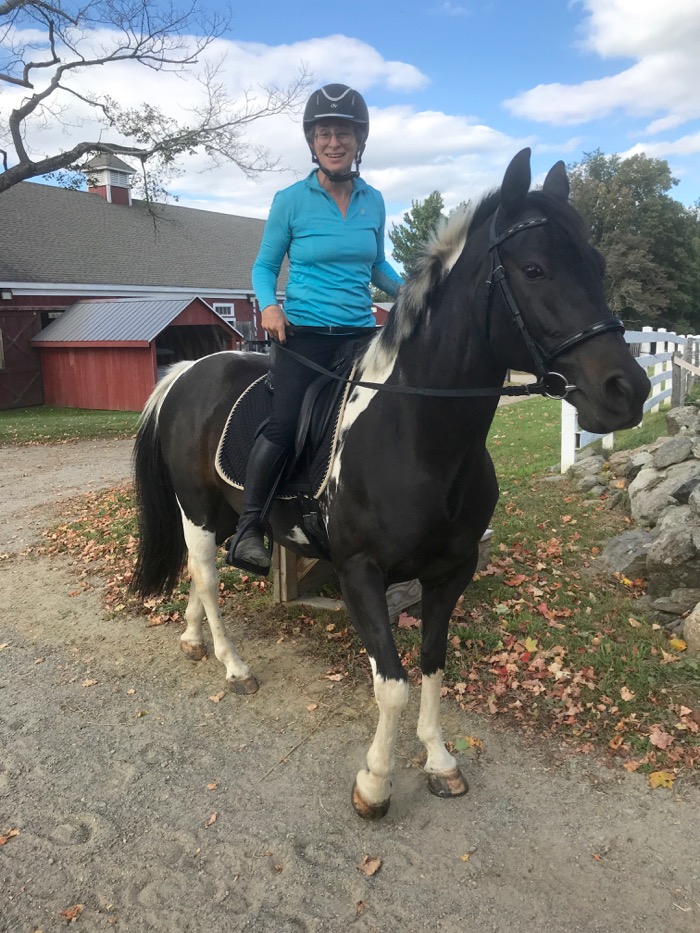 Then he took a step and looked miserable. Then he took another step and balked. I got off.
My foot still needed to more time to heal. Maybe he did, too. I tried again two weeks later. Again, Tonka looked pleased that we were going to do something interesting. But after progressing only a few feet, he balked at simply walking. I hadn't yet asked him to trot. This was worse than it had been a month before.
I got off. I double-checked the saddle (which recently had been custom fit for him) and put a super-soft sheepskin pad under it. This time, Tonka wouldn't even let me on. This was totally out of character for him. He couldn't have given me a clearer message if he had suddenly spoken to me in English, Please don't get on. I hurt. (I do think he was saying please. Look how polite he's trying to be!)
I scheduled an appointment at the large animal hospital at Tufts. Tomorrow Tonka will be going through a procedure called scintigraphy. It will allow the veterinarian to image his entire body to see where there might be pain and inflammation. I hope that we can diagnose this and find a way to get Tonka comfortable again. We both miss going out together.