For the last six weeks, I've been limping around with a broken foot. I haven't been able to get on Tonka. I have been going to the barn daily and grooming him. He loves that interaction. I take him out to the big field. We wander around (slowly!)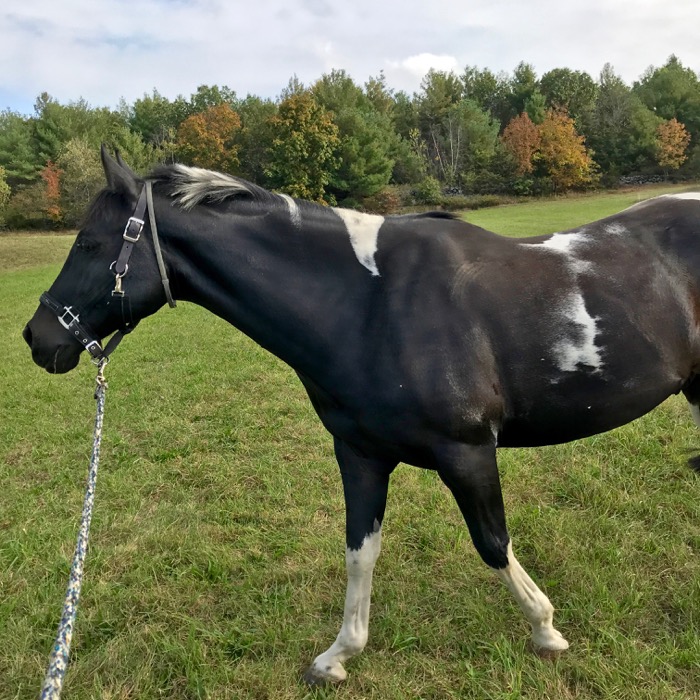 and he gets to graze for about a half-hour.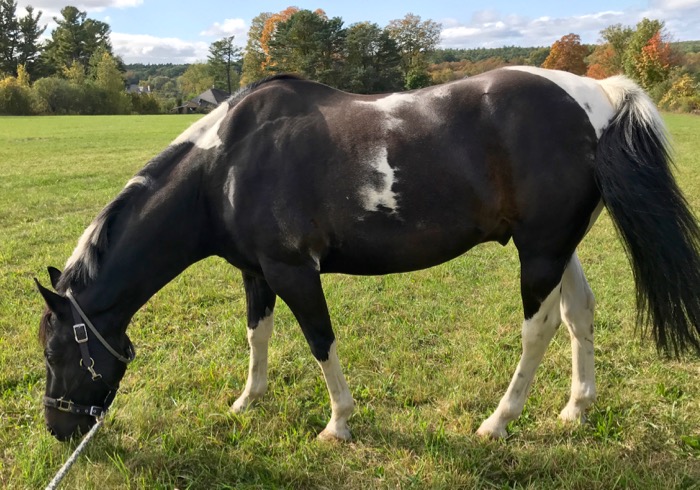 I do a little schooling work on the ground. (I've been desensitizing him to the whip – more on that in a future post.)

Still. It all seems rather boring. I thought that I should add a little enrichment. Enrichment is when we provide the animals in our care with interesting, stimulating environments in order to improve their mental and physical health. For example, instead of giving a captive wolf a bowl of meat, bits are hidden throughout the enclosure so that the animal has to actively search for them. From something done in a few zoos, this idea has gained traction and it's now spread to our pets. This is a very good thing. Boredom is one of the reasons why animals behave "badly." Give a dog a KONG - Classic Dog Toy, Durable Natural Rubber- Fun to Chew, Chase and Fetch - for Medium Dogs stuffed with peanut butter when you leave the house, and they'll likely not rip the stuffing out of your couch!

During the day, Tonka is on a dry lot. He has friends on either side, and gets enough hay to stay busy nibbling. But, really, there's not much to do. In a more natural environment, Tonka would be walking miles while grazing, looking about, investigating different grasses and navigating a changing terrain.

When I can ride, we go on outings off property, we go on long trots to stay fit, and I challenge him mentally and physically with dressage. Without that, I thought I should add a bit of enrichment. In the past, I'd tried toys (sturdy Jolly Pets Tug-n-Toss Dog Toy Ball with Handle, 10" XL, Red designed for horses which he ignored), a

Auto Amazon Links: No products found.

 to lick (didn't maintain his interest), and a

Auto Amazon Links: No products found.

that he could push with his nose so that tidbits came out (he decided it wasn't worth the effort.) These typical forms of enrichment didn't seem to be Tonka's thing. But there was no pressing need to find something else. Despite his rather quiet and inactive life, Tonka wasn't showing any signs that he was unhappy. However, I'd read that offering your horse a selection of herbs would delight their senses and provide a diversion from an otherwise boring day. I thought I'd give it a try.

I grow several varieties of mint. I cut a big bunch and brought it to the barn. I was sure that this would be the perfect enrichment. Tonka loves his crunchy candy mints. Here was the very thing in a more natural and long lasting form! But, a basic tenet of training is that the animal determines whether something is reinforcing or not. Or, to put it in a less scientific way, you could take that old expression about leading a horse to water…

You can lead a horse to mint…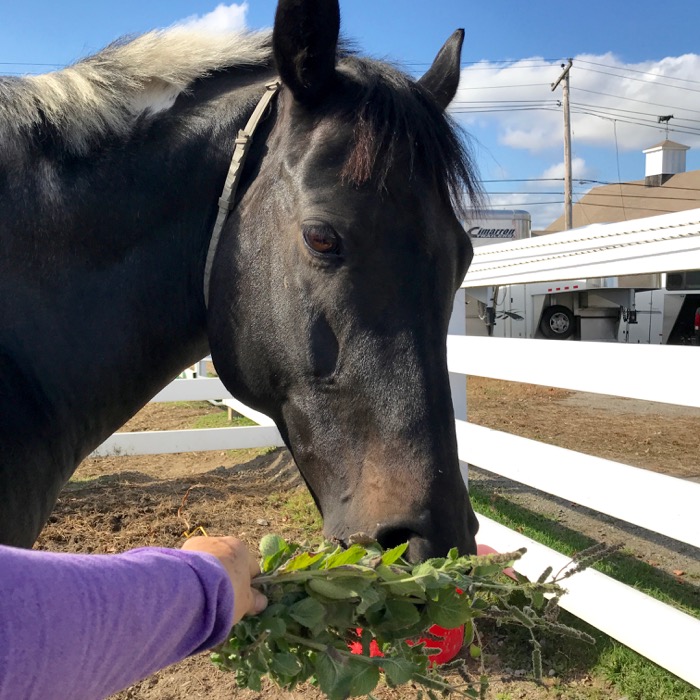 But you can't make him eat.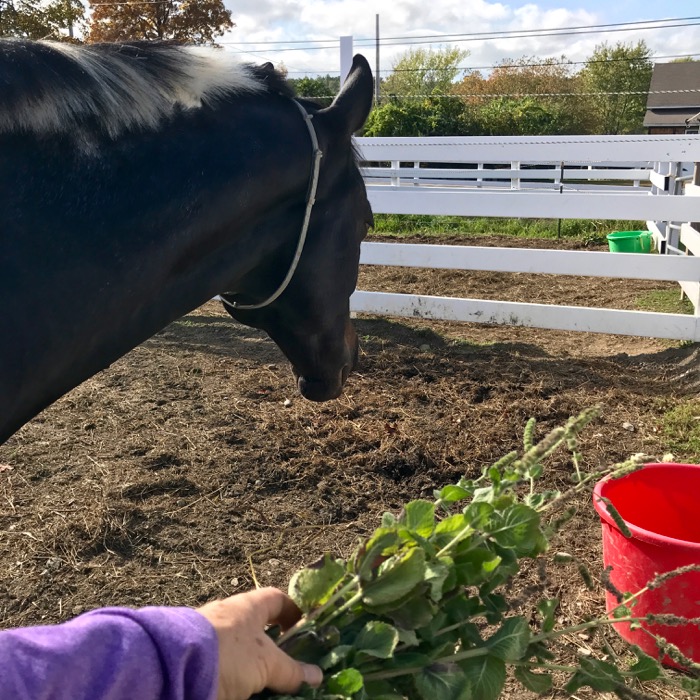 I left it on the ground. Tonka sniffed once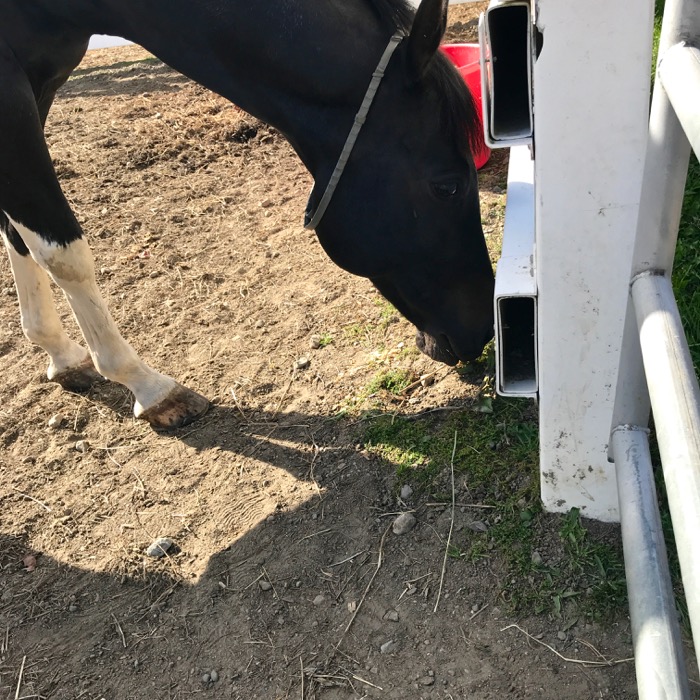 and then glared at me and went over to visit with his friend, Patrick.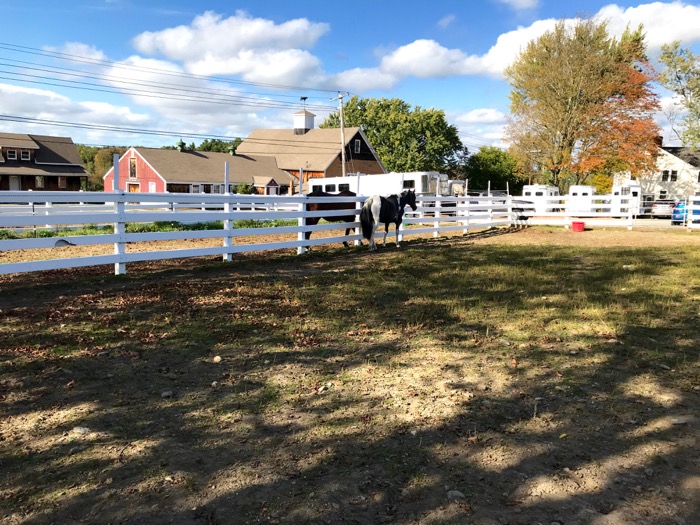 I promised my horse that next time I'd bring him a mint. The type he likes. The candy.
The only new behavior that I've noticed during this extended period of time-off is that when I go to leave, and am closing Tonka's stall door, that he pushes it back open with his nose. It's a clear message that he'd like me to stay. Otherwise, Tonka is the same pleasant, polite horse as always.
Have you had any success in making your horse's environment a more interesting place? Leave a comment!