I am always mindful that horses have the potential to hurt their handlers. There are horses who are obviously dangerous, who threaten and use their bodies to inflict harm. But most aren't like that. Most are amenable and cooperative beings. Still, horses are big, and they can move quickly and with little warning. Even the calmest horse can lift a leg to stomp a fly, and stomp on you instead. Even the boldest horse can take flight in fear and knock you over if you're in their path. On Tuesday I was working with a client and her sweetheart of a Quarter Horse. She was riding. I was walking alongside. He has a history of spooking, which is something we have been working on. I noticed him get tense, then the next second he spooked sideways. It happened so quickly that I didn't have a chance to change where I was or what I was doing. He ran over my foot. Luckily, he isn't shod, and I always wear sturdy boots. Still. It hurt. I went to the emergency room.
X-rays clearly showed a broken bone.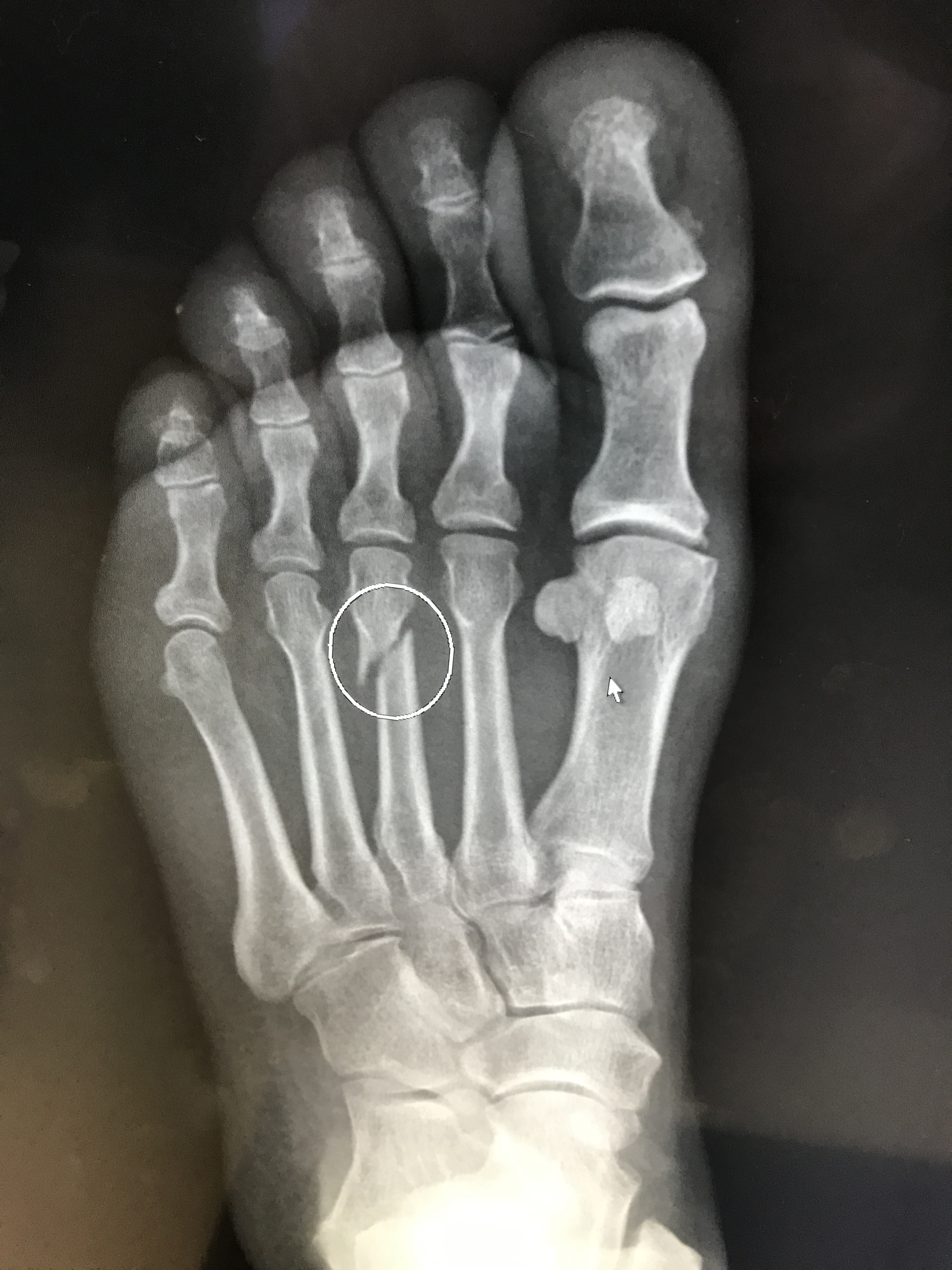 When I got home, Scooter immediately set to work. He made sure that I stayed quietly on the couch while I wore a temporary cast and iced the swollen foot.
On Wednesday I saw the orthopedist who gave me the good news that the break won't require surgery. It will, however, require that I wear a cast for about a month (or more.) We discussed that I would like to remain active, and that that entailed being at stables. The doctor fit me with a plastic walking cast, so that I could (in the doctor's words) "wash the horse caca off of it." The doctor also said, "I know nothing about horses but I can't see why you can't ride with the cast on." I really like this doctor.
At this point, I'm at the ice, elevation and rest phase of recovery, not the foolhardy ride with a broken foot stage. (Although I'm sure I'll get there!) I'm not even driving my truck yet, which makes me feel quite sensible! This morning, Steve drove me to the barn.
Horses are very aware of movement and changes to the norm. Tonka looked alarmed when he saw me coming in my lurching way, and he snorted at the crutches.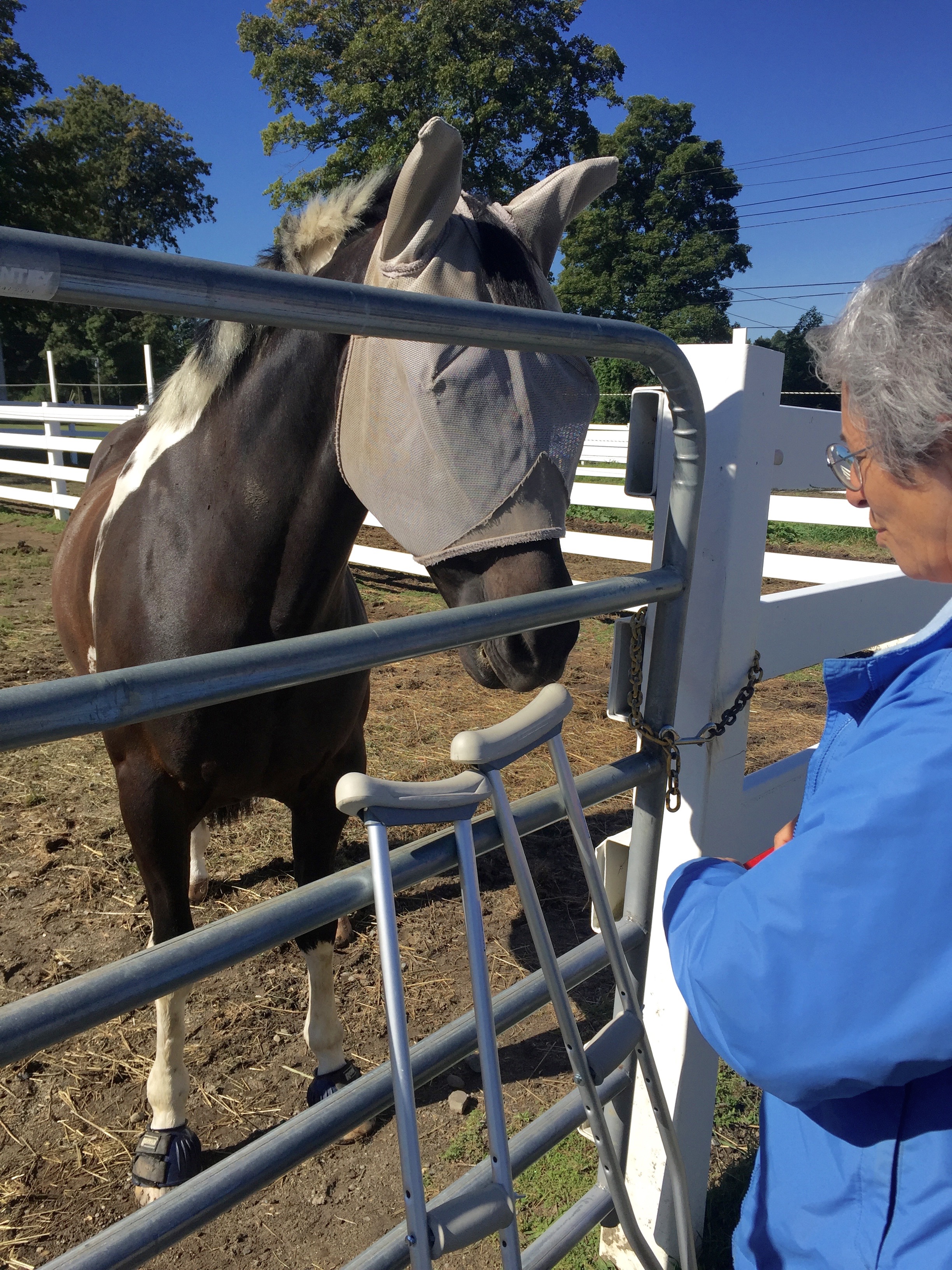 I let him sniff them, and for that Tonka got a carrot. Tonka changed his opinion of the crutches. Now they might mean treats!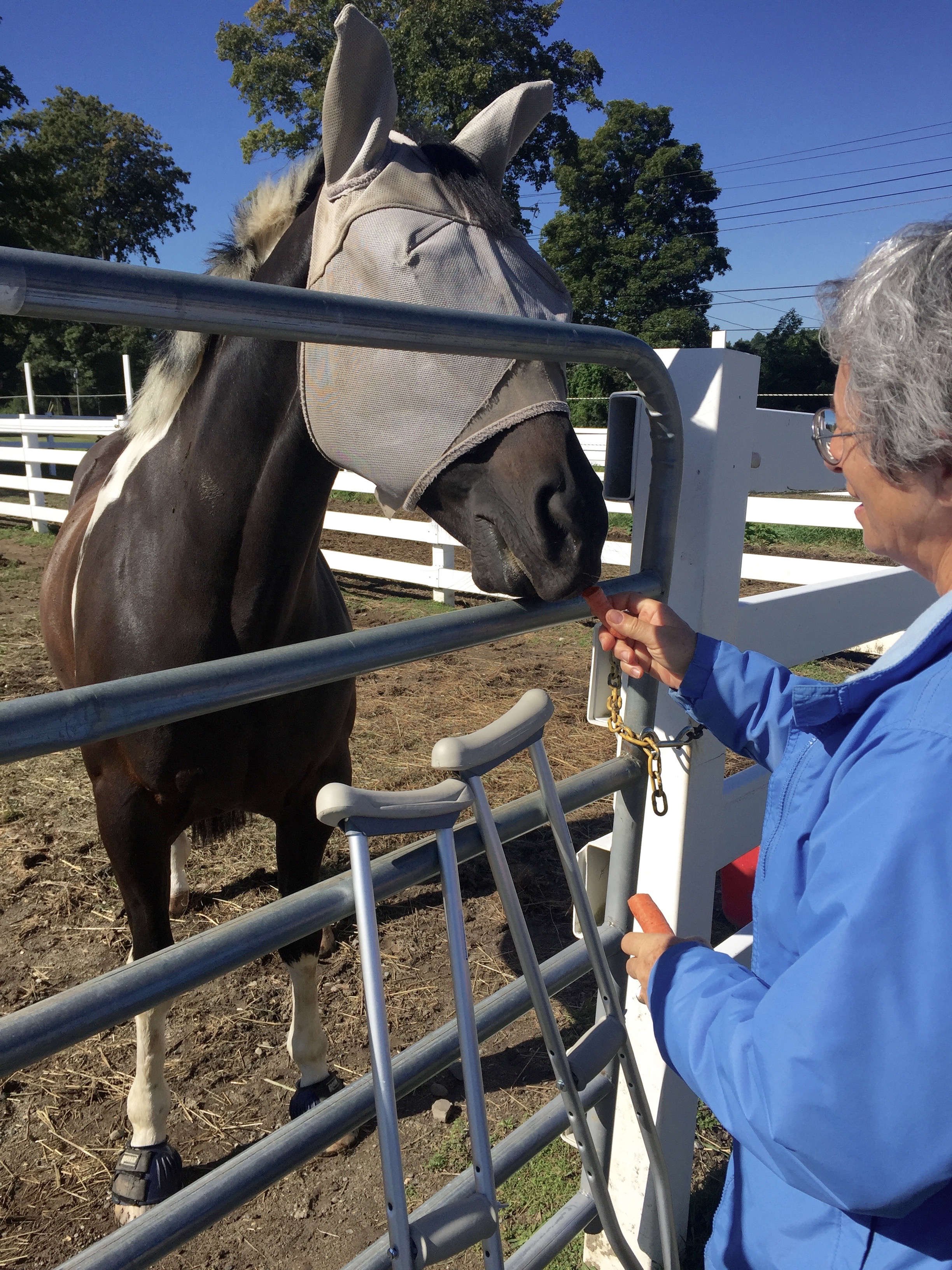 Steve led Tonka out to the grazing field, and I hobbled along near them. Tonka kept eyeballing me, as this outing was highly irregular for so many reasons. I spoke reassuringly to my horse, and he responded to my normal voice by relaxing his posture.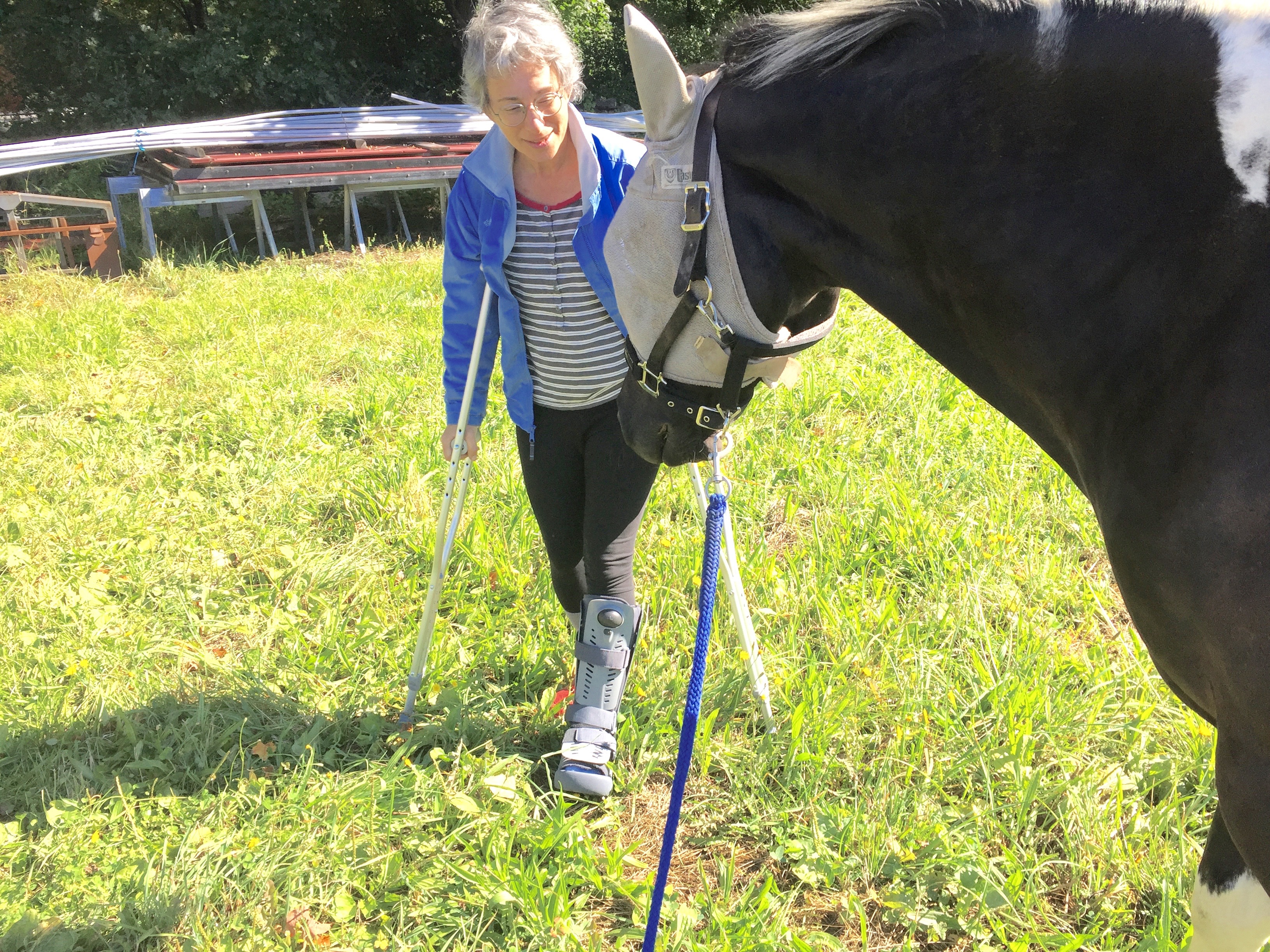 My hands were full with the crutches so Steve held the lead line. At one point, there was a noise in the field, and Tonka spooked. He didn't land on either of us. That's the way it usually is.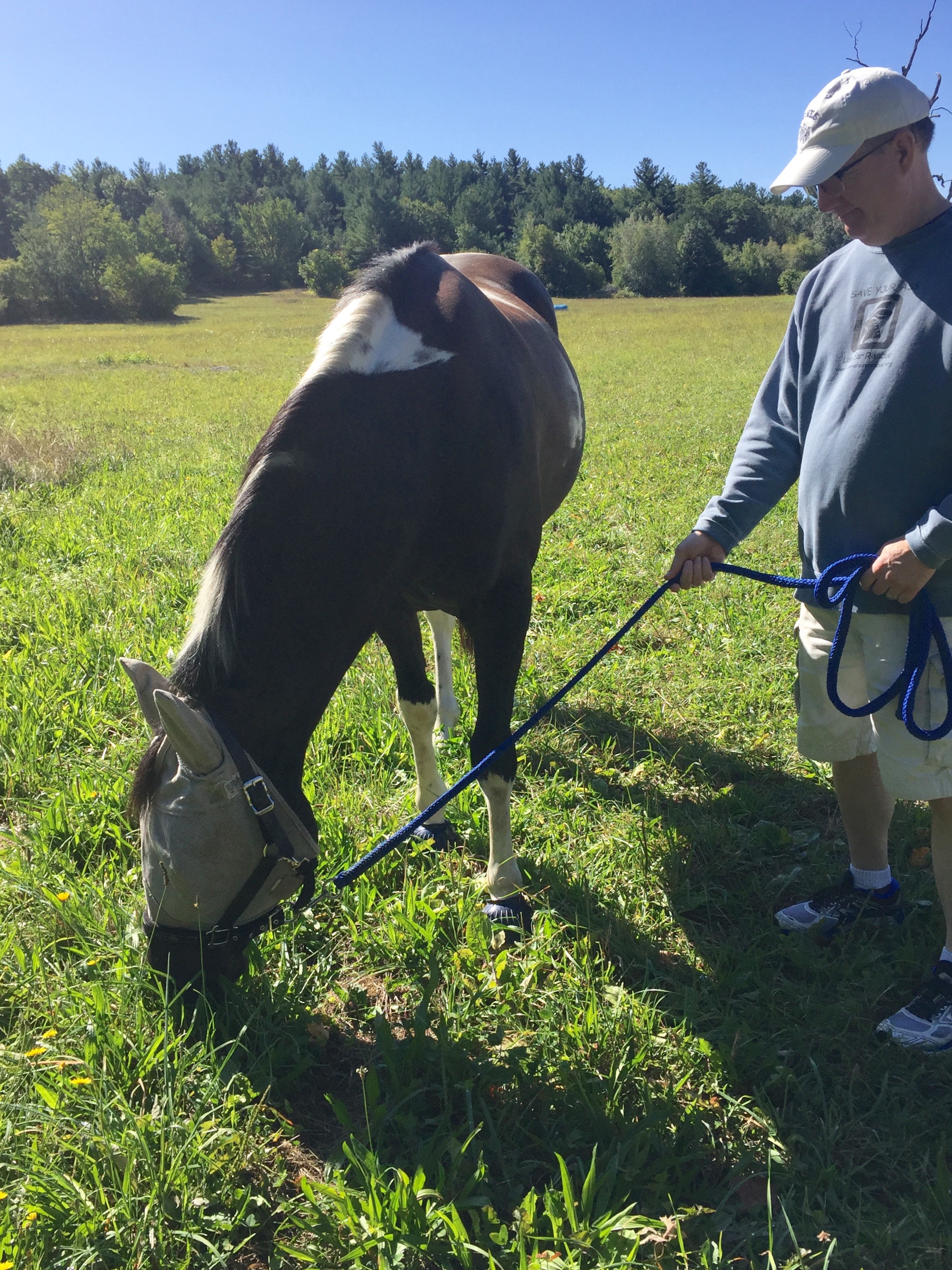 I'm not a patient patient. How do you keep yourself from overdoing it when you're laid up?