Tonka is going so well that I've entered him in his first dressage show of 2017. It'll be his First Level debut which asks more of the horse and rider than Training Level, which we competed at last year. The show is in five weeks, which is barely enough time to both get him fit enough and trained to do the movements required for the test. There are 10-meter half-circles to master, and, what is difficult for Tonka, the transition from the canter lengthening into the working canter (he'd much prefer to slow into a trot.) I have our lessons mapped out, and we have no time to waste, which is why today we did this: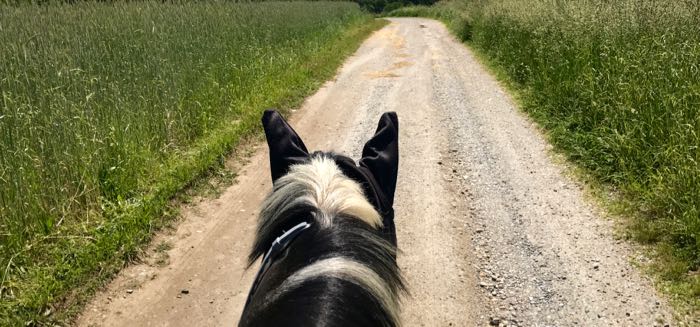 That dirt road, between wheat on the left, and hay on the right, takes us to a trail in the woods. Rides like this build his physical stamina and keep us both happy.  Happy is important. We compete at recognized USDF shows against big and fancy horses. A dressage test consists of more than a dozen patterns. Each one is scored (like figure skating.) There are also overall marks for gaits, impulsion, submission, the rider's position and effectiveness. Tonka is not built to move like an elite dressage horse, and his gaits and impulsion will never rate a "10" but we can make up points on how fluid, relaxed, and yes, happy, he is. Last year, a judge known for her tough criteria, watched my go, and after I saluted her at the end of the ride, she stood up and said "lovely." Tonka and I didn't win, but our partnership was recognized.
After forty-five minutes in the woods, the trail opens up into a field, and the track continues on to the road. Today, we left the forest to find ourselves chest-high in hay. I steered Tonka where I though the path should be, and we finally found a hint of it.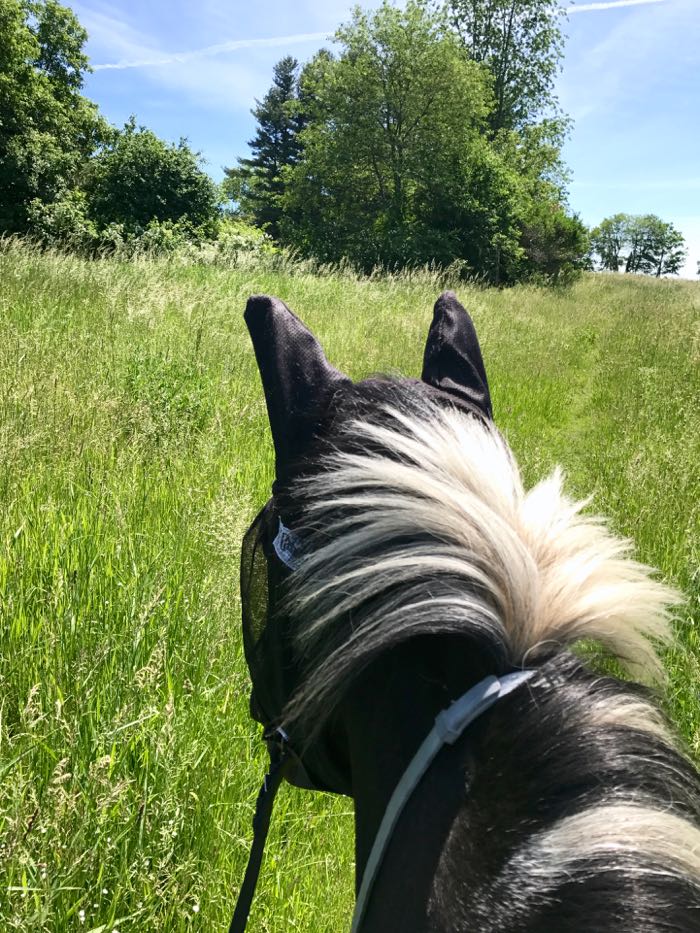 From there we passed by a wildflower garden,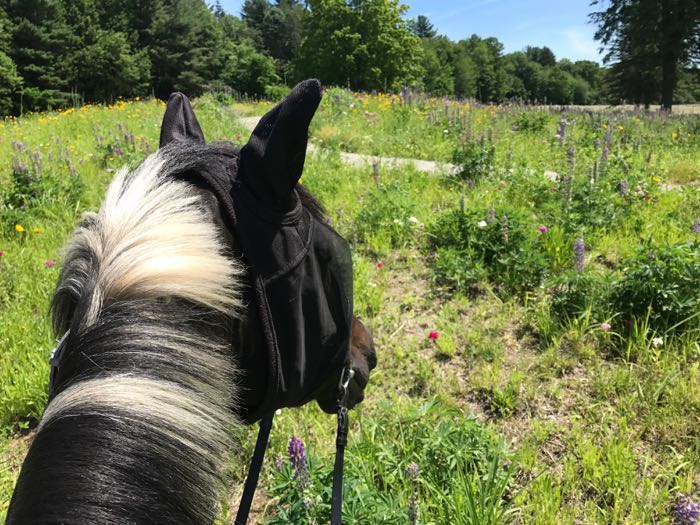 on the far side of which was the trailer.
No canter transitions today, but we got our fill of happy.