Miniature horses are often pasture pets. They're loved on, but rarely trained. Adorable, but taken for granted. I was brought in to train this massive Percheron cross to walk safely onto and off of a trailer.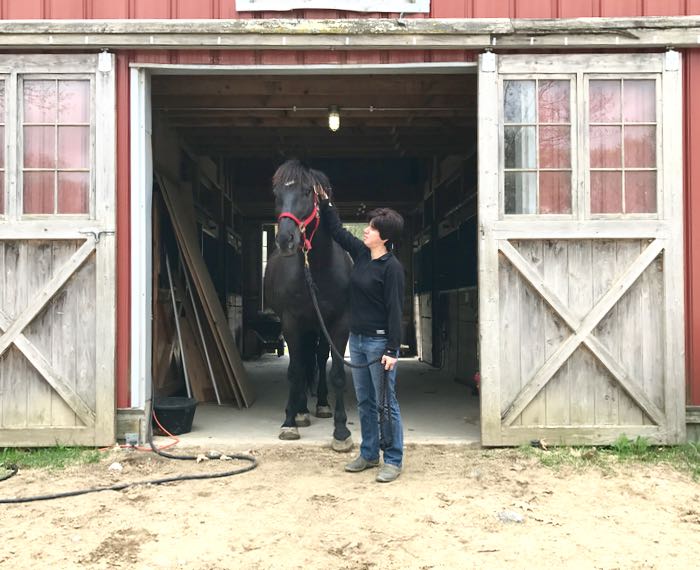 After two visits to the farm this little guy had a conversation with me.
Me, too, said Sugar.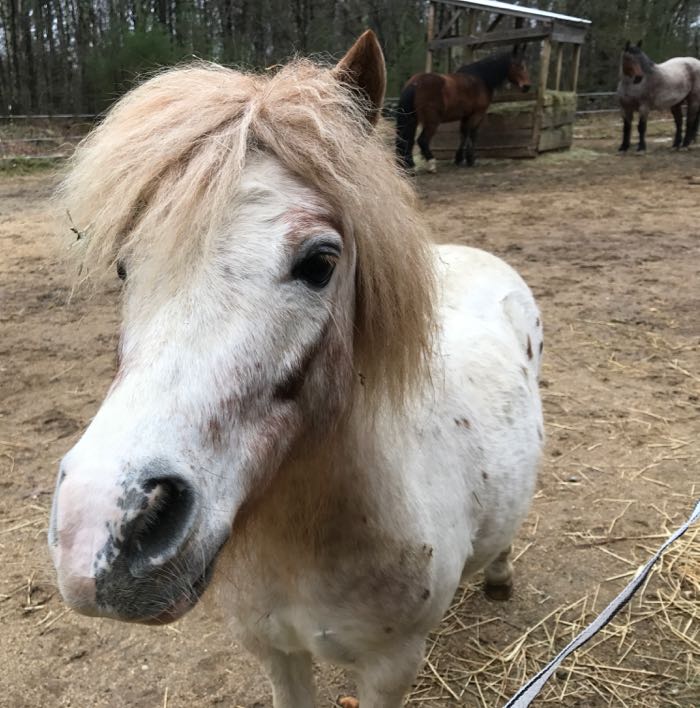 He practically bubbled with excitement when we brought him into the round pen – just him and his people – no big boys to compete with. In less than a minute, I taught him to touch the flat palm of my hand. I used a clicker to mark the moment that he did what I wanted, and he got small pieces of carrot as rewards.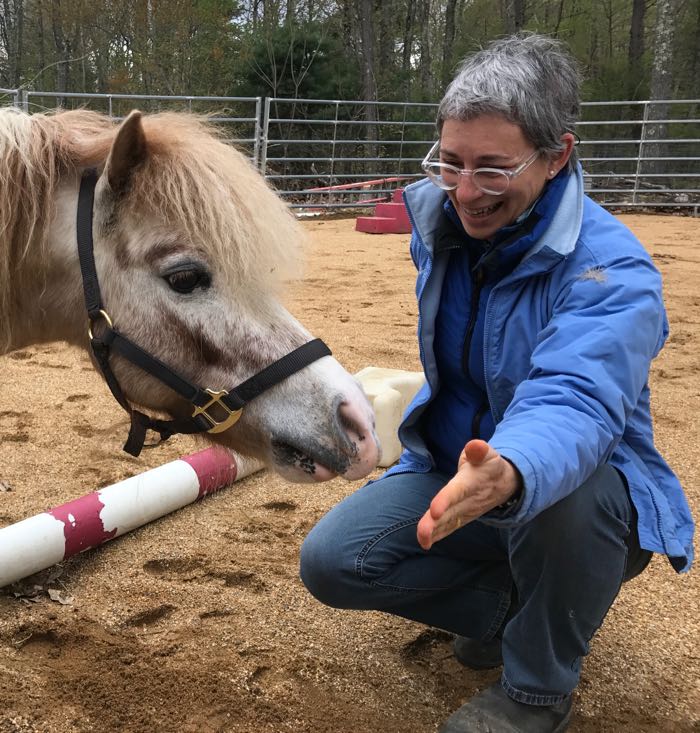 You could see his brain engage. Sugar got into the game. His owner watched him figure this out. He's so smart! she said. If you don't work with your animals, they don't have the opportunity to show you how clever they are. This was such simple stuff, yet tremendous fun for everyone. I gave the owner and Sugar homework. Over the next couple of weeks they played the touch game, and Sugar even learned to step on a foam pad. If Sugar was a dog, he would have been wagging his tail with happiness. This made his owner equally happy. Training opened up a pathway for her to get to know and communicate with her little horse. Rewards all around!
Sugar was avid and eager. That is, until I asked Sugar to step over the pole.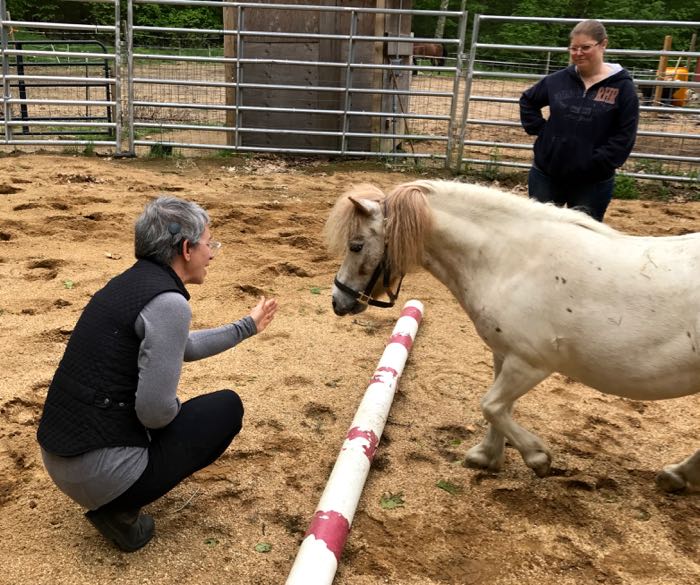 For some reason, he did not want to. Sugar stretched his neck. He walked around it. He brought all four feet as close as he could, but didn't budge. Look at his changed body language.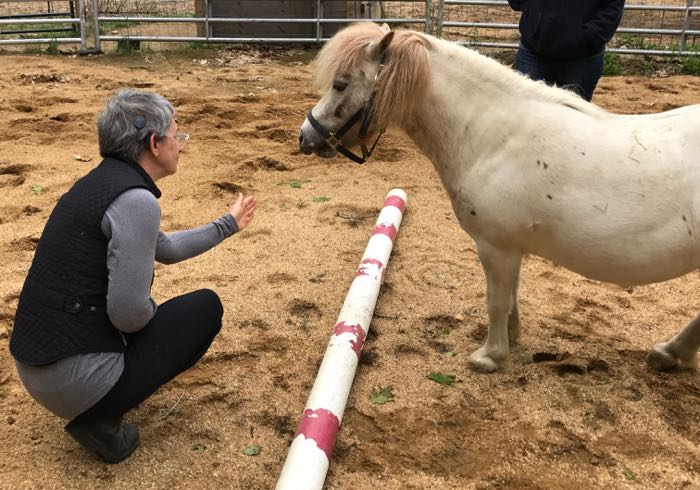 This is where observation, timing, and breaking the behavior down into small pieces is important. Before Sugar could step over the pole, he needed to take a step. Before he could take a step, he had to lift a foot off of the ground, so that's what I marked with my clicker.
I don't know why Sugar doesn't want to step over things. Could it be a physical issue? I tested that theory by putting the lead rope on the ground. Walking over that wouldn't require straining any joints. Sugar refused to walk over it. Often, animals that are kept on flat ground lose their confidence about stepping over anything unusual or irregular. So, Sugar's person has put a pole into the paddock, right where Sugar likes to walk. He can choose to walk around it, or take the straighter path over it. We'll see if that changes his attitude towards poles.
In the meanwhile, they'll keep playing in the round pen. Sugar will insist on it. This is his work with me face. who could resist?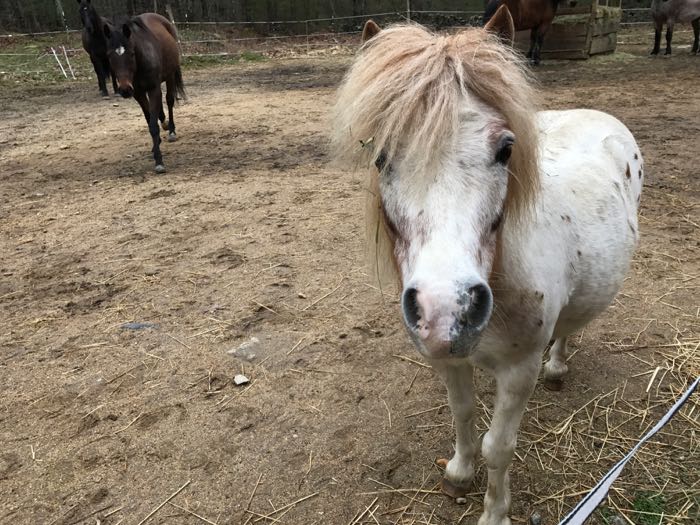 If you have a mini that you would like to train, contact me. I drive throughout New England, and will go further afield for clinics.