It was not quite three years ago that I brought Tonka home. He'd had a wonderful owner who taught him the basics, but she hadn't had the time to do much with him. Mostly, they explored the woods and fields in Maine. That was okay with me. I'd told everyone I'm never buying another pair of white breeches. No lessons or shows for us. So what if Tonka couldn't canter more than four strides to the right without breaking into a trot or changing leads? We were just going to mosey on down the trail. Tonka was adorable and happy.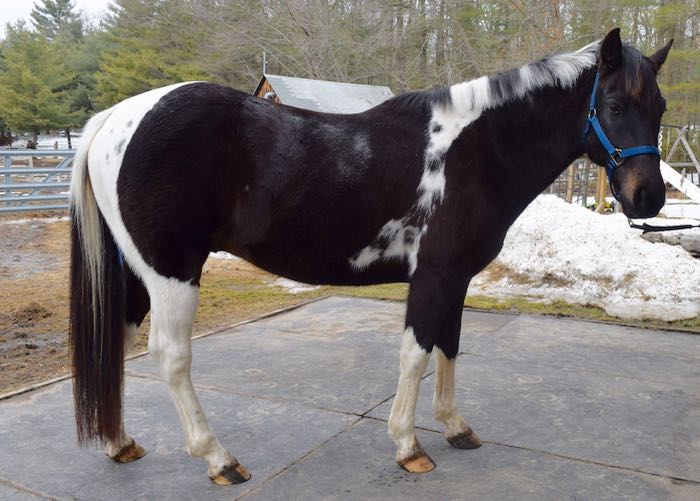 I boarded at a farm that had a long mud season and a rocky ring that I avoided. For awhile I was fine with that. Tonka and I enjoyed meandering through the woods. But, I could feel that something was missing in how Tonka and I communicated. Having done dressage all of my life, I knew that a horse could feel and respond to a slight shift of weight, or a soft closing of the hand on the reins. Tonka was oblivious to those subtleties. Dressage was the way that I could finesse our communication. I also knew that he wasn't as fit or balanced as he could – and should – be. In the above photograph, you can see how his top line was concave and he lacked muscles over his loin. His belly was the opposite, with a distinct round curve upwards. If I wanted this horse to be sound for twenty years, he was going to have to get fit. Dressage would do that, too.
Fortunately, I found Kim Litwinczak, a Grand Prix rider and instructor who was able to fit us into her schedule. I moved Tonka to a barn with no mud and an indoor with good footing. We got to work. Last year my new barn friends convinced me to go to a couple of schooling shows with them. I bought white breeches. We had fun! Kim suggested that I set a goal of getting a United States Dressage Federation (USDF) All Breeds Award. Tonka is a registered Paint Horse, and she said that I should try for a medal. I bought a second pair of white breeches.
USDF shows are a step above schooling shows. Horses are scored not only on precision, but on how they move. Some horses are more athletic than others. Some are exceptionally fancy. Tonka competed several times against this one. He was purchased as a four-year old for $50,000. He's now five. He won the class. I look forward to seeing what that gorgeous boy can do in the future!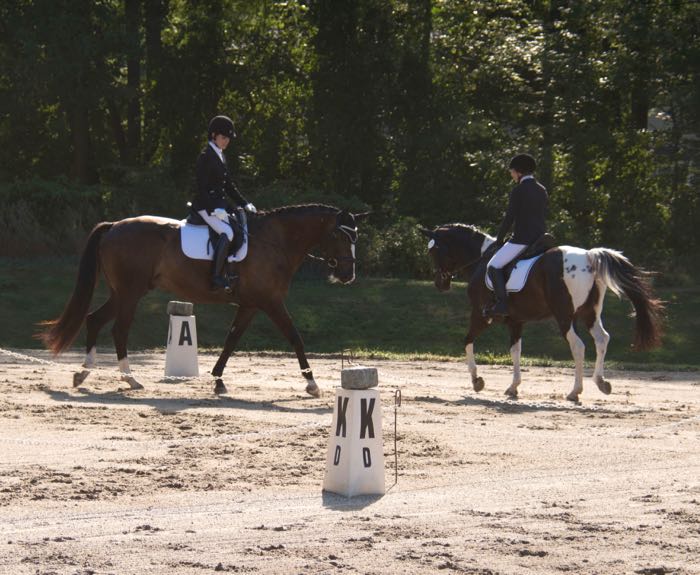 Tonka is never going to move like that warmblood, but he did a beautiful, flowing test. We came in third and we were rather happy about it.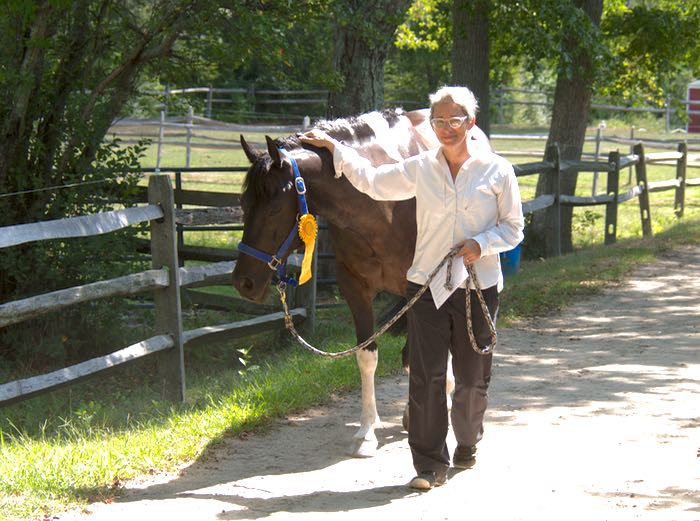 At our first USDF show of the season, we scored as high as that fancy gelding and won the class. There are three tests in each level, each incrementally more challenging. After our first win, I moved on to the harder tests. If I'd had stayed at Training 1, my year-end score would have been higher. It turns out that there's a strategy of which tests to ride to maximize scores. I didn't play that game.
What I did accomplish was fine-tuning my communication with Tonka. He now responds to almost imperceptible body cues. He's also gotten fit, and more beautiful!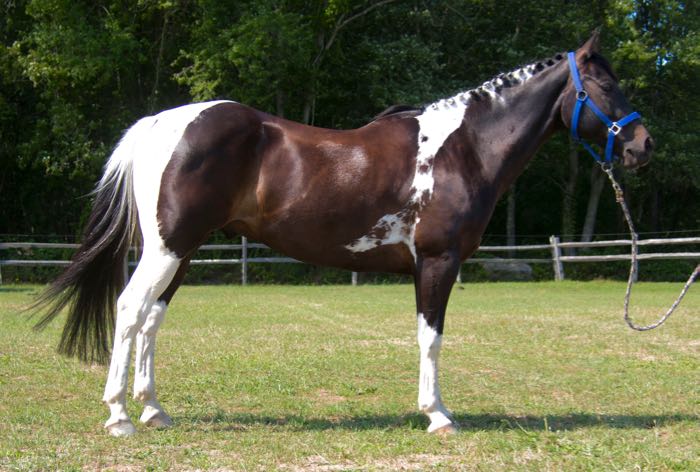 He's developing muscles at his withers. The top line of his neck has muscles and the underside is no longer too heavy. The band of muscles that support his belly has strengthened so that he can support his back bone and my weight. He's bulked up his loin so there's less stress on his sacroiliac joint. He's more athletic, both under saddle and out on his own. He's been having rip-roaring play sessions in the paddock, just because that's what you do when you feel good.
I didn't strategize for scores but we did really well! Of the almost 400 Paint Horses registered with the USDF, he has the sixth highest median score (that's for all levels, not only Training.) I compete in the Open (professional) and the Vintage Cup (riders over 50) divisions. Out of all horses – all breeds – we are ranked 18th in the Vintage Cup at Training Level. Not bad for a 14.3 Paint from roping horse stock, who didn't start dressage training until he was almost nine years old.
After the last show, I took out his braids and told Tonka that we wouldn't have to get dressed up again until next year.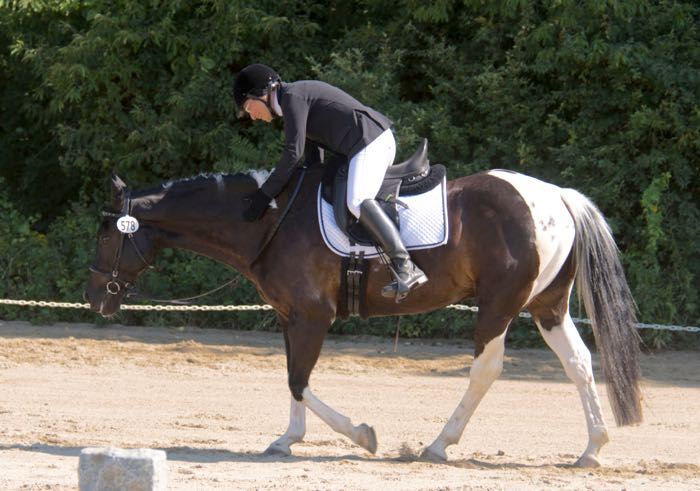 We continue to take lessons with Kim, but mostly we're getting out. I've found some new trails to explore.