Horses are designed to eat constantly. When they don't have forage (hay, grass and browse) in front of them at all times, they suffer from stress, stomach ulcers and social issues like resource guarding. Most of us don't keep our horses on acreage that can satisfy our equines' need  to chew, and if we simply toss them their flakes of hay (up to 15 pounds a day!) they eat quickly and then stand around, or get into trouble.  So we come up with management solutions, like putting the hay in nets, which slows down the rate of consumption.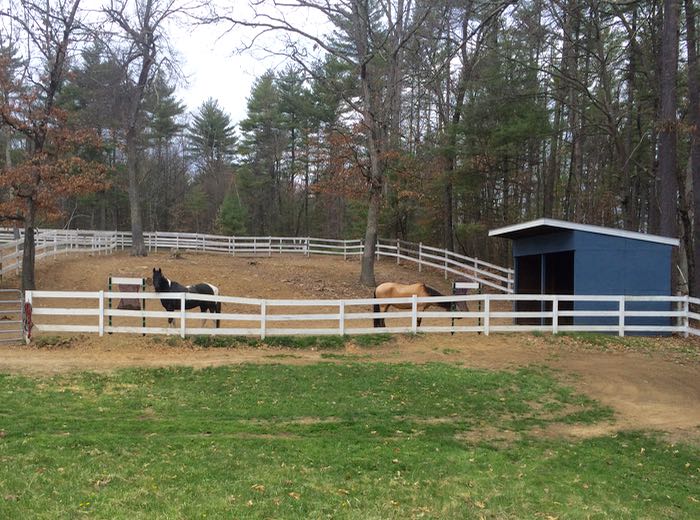 Each paddock at Tonk's barn has two hay nets, one for each horse. Some horses eat together and then move on to the second net, but most stake out their own net and nibble until done. The nets have fairly large holes, and some of the horses have figured out how to rip them open to even larger ones, so the horses spend some of the day without anything to eat. This isn't for very long (this wonderful barn feeds hay 5 times a day) but Tonka is a slow eater, and his paddock mate was eating her hay right up and then eating his (he let her, he defers to mares.) With the permission of the stable owner, I installed very sturdy, small-mesh nets.
The horses have to work hard to pull the strands of hay out of the 1-inch holes. This mimics the slow grazing that a horse would do in a sparse rangeland better than chowing down on a pile of loose hay. With these nets installed, Maggie stayed busy and didn't bother Tonka. This is exactly what I wanted to have happen.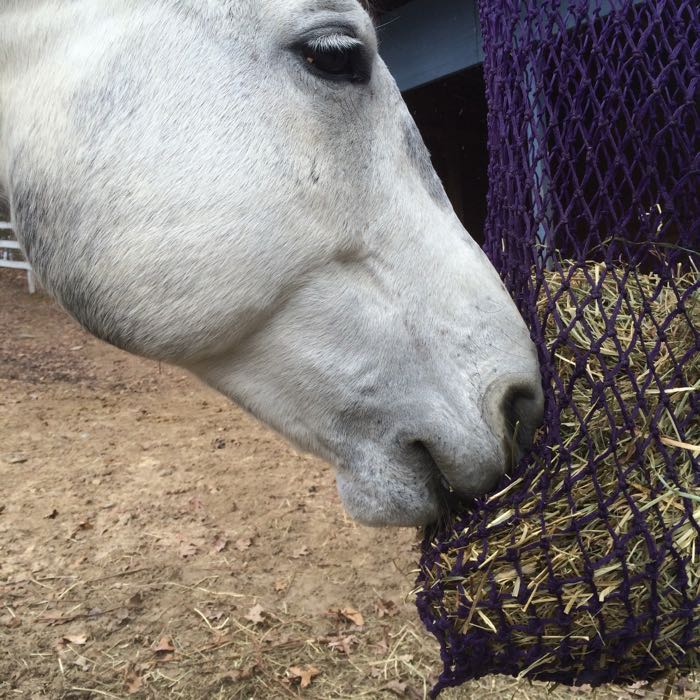 Tonka, however, had other ideas. He's a calm horse, but far from dull. He's a thinker. He figured out a way to get to the hay faster.
After the nets are filled, he eats the leafy bits that fall to the ground.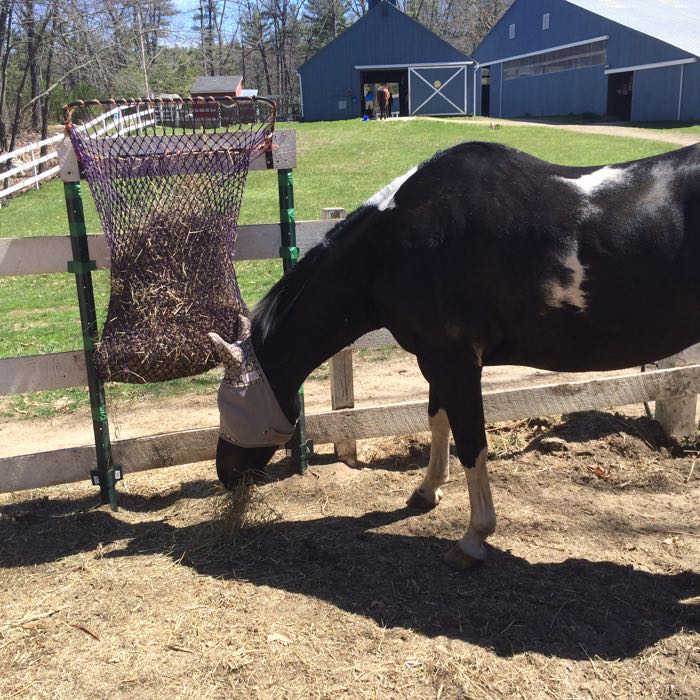 Once those easy pickings are scarfed up, he tosses the hay net over the top of the hoop.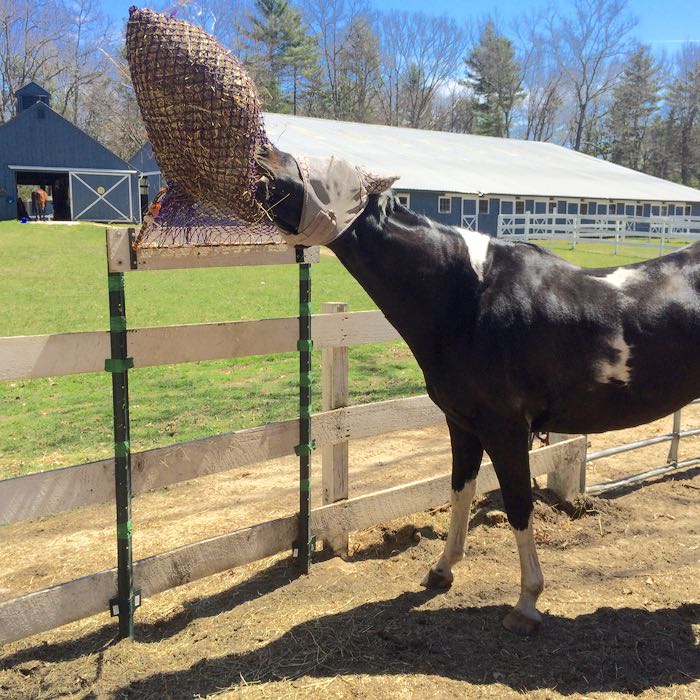 Then he brings it back again.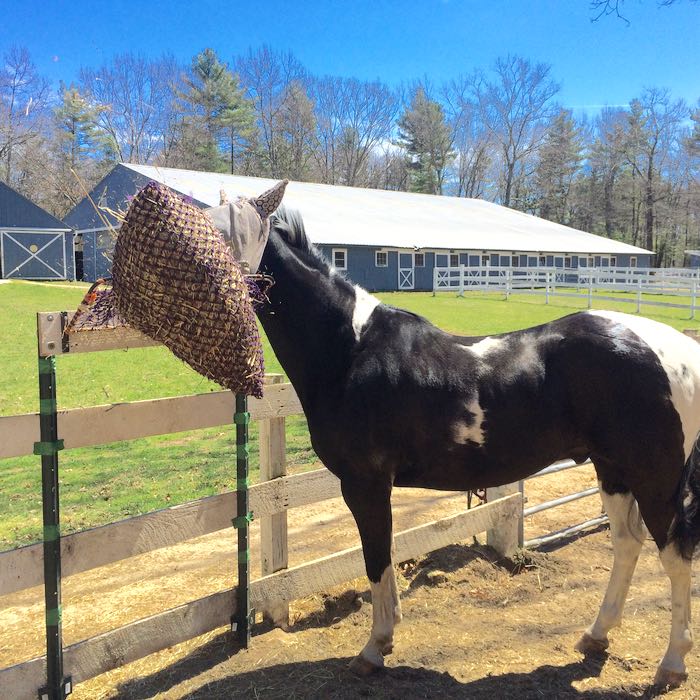 This fluffs up the hay so that he can reach in and eat.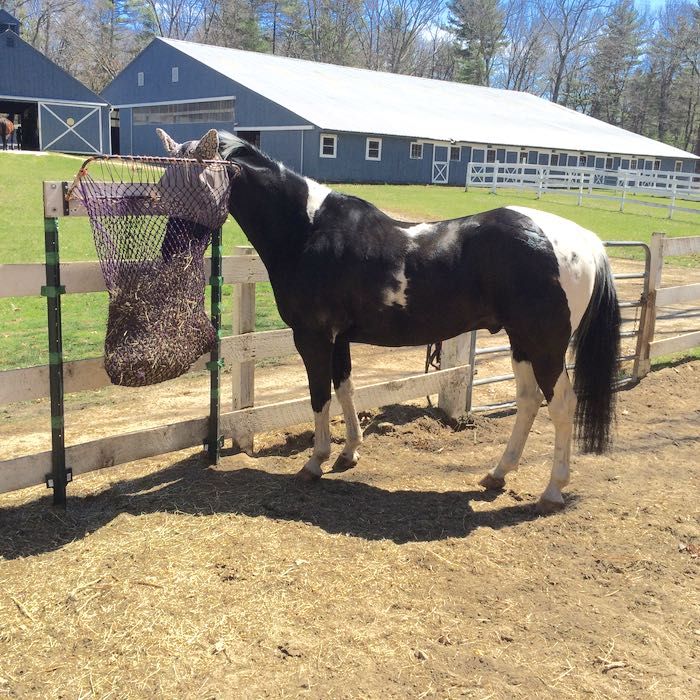 When there's so little hay left in the net that fluffing doesn't work, my horse has one more trick. Eating the last of the hay out of a swinging net takes effort. From my perspective, that's the point. It's supposed to take time and keep him busy. Tonka, however, has another idea. He throws the net back over the hoop, where it doesn't budge, and now the hay is easy to pull out.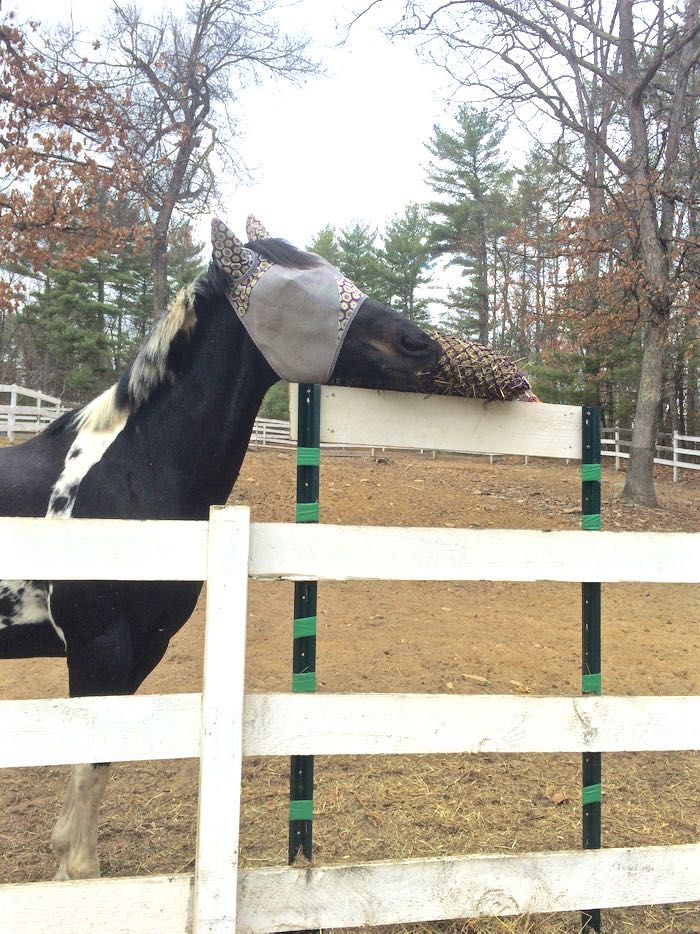 Tonka does like a full mouthful of hay to chew on.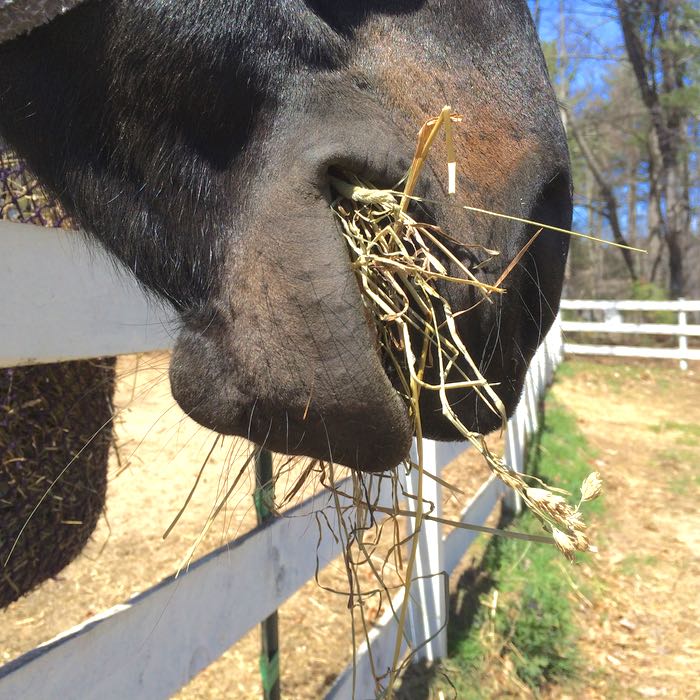 There are thirteen hay nets at this barn. Thirteen horses. Only one horse – Tonka – has figured out how to manipulate the nets. Partly, it's in Tonka's nature to do this, but I also think it's his training. Tonka works for rewards, not away from punishment. Many compliant horses are shut down, afraid to move without a direct order. I like Tonka to problem-solve and I structure the training so that he comes up with a (usually) mutually agreeable solution. This makes for a cooperative partner. It means that on the trail he figures out the safest route through a water crossing (he's better at navigating streams than I am.) It means that under saddle in the ring he is confident that if he pays attention to my movements, and if he does something in response, that something good will happen. My horse is rewarded for being engaged with me and with the world, so, when faced with a slow-feed hay net, Tonk doesn't just accept the situation, rather he sees this as one more challenging puzzle to solve.
Tonk also knows that whatever the two of us are going to be doing will be interesting and rewarding. Even when his net still has hay in it, I get this greeting at the gate.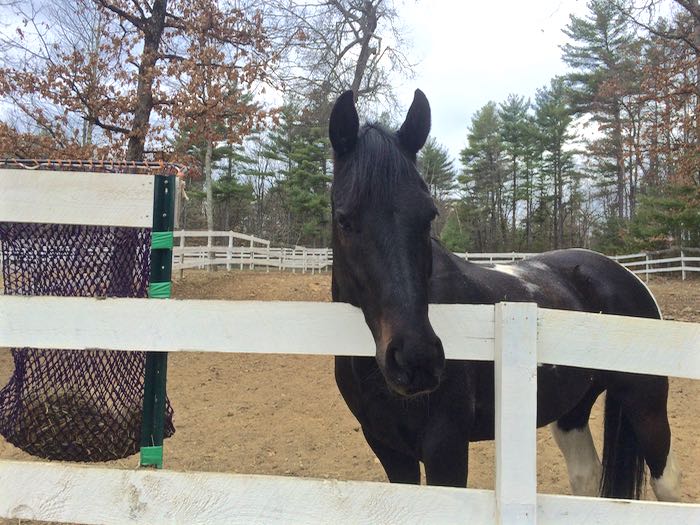 This is the attitude of an enthusiatic partner. If it means that I also have a horse that thinks through how to manipulate a slow-feeder to his liking, that's fine with me!
**Updated Note** As clever as Tonka was about this, ultimately, it caused health problems – he stressed his neck and back reaching up and in. I now feed Tonka on the ground, and he's boarded at a place with grass in the paddock, which keeps his neck and back in a more natural position.