This whip holder is at the entrance to the indoor arena where I board Tonka. There's nothing unusual in this. In my sport of dressage, a rider carries a whip.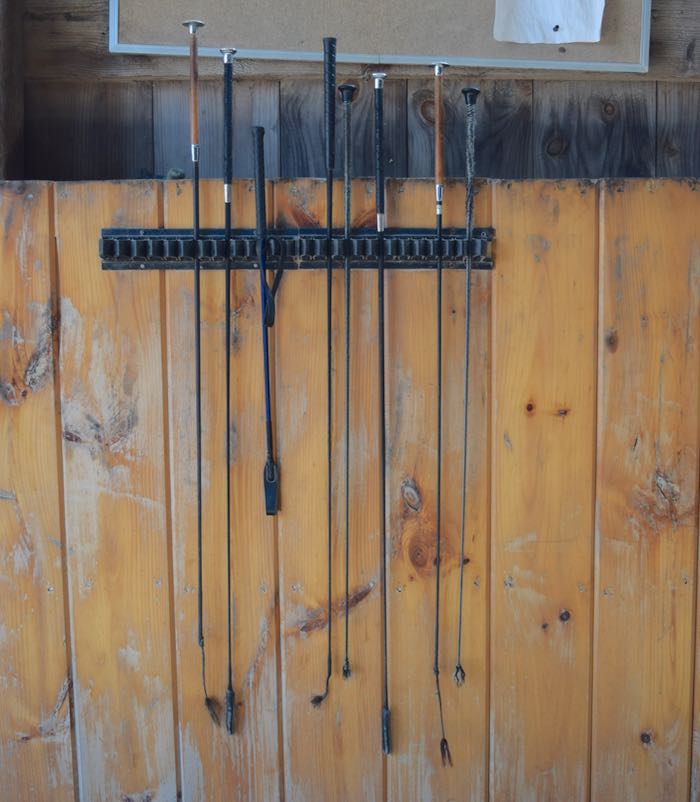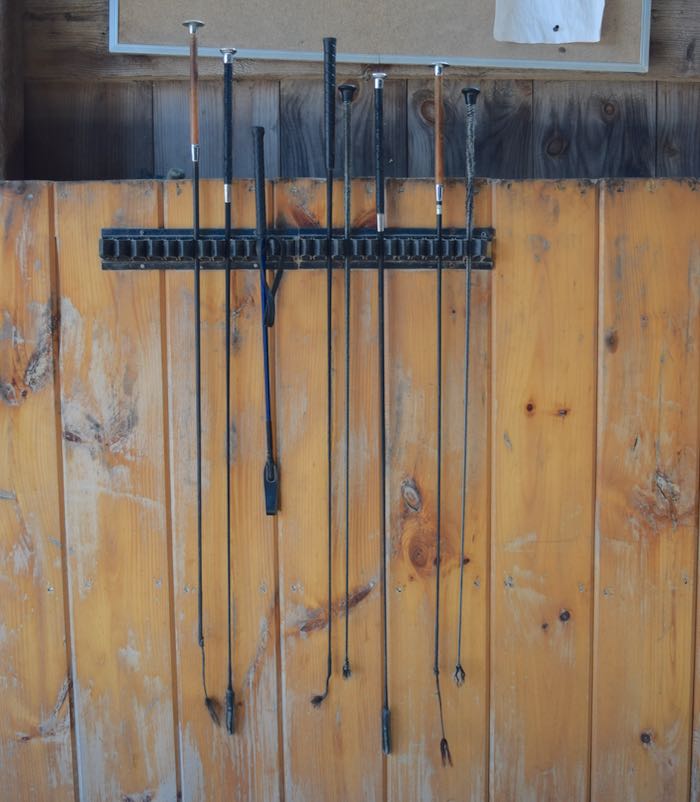 We're taught that if the horse ignores the leg aids (a squeeze, perhaps a jab or a kick) that the next step is to flick the whip across the flank. We're told that if the horse is lazy, that a whip will wake him up.
A whip can be a cue. Some riders have weak legs. Some riders are so sloppy that a horse can't possibly figure out what those swinging limbs are telling them to do. A tap is precise and clear. Tap. Go forward. Used in that way, it doesn't seem like such a bad thing. It isn't.
However, it's rarely a tap. The problem with teaching a horse to go forward from the whip is that it's not taught as a cue – if you move on after you feel this you get a reward. Rather, it's taught as a threat. Get going and if you don't, you'll get hit harder. The problem inherent in this system is that if the horse doesn't respond to a little tap the only option is to escalate. Tap again. Tap harder. What if he doesn't respond to that? You whack. It's no longer a cue. It's no longer gentle pressure. It's punishment. It's a slippery slope that too many riders go down. Thirty-five years ago, I watched my riding instructor get so furious at a horse that he whipped it until he raised welts across that mare's back. Although I lived in the same staff house with this man for the rest of that summer, I never spoke to him again.
But, I still rode with a whip. I carried a whip while riding many horses, over many years, and I can tell you that it is rewarding for the rider. When you use a crop, the horse, which had been moving sluggishly, surges ahead. This makes you feel successful, but what of the horse? Does the horse enjoy that moment of forward movement? In dressage, we talk about dancing with our horses. If I were dancing with a man, would I dance with him if he hit me? Of course not, and yet we accept this when dancing with our equine partners. My training perspective has changed. I've learned that there are other ways to get behavior, ways that are mutually enjoyable for all of the parties involved. It's a perspective that I learned through clicker training and that I'm now applying it to my work with horses.
But I'm not throwing out everything. What makes riding different from training other animals is that you are sitting on the horse. Body to body contact. It's complex and nuanced, and that to me is one of the great joys of riding. It's like this: I feel him swivel his head as we walk through the woods. I know that deer is there before I see it. He feels me change my position an iota, a clue that we're about to go faster. At a show he sees a flowerpot that scares him. I take a deep breath and he relaxes. As a girl who dreamed of being Dr. Doolittle and talking to the animals, riding is as close as I can get.
Using clicker training techniques, I could train my horse to turn left on a single, distinct cue – perhaps a word or a touch on the left shoulder with a finger – but I wouldn't want to. I want to continue to communicate in that complicated, yet hopefully subtle way, from the saddle. For example, when I want to turn to my left, I look that direction, my head moves, my spine rotates, the weight goes down into my left sitting bone, and through to the sole of my boot and into the stirrup. My left leg becomes the support pole that Tonka pivots around. He goes left. A slight shift deeper with that left leg and he responds with more energy from his left hind. My aids aren't aversive. We're simply listening to each other's bodies. The horse remains relaxed and willing.
Add the reins, and we can talk to each other with more finesse. With very small changes in my contact, I can ask for more balance, for a change in rhythm, for a lifting of a shoulder. What I'm talking about takes athleticism and skill. When I first learned dressage, my instructor had me close my eyes and tell her which hoof was hitting the ground. Was the horse breathing in or out? Tune in like that to your horse, and the horse tunes into you. The communication can become instantaneous and magical. I've asked a horse to go from a halt to a canter by shifting one sitting bone. It works.
That finesse, though, is hard to come by, and we riders get demanding and impatient, and we end up resorting to pressure (or worse) and then release, and we feel okay about it because we're told that the release is a reward. Sometimes it is. But how rewarding can it be to the horse to have the same person who has hit him, say "good boy" and – maybe – allow him to take a breather? Not only does punishment has many fallouts (another post!) but this sort of training is not particularly effective. There is a better way. Go ahead and ride using your body, legs, seat and hands, but while you do, pay attention to the good strides and reward them immediately and with clarity. I'll talk about rewards and how to use them when riding in upcoming posts.
You can put away the whip. Isn't that a relief?