Hello! It's time for a quick catch-up. Like many of you, the pandemic has kept me close to home. Here in Maine we're dealing with winter weather. We've had frigid temperatures. I've been waking up to really cold mornings. This week it was -5 °F. (That's -20 °C) It's also rained (which just isn't right for this northern state in winter!). Then it got cold again. Slush over frozen ground, dangerous roads, and thick ice everywhere. It's not safe to turn horses out on such footing. Tonka is limited to his stall's runout and I didn't want that to be unusable until March, so I was proactive. Earlier this winter, I cut drainage slots in the berm to provide an exit for water. This is what the runout looked like after the rain. If I'd let this freeze, Tonka wouldn't get outside for at least a month.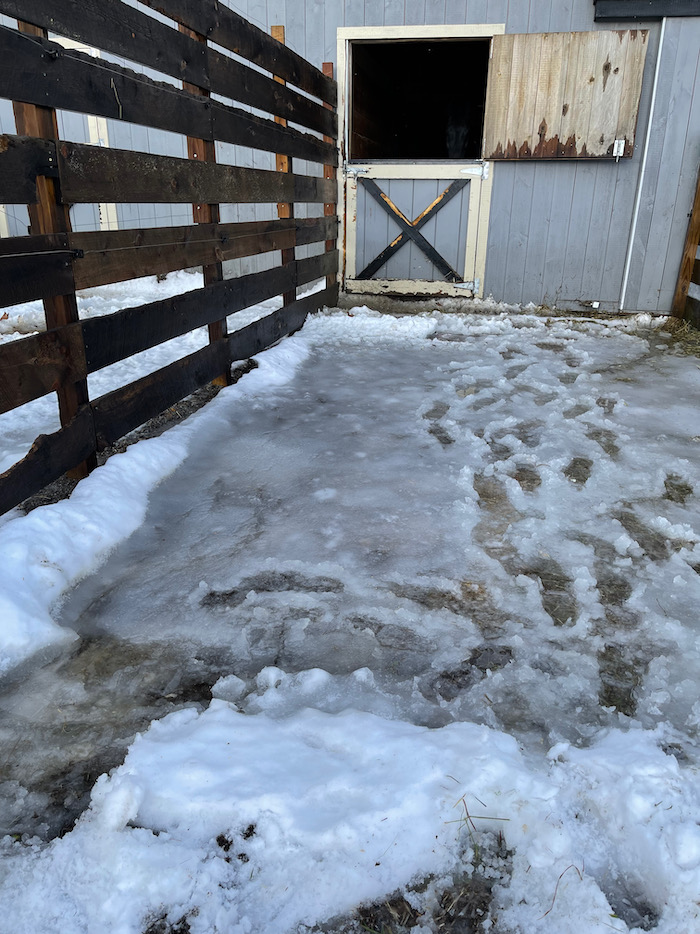 Right after it rained I got out there and shoveled and scraped. The next day there was still a patch of ice, which I covered with sand. That effort was worth it. Tonka is able to go outside safely.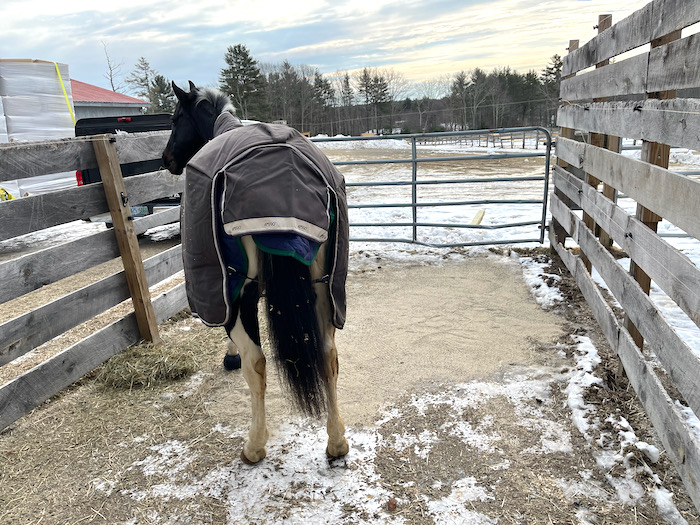 Yesterday it was 15 °F. But there was bright sunshine and no wind. Good weather! So I took off Tonka's blanket and groomed him in the sun. Even when the temperature is this low, I remove Tonka's blanket every other day and give him a good curry. It's healthy for his skin and his mind.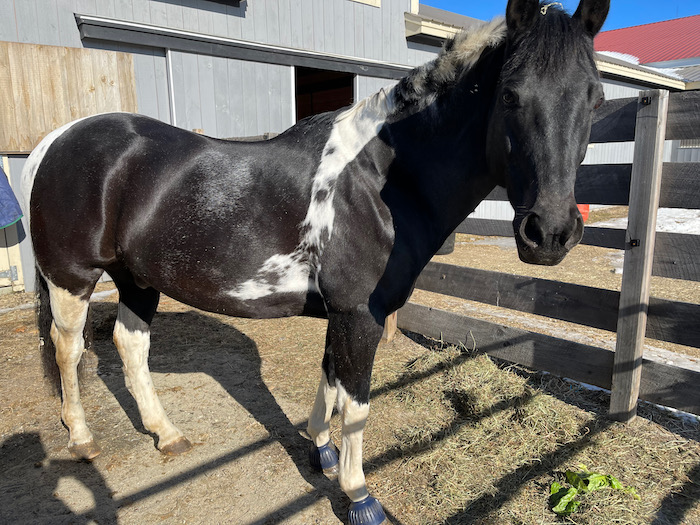 To bring some interest to my horse's days, sometimes I bring new foods for Tonka to try. I was surprised that Tonka flatly rejected the romaine lettuce. Wouldn't even nibble it. But he loved asparagus!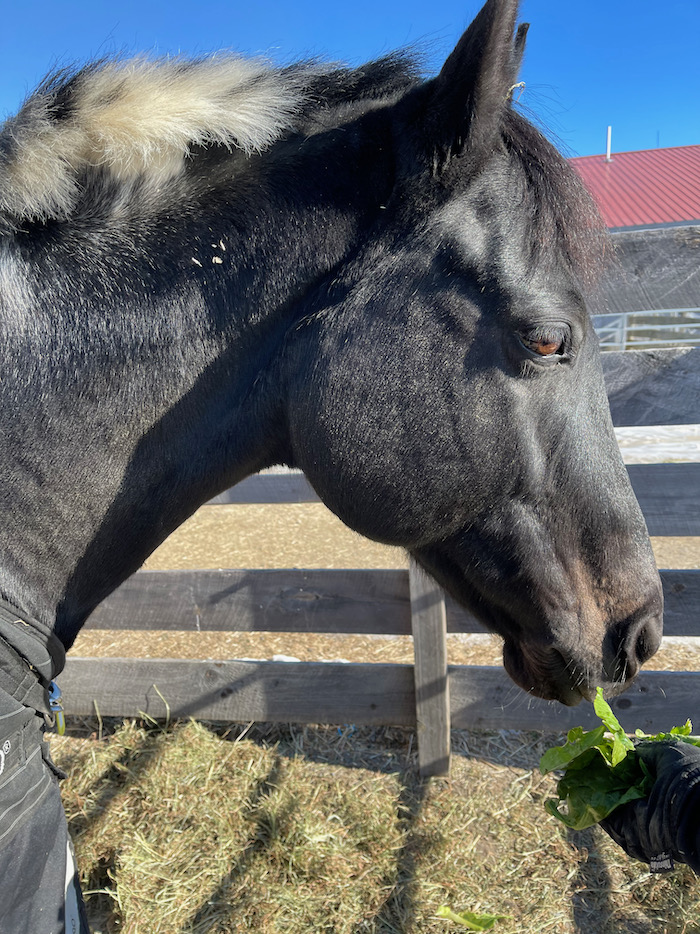 After weeks of stall rest, I didn't see any improvement in Tonka's lameness. After a discussion with his veterinary team, it was decided to try limited hand-walking of 5 minutes daily. There's a risk that a horse who's been confined will be too bouncy and injure themselves further. On our walks it's clear that Tonka would love to let loose, but that he knows it would hurt. He's been a very good boy and has walked (not leapt) around the indoor. The movement has helped! He had been taking stumbling steps where I could see him wince in sudden discomfort. Now he's limping in an even way, no sharp stabs of pain. I'm hoping that means that the small bone chip stuck on his ligament is being encased in healed tissue.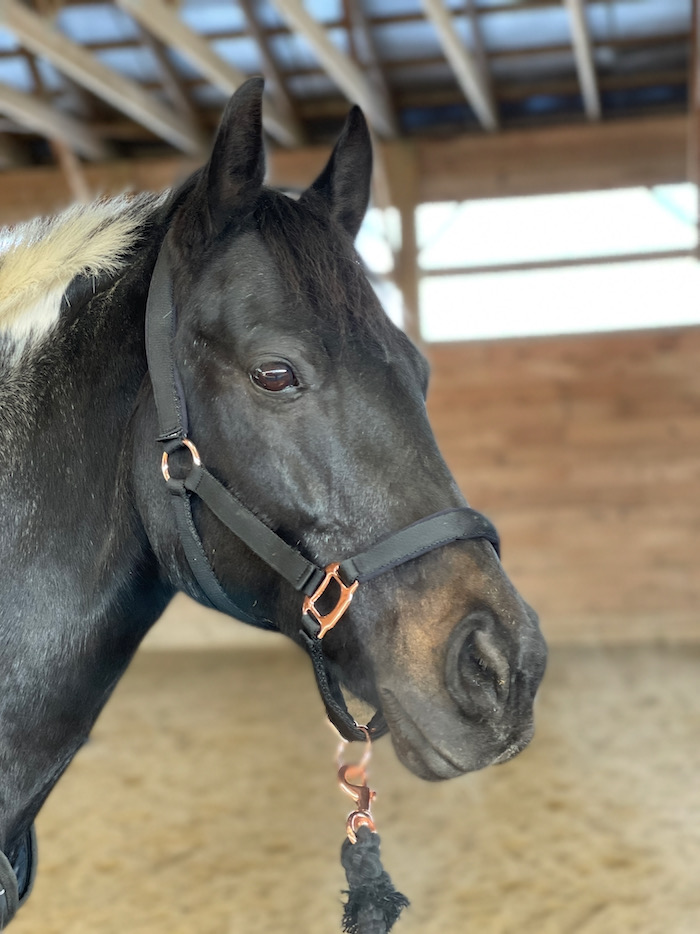 The Haygain Forager is doing exactly what I'd hoped. Tonka has hay in front of him 24/7 but he's not overeating. The constant chewing keeps his tummy healthy. Also, instead of eagerly looking out of his stall for what's next,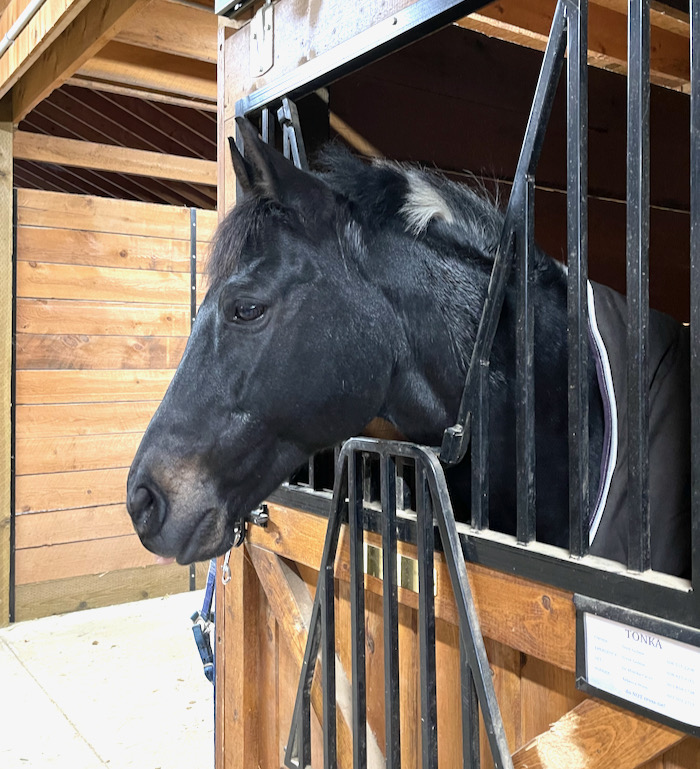 he stands near the Forager, contentedly munching. As cute as that face is looking down the aisle, what's important is that Tonka is rock-steady calm while he heals. The Forager is proving to be a key component in his rehab.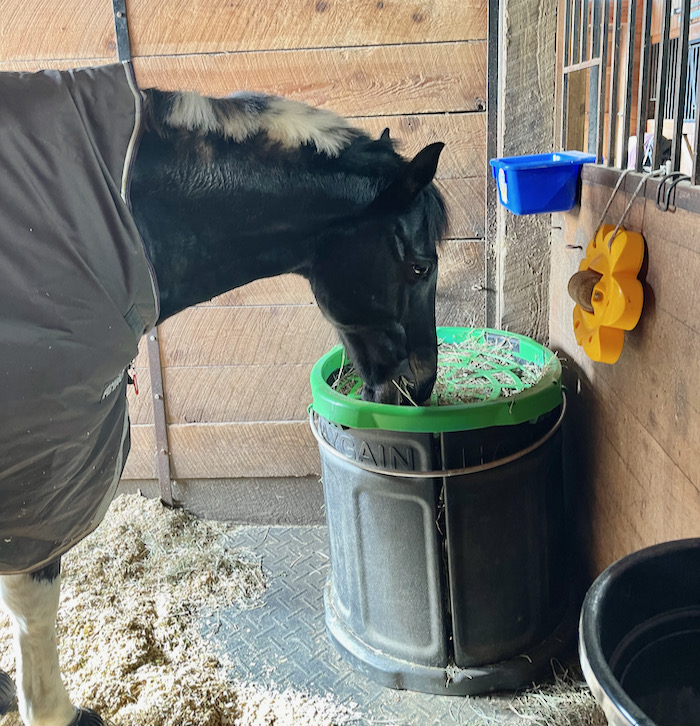 I feel like I'm on stall rest, too! I've arranged with Steph, who is my jumping trainer for Tonka, to take a lesson once a week on her school pony, Jake. Jake is small and aged and is perfect at his job – teaching little ones how to ride. Over the years he's learned how to teach children how to walk, trot and canter. If they don't ask correctly, he won't do it. He's also learned how to avoid working too hard. Shall we say he's gotten a tad lazy? Knows how to drop a shoulder so that he doesn't have to pick up the left lead. Slows down on the turns. Nothing naughty. Just knows how to take it easy. So once a week I take a half-hour lesson on Jake and remind him of the buttons he knows, and pop over a few fences.
It's good for both of us. When it's too cold to lesson, I get on and walk around.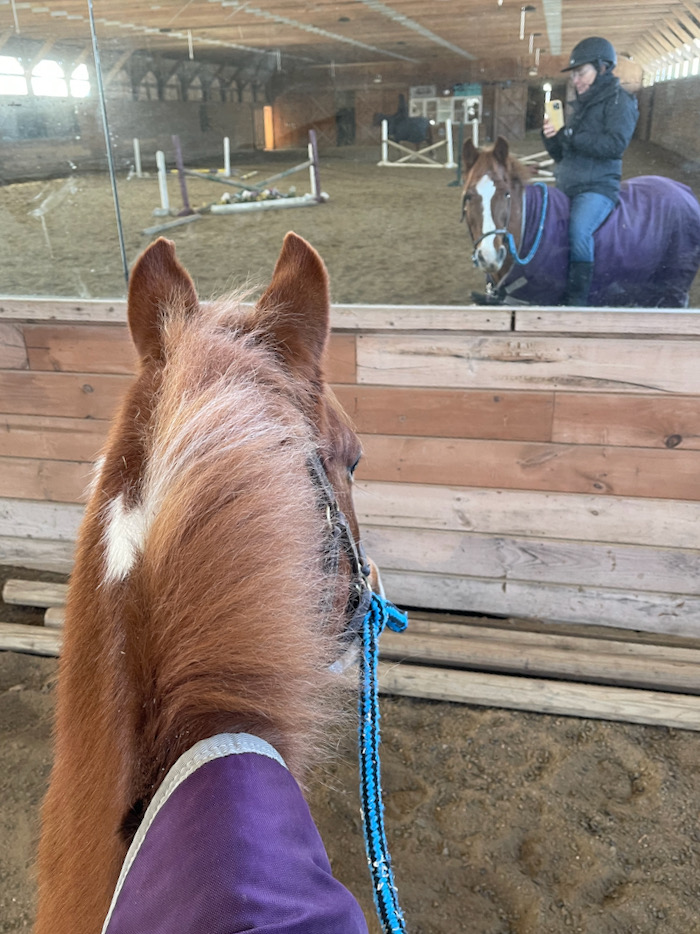 Without much time in the tack, I have plenty of time to go to pottery, which I'm loving. Some of my pots have horse themes (of course.) This is done with a rolling pin embossed with horses.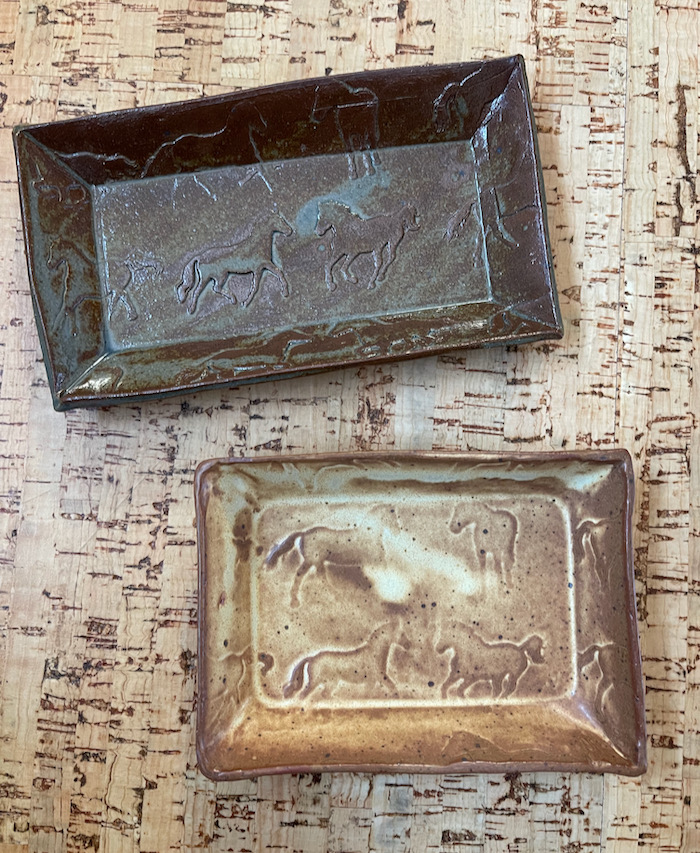 But some have spikes. Or other designs. It's like playing with pastry recipes, but without the calories!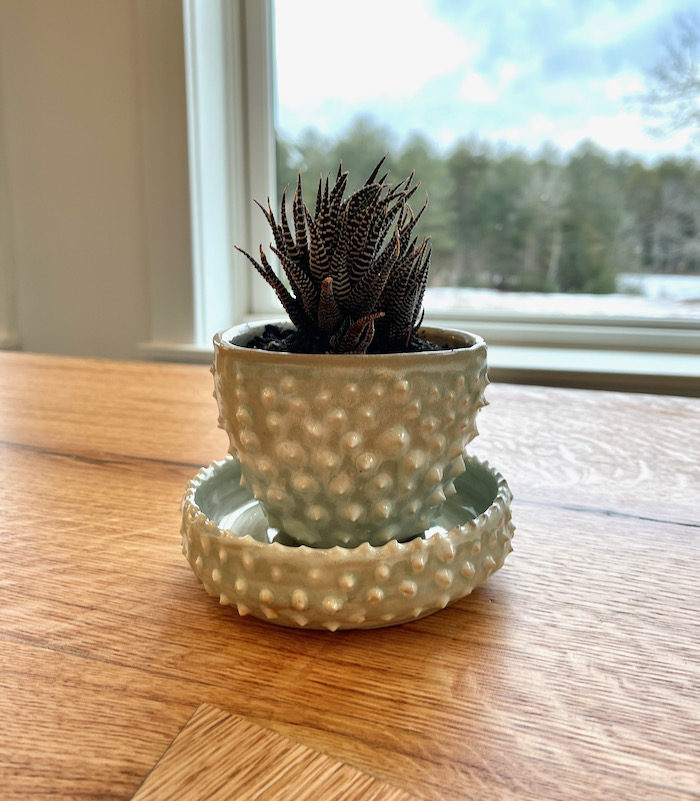 The pottery studio is a block from the beach, so after almost three years living near the Maine coast, I'm finally spending time near the ocean. I take brisk walks here.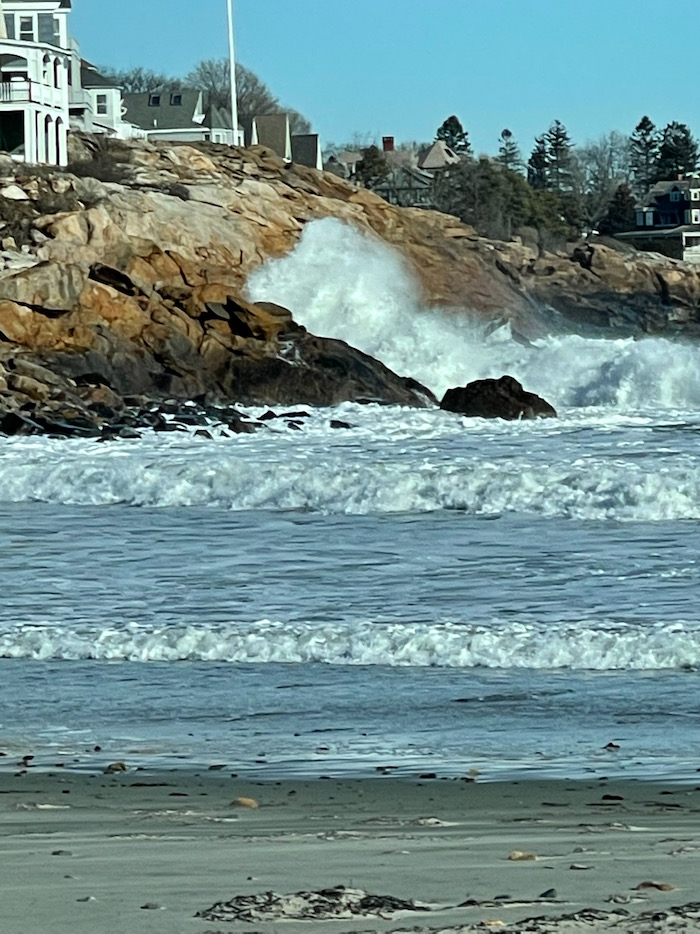 I've also been getting out and about in Maine. It's cold, but gorgeous. Steve and I went birding at this tidal flat at Reid State Park on the midcoast. On the other side of the dune is the ocean. With binoculars we saw a busy flock of crows and a variety of ducks. Near the trail the chickadees complained about our presence. Not far away on a river outlet there was a bald eagle. We had hoped to see the wandering Steller's Sea Eagle. Didn't find him, but the day was certainly not a loss!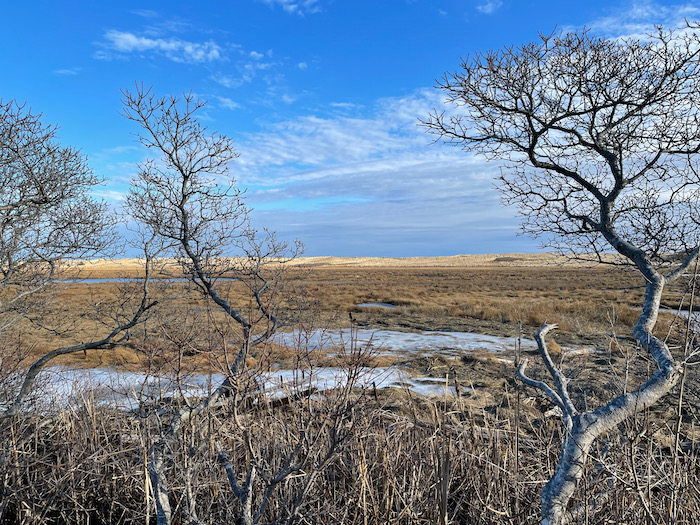 It's a quiet life. Barn. Pottery. Home. Bread baking. Watching too many mysteries on Netflix with old dog Scooter curled up next to me. A little reading. A bit of hiking. A lot of waiting. For my horse to heal and for the world to open up again. I'm fortunate to be waiting in a wonderful place. I hope that you are in a good place, too. What good small thing is happening in your life?