I've set myself a goal to blog twice weekly – on topic. I achieved that for a decade when I wrote about chickens, and I've done that since May of 2016 here at Cooperative Horse. It's a challenge to come up with ideas week in and week out. This morning I woke up and thought I got nothing. A second cup of coffee wasn't going to change the situation.
I strapped on my snowshoes. It's bitter cold, but the sun is out and the recent snow is powder.
Slogging through the woods on old snowshoes is both a strength and a cardio workout. Exercise really does make you happier, but even when you know you should, it's hard to actually do it. Exercise in the wilds of Maine is something that I can get myself to do. Going to a gym – not so much.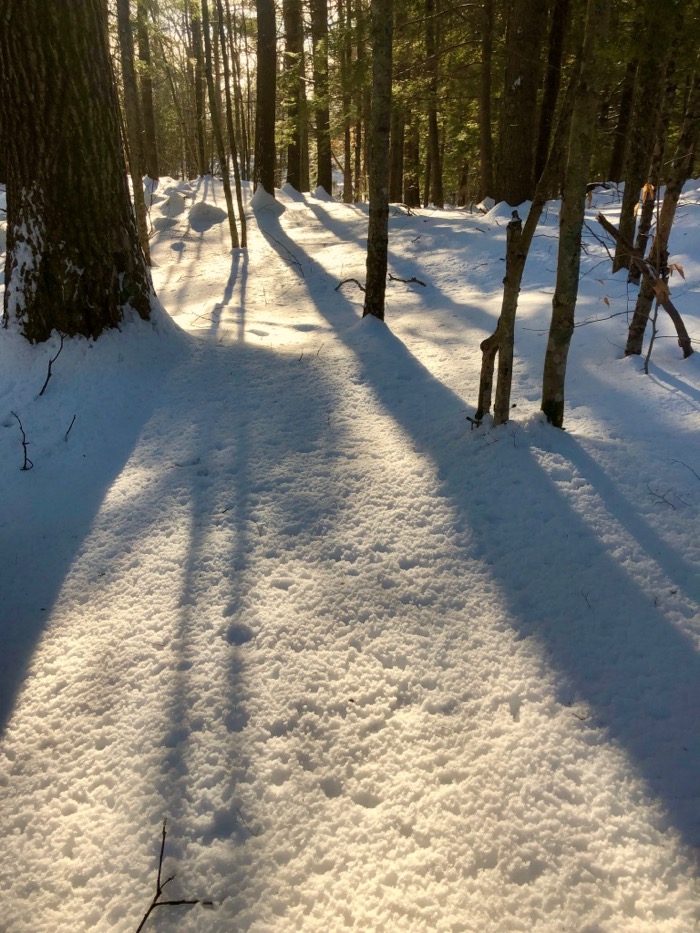 That good feeling doesn't happen right away. The first ten minutes is spent thinking that my gloves aren't warm enough. Then they are just right. That's a metaphor for life – or horses. It's like when you do that warmup trot and your body is in knots and your horse feels off, and then it doesn't and you're both floating around the arena. It doesn't do to change gloves in the first two minutes of a hike, and it doesn't do to try to fix a ride in the first five minutes that you're in the saddle.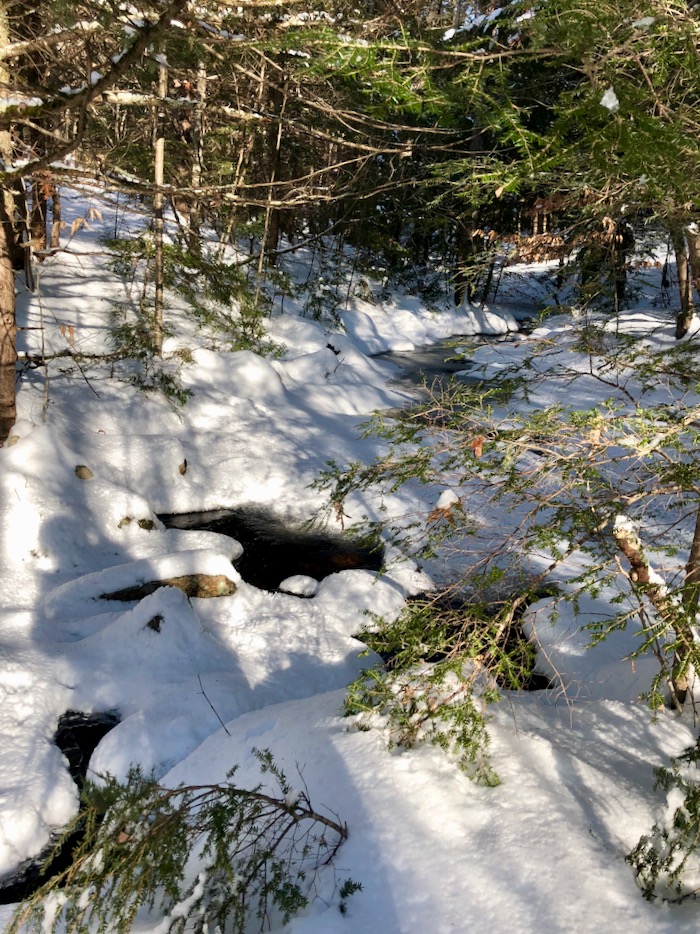 Heres another hiking/horse metaphor – what you think is solid ground can turn out to be thin ice.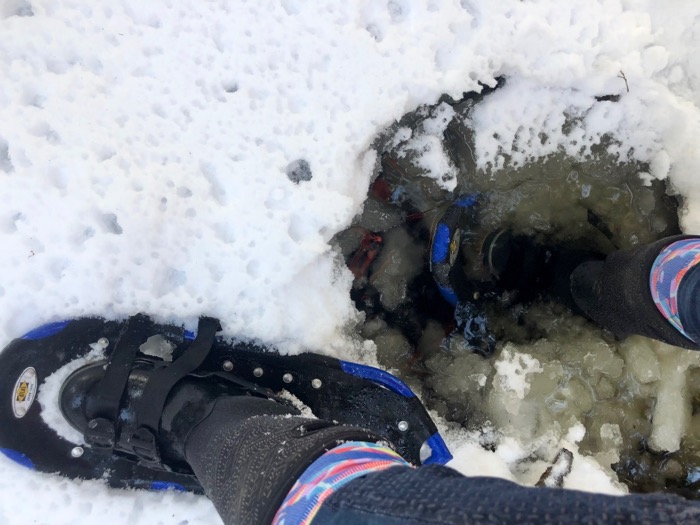 My boots are waterproof and high, so I wasn't in danger. However, the water and slush did freeze on the snowshoes which weighted them down so it was even more of a cardio workout after that mishap. The straps were so frozen that back at the house I had to take the boots off, still attached to the snowshoes and let everything thaw. Which is a better option than breaking the straps. Another metaphor? Absolutely. Apply it to those times when training your horse when you think you have no option other than to force the issue. Step away and let it melt.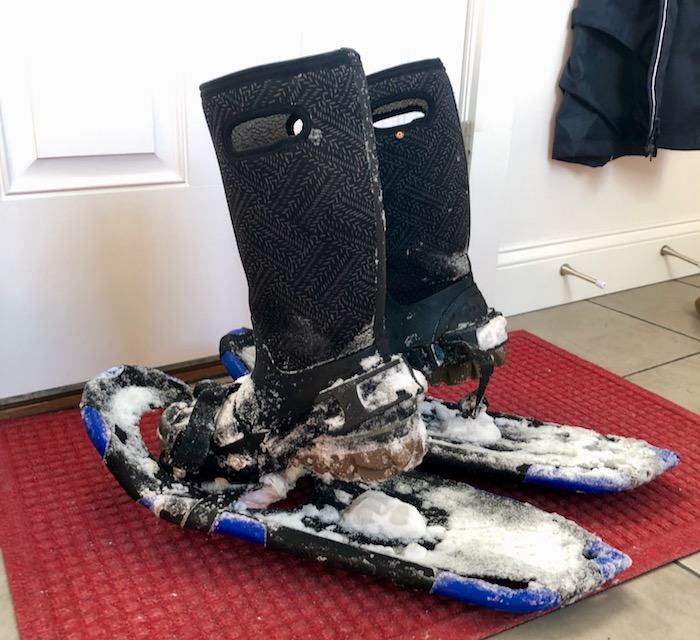 I followed this stream, something I can't do in the summer when the vegetation and insects are dense. Different challenges reveal new landscapes. Yup. Another metaphor.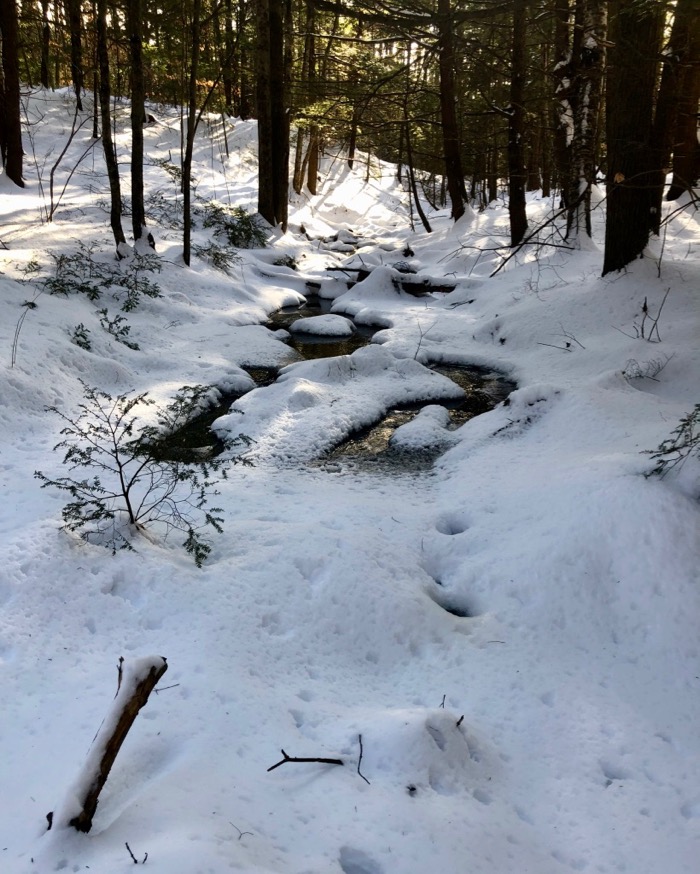 It's good to take the time to notice the small things that are right with the world. In the winter when it's cold and dark do you rush through chores and riding and miss out on the quiet, sweet, companionable moments? It really doesn't take that long. This video is 48 seconds. How do you feel after watching it?
I came home from my snowshoe outing with all of these ideas about how a walk in the woods can give you life lessons for your interactions with your horses. I was feeling rather deep and thoughtful. But then I realized that it doesn't matter what I do, I always apply it to my life with horses!
Do you make everything you do have a connection to your horse life? When in a yoga class do you think about how the breathing will help your downward trot transitions? Do you listen to a TED talk about happiness and apply it to your interactions with your barn family? Do your friends, co-workers and significant others find it amusing or annoying? Thank goodness I have this blog where whatever I do can be turned into a metaphor about life with horses.